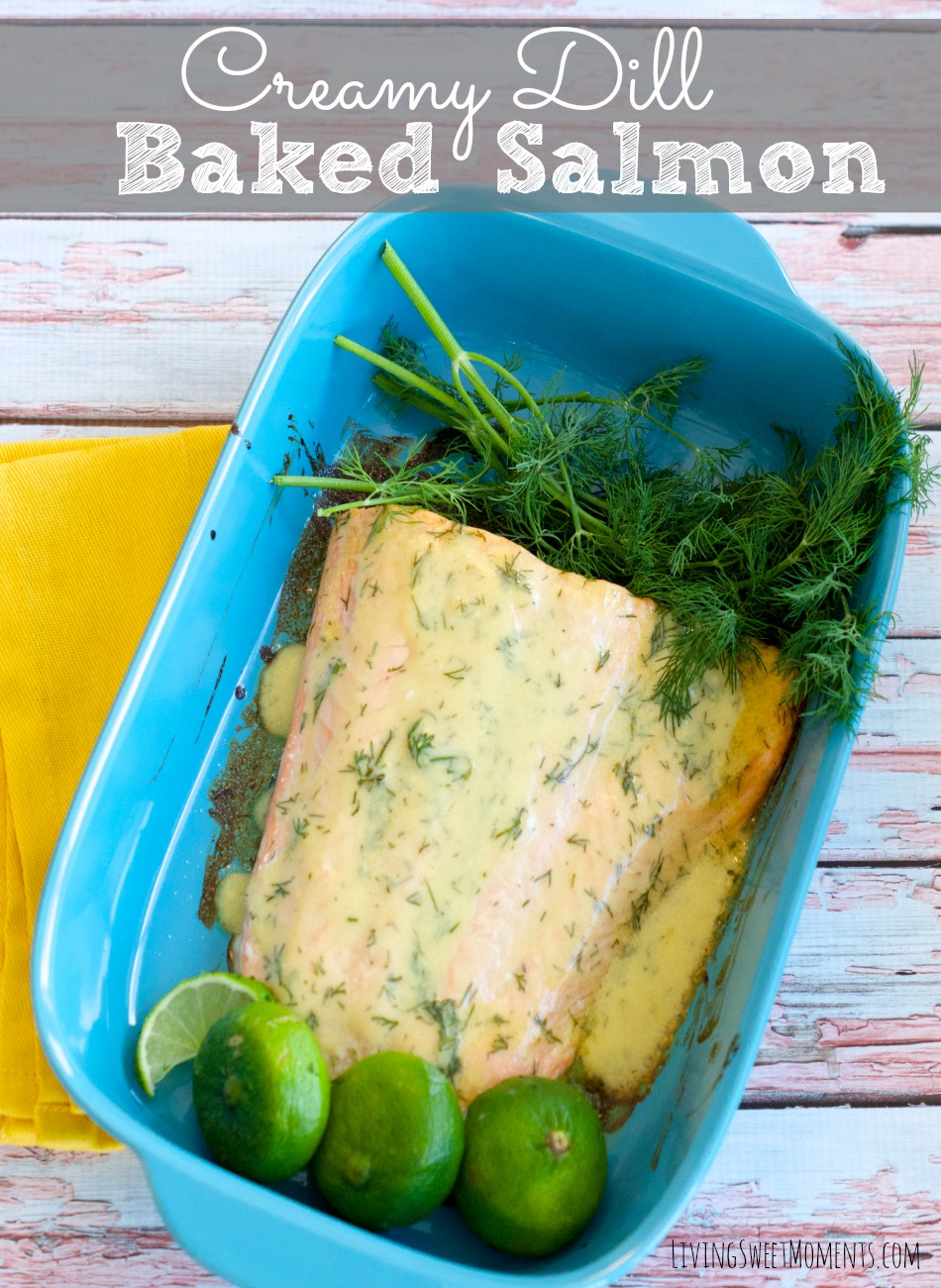 You see this piece of salmon? Well I made it yesterday for lunch and my hubby ate it all! He left me just a little piece. That's why I decided to scale the recipe for a whole fillet, in case it happens to you too. This Creamy Dill Baked Salmon Recipe is very delicious and easy to make! On your table in 20 minutes and perfect for entertaining or for a quick weeknight meal.
You can make it in advance and just bake at last minute. Prep in the morning before work and place it in the fridge covered until ready to bake. The salmon is delicious and soft and has a creamy and tangy sauce. The dill is a very citrusy herb and it just reminds me of my grandma, who adds dill on every savory dish she makes. Dill has a very particular fragrance that you can spot right away.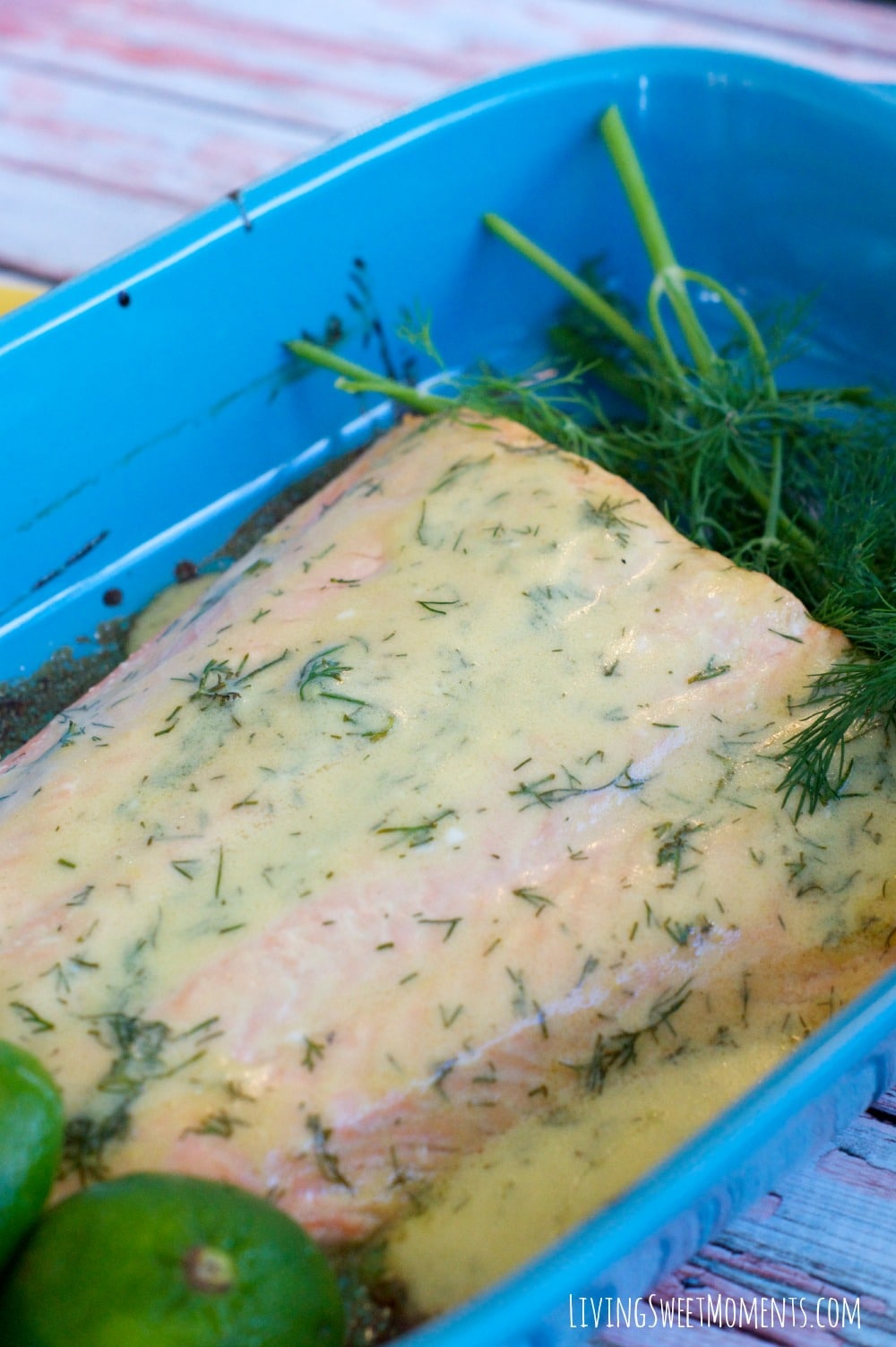 This particular Baked Salmon Recipe requires few ingredients that mostly you have at home. Prep is throwing the sauce ingredients in a bowl, pouring it onto the salmon and bake. That's it! Really easy.
I decided to make salmon because I love the flavor but mostly because every time I say the word I have to laugh. Due to my horrible English accent, every time I go to a restaurant I tell the waiter: "I am having the SaLmon please?". My husband gets mad and says "The "L" is silent! Say samon not saLmon!!" Now I remember the correct way but still pronounce it wrong just to tease him 🙂 . So next time you hear somebody mispronounce the word, you'll think of me.
 The key to this recipe is to remember not to overcook it, 20 minutes is all this takes for this bad boy to be ready. Have you every tried overcooked saLmon? it tastes like cat food! (so my cat says). I know, I know.. I am rambling on. So without further ado, here's the yummy recipe.
Creamy Dill Baked Salmon Recipe
Author:
Prep time:
Cook time:
Total time:
Ingredients
2 lbs. of Salmon
2 Tablespoons of Olive Oil
2 Teaspoons of Honey
2 Teaspoons of Chopped Dill
2 Teaspoons of Mustard
Juice of one Lemon
1 teaspoon of Sour cream or Yogurt
1 clove of garlic, minced
Salt + Pepper to taste
Instructions
Preheat Oven to 350 Degrees F.
Arrange Salmon on a baking dish
In a bowl, whisk the olive oil, honey, dill, mustard, lemon, salt, pepper and garlic (do not add the sour cream)
Pour only HALF of the sauce on top of the salmon
Bake for 18 minutes
Add the sour cream to the other half of the sauce
Remove Salmon from oven and add the rest of the sauce
Bake for only 2 more minutes
Enjoy!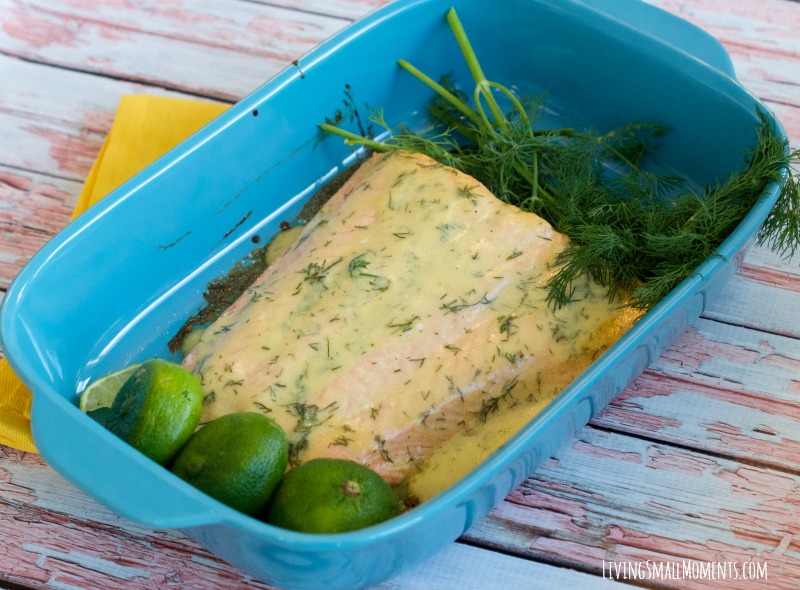 LOVE SaLmon? Me too!! Try these other recipes!