This post was sponsored by Sargento Foods as part of an Ambassador Program for Influence Central and all opinions expressed in my post are my own
Delicious savory homemade plantain gnocchi is served with an amazing four-cheese sauce. Perfect as a vegetarian entree for parties or celebrations. Check out the step by step pictures below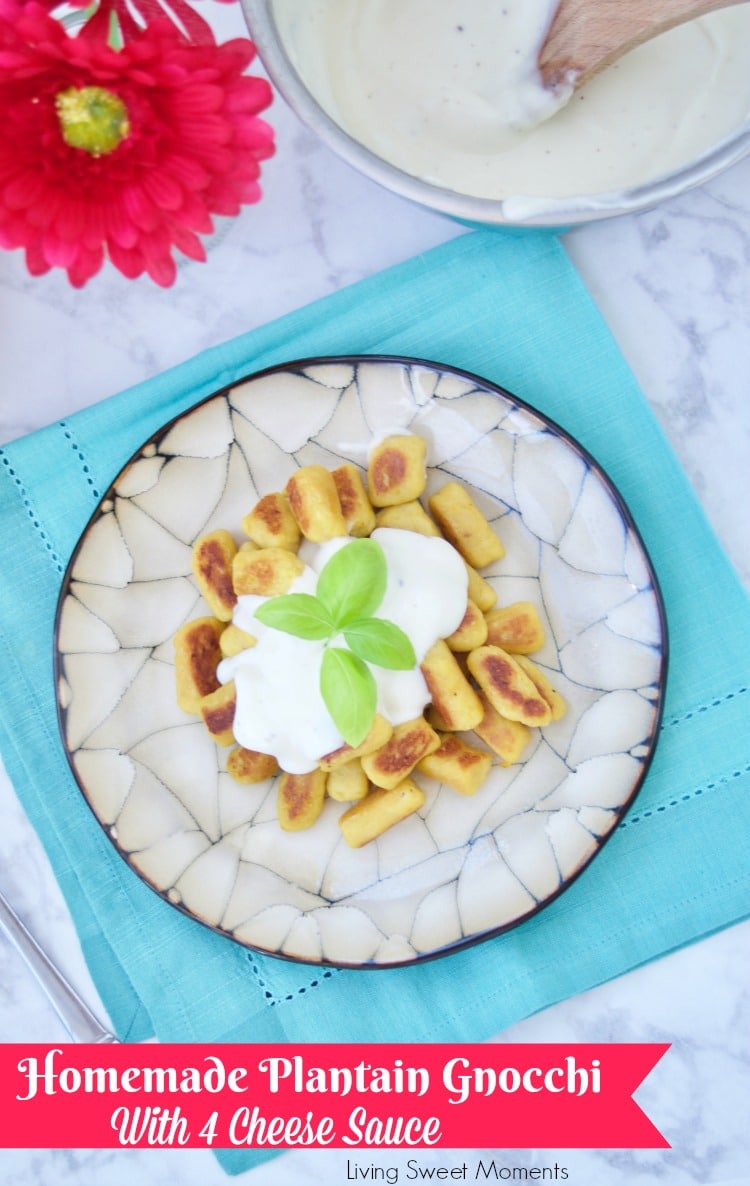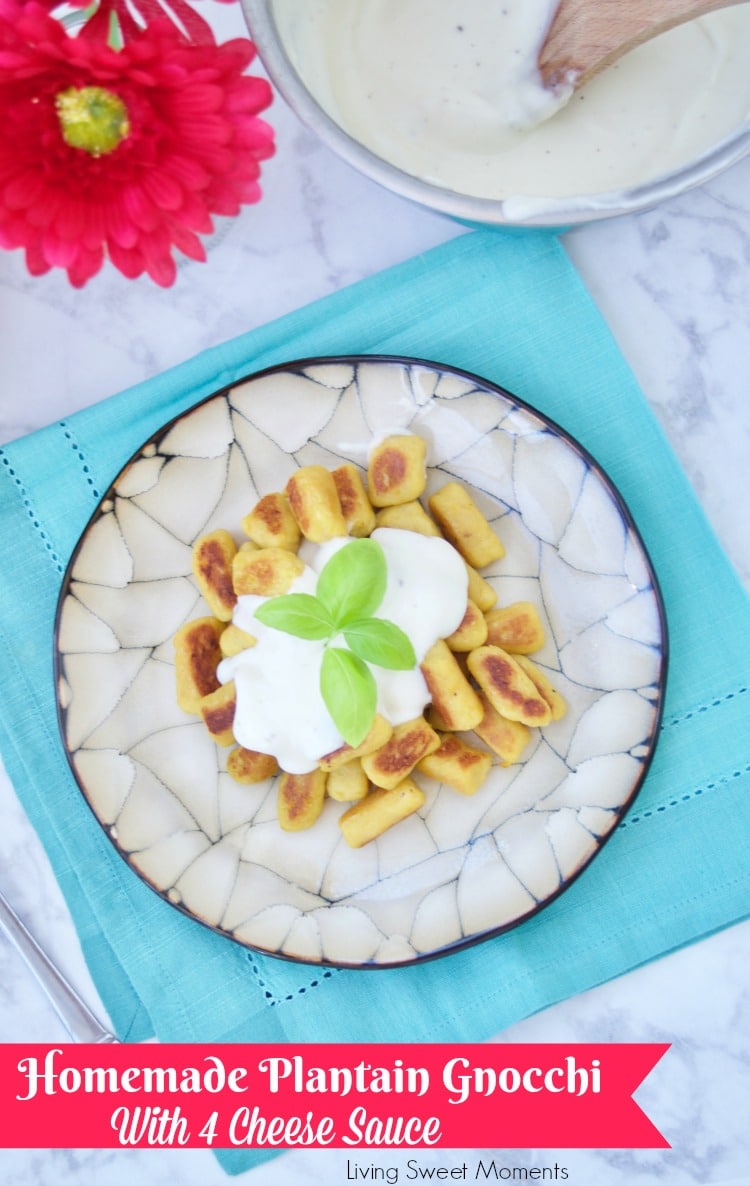 Homemade Plantain Gnocchi With Four-Cheese Sauce
Move over potatoes! There's a new way to prepare your gnocchi: Sweet ripe plantains. Enjoy the delicious and delicate flavor of this Caribbean fruit mixed with an Italian pasta technique and topped with a French Mornay sauce. Talk about Fusion Cuisine.
Believe it or not, this pasta dish is so easy to make and it would even impress your mother in law. The combination of textures and flavors is spot on. Imagine tasting something sweet and savory, then biting into these soft and pillowy morsels of goodness topped with a creamy cheese sauce flavored with nutmeg. Simply amazing.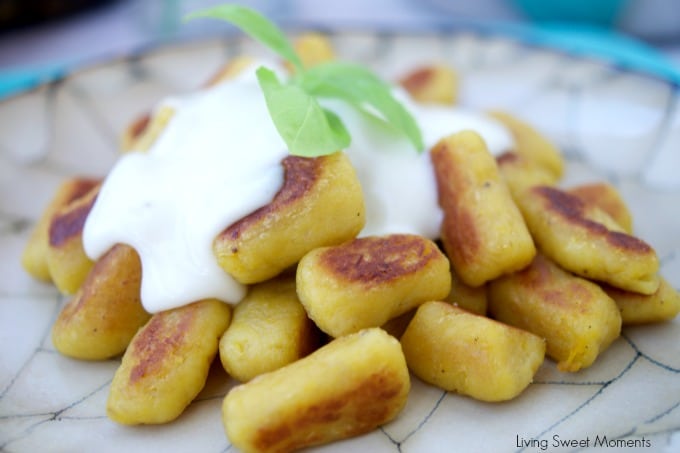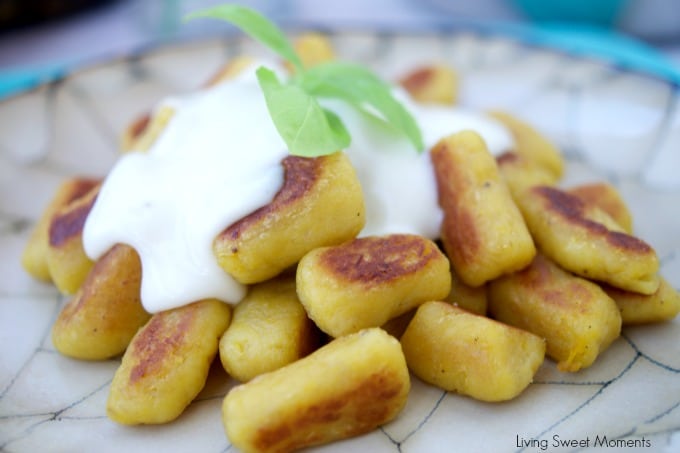 Growing up in Venezuela, plantains were part of our regular diet. They're so versatile since you can fry it, bake it, grill it, use it in stews, casseroles, etc. When the plantains are green they're savory, and the riper they are, the sweeter they become. I used the latter for my gnocchi.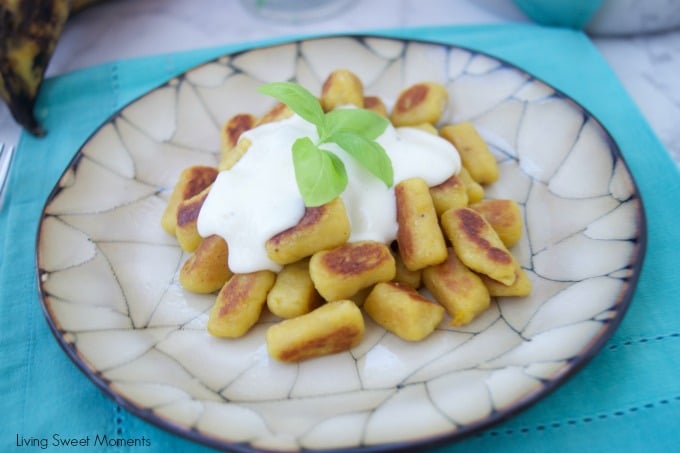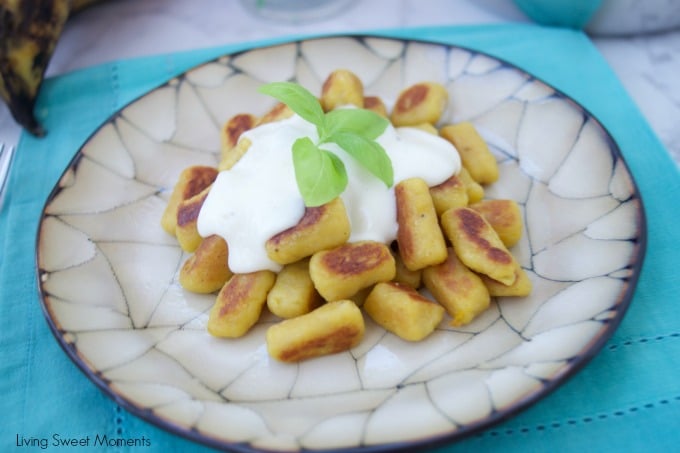 When I first came out with the concept of using Plantain in my Gnocchi, I had no idea what sauce to top it with, so I called my friend Adriana, who is an amazing cook and she instantly said:  four-cheese sauce, no doubt. A tomato one would kill the delicate plantain flavor. And that's how this dish was born.
As for my sauce goes, I cheated, instead of using 4 kinds of cheese, I used 8. Couldn't resist, life it's too short to skimp on the cheese.  I added Sargento® Shredded 4 Cheese Mexican and Sargento® Shredded 4 State Cheddar Cheese. Great tasting meals start with cheese shredded fresh of the block.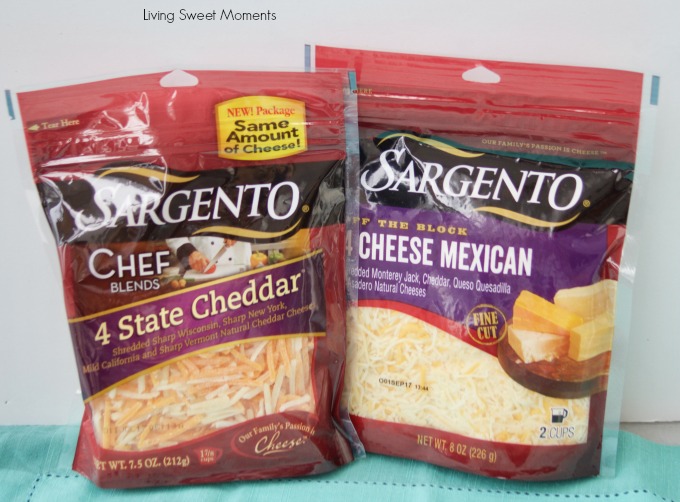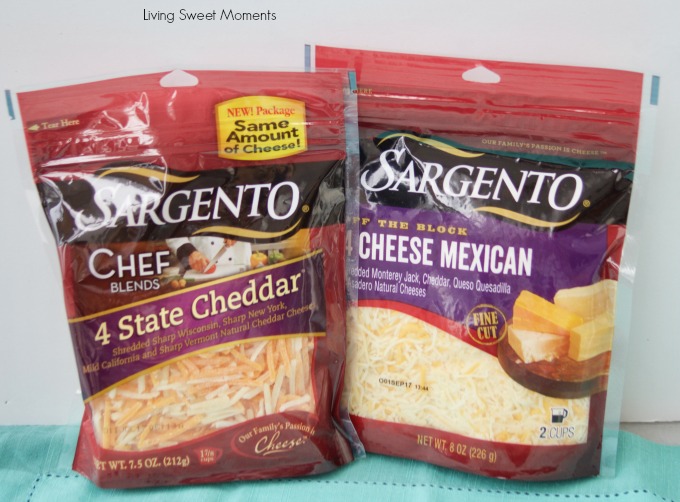 Did you know that Sargento® Shredded Cheeses is always shredded from blocks of real, natural cheese? Click HERE for more information and details.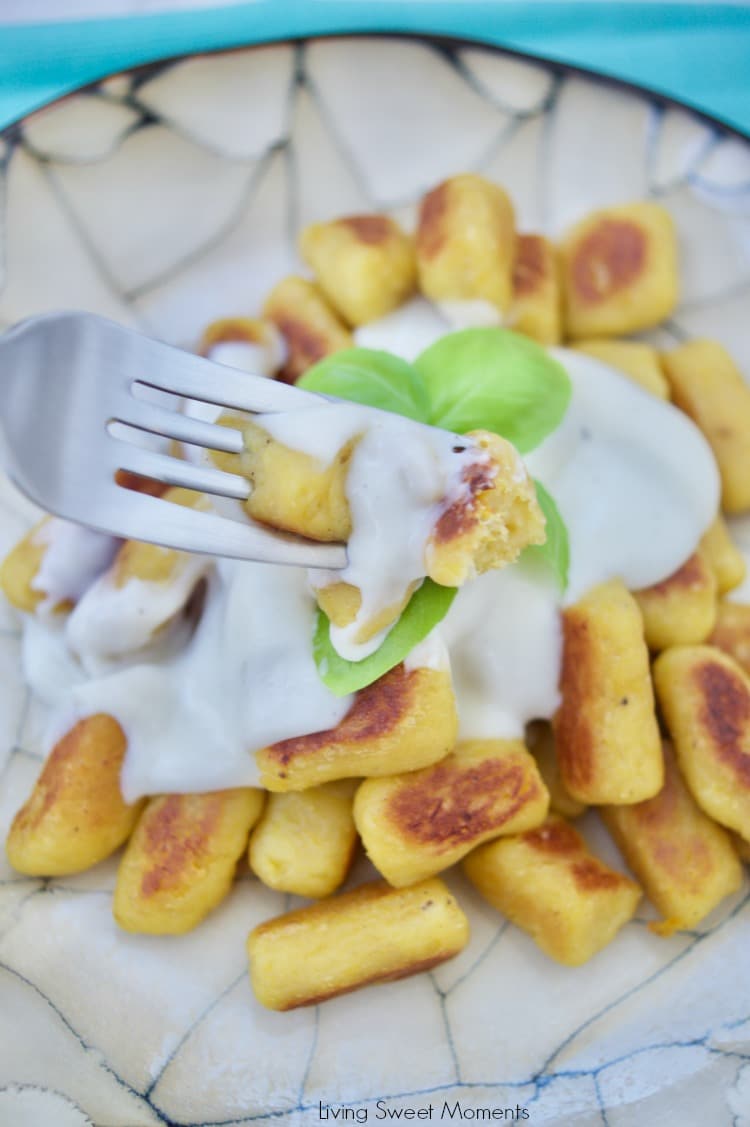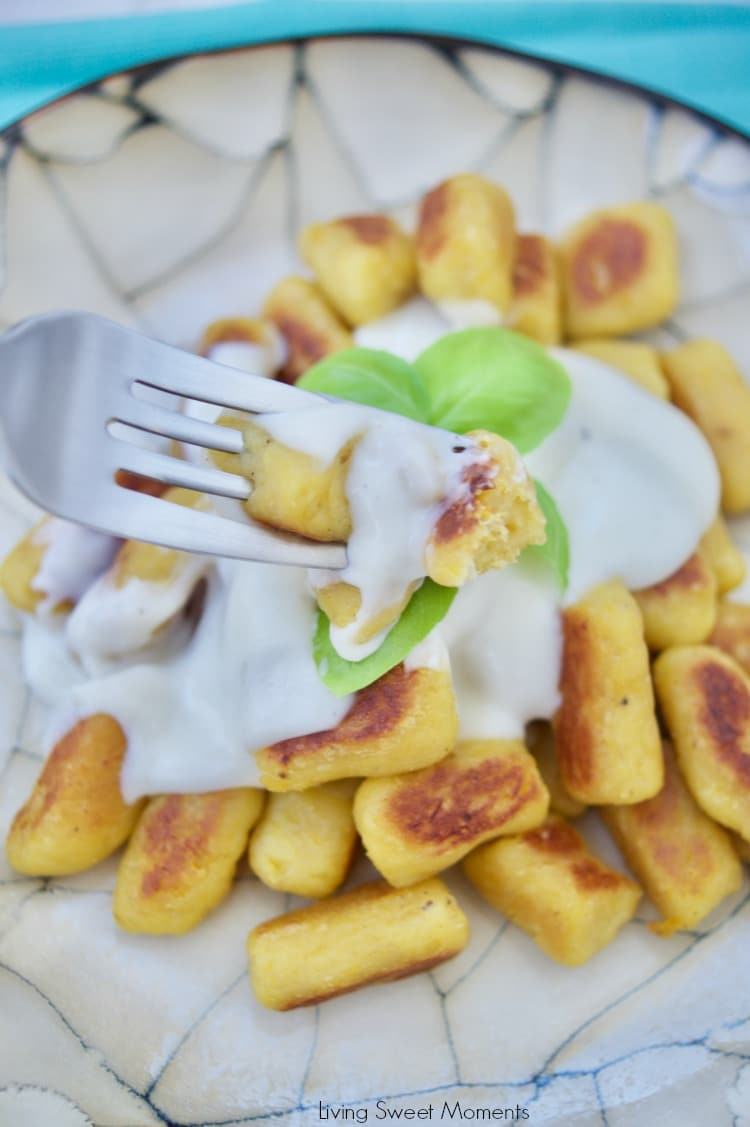 Ready to make this Homemade Plantain Gnocchi With Four-Cheese Sauce? Grab an apron and let's get started:
The first step is to boil the ripe plantains with the skin until they soften in salted water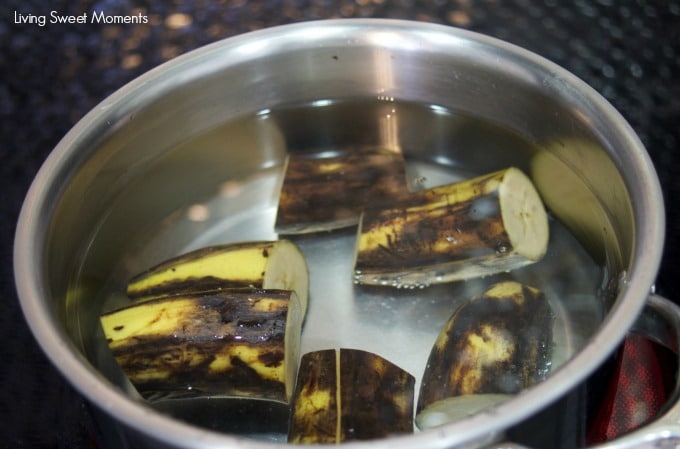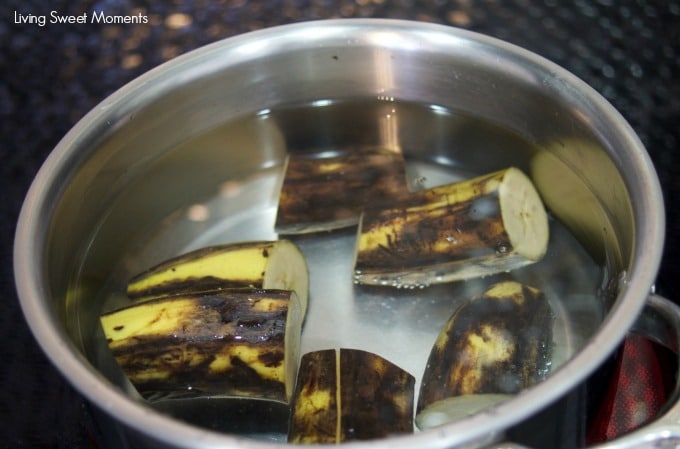 After they soften, place them in a bowl and peel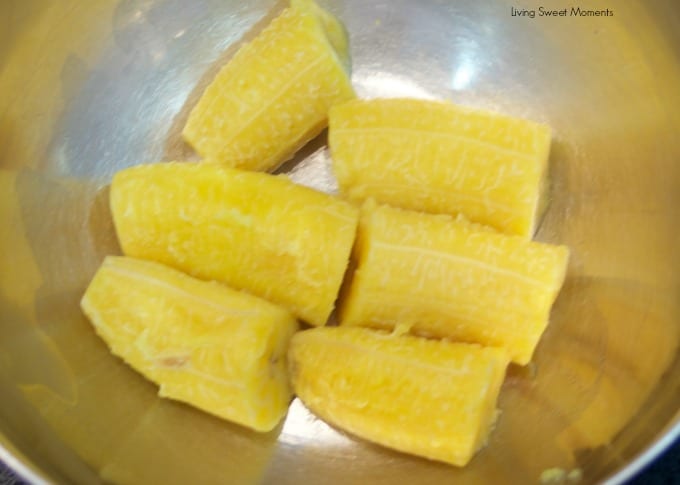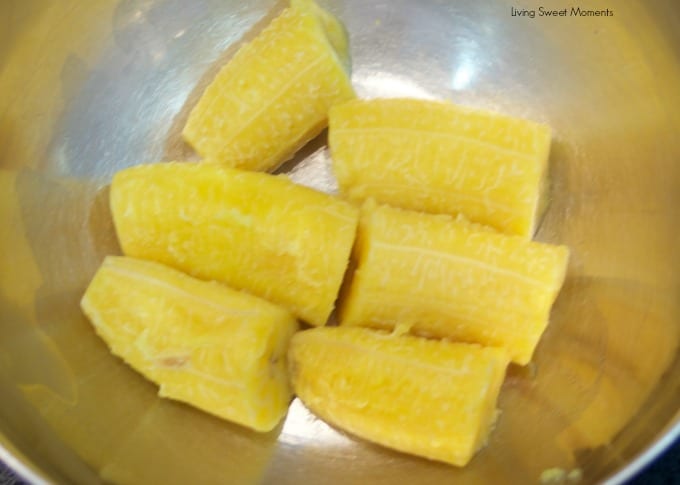 Using a potato ricer, puree the plantains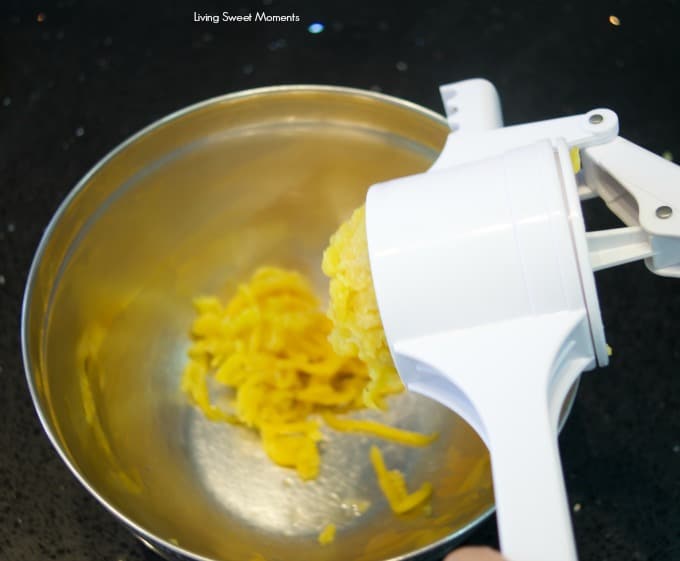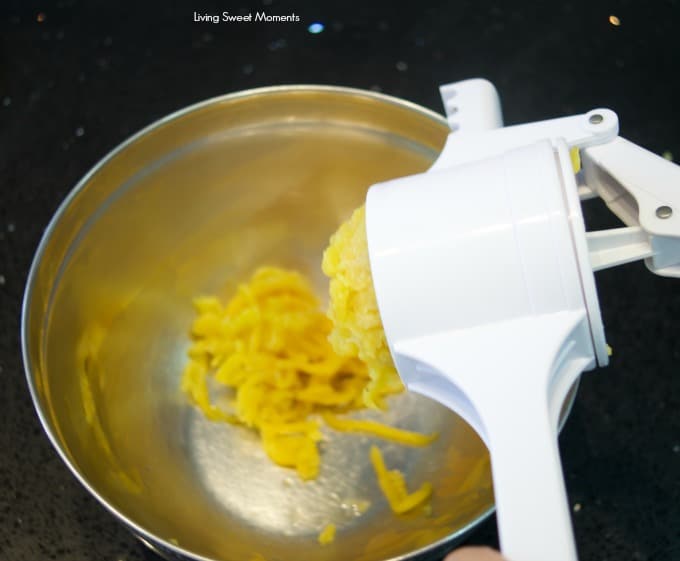 To this puree, add your seasonings. Leave it to cool for a few minutes before adding the egg yolk and the flour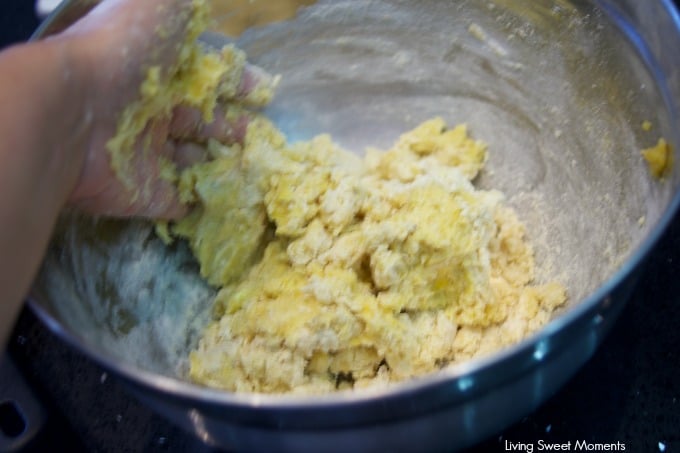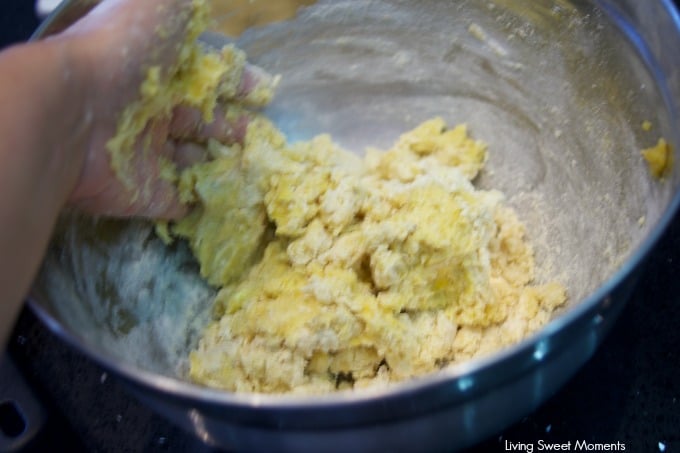 Mix the dough with your hands after adding the flour. It'll take just a couple of minutes to come together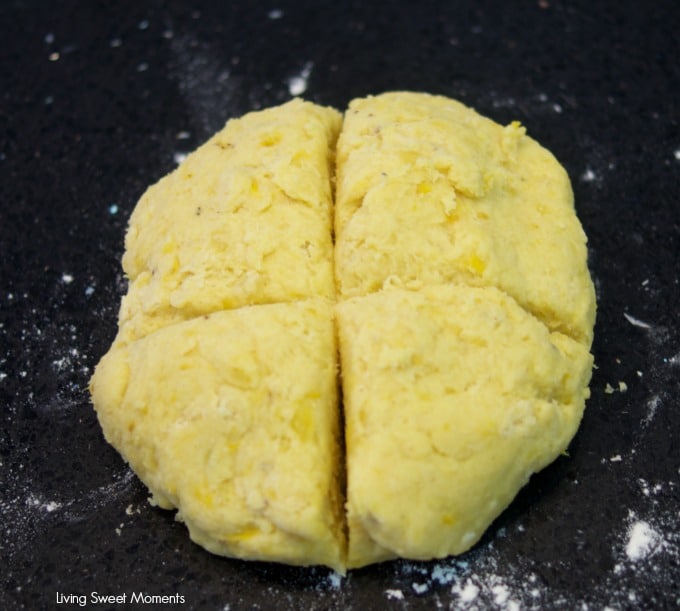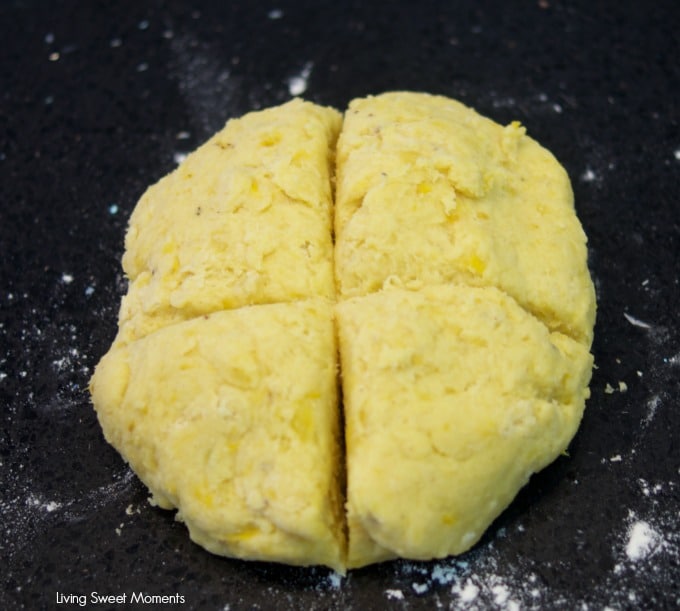 Now divide your dough into 4 sections and work with each section at a time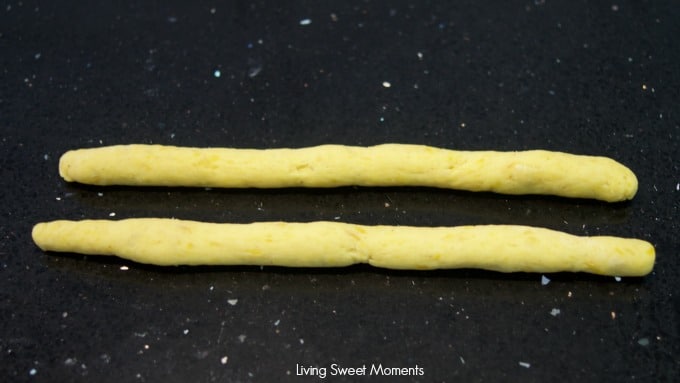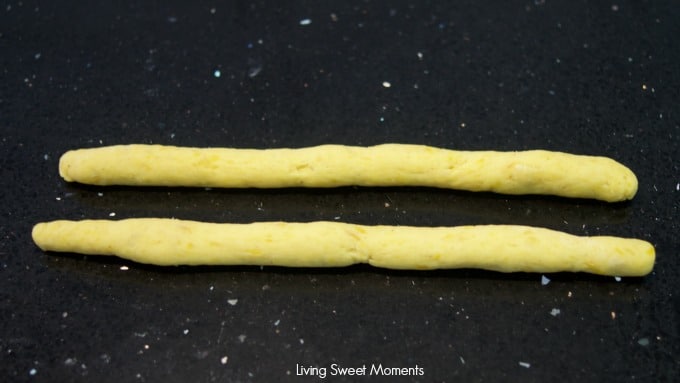 Divide the section in 2 and roll into logs. Kids can easily do this part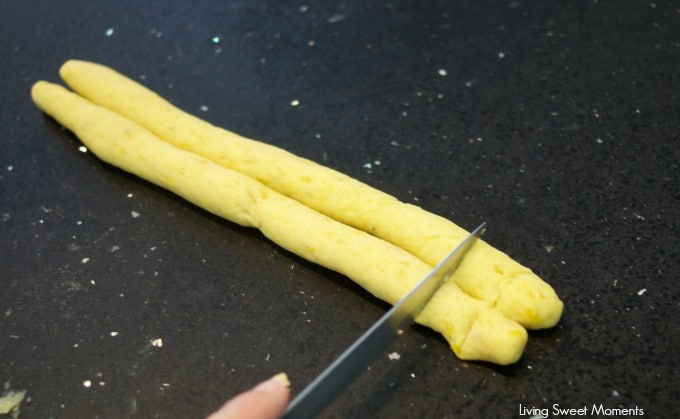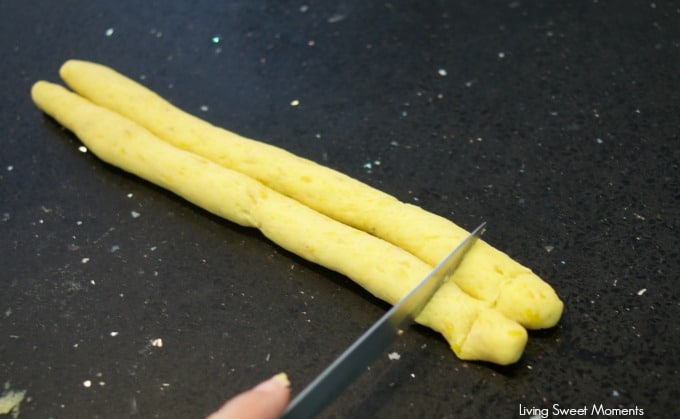 Then, using a knife, cut the string into 1-inch pieces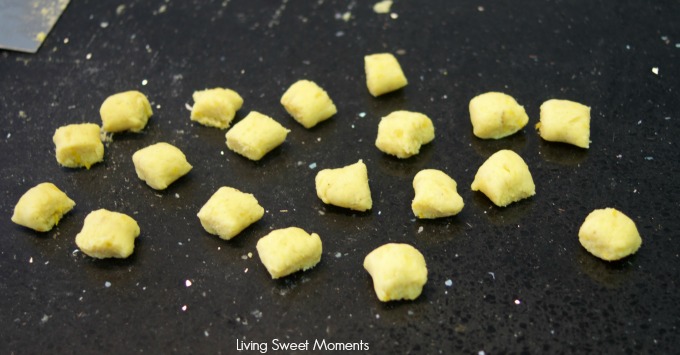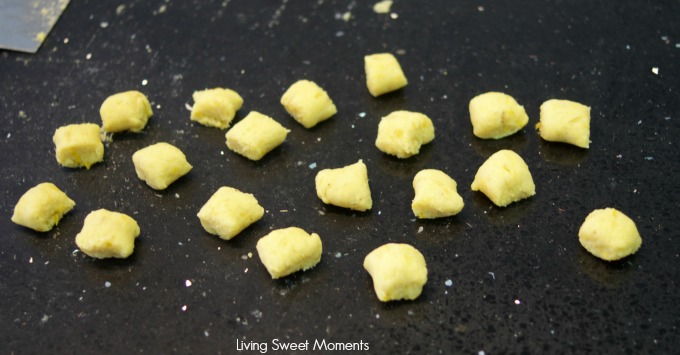 Roll each piece into the back of a fork (optional)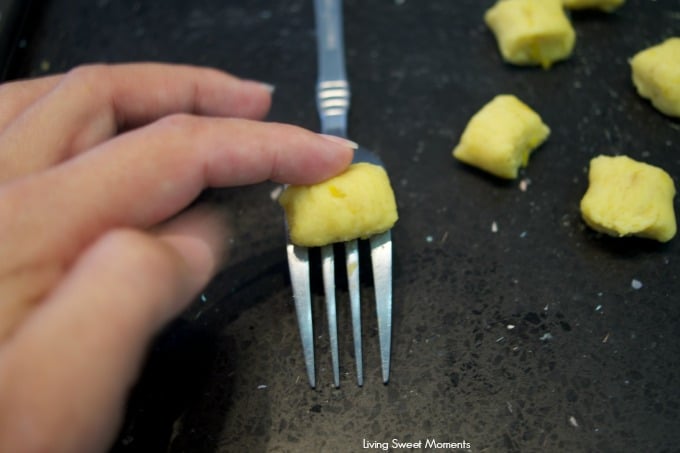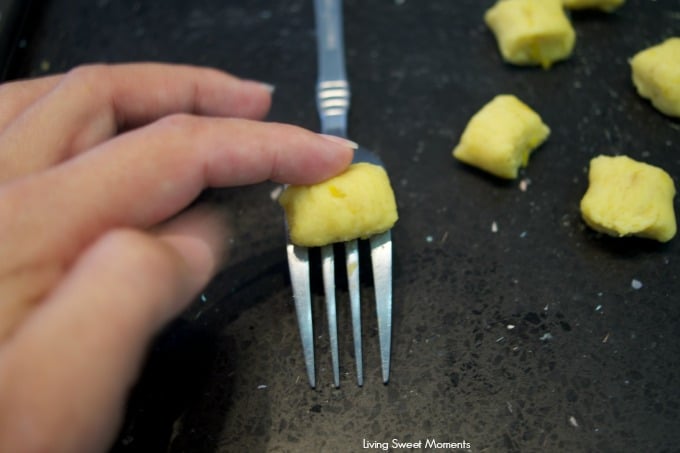 Boil the gnocchi in salty water until they start floating. About 3-4 minutes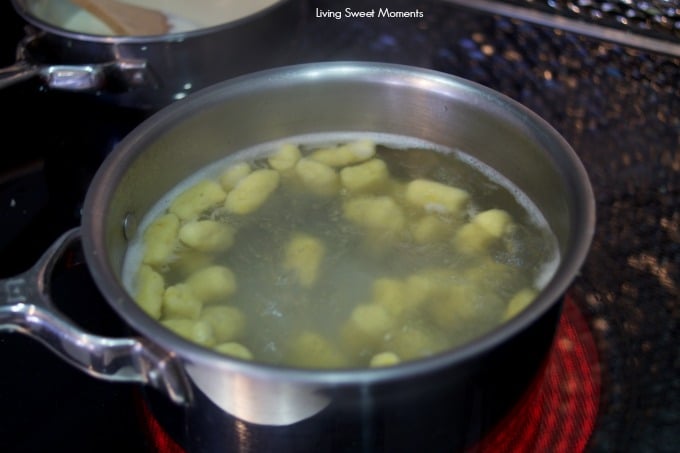 Drain them and they are ready to be enjoyed. Before serving, I like to sauté them with a bit of butter to give it a different texture. This step is entirely optional.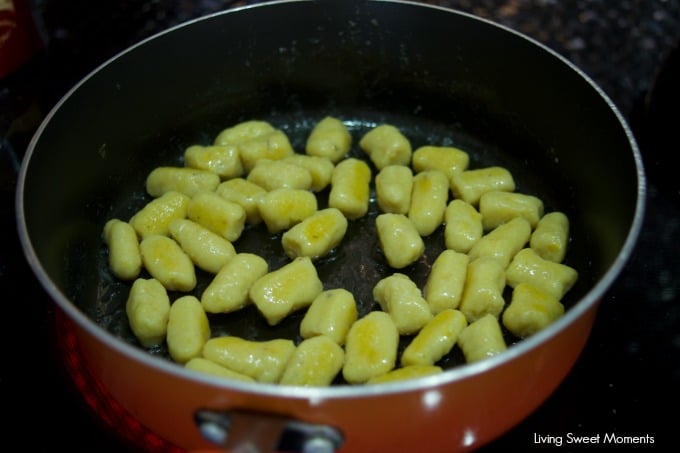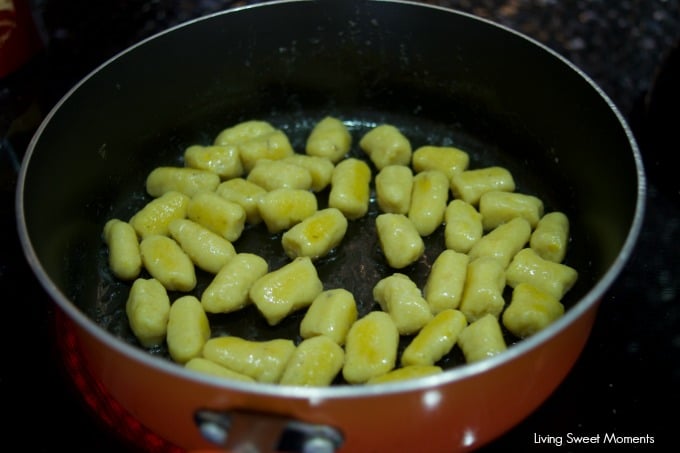 Voila! Gnocchi is done! See how easy that was? Now let's make our four-cheese sauce. The process is exactly like a Bechamel with cheese at the end.
First, we melt some butter, then we add flour and let it cook for a couple of minutes.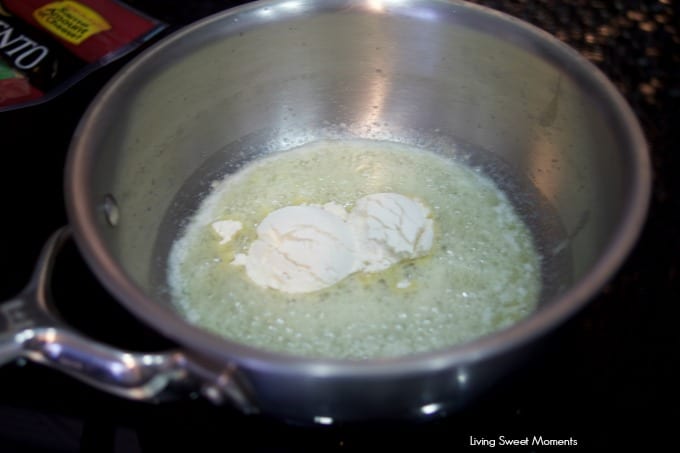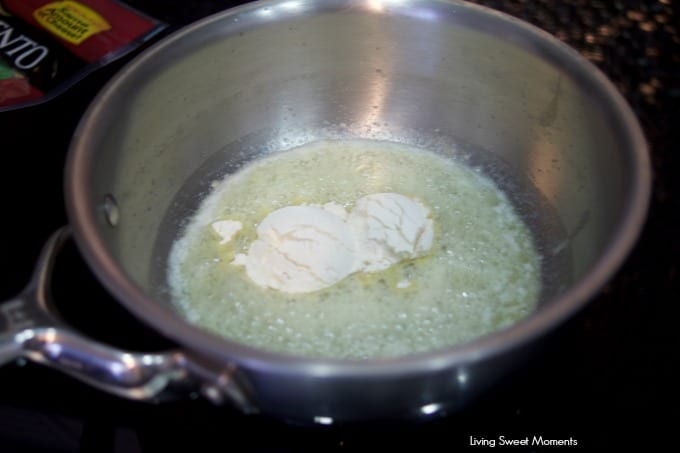 Then we add the hot milk and seasonings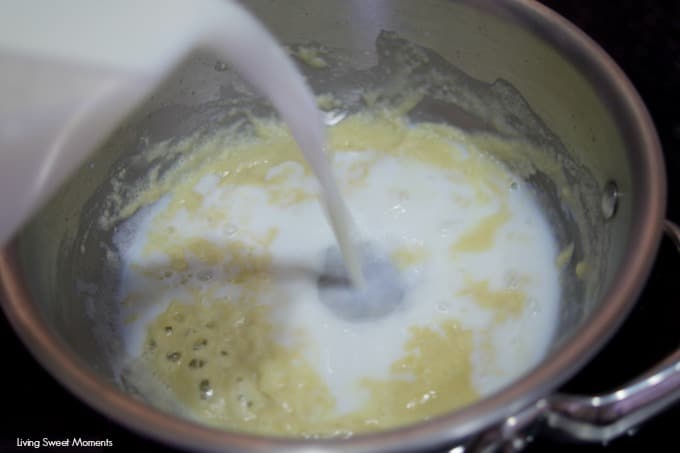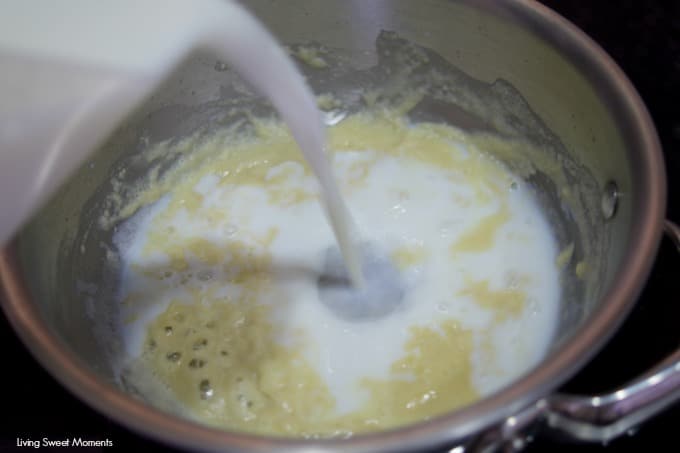 We whisk until thickened. Now the best part: we add the Sargento® Shredded Cheese.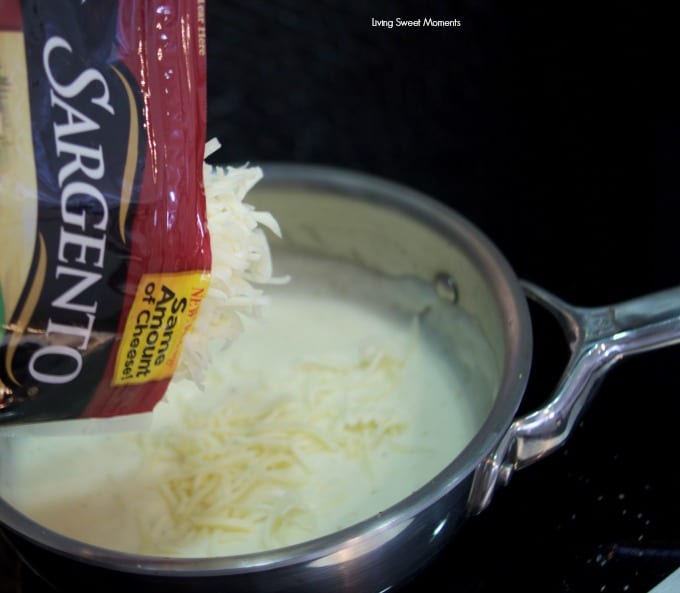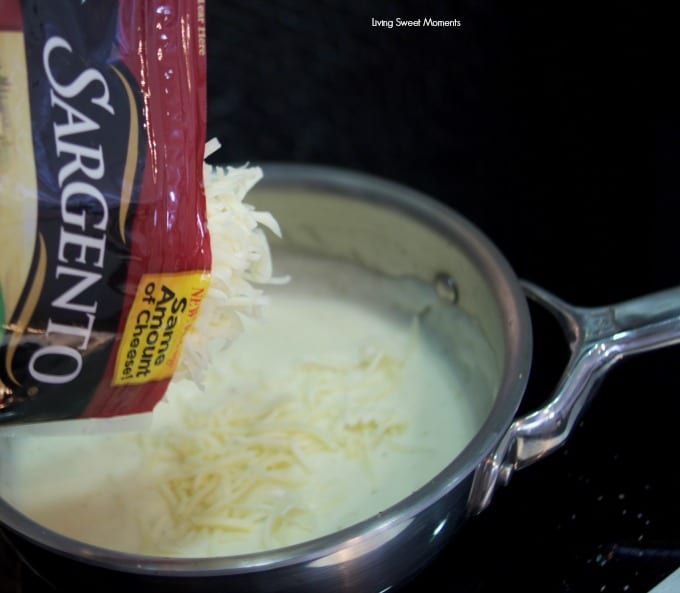 Mix with a wooden spoon and our sauce is ready.
I hope you can try this delicious Homemade Plantain Gnocchi With Four-Cheese Sauce at home. If you do, please upload a pic on Instagram and tag me @Livingsweetmoments or use the hashtag #LivingSweet. I promise to repost it. Remember to buy 2 bags of Sargento® Shredded Cheese to make this dish!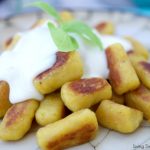 Homemade Plantain Gnocchi with Four-Cheese Sauce
Delicious savory homemade plantain gnocchi is served with an amazing four-cheese sauce. Perfect as a vegetarian entree for parties or celebrations.
Ingredients
For Plantain Gnocchi
2

Ripe Plantains

1

teaspoon

Vegetable Oil

1

Egg Yolk

1/2

teaspoon

Nutmeg

1/4

teaspoon

Cinnamon

optional

1

teaspoon

Brown Sugar or Cane Sugar

optional

3/4

cup

Flour

plus more for dusting

Salt + Pepper to taste

1/2

tablespoon

Butter

for browning the gnocchi
For Four-Cheese Sauce
2

tablespoons

Butter

2

tablespoon

Flour

1

cup

Milk

hot

1/2

teaspoon

Nutmeg

1/4

cup

Sargento® Shredded 4 State Cheddar Cheese

1/4

cup

Sargento® Shredded 4 Cheese Mexican

Salt + Pepper to taste
Instructions
For Plantain Gnocchi
Cut the ends of plantains and then cut them into 2-3 pieces with the skin on. Boil in salted water for 20 minutes or until they soften

Remove from water and peel the plantains. Puree the pieces using a potato ricer

Add the oil, salt, pepper, cinnamon, nutmeg, and sugar to the pureed plantains. Mix well with a spoon. Let this mixture cool for a few minutes before adding the egg and flour

Add the egg yolk and mix until completely combined. Add the flour and knead with your hands until the dough comes together

Place dough on a floured surface and cut into fourths. Work with one-fourth at a time for easier handling

With your fingers, roll dough into a long rope. Cut into 1-inch pieces. Repeat with the other 3 sections of dough

Shape the pasta by rolling each one on the back of a fork (optional)

Cook the gnocchi in a large salted pot of water. They will be ready when they start to float. About 2-3 minutes. Drain

Finally, melt butter on medium heat in a skillet. Place cooked gnocchis and stir them until browned on both sides. Top with four-cheese sauce
For Four-Cheese Sauce
In a saucepan, melt the butter over medium-low heat

When the butter is melted, add the flour and whisk until incorporated and the flour is cooked (about 45 seconds to 1 minute)


Add the warm milk and whisk vigorously to avoid lumps. Keep whisking until the sauce starts getting thick and creamy. Add the salt, pepper, and nutmeg.


When sauce becomes creamy, add the Sargento® Shredded 4 Cheese Mexican and the Sargento® Shredded 4 State Cheddar Cheese. Stir with a spoon until melted. Taste for seasoning and make the necessary adjustments.
Want more Cheesy ideas? Here's a few more on my To-Do List: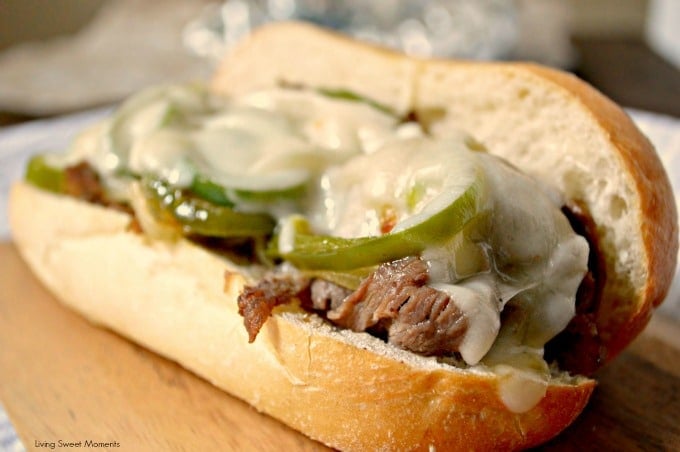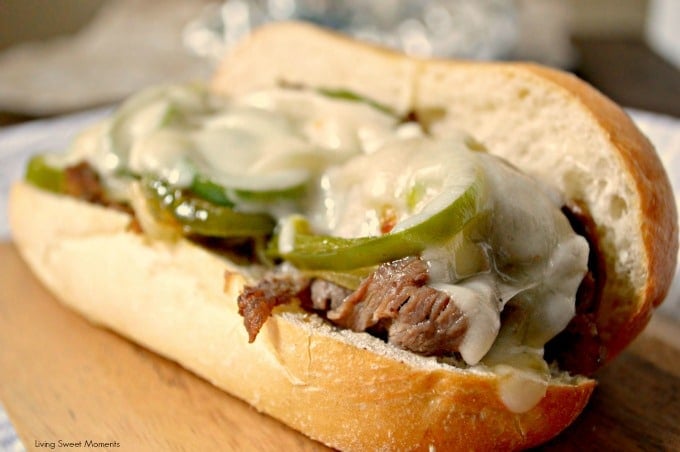 Easy Grilled Philly Cheese Steak Sandwich: this easy weeknight dinner idea is made in no time and has so much flavor! BBQ'ed beef and veggies, on a hoagie bun and topped with melty Sargento® Shredded 4 Cheese Mexican.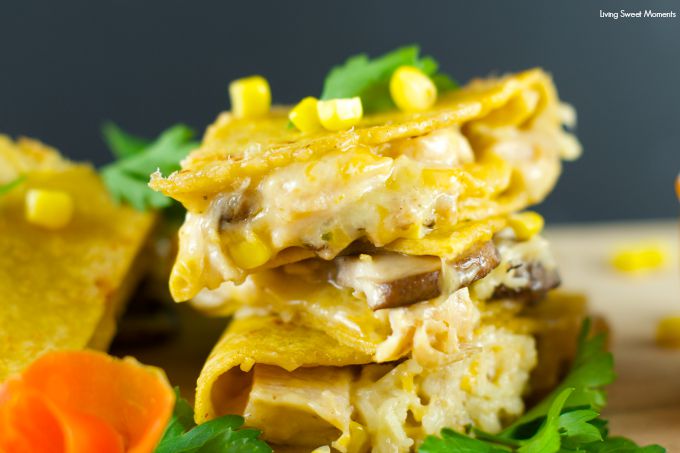 Zucchini Chicken Quesadillas With Ranch Aioli: Delicious chicken and zucchini quesadillas made with Sargento® Shredded 4 State Cheddar Cheese and served with homemade Ranch Aioli. A quick and easy dinner that's ready in 10 minutes or less.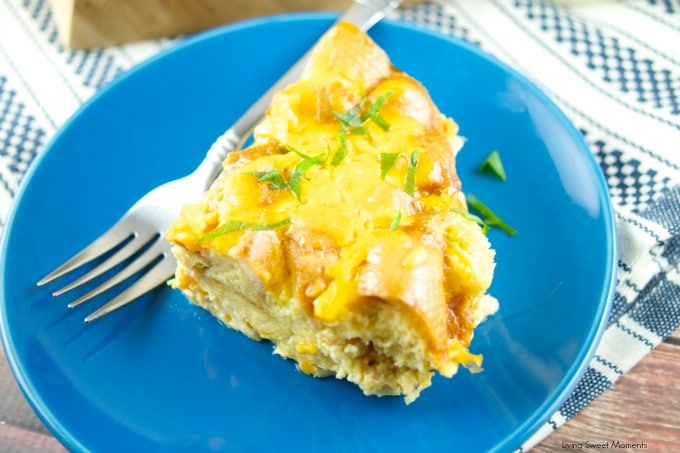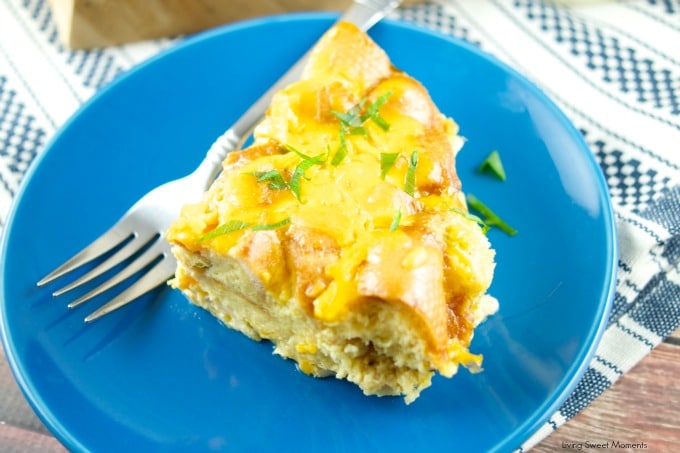 Slow-Cooker Breakfast Bacon Strata is easy to make and delicious for breakfast, brunch, and even dinner. Made with Sargento® Shredded 4 Cheese Mexican, bread, eggs, bacon, and veggies.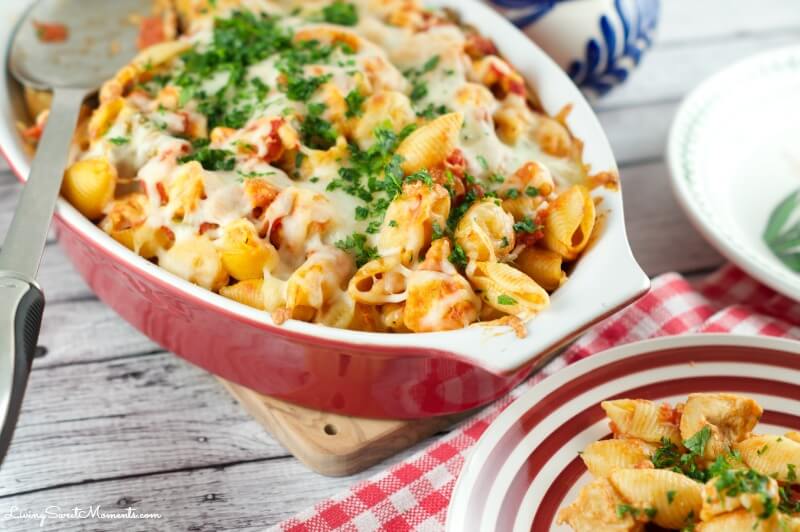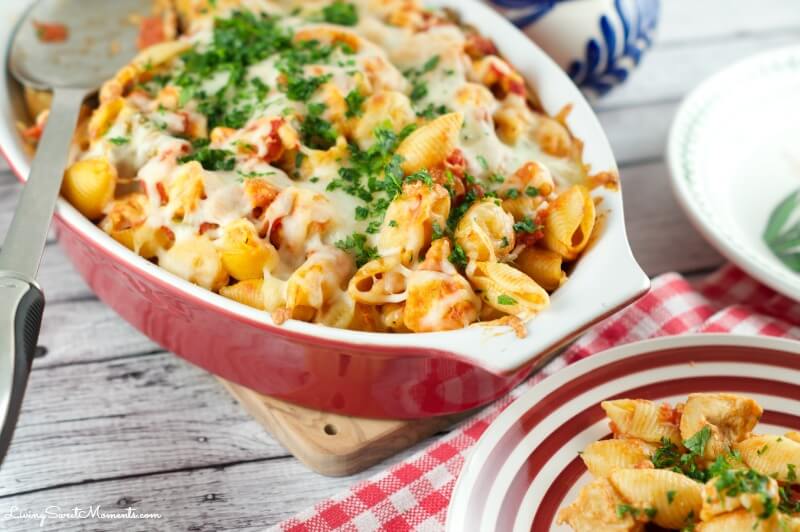 Baked Chicken Casserole: Chicken breast is baked with pasta, tomato, and Sargento® Shredded 4 State Cheddar Cheese, garlic and green peppers.  This easy quick dinner recipe is delicious, hearty and so satisfying.