This shop has been compensated by Collective Bias, Inc. and its advertiser. All opinions are mine alone. #SweeterPascua #CollectiveBias
Hosting A Latino Easter Party with easy to make sweets and desserts using a Latino Flair! Decorate with pastel colors and the new Easter M&M's – Yum!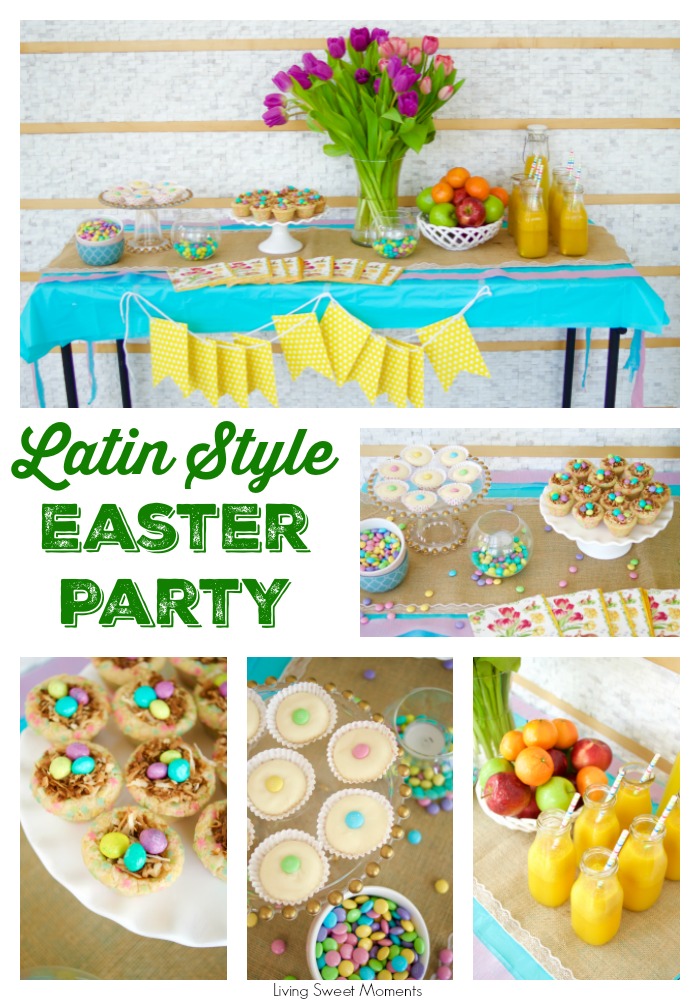 Hosting A Latino Easter Party
As many of you know, I was born and raised in Caracas, Venezuela. Comparing to the US, we have a few different traditions when it comes to Easter. Since we live in Miami, I decided to use a pastel color decoration with some delicious and easy to make latin sweets (dulcitos) in order to marry both customs.
When it comes to Easter, I love the baby color that coincides with Spring. It's bright and cheerful. That's why I choose to pair it with Tulips, they are blossoming this time of year and give plenty of life to the table.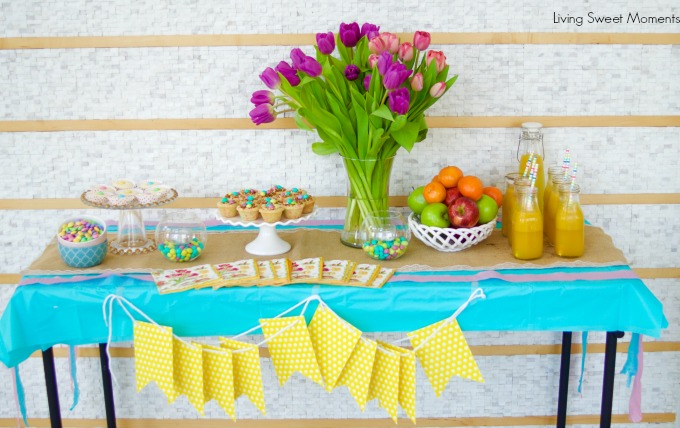 As you can see, I used my favorite Candy: M&M's and of course, they came with their own Easter versions. They were so cute that I even decided to use them in my Papitas de leche (milk fudge) and my Dulce de Leche cookie cups.
For decoration, I used candle vases and filled them up with M&M's eggs. I also placed 2 colorful bowls filled with Easter colored M&M's.
Whenever I serve sweets, I always add a bowl of fruit. It's perfect for food allergies and also gives a nice color to the table. When I comes to drinks I added a Venezuelan classic: Batido de Parchita (passion fruit juice). To make it, all you need is passion fruit pulp, water, ice and sugar. Easy, peasy parchita squeezy! The batido is tangy and goes great with our sweet desserts.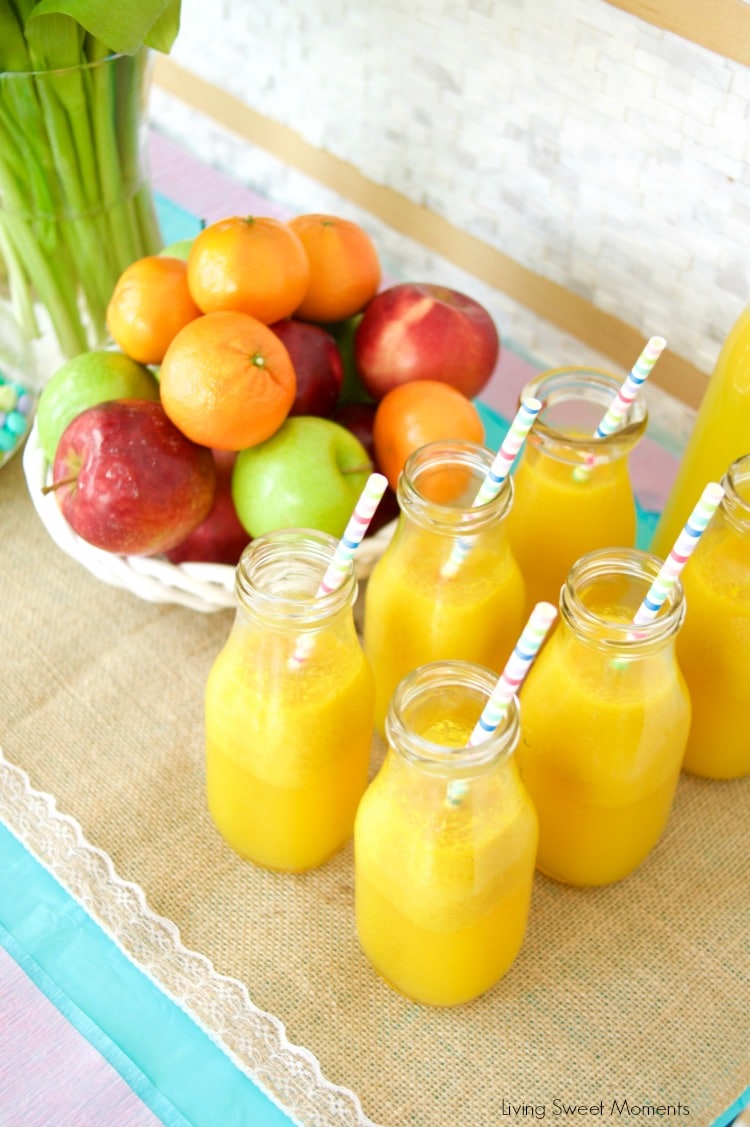 When I was little, Easter was not celebrated by eating Brunch on Good Sunday. Rather, the entire country went on Semana Santa (Holy Week). Kids and adults went on vacation for an entire week. Similar to Spring Break here, the big difference is that the adults didn't have to work during this period. This week was given regardless or religion and beliefs.
During Semana Santa, we fled the city and drove to the coast where the beach is located. We spend the entire week there, swimming in the pools, bathing on the beach and enjoying quality time with family and friends. It was the highlight of my tween and teen years.
The food there was delicious! BBQ's, empanadas, fried fish, etc. Of course, we couldn't skip dessert. But since we were at the beach, no mom would want to spend all day baking. That's why we ate Papitas de Leche, they don't require cooking and only have 4 ingredients. They are similar to US fudge.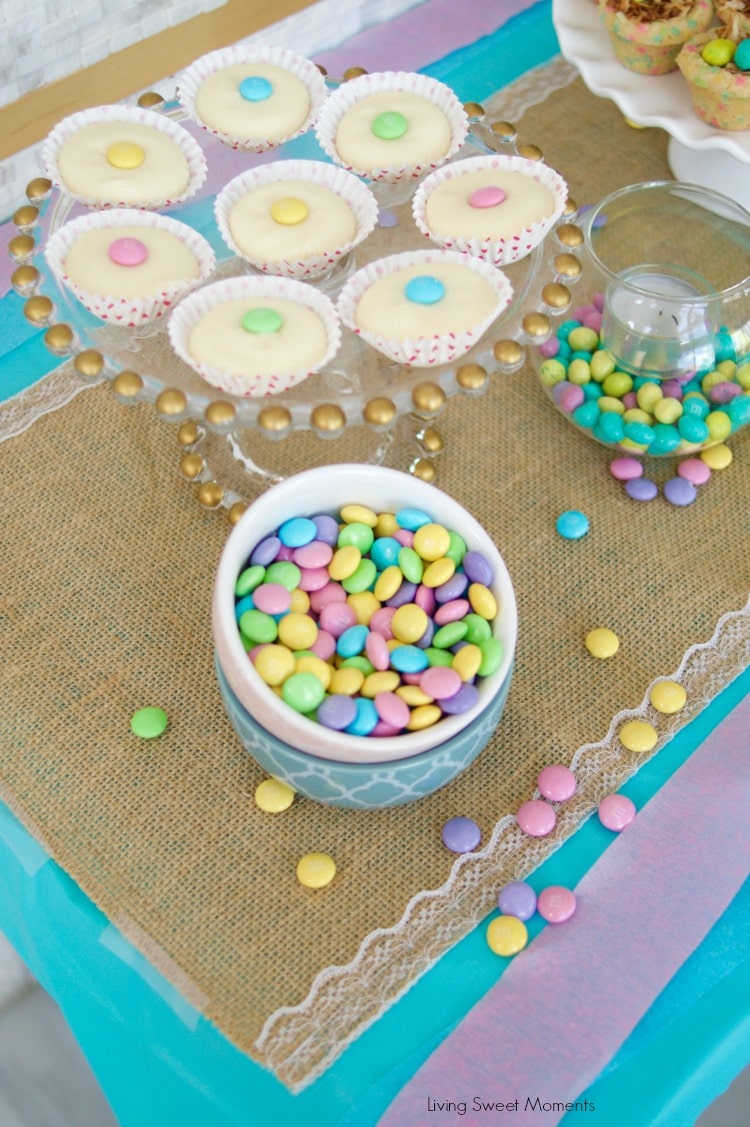 They are soft, chewy and the perfect ending to any meal. Plus, the M&M's and the colored paper cups makes them look very festive. Here's how easy they are to make: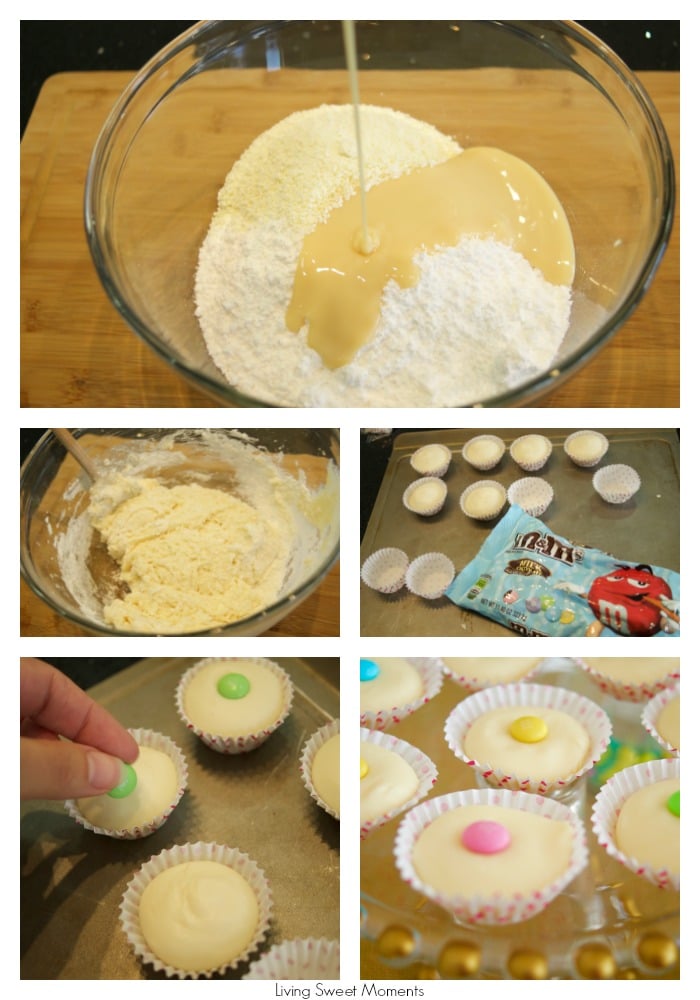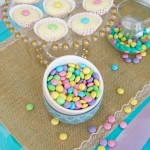 Milk Fudge
With only 4 ingredients, these milk fudge bites are easy to make, creamy and delicious. Top them with your favorite M&M's candy for a colorful look
Ingredients
14

oz

Condensed Milk

1 1/2

cups

Powdered Milk

4-5

Cups

Powdered sugar

sifted

1 1/2

teaspoons

Pure vanilla

M&M'S for topping
Instructions
In a bowl, place all the ingredients together

Mix with a wooden spoon and then knead with your hands until dough is opaque and pliable (similar to play-doh)

If dough seems too wet, add some powdered sugar

Take pieces of dough, tablespoon size and roll them into balls

Place each bowl in a small cupcake liner

Top with M&M

Let the balls dry at room temperature for 2-3 hours until set

Enjoy!
Nutrition Facts
Milk Fudge
Amount Per Serving (1 ball)
Calories 275
Calories from Fat 45
% Daily Value*
Fat 5g8%
Cholesterol 21mg7%
Sodium 81mg4%
Potassium 268mg8%
Carbohydrates 51g17%
Protein 5g10%
Vitamin A 190IU4%
Vitamin C 1.8mg2%
Calcium 192mg19%
Iron 0.1mg1%
* Percent Daily Values are based on a 2000 calorie diet.
For the Dulce de Leche cookie cups, I topped them with toasted coconut and then sprinkled M&M's eggs to make them look like a bird's nest. Aren't they cute?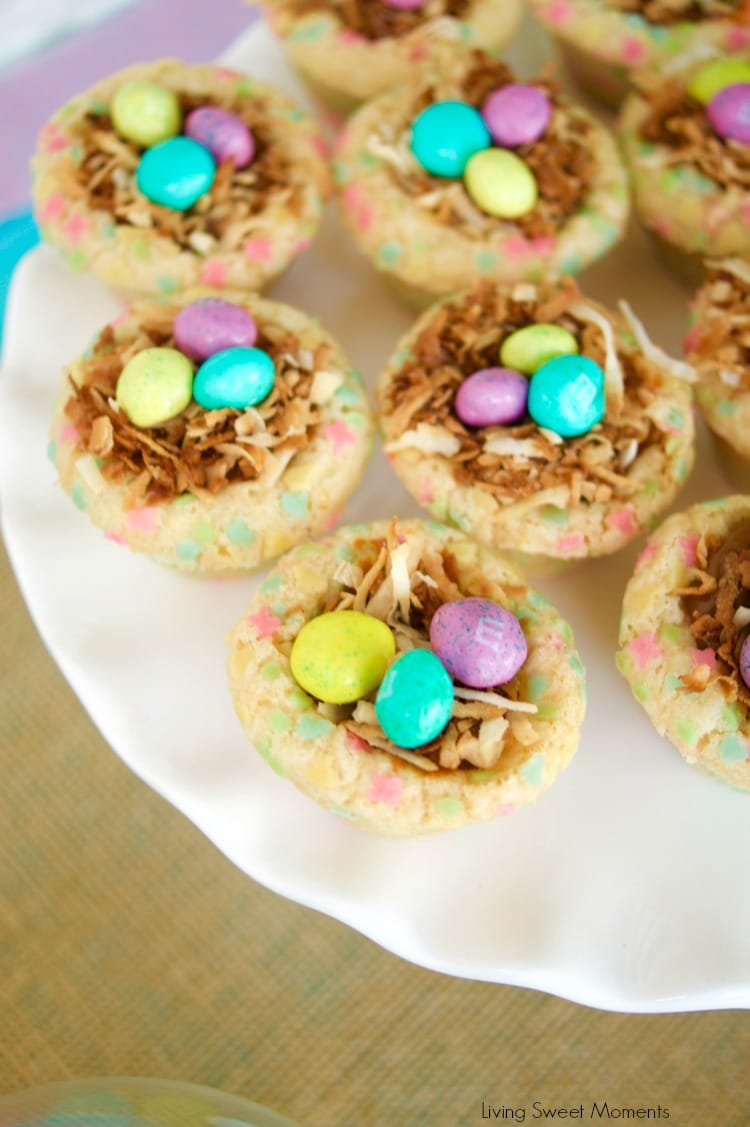 They are super easy to make and definitely a crowd pleaser. In Venezuela, we used to call dulce de leche Arequipe. I still don't know the difference between the 2.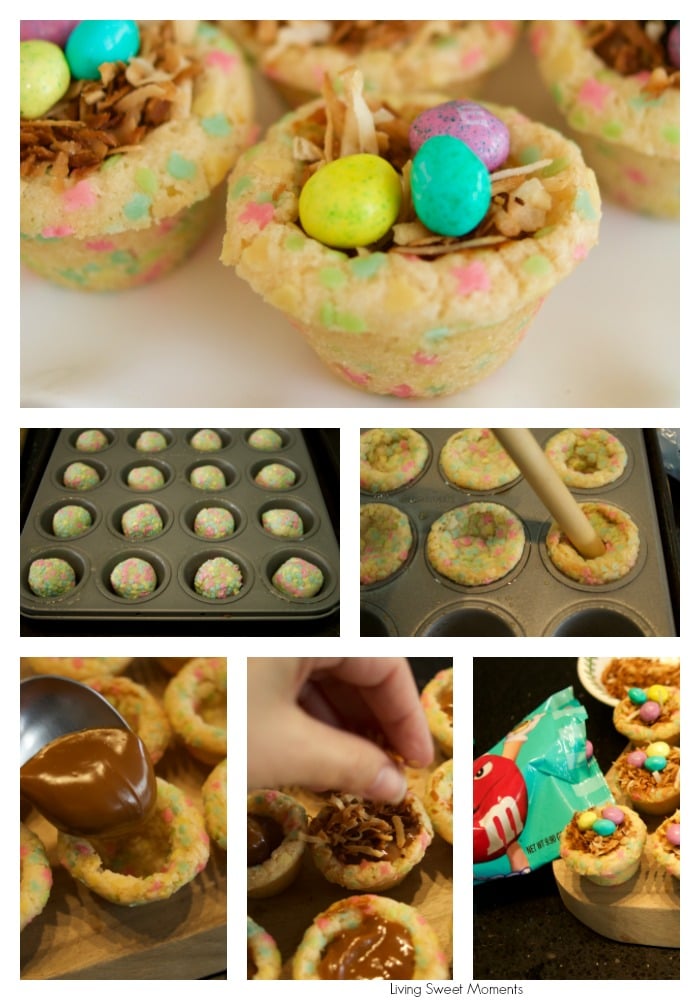 Kids and adults go crazy for these!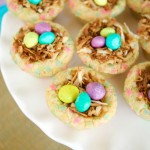 Dulce de Leche Cookie Cups
This delicious cookie cups are filled with dulce de leche, topped with toasted coconut and M&M's. The perfect bite size dessert for your Easter celebration
Ingredients
1

Package of Refrigerated Cookie Dough

1/2

cup

Pastel colored sprinkles

1

cup

Dulce de leche

available in cans and jars

1

cup

Shredded Coconut

toasted

1/2

cup

M&M's Eggs
Instructions
For Cookie Cups

Preheat Oven to 350 degrees Fahrenheit

Spray a mini muffin tin with non-stick cooking spray

Divide dough into equal size pieces and roll into a ball

Place the sprinkles into a bowl

Roll each bowl into the sprinkles so they can stick

Place the cookie dough into each crevice of the tin

Bake for 13-18 minutes or until the dough is golden

Remove from oven and while still hot, press in the center of each cookie using the back of a wooden spoon. Careful not to cut all the way through

Let the cookies cool at room temperature

Place the tin in the fridge for 1 hour to cool completely

Unmold from muffin tin

Place dulce de leche in the microwave for 30 seconds to loosen up

Spoon dulce de leche into each cookie cup

Sprinkle the toasted coconut on top

Add 3 different color Egg M&M's to decorate
Nutrition Facts
Dulce de Leche Cookie Cups
Amount Per Serving (1 cookie cup)
Calories 138
Calories from Fat 54
% Daily Value*
Fat 6g9%
Cholesterol 5mg2%
Sodium 12mg1%
Potassium 12mg0%
Carbohydrates 7g2%
Protein 1g2%
Vitamin A 10IU0%
Calcium 6mg1%
Iron 0.1mg1%
* Percent Daily Values are based on a 2000 calorie diet.
This table looks so pretty! My friends and family will definitely love their finger desserts.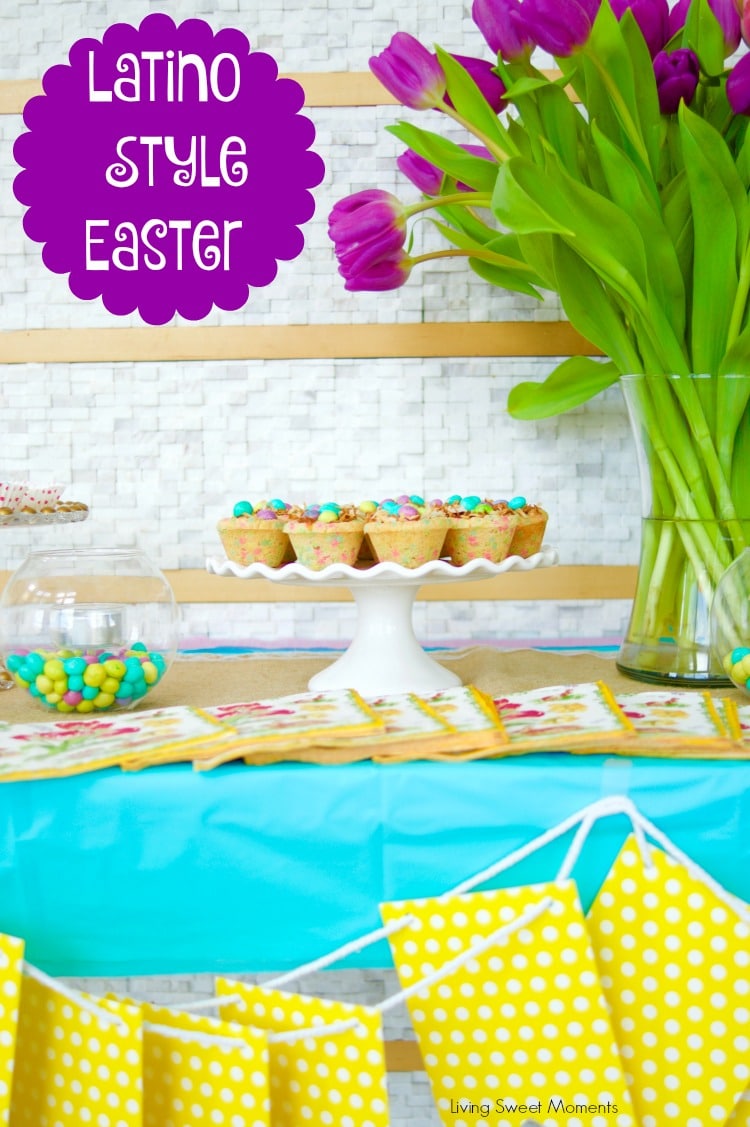 For me, it looks too pretty to eat. I might just tell people to look and not touch!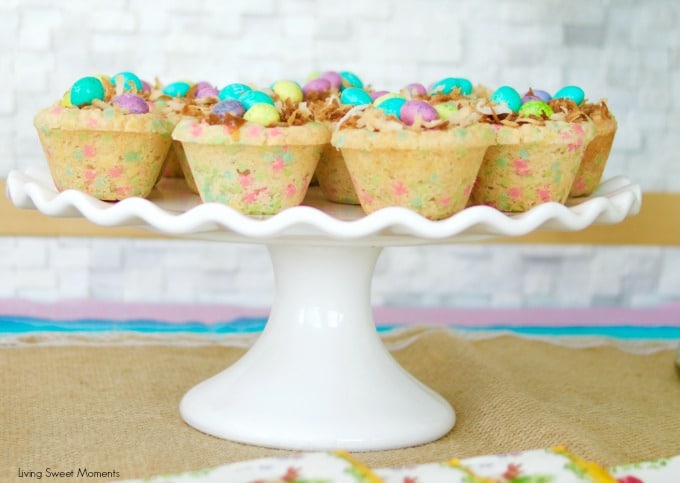 You can find the new Easter Colored M&M's and the rest of the ingredients to make this sweet feast at Walmart. Even the M&M's are dressed like bunnies!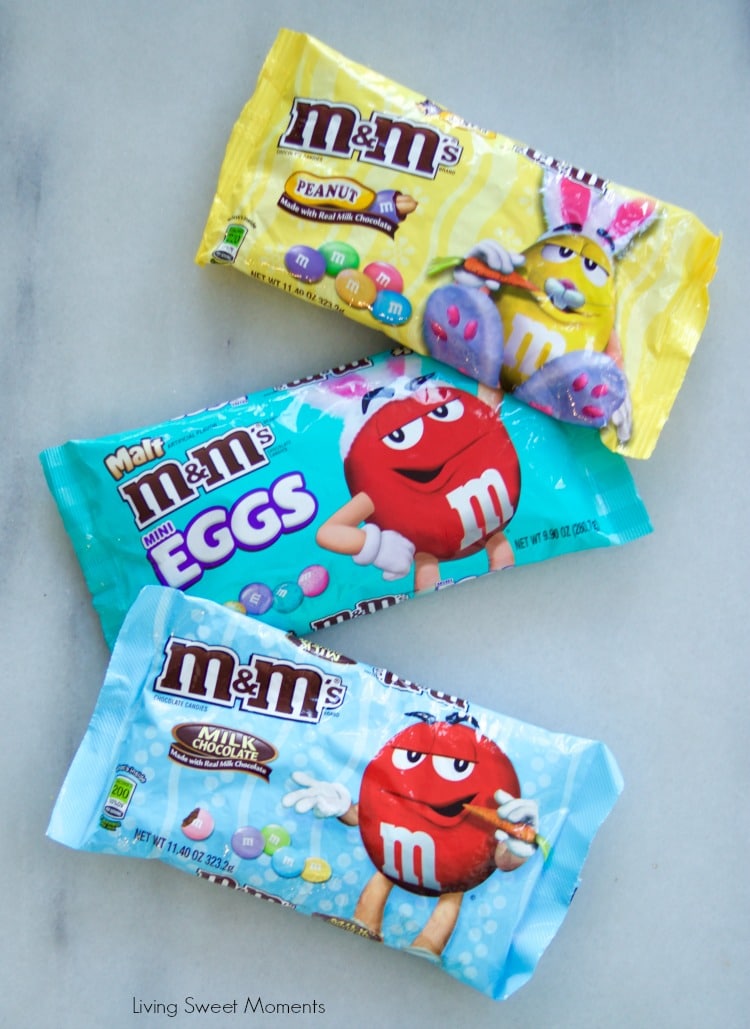 Stroll by the Seasonal aisle at your local Walmart to grab a few bags of this delish chocolate candy. It really made my table pop!
I hope you can try these delicious Latin Desserts at home. If you do, please upload a pic on Instagram and tag me @Livingsweetmoments or use the hashtag #LivingSweet. I promise to repost it.