Baked Tostones With Guasacaca Sauce Recipe: easy plantains are crispy baked and served with a Venezuelan avocado dip that's perfect as a dinner side dish.
This is a sponsored collaboration on behalf of United Soybean Board #SoyParaSoy and Latina Bloggers Connect. However, all opinions expressed are my own.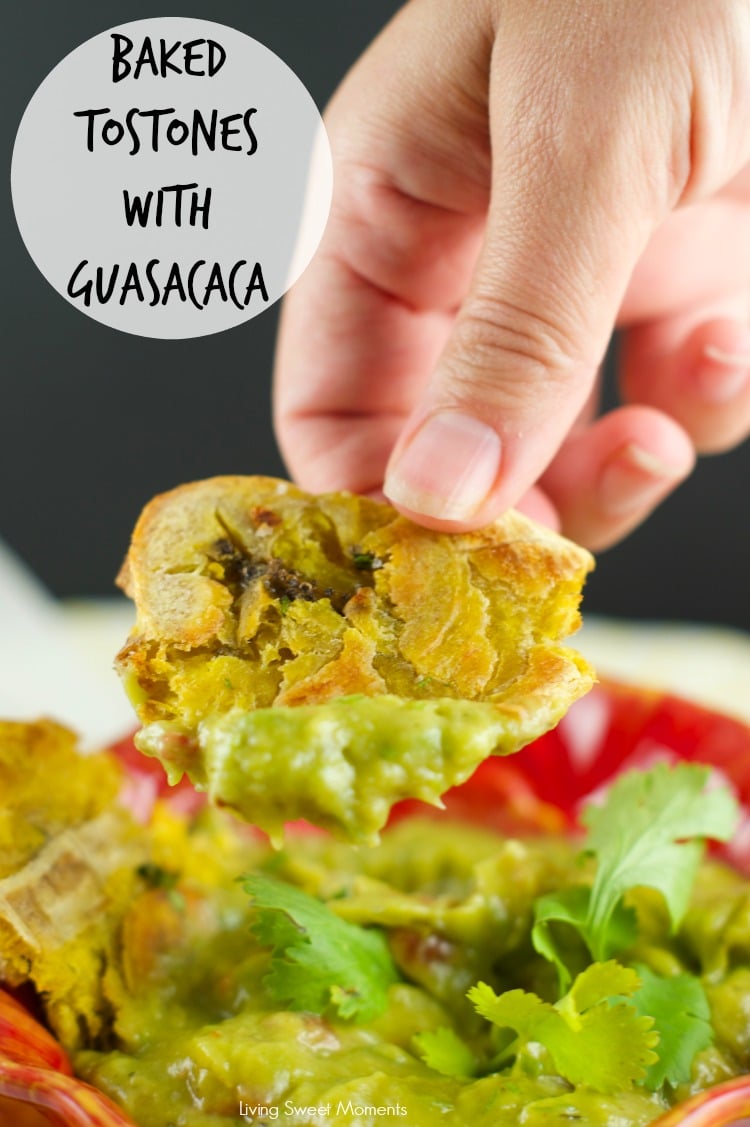 Baked Tostones With Guasacaca Sauce
Well hello there! Did the picture get your attention? Well it should, these delicious baked tostones are super crispy and full of flavor. They are accompanied with an amazing Guasacaca Sauce
The sauce is made out of avocados, tomatoes and other great ingredients that are perfect to serve either as a side dish or to a cookout with friends and family.
The name Guasacaca sounds funny doesn't it? Definitely a tongue twister. As it turns out, he's a distant relative of the famous Mexican Guacamole. It has a slight different flavor and texture.
I grew up in Venezuela, and there wasn't a BBQ or a cookout where Guasacaca sauce wasn't served. It was either used as a dip or a sauce for beef, chorizo, chicken and fish. I love it's complex flavor and creaminess. It reminds me of home.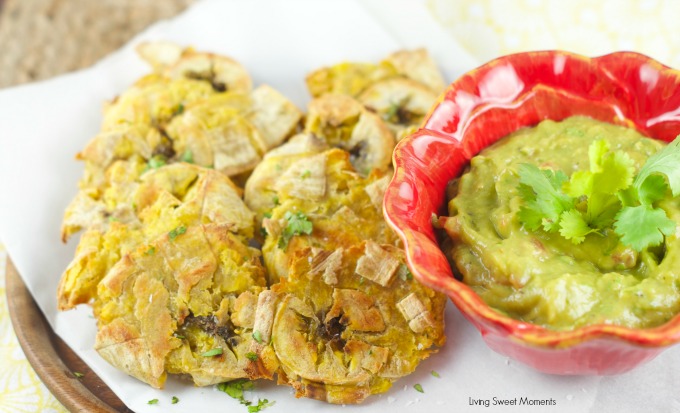 Tostones are just smashed slices of green plantains.
When plantains are green, it just means that they are unripe and are perfect for frying up. In this case, I am going to show you how easy it is to make them in the oven and you will get the same flavor and texture.
Usually tostones are fried 2 times before serving. But now, instead of standing bored in front of a stove you will only need to bake them twice. The oven does all the work. All you have to do is bring your appetite. I think you can manage that. Don't you agree?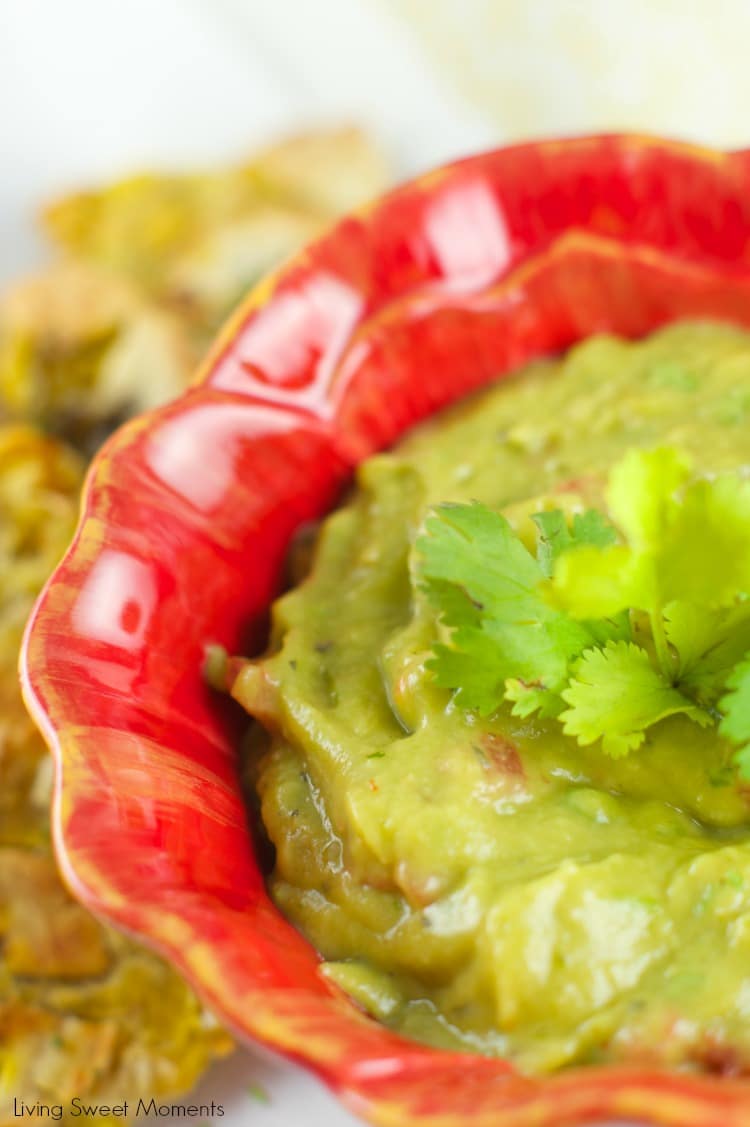 And now here comes the interesting part of this post. Both dishes are made with soybean oil. One of the most versatile ingredients in the kitchen.
And guess what? A lot of you already have it inside your cupboard. Soybean oil accounts for approximately 55% of vegetable oil used in homes.
Check the label of your vegetable oil and you will see that is made with soybean oil. Here's mine:
Soybean Oil has many great benefits for your health, including:
 Contains 0g trans fats per serving
Serves as a principal source of omega‐3s which can help reduce blood pressure and prevent heart disease
Great source of vitamin E which prevents cell damage that may lead to diseases such as cancer and heart disease
Contains unsaturated fats and when it replaces saturated fats, it may lower cholesterol levels
I love to cook with it because it has a mild flavor that won't overpower your food. I've even used it in cakes and cookies! You couldn't do that with any other kind of oil.  In latin cuisine, vegetable oil is very popular! I use it for my baked tostones, guasacaca sauce, empanadas, etc.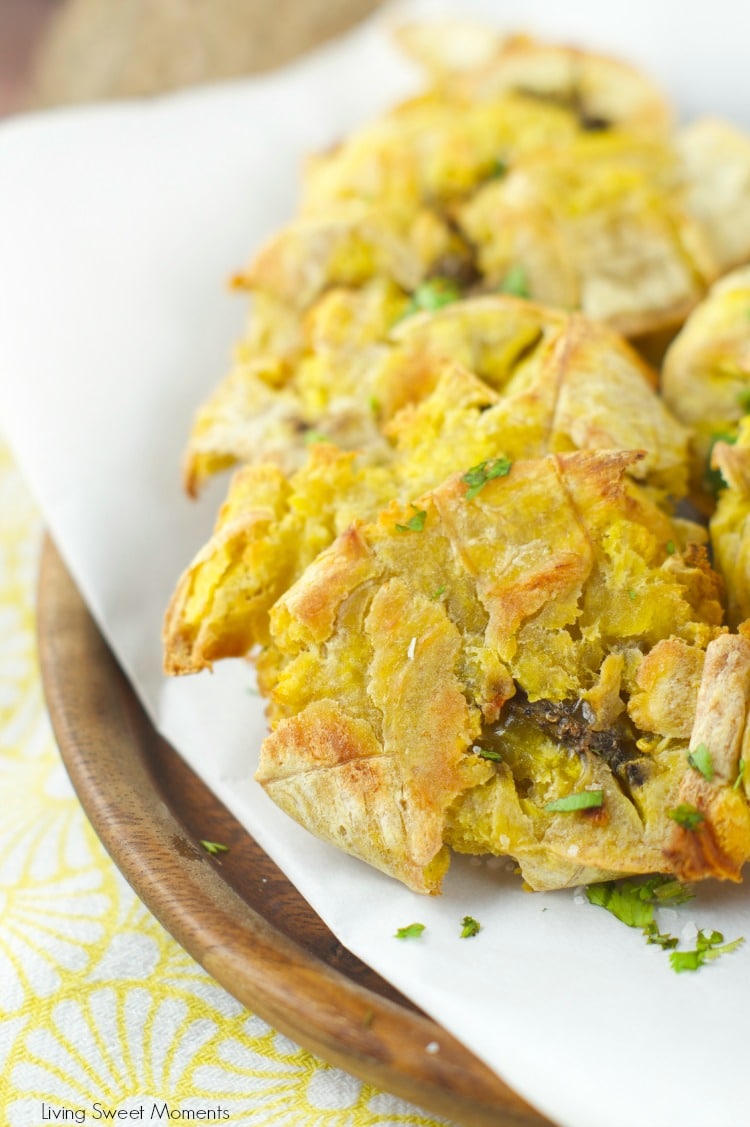 Here's a few step by step pictures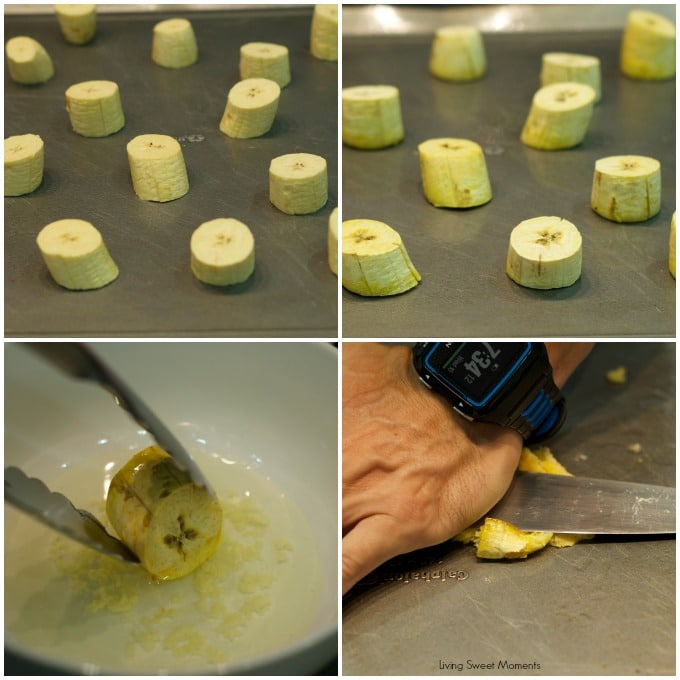 I bake them first, then I coat them in a bit of garlic flavored oil and then I smash them with a knife. It goes back into the oven for 15 to 20 more minutes while you prepare your yummy Guasacaca sauce.
You can also use a handy tostonera to make your life easier.
I hope you can try these delicious Baked Tostones With Guasacaca Sauce at home. If you do, please upload a pic on Instagram and tag me @Livingsweetmoments or use the hashtag #LivingSweet.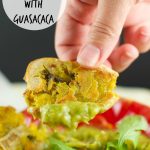 Baked Tostones With Guasacaca Sauce
Baked Tostones With Guasacaca Sauce Recipe: easy plantains are crispy baked and served with a Venezuelan avocado dip that's perfect as a dinner side dish.
Ingredients
For Tostones
4

Green Plantains

3

Tablespoons

vegetable oil

soybean oil

1

Clove

garlic

minced

Salt + Pepper
For Guasacaca
2

Haas Avocados

ripe

1

in

Tomato

chopped small pieces

1

Tablespoon

onion

minced

1/2

Teaspoon

garlic powder

2

Tablespoons

cilantro

chopped

1

Tablespoon

vinegar

1

Tablespoon

vegetable Oil

soybean oil

salt and pepper to taste
Instructions
For Tostones
Preheat oven to 375 Degrees Fahrenheit

Make 1-2 vertical slits on the plantain to peel it easily

Slice it into 1 inch chunks

Place the chunks into a sheet pan coated with cooking spray

Bake for 10 minutes

Meanwhile mix the oil, garlic, salt and pepper into a bowl

Remove the plantains from the oven and dip them into the oil. Remove excess oil from each piece and place them back into the sheet pan

Using a knife, "smash" the plantains until they are completely flat and adopt the shape of a toston

Bake for 10 minutes. Brush them with the oil mixture, turn them over and bake for another 10 minutes or until golden and cooked all the way through

Remove from oven and sprinkle salt all over the top
For Guasacaca
Place all of the ingredients in the blender and mix until combined. If needed add some more vinegar and oil

Check for seasoning

Enjoy!
Nutrition Facts
Baked Tostones With Guasacaca Sauce
Amount Per Serving
Calories 252
Calories from Fat 126
% Daily Value*
Fat 14g22%
Sodium 7mg0%
Potassium 690mg20%
Carbohydrates 33g11%
Protein 2g4%
Vitamin A 1090IU22%
Vitamin C 21.6mg26%
Calcium 9mg1%
Iron 0.8mg4%
* Percent Daily Values are based on a 2000 calorie diet.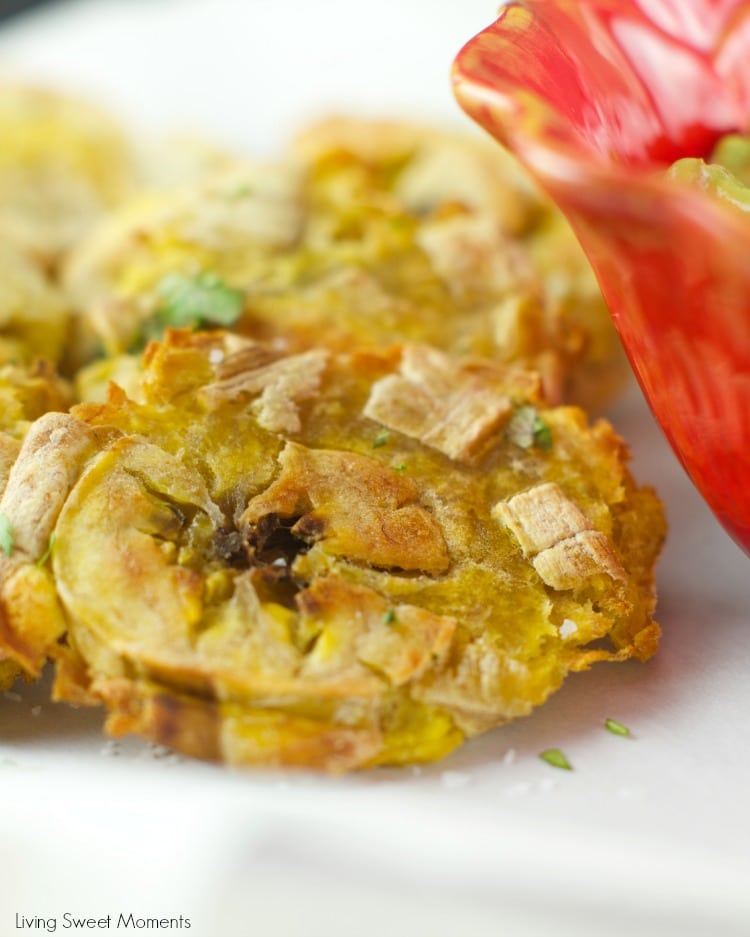 You may also like: