This Spicy Mango Rice recipe is easy to make and delicious. The perfect side dish to any dinner or for entertaining. Made with chili, cilantro, lime & mango
I participated in Mom Blog Tour at the Summer Fancy Food Show on behalf of Wendy's Bloggers and received DOLE Fruit n' Spice products to facilitate my review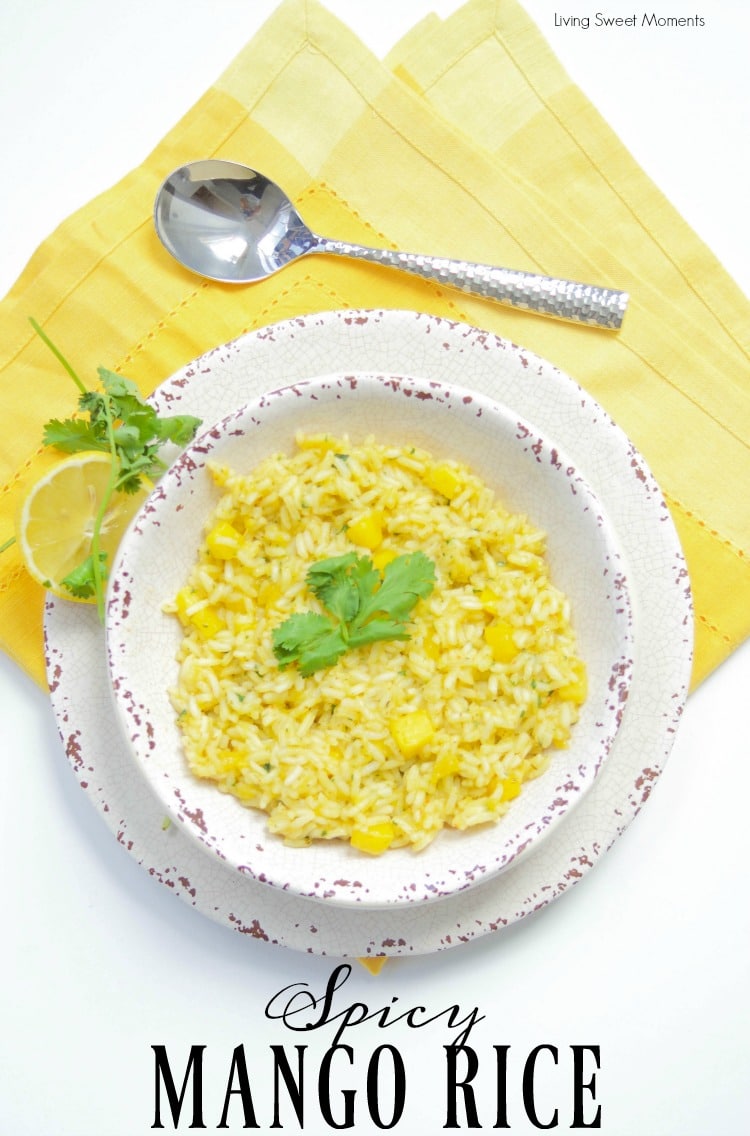 Spicy Mango Rice Recipe
Tired of boring white rice? Are you planning a dinner party and need an easy but exotic recipe? Then this Spicy Mango Rice Recipe is the one for you. Each bite is sweet, savory, spicy and oh so delicious.
I not only flavored the rice with mango but also added cilantro, chicken stock, and ginger. It's the kind of recipe that people will love and ask for a second helping.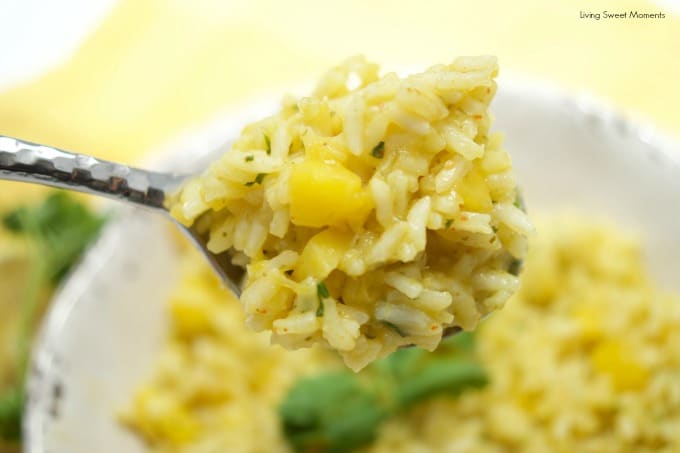 In Spanish, we often use the phrase: "esto es un arroz con mango" meaning, this is a Rice with mango. We use that phrase when things are disorganized, don't make sense or they are contradictory because mango and rice would never go together. Until now.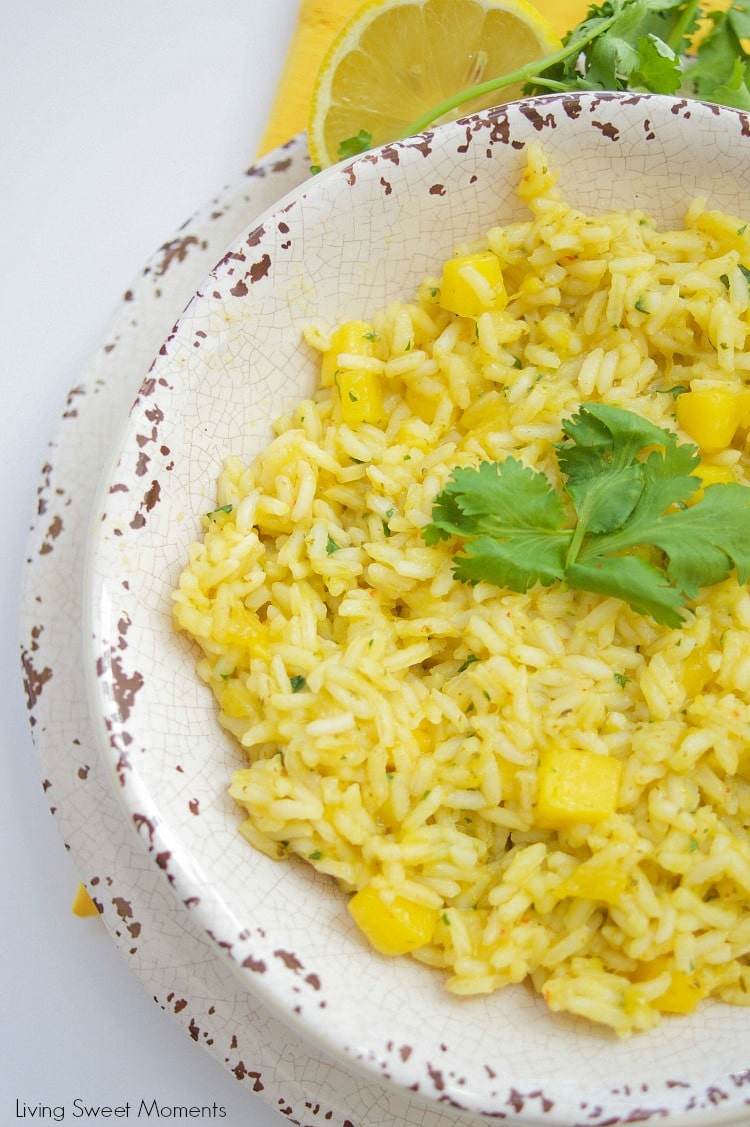 This saying has been around for a long time until one person actually cooked Mango rice and discovered that the combination was amazing.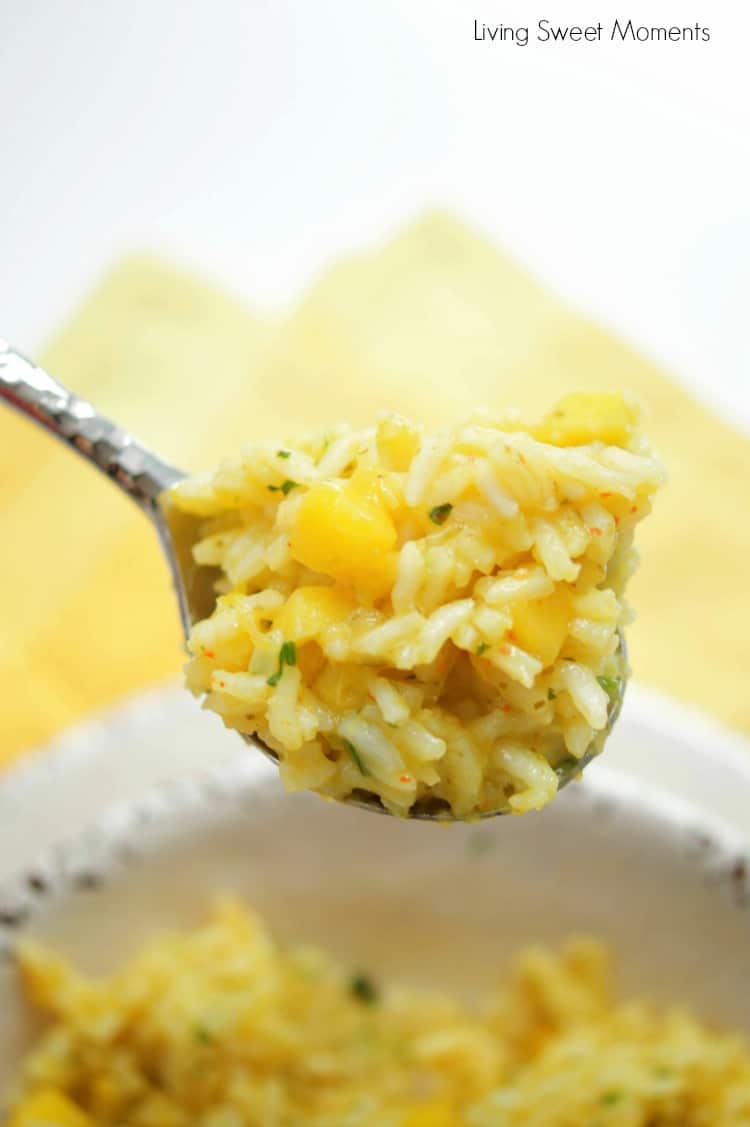 Serve this Spicy Mango Rice Recipe with chicken, fish, or beef. You can also add some more veggies to the rice if you would like.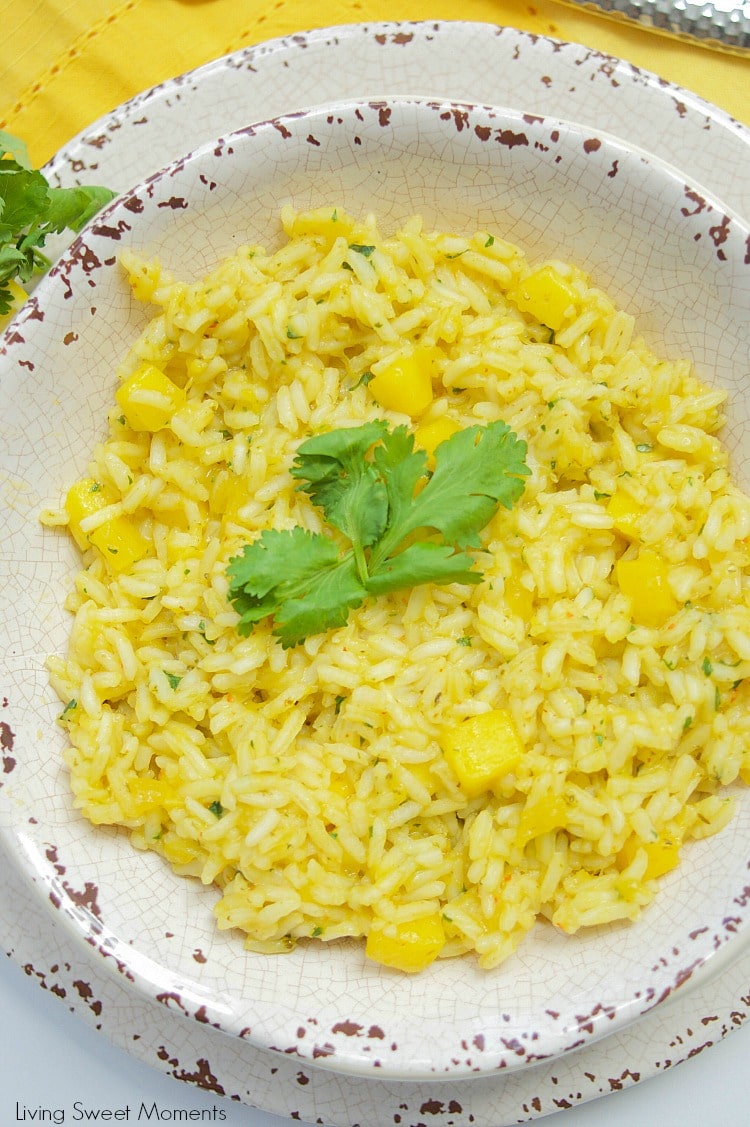 In Venezuela, where I was born and raised, we had mango trees everywhere. I grew up eating mangoes for breakfast, lunch, snack and dinner. We made mango ice cream, cake, mousse, juice and even jam. So naturally, when I moved to the states, I started buying everything that had mango.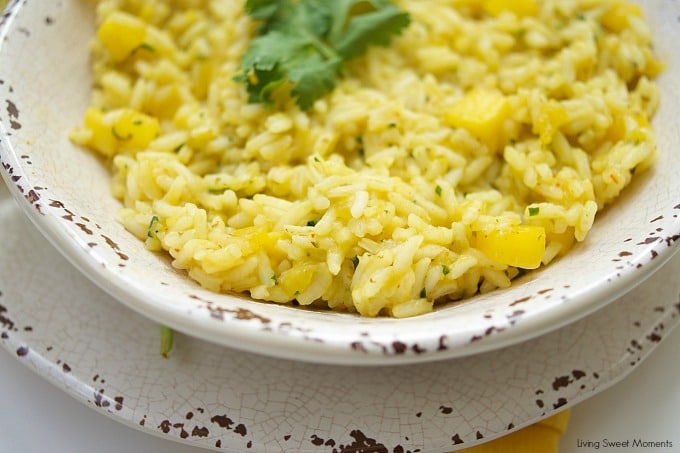 To make this Spicy Mango Rice Recipe I used delicious DOLE Fruit n' Spice Chili Lime Mango Chunks. The fruit comes already seasoned, cubed and frozen. All you have to do is open your bag and use. Is that easy! You can see the little specs of chili in the rice. Yum.
DOLE Fruit n' Spice is ALL NATURAL and comes in 3 delicious flavors: honey lime pineapple chunks, cinnamon apple slices, and chili lime mango chunks. I had the opportunity to taste all 3 flavors in the Summer Fancy Food Show in NYC and loved them.
The apple slices taste just like apple pie filling. Perfect for snacking or adding to recipes. The Pineapple was amazing! it's perfect to eat it by itself or for smoothies. The mango, as you see, is a perfect combination of sweetness, tanginess, and spice.
Finally, I hope you can try this delicious Spicy Mango Rice Recipe at home. If you do, please upload a pic on Instagram and tag me @Livingsweetmoments or use the hashtag #LivingSweet. I promise to repost it.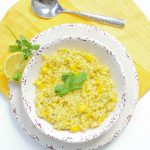 Spicy Mango Rice Recipe + Giveaway
This Spicy Mango Rice recipe is easy to make and delicious. The perfect side dish to any dinner or for entertaining. Made with chili, cilantro, lime & mango
Ingredients
1

cup

of long grain rice

uncooked

1/2

cup

of DOLE Fruit N' Spice Chili Lime Mango Chunks

defrosted

1/4

cup

of cilantro

chopped

2

tablespoons

of water

optional

2

cups

of chicken or vegetable stock

1/2

teaspoon

of ginger

finely minced

1/4

cup

of DOLE Fruit N' Spice Chili Lime Mango Chunks

diced small

Salt + Pepper to taste

1

teaspoon

of vegetable oil
Instructions
In a blender place the 1/2 cup of DOLE Fruit N' Spice Chili Lime Mango Chunks and 2 tablespoons of cilantro. Blend until the mango is pureed. If needed, add 2 tablespoons of water

In a pan over medium heat add 1 teaspoon of oil

Add the ginger and gently saute until softened

Add rice and saute until the rice has been coated with the oil

Add the mango puree, salt, pepper, and stock

Stir with a spoon until everything is combined

Bring to a boil

Lower the heat to a simmer and cover

Cook for 16-18 minutes or until the rice has become fluffy and is completely cooked

Uncover and fluff with a fork

Add the remaining 2 tablespoons of cilantro and the diced mango chunks

Mix and cover for 2-3 more minutes

Pour into a platter and enjoy!
You may also like: