This delicious Butterfinger Cake Recipe dessert is made from scratch and features a moist chocolate cake with peanut butter frosting and butterfingers.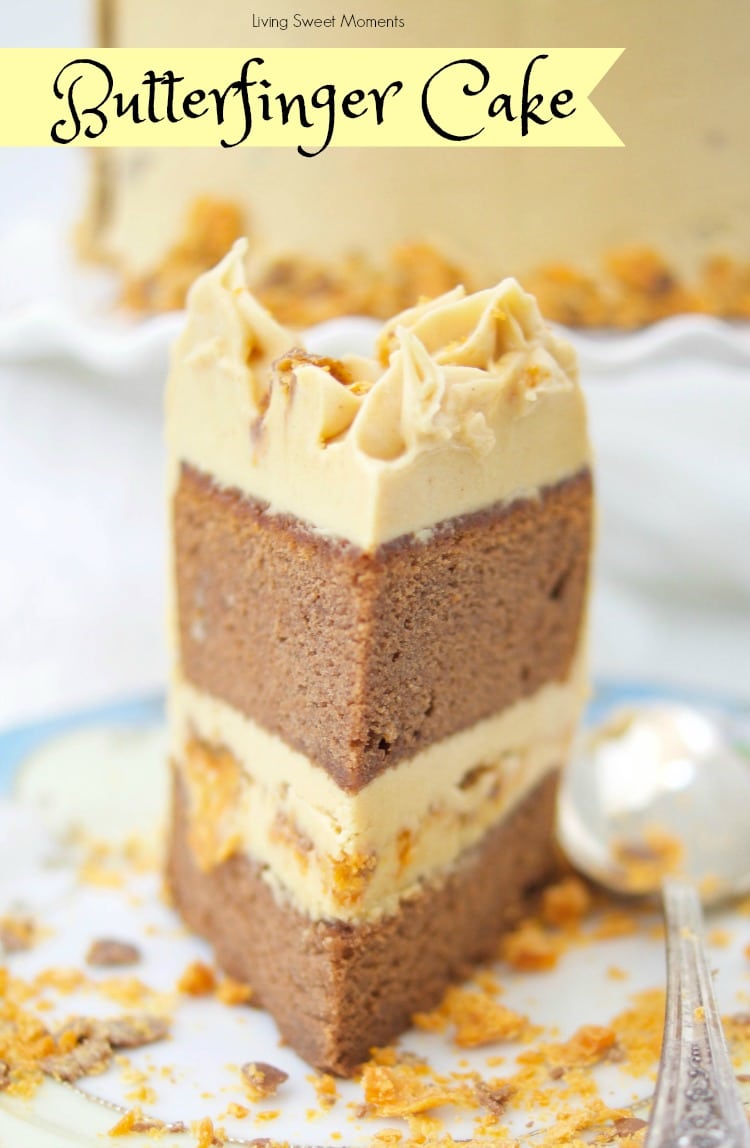 Butterfinger Cake Recipe
First of all, nothing cures a stressed week more than a piece of cake, and this amazing Butterfinger Cake Recipe will definitely bring a smile to your face with flavor, texture, and aroma.
Imagine 2 layers of moist chocolate cake served with a sweet and smooth peanut butter frosting crunched together with tons of chopped Butterfinger pieces that not only gives this dessert flavor, but also a crunchy texture in every bite.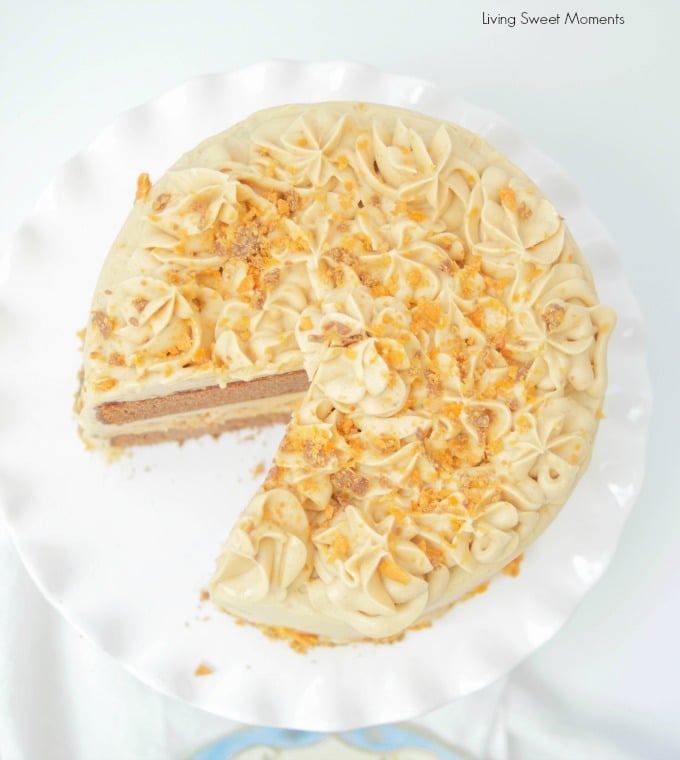 I've taken the Butterfinger bites and chopped it into small pieces, then I added a packed layer of this candy in the center of the cake. I also added the remaining candy to the top as well.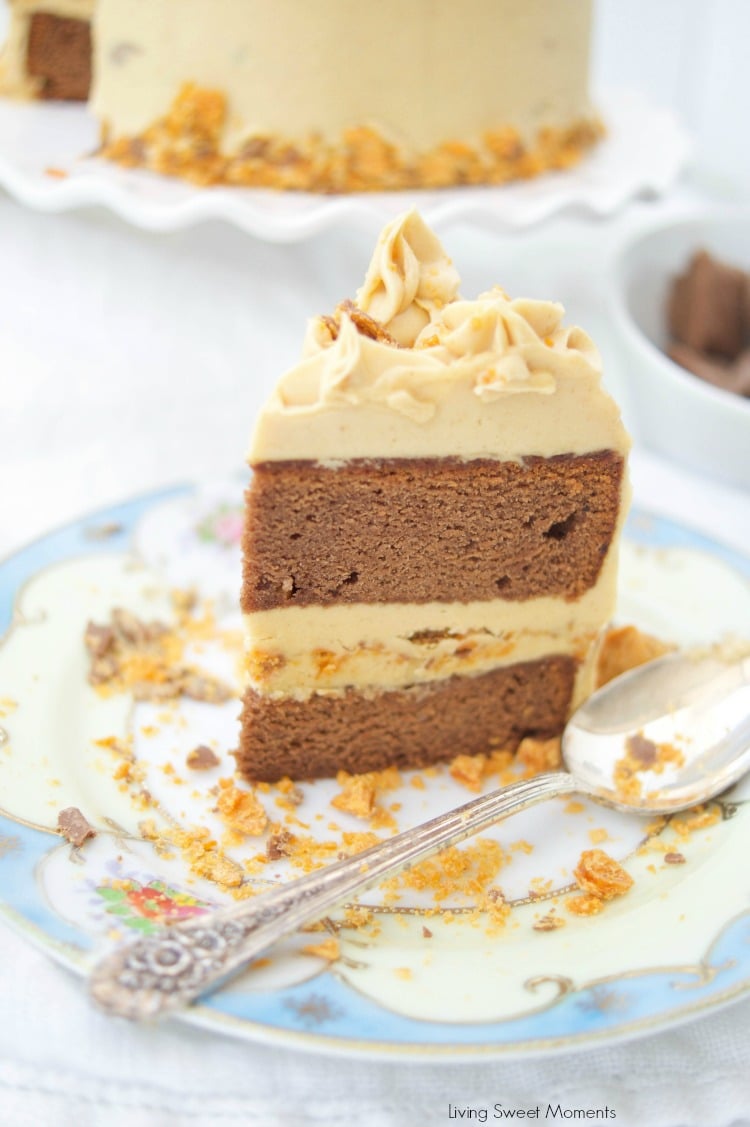 Remember last year when I made Uncle Johnny's Peanut Butter Cheesecake Cake? This year Johnny's Birthday passed while I was at the Fancy Food Show in NYC. So as a belated present I decided to make him this Butterfinger Cake Recipe.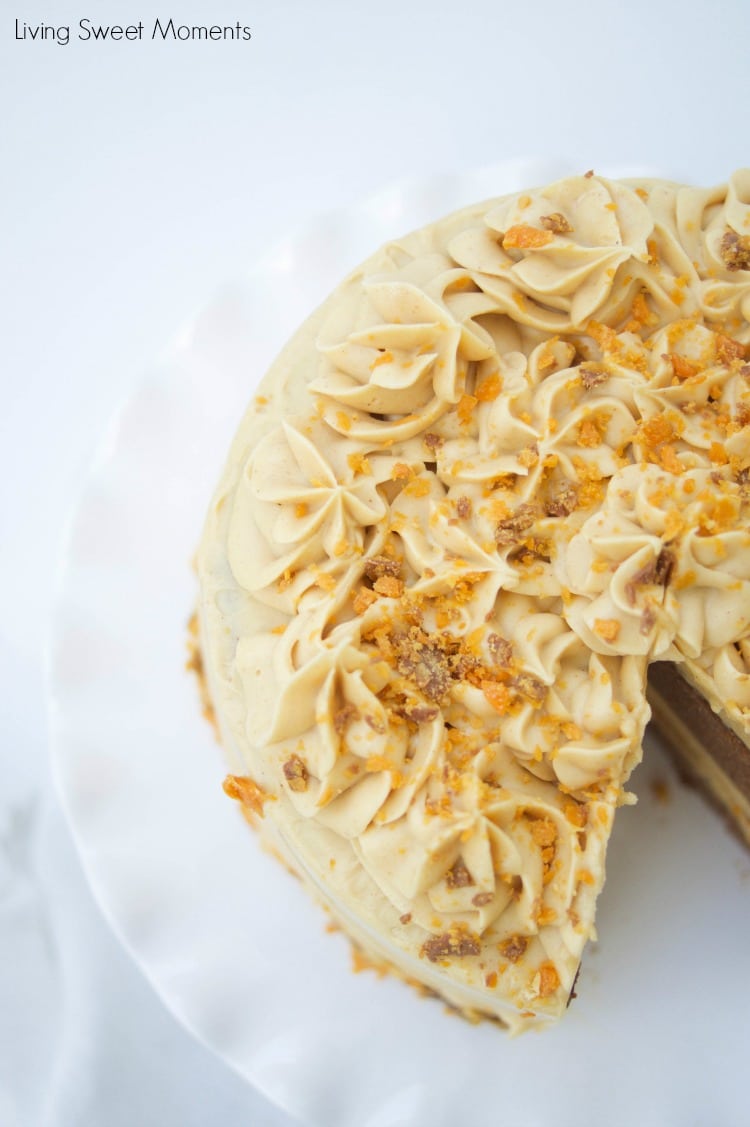 I have a small confession to make, prior to this cake, I've never tried a Butterfinger before. Can you believe that? My girls have gotten them for Halloween and it has never occurred to try them before. Now that I did, I LOVE IT! It's so crunchy, sweet and more peanut buttery than chocolatey.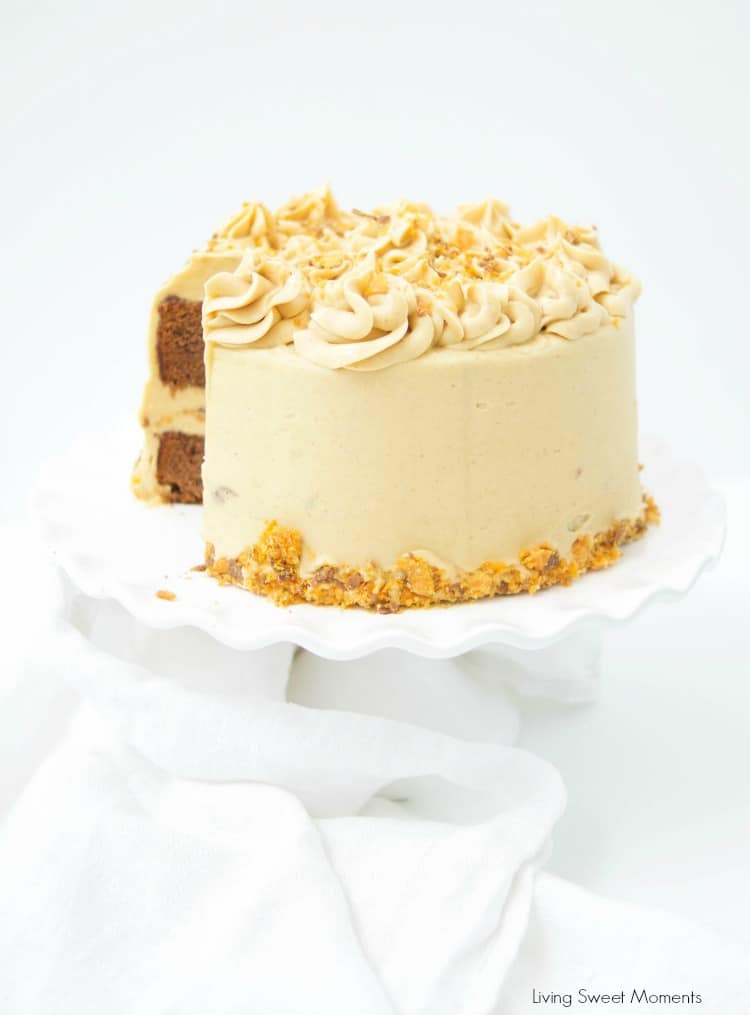 Believe it or not, this Butterfinger Cake Recipe is baked entirely from scratch and is super easy to make.  No need to use a box mix or artificial frosting. The cake has double chocolate since I used cocoa powder as well as melted chocolate. It gives it more flavor and a darker color.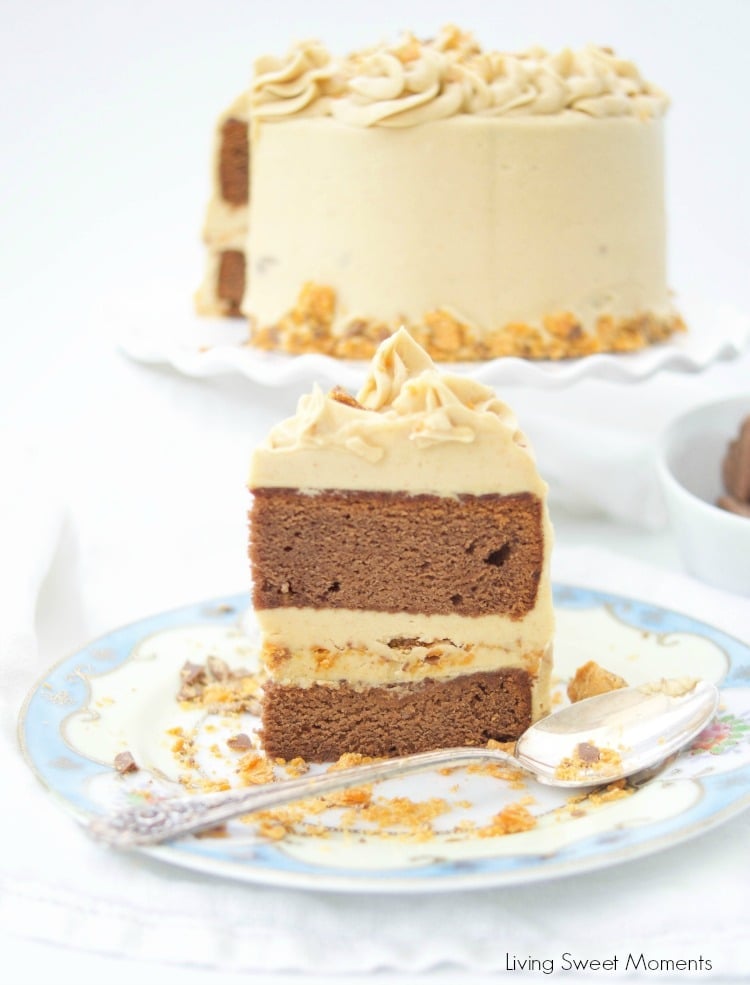 Finally, I hope you can try this delicious Butterfinger Cake Recipe at home. If you do, please upload a pic on Instagram and tag me @Livingsweetmoments or use the hashtag #LivingSweet. I promise to repost it.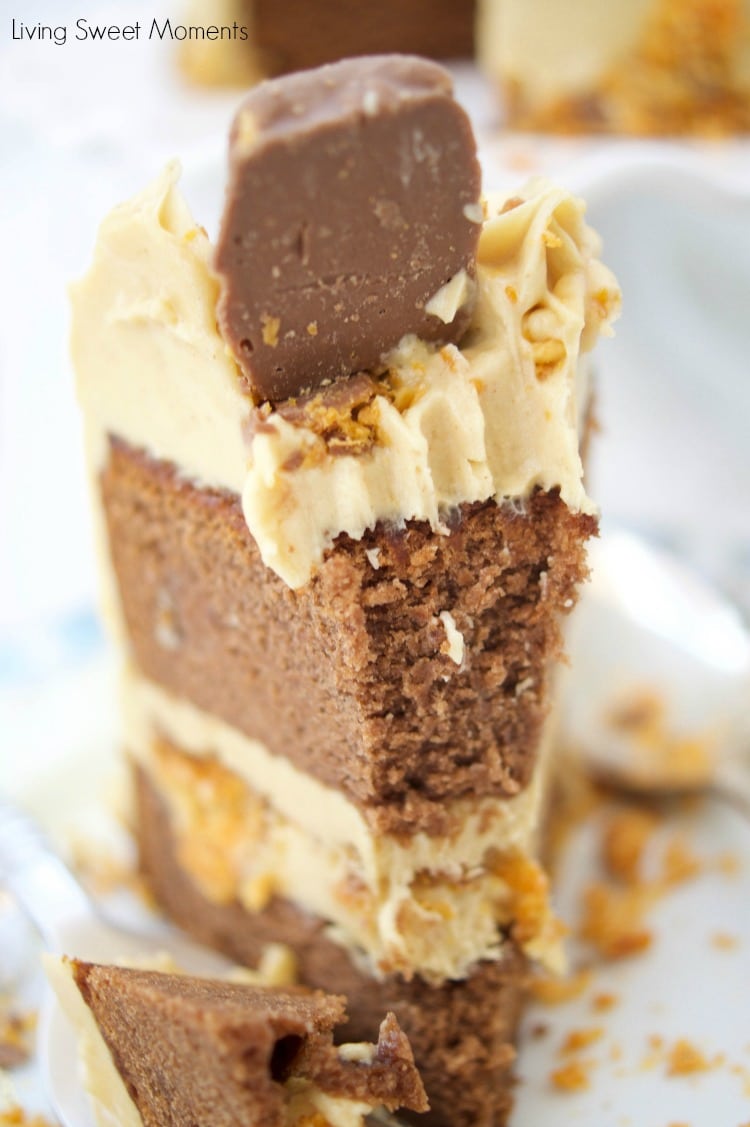 Click HERE for THE BEST CAKE RECIPES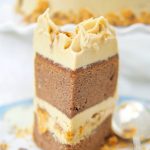 Butterfinger Cake Recipe
This delicious Butterfinger Cake Recipe dessert is made from scratch and features a moist chocolate cake with peanut butter frosting and butterfingers.
Ingredients
For Chocolate Cake:
1

Cup

(2 sticks) of Butter

unsalted

2 1/4

Cups

of Cake Flour

1

Teaspoon

of Baking Soda

1/4

Teaspoon

of Salt

1/4

cup

of Cocoa Powder

1

Cup

of Brown Sugar

3/4

Cup

of Granulated Sugar

4

Eggs

large

1

Bar (4 oz) of Semi-Sweet Chocolate

2

Teaspoons

of pure vanilla extract

1/2

cup

of sour cream

1/2

cup

of milk
Peanut Butter Buttercream
2

cups

(4 sticks) of Butter

softened

2

cups

of Peanut Butter

the creamy kind

2

teaspoons

of Vanilla Extract

6

cups

Confectioners' Sugar

sifted

1/2

cup

of Heavy Cream

maybe more if needed
Assembly:
pieces

Butterfinger candy

either or in fun size
Instructions
For Chocolate Cake

Preheat oven to 350 degrees Fahrenheit

Line the bottom of 2- 9" Cake pans with parchment paper. Spray with nonstick spray the bottom and sides of the cake

In a bowl, sift the flour, baking soda, cocoa powder, and salt. Mix and place aside

n the bowl of a stand mixer, combine the butter and sugar. Cream on medium speed until lightened in color. About 2-3 minutes

Add the eggs, one at a time, beating well after each addition. Add the vanilla extract

Melt the chocolate in the microwave doing 15-second intervals. Do not let chocolate burn

Add the chocolate to the mixer and mix until combined

Reduce speed of mixer

In a small glass mix the sour cream and milk

Alternatively, add the flour mixture and the milk in 2-3 batches. Starting and ending with the dry ingredients. Mix until combined

Divide the batter between the 2 pans and bake

Bake for 25-35 minutes or until a skewer inserted in the middle of the cake comes out clean

Remove from oven and let them cool on a cooling rack for 20 minutes

After 20 minutes, unmold and let the cool completely on the rack (I refrigerated mine to speed up the process)

For Peanut Butter Buttercream

In a stand mixer, cream the butter and peanut butter for 2-3 until soft

Carefully add the powdered sugar in 3-4 batches

Add the vanilla and mix

Finally, add the heavy cream and mix. If the buttercream appears too stiff, add some more cream

Assembly

Chop off the butterfingers into small pieces

Cut the top off the cakes so the lay completely flat. Remove excess crumbs

Flip over one chocolate cake layer of cake so the bottom becomes the top

Spread a thin layer of frosting on top

Sprinkle the chopped Butterfinger all over the frosting until the candy covers the entire surface

Add more frosting to cover the candy

Place the second cake layer on top

Cover the top and sides of the cake with frosting

Decorate with more Butterfinger pieces

Refrigerate until ready to serve

Enjoy!
You may also like:
Uncle Johnny's Peanut Butter Butter Cheesecake Cake