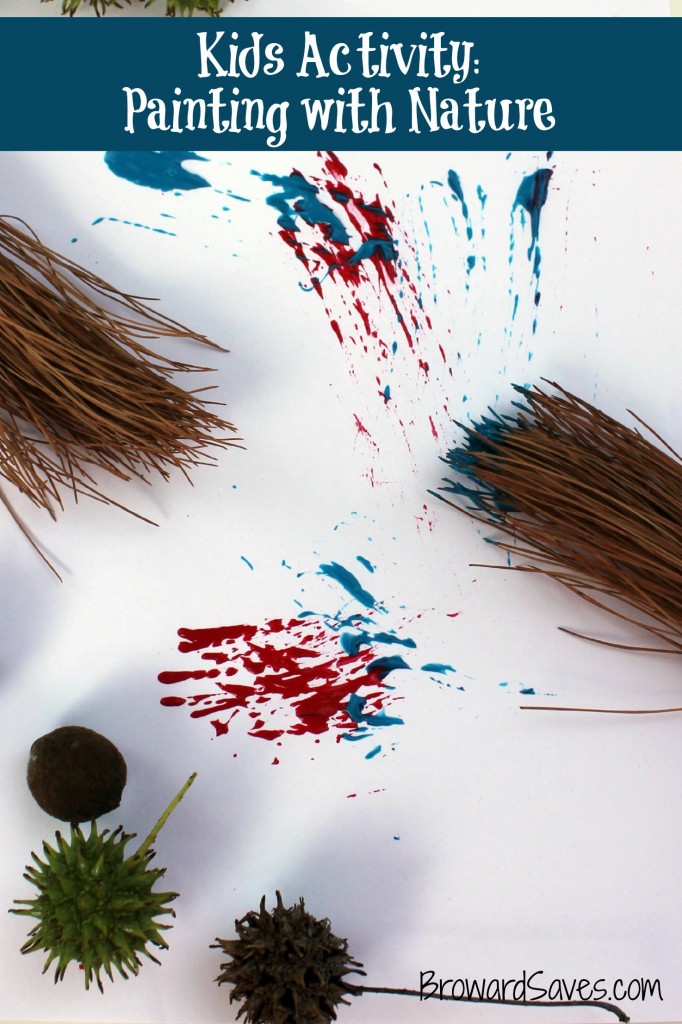 Activity With Kids: Painting With Nature
As fall approaches, I need to keep my kids entertained and happy, so when the temperature decreases we can't go to the pool or the beach like we do during the Summer. There is a little wooded area near our house and my girls love to go exploring for new plants, leaves, lady bugs, squirrels and more.
If you live near a park or anywhere where nature is present, take them for a walk with a handy bag or bucket and start looking for interesting leaves, textures and plants. My 6 year old can spot a dandelion a mile away. She loves painting with those but I like finding different textural elements that will work as a great paint brush or stencil during their art work. Painting with nature is not just about the painting itself but also searching for the perfect supplies right in your backyard.  Here are a few ideas to get you started
Ideas for Painting with Nature
Corn Cob (You can use it in 3 different ways: the husk, the cob with corn on it and the cob with the corn taken off)
Acorns
Wildflowers
Leaves
Walnuts
Dandelions
Pine Needles
Pine Cones
Rocks
Sticks
Get your Painting station ready and your supplies out. It may be better to have this activity outside if you are able to otherwise just cover your table with a trash bag a sheet or some other kind of covering to try to contain the mess. Washable kids paint is always best that way they can paint their masterpiece and not worry about messing up their clothes! You can use a big ol' t-shirt of yours to cover them up – As an apron or a smock.
Set out different colors of paint for them to choose from. I find that little bowls work well but if you have a muffin tin that actually works best. You can put many different colors in the tin and you only have one thing to wash….. not counting your child. 🙂 (and yourself of course).
Set out all their nature "paintbrushes" that you collected and let them start painting. Refrain from showing your kids how to do it… instead let them figure out how it works. All kids will work differently when painting with nature. Some will dip and drag the items and some will dip and roll. Some will even paint their hands instead! There are no right or wrong ways with this activity so just let them have fun and enjoy it.
Painting with nature can be a really fun activity and what better way to spend time with your child than by taking a fun walk and creating something from it! Make sure you let your kids create their project all by themselves without instructions from you. It will teach them independence and they will sure be proud of something that they created themselves. Try joining them and making your own masterpiece it really is a lot of fun!
We usually hand our paintings out to dry outside and bring them in the next day. My girls feel so proud of their art work and you can really see their different personalities through painting with nature. Not only by how the paint but by letting them choose the items they find interesting in the woods. My older one likes to have a theme in her head before painting and my little one just wings it.
Let me know what items you end up using when painting with nature!