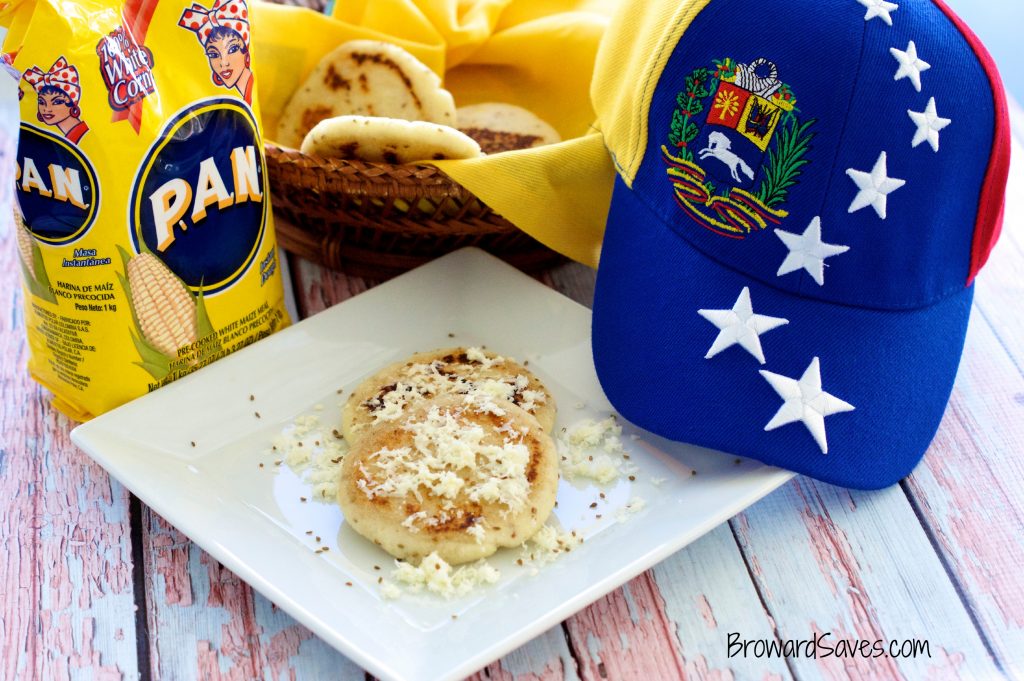 Anise Flavored Arepa Recipe
Today September 13th we celebrate #DiaMundialDeLaArepa or World Arepa Day. Venezuelans across the world unite to cook and eat Arepas. If you're not familiar with them here's a little info: Arepas are small corn cakes made with Maize Meal (or corn flour), so they are naturally Gluten Free. In Venezuela Arepas are filled with various food items like cheese, beef, chicken, vegetables and more to make the perfect portable meal!.
The dough takes literally takes seconds to make and minutes to cook. Much faster than any baked pastry. Many people have them for breakfast everyday! You can make them any shape you want. My daughters love making Mickey and Hearts Arepas.
Arepas can be fried, sautéed or even toasted. They can be eaten for breakfast, lunch or dinner. The recipe I am presenting you today is made with Anise so they are sweet and salty at the same time. Anise has a very particular flavor that makes these pop up. When I was little they use to call these "Arepas Sopladas" or Puffed Arepas. Because they will puff up when you fry them. This time they were cooked over a Griddle to make them a little healthier.
I am dedicating this Anise Flavored Arepa Recipe to my beautiful and wounded Venezuela. May freedom and democracy prevail, may justice be served and hope to be able to visit you soon and show my daughters all of your wonders. Happy #DiaMundialDeLaArepa everybody!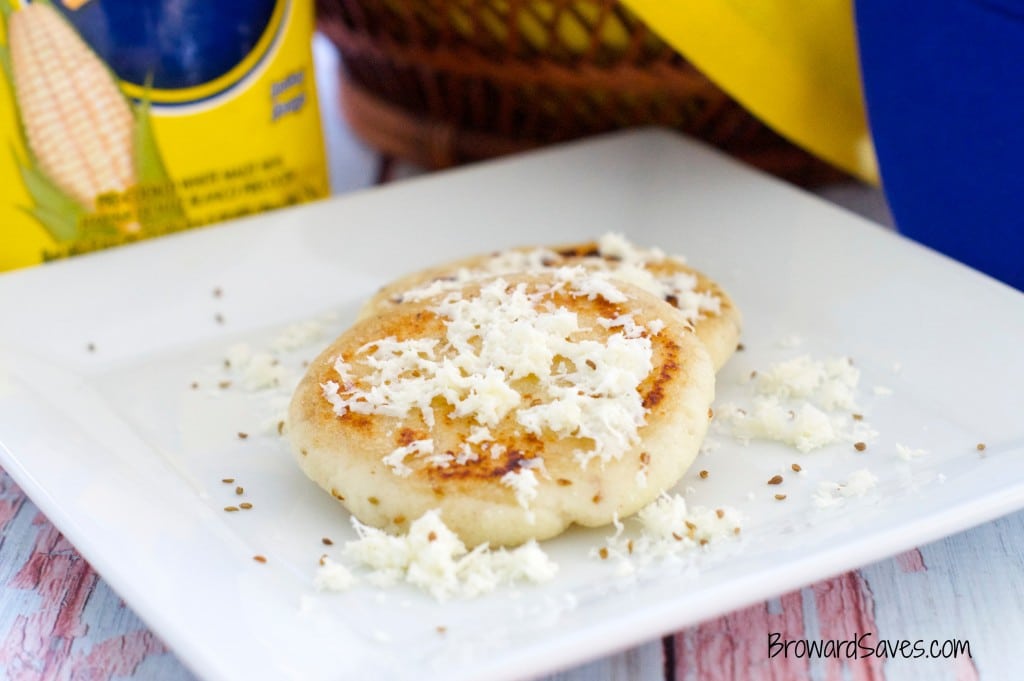 To make your Anise Flavored Arepa Recipe you will need: Full recipe at the bottom
Pre Cooked Maize Meal (found in the baking section of most supermarkets)
Warm Water
Salt
Sugar
Anise Seeds
Making your Arepas only requires these easy steps.
1) In a bowl, pour in warm water, add sugar, salt and anise seeds. Mix
2) Pour in the Maize Meal and mix by hand
3) Let dough rest for 3-4 minutes
4) Shape them into Arepas and cook over a skillet over medium heat.
Enjoy!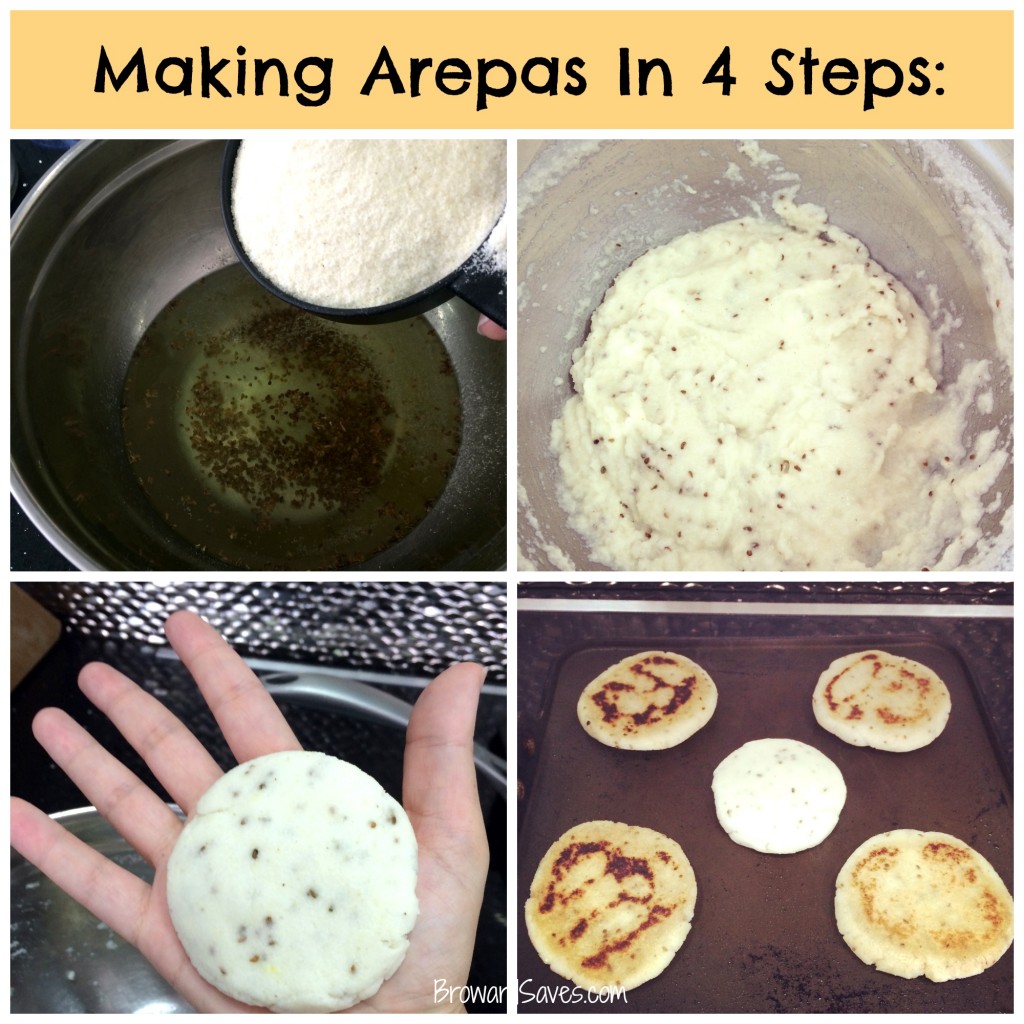 See! You don't need to be latin to create Arepas at home! It's the perfect meal to serve at parties as appetizers or full dinner. You can make dozens of them and them place fillings such as cheese, avocado, cooked ground beef, shredded chicken, etc in little bowls and create an Arepa Bar.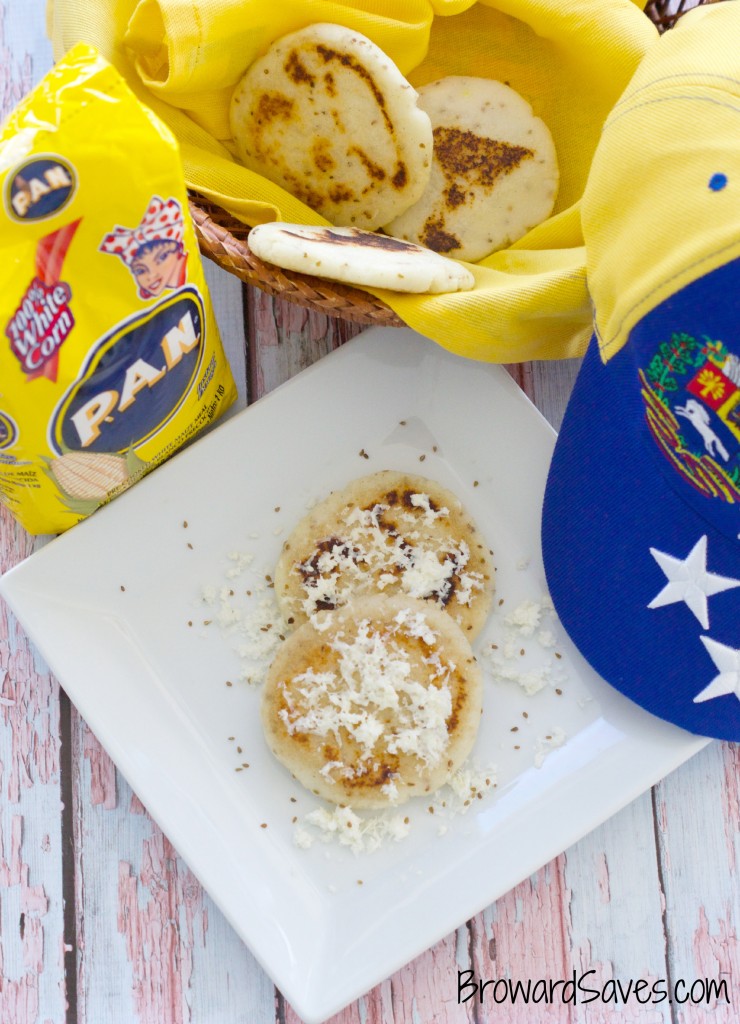 Anise Flavored Arepa Recipe
Author:
Prep time:
Cook time:
Total time:
Ingredients
1 1/4 Cup of Warm Water
1 Cup of Maize Meal (Harina Pan)
1 ts. of Anise Seeds
2 ts. of Sugar
1/2 ts. Salt
1 Cup of Salty Hard Cheese, shredded (Queso para freir)
Instructions
In a bowl place warm water. Add the salt, sugar and anise seeds. Mix with a spoon
Pour the Maize Meal and mix by hand. Dough will be a little watery. Let it rest for 3-4 minutes until dough becomes firmer
Shape your arepas using your hands. Kind of like playing with Play-Doh
In a skillet or griddle over medium heat, cook your arepas for 4-5 minutes on each side or until the brown. You can also fry them with abundant oil
Fill the arepas with cheese or place them over the top
Enjoy!
Please try them at home! I promise it will only take a few minutes and the results will be wonderful.