Easy to make and delicious! The oven does the hard work. Make these Apple Chips recipe at home, kid-friendly and customizable. Love the crunchy spicy chips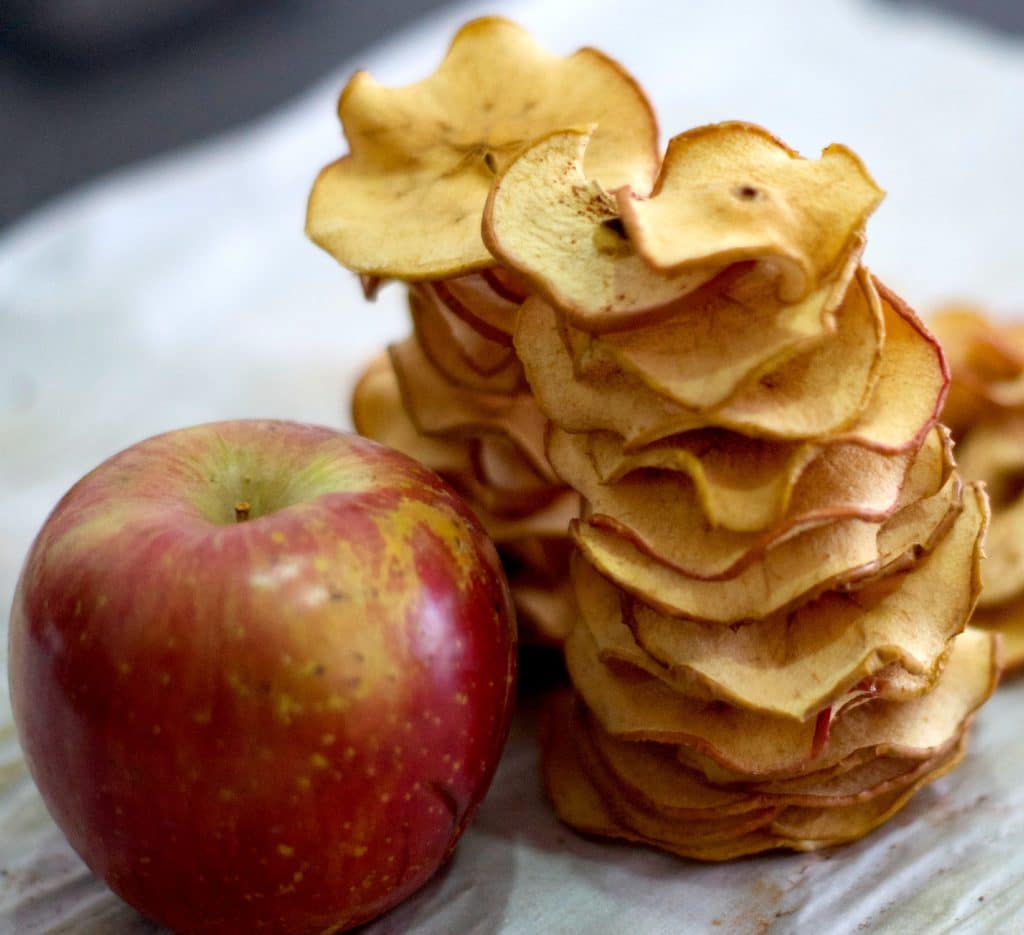 Homemade Crunchy Apple Chips Recipe
Summer is here and is time to stock up on snacks for the kids.
Hubby and I are thinking of making mini road trips with the girls so making a big batch of Apple Chips is the perfect crunchy and healthy snack for kids to take on the road. So throw out all those fried Potato Chips and these!. 
To perfect this Apple Chips Recipe it took me a few tries to achieve the right thickness so the chips will be super crunchy and not chewy.
You can serve them as kids snacks but also they are great for dipping during dinner parties. You will also love these Sweet Potato Chips, Roasted Crispy Chickpeas, and yummy Roasted Pumpkin Seeds.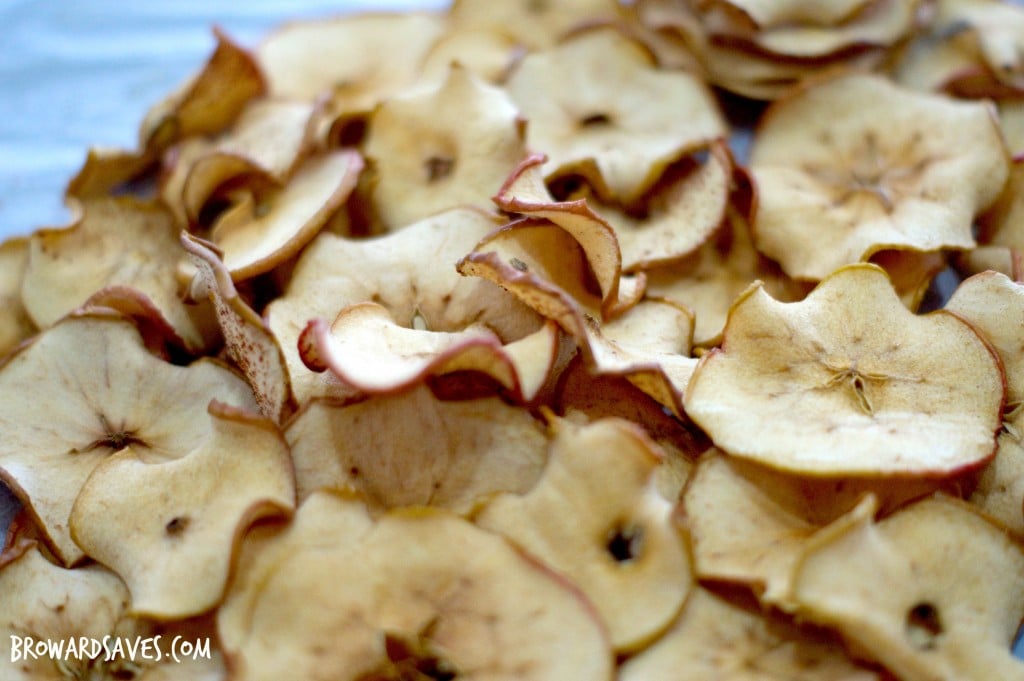 If you would like to mix it up you can use different types of apples, fuji, granny smith, red delicious, gala and so on. It's a great idea to mix in the sweetest with the tartest apples to achieve flavor Nirvana. 
Apple Chips Recipe
4 Apples (any kind you want) sliced thinly, about 1/6″ thickness. I used my trusty Mandolin so every piece is uniform in size. I cut out the bottom to start with a flat apple slice.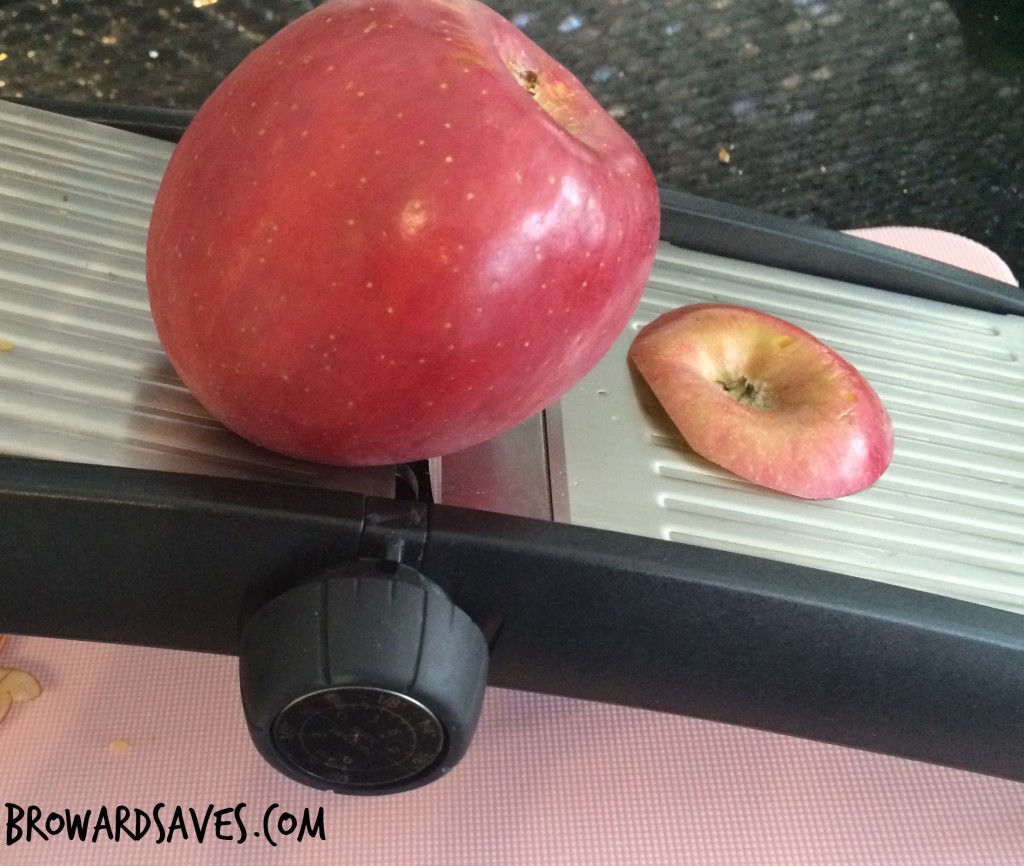 Preheat oven to 200 degrees Fahrenheit.
Arrange apple sizes in a  single layer on a sheet pan fitted with parchment paper.  Remove any remaining seeds from the slices (that was my daughter's job).  
For each Apple, I got about 20 slices, so one sheet pan per apple. This can vary depending on the apple size or the thickness of your chips. You have no idea how they will shrink during cooking.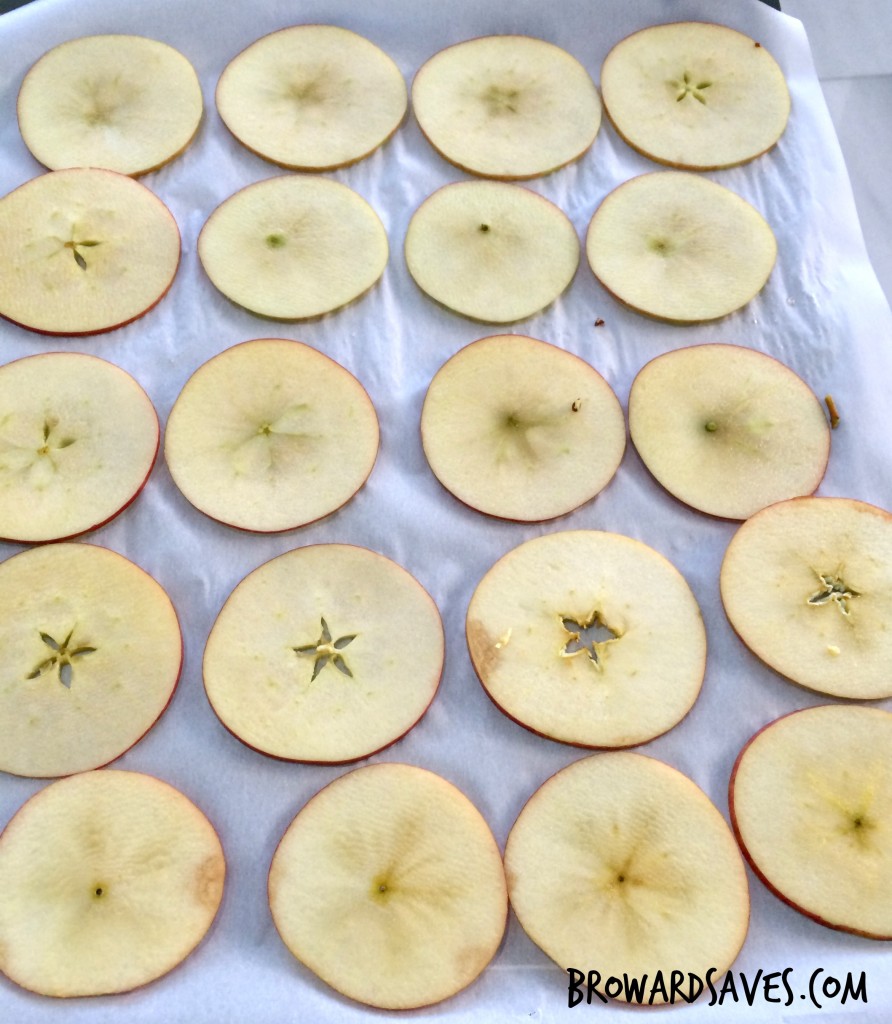 Sprinkle Stevia, sugar or any other natural sweetener. I used 2 packets of Stevia per 80 slices of apples. 
Sprinkle cinnamon over the apples (optional). You can also add in any spice you'd like. Next time I make them I would love to try the apple pie seasoning or maybe a spicy one like chili or cayenne pepper.
Bake in the oven for 90 minutes. After that time flip them and bake for one more hour. Turn oven off and leave them inside for a few hours or overnight.
DO NOT OPEN THE OVEN DURING THIS TIME. Resist your peeking!. I know it's hard but it's worth it. You will not believe how crunchy they will be.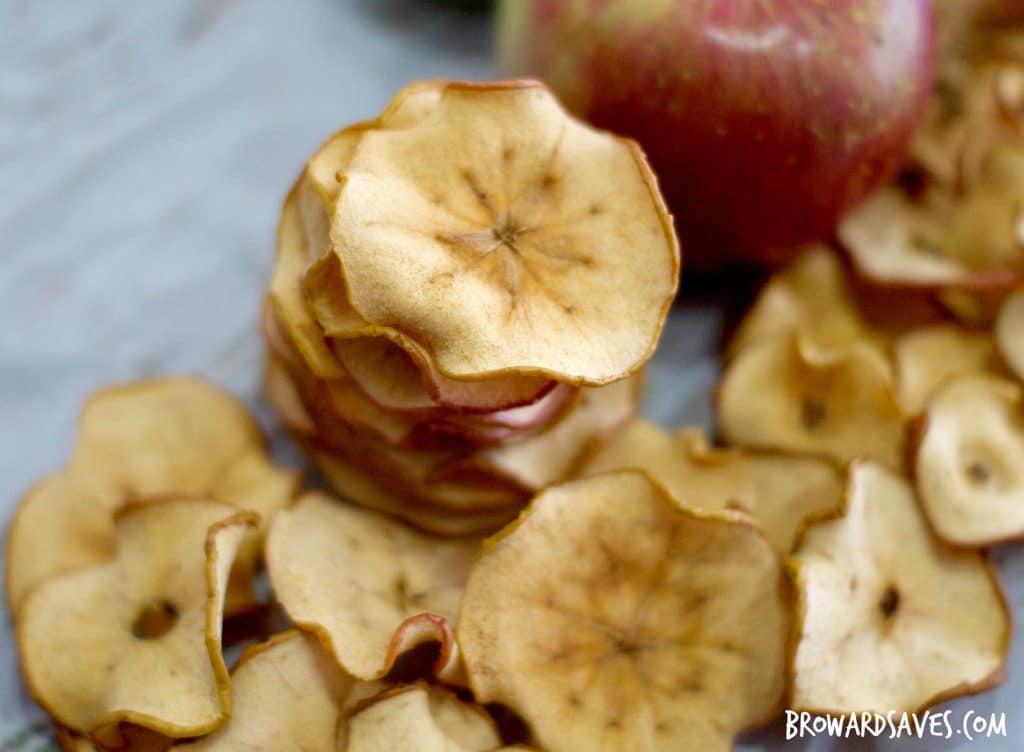 When they come out of the oven simply place them in a resealable bag. They will last for about a week at room temp although they probably will be gone by then;).
So will you give them a try?. I promise you will love them!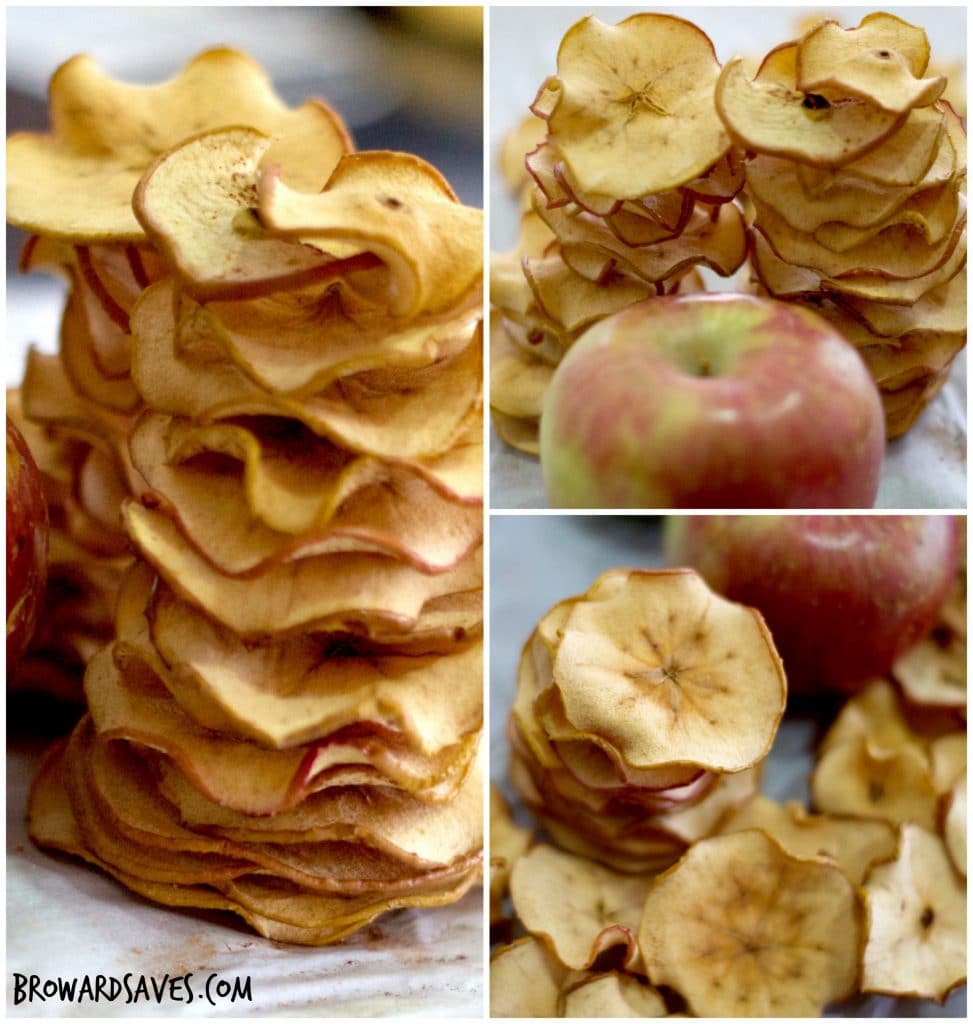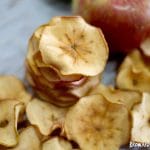 Homemade Crunchy Apple Chips Recipe
Easy to make and delicious! The oven does the hard work. Make these Apple Chips recipe at home, kid friendly and customizable. Love the crunchy spicy chips
Ingredients
4

Apples

2

ts

Packets of Stevia or 2 ts of sugar

1/2

Ts

Cinnamon
Instructions
Preheat Oven to 200 Degrees Fahrenheit

Slice Apples into 1/6" Approximately (use a mandolin if you have one)

Place apples slices in a single layer on a sheet pan fitted with Parchment Paper

Sprinkle in Stevia (or sugar) and cinnamon

Bake in the oven for 1 1/2 hours

Flip them over so the other side will crisp as well

Bake for 1 more hour

Turn oven off and leave the apple slices inside for a few more hours or overnight

When they are ready, place slices in a zip-top bag

Enjoy!
Nutrition Facts
Homemade Crunchy Apple Chips Recipe
Amount Per Serving
Calories 4
% Daily Value*
Potassium 9mg0%
Carbohydrates 1g0%
Vitamin A 5IU0%
Vitamin C 0.4mg0%
Calcium 1mg0%
* Percent Daily Values are based on a 2000 calorie diet.
You may also like:
Crunchy Baked Sweet Potato Chips