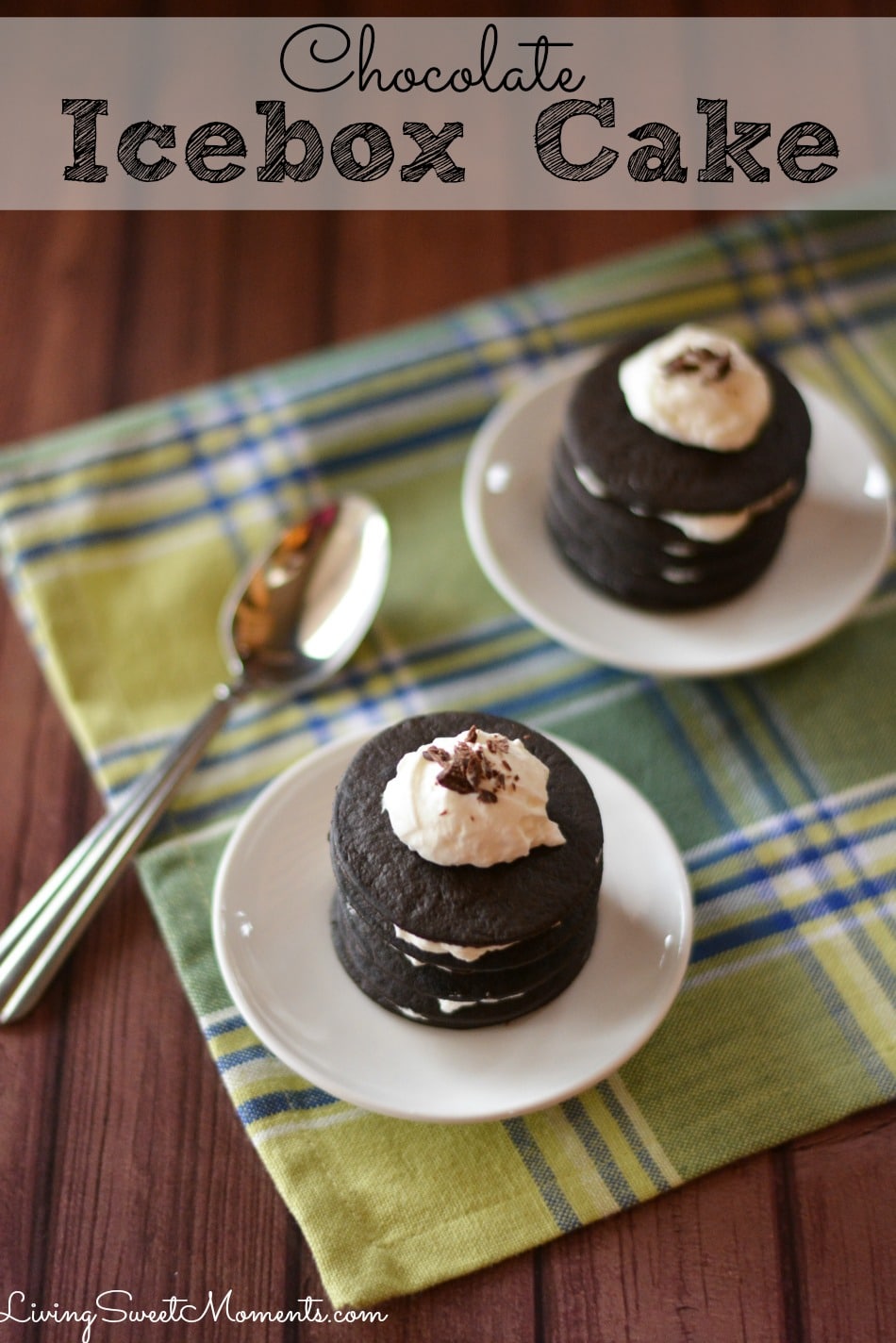 Chocolate Icebox Cake Recipe
I love making these little cakes. Not only are they no bake, but must be made ahead of time so the cookie softens and turns into a cake like texture. Delicious and simple, and not overly sweet, this will be a welcomed dessert by anyone.
This Chocolate Icebox Cake Recipe is served individually, making this dish more elegant. It's like each one gets its own surprise.. Who can't say no to that? While the Holidays are in full gear and the oven is being used to prepare all kinds of dishes and concoctions, we will be using our fridge to "cook" our little cakes.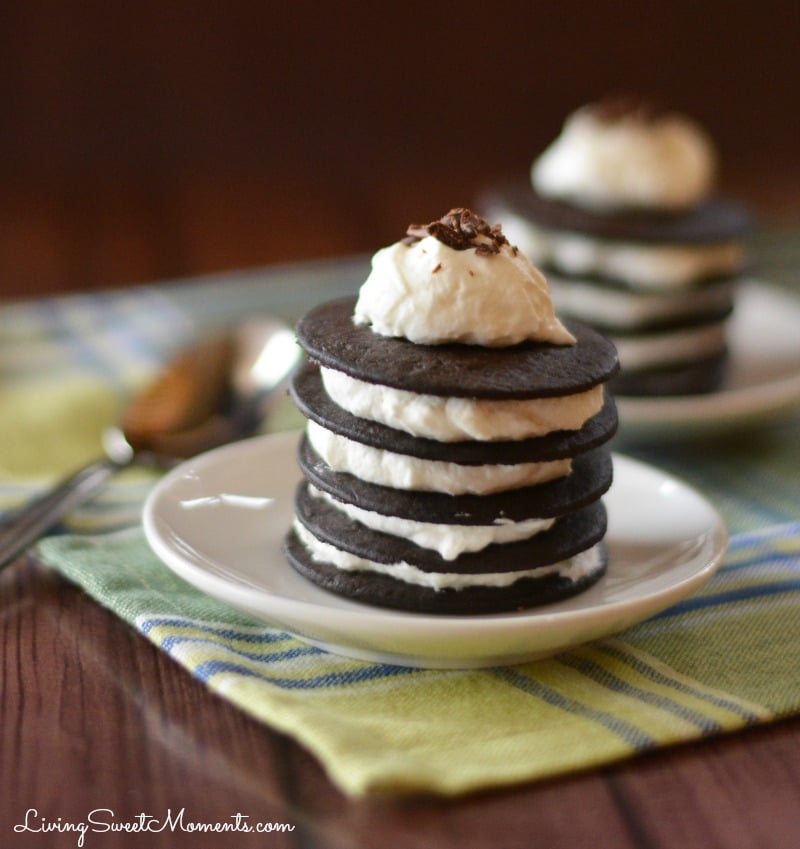 If you're a novice baker, then this is the recipe to try. It's foolproof and 100% customizable. Not a fan of chocolate? use vanilla cookies. Ultra fan of chocolate? add some cocoa powder to the cream. The possibilities are endless.
I love sprinkling some colors on top when serving to kids. They feel so special! Five little layers and all that divine cream! For Christmas cakes, sprinkle some peppermint oil to the buttercream and top with some crushed peppermint.
To start you need few ingredients: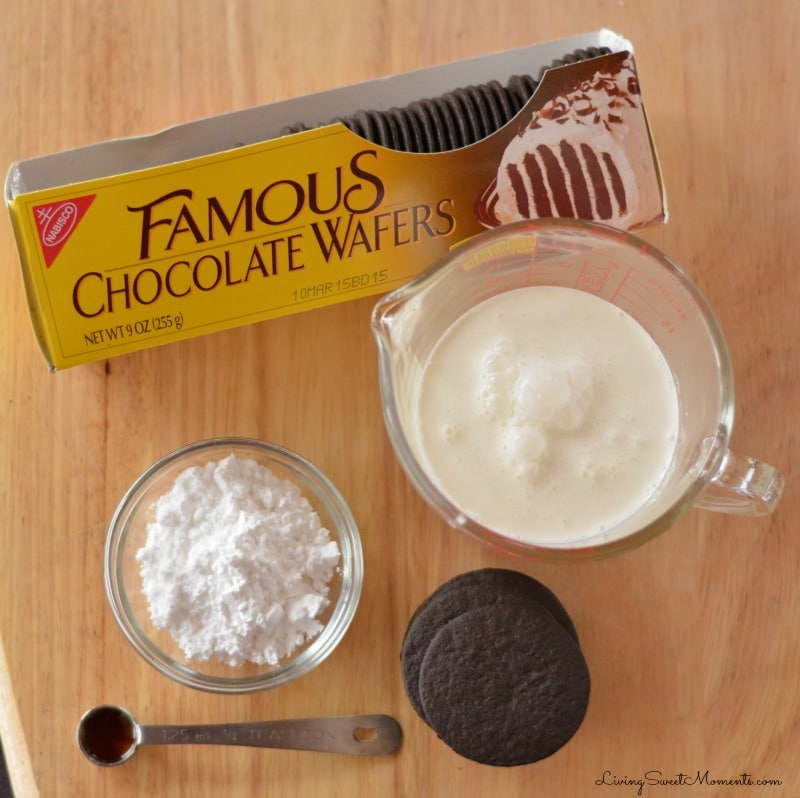 Wafers, cream, sugar and vanilla extract. That's it! All you need to make this Chocolate Icebox Cake Recipe can be easily found at any grocery store. And as you can see, the results are amazing.
Employ your kids to help you fill each cookie with cream. Even toddlers can collaborate since there's no heat or sharp items required. My daughters had a ball spreading and creating as many cake layers as possible. The little's one cake looked like the leaning tower of Pisa with 12 layers! Oh the fun times I have with my girls in the kitchen.
I recommend making this Chocolate Icebox Cake Recipe a day in advance, that will give the chance for the wafers to soften up and the flavors to develop. I hope you can try this one at home.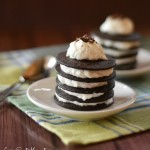 Chocolate Icebox Cake Recipe
This delicious and easy to make Chocolate Icebox Cake Recipe is elegant and definitely a crowd pleaser. You can customize it any way you would like to create different flavors.
Servings
:
8
-9 litte cakes
Ingredients
1

box Famous Chocolate Wafers - My grocery store sells them where you find ice cream cones and toppings

9oz, Nabisco makes these

1

cup

Heavy Whipping Cream

8 ozs

3

tablespoons

powdered sugar

1

teaspoon

vanilla

Chocolate Shavings for garnish

optional
Instructions
Add the whipping cream, powdered sugar and vanilla to the bowl of your electric mixer. Using the whisk attachment, beat on high speed until stiff peaks form. About 3 minutes

I used 5 cookies per cake and spooned about 3/4 of a teaspoon of cream between each layer. Just put a dollop of cream on the cookie, press another on top and continue until your cakes are complete.

You can leave the tops plain or garnish with a dollop of cream and chocolate shavings.

Refrigerate in a covered container overnight. You may want to place them onto your serving tray. The thin, crisp cookies will soften overnight and the cakes may be difficult to remove (because they are too soft) from a container.

You can adjust the sugar to your taste, adding more or less.