This delicious Cheesy Stuffed Eggplant Recipe is easy to make, low-carb, vegetarian and very cheesy. The eggplant is roasted for extra flavor. Perfect as a side dish.Â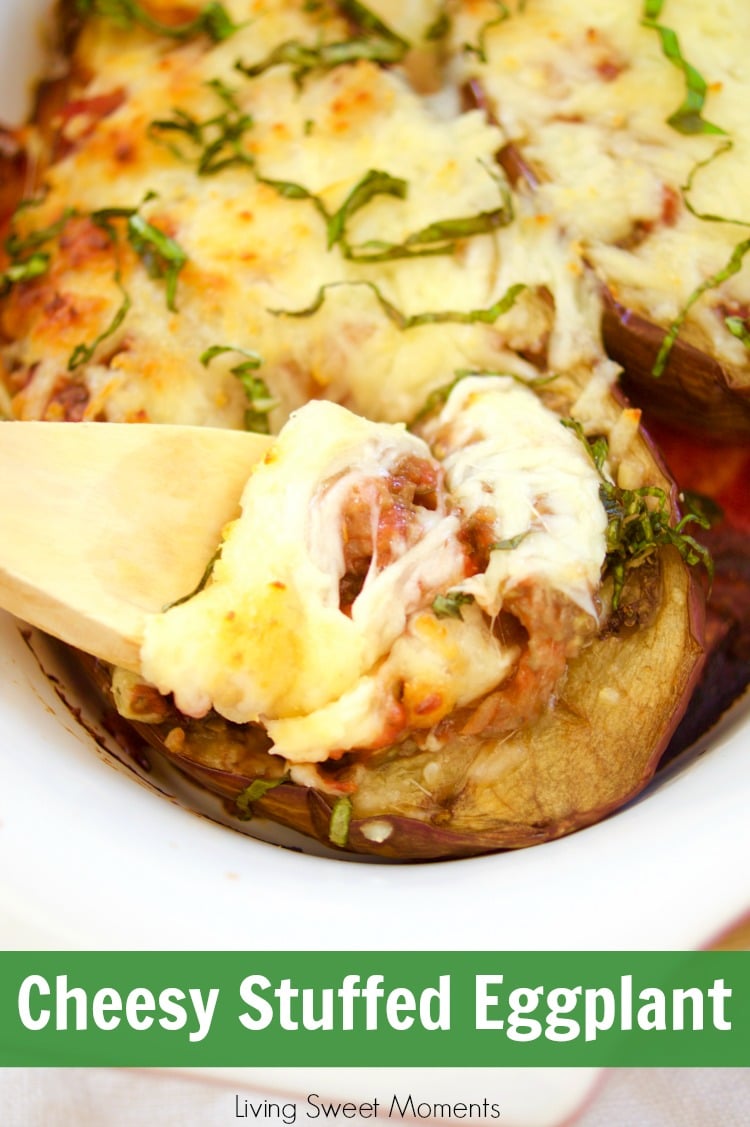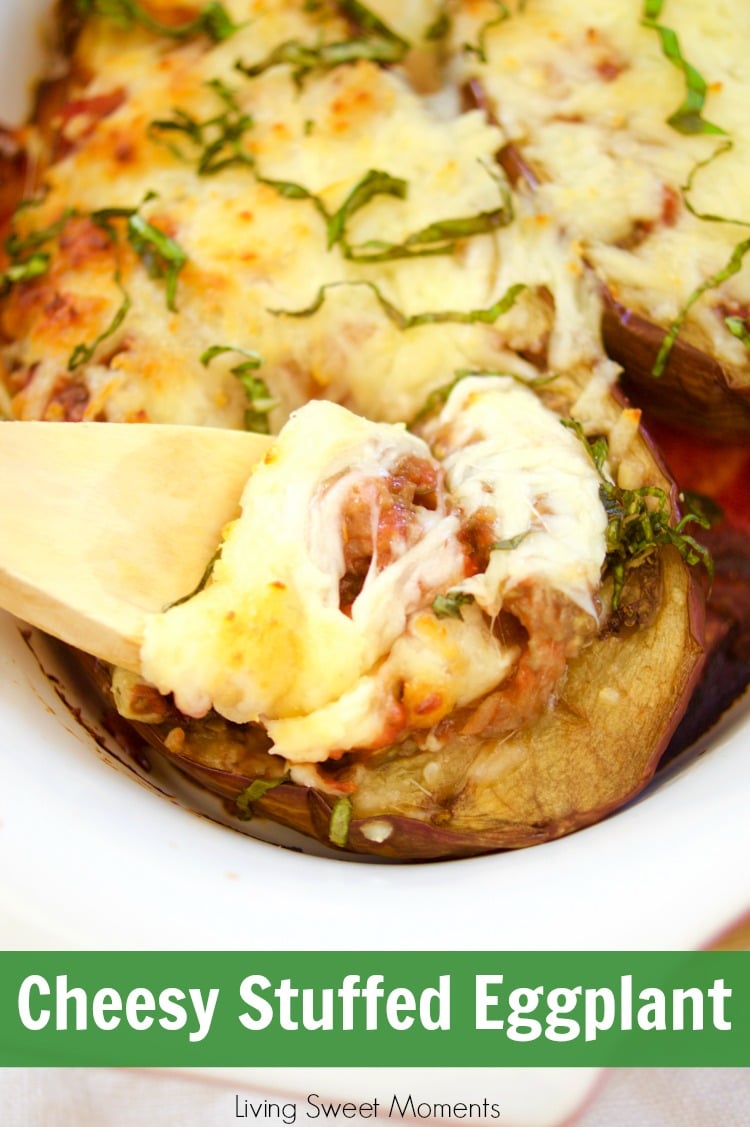 Cheesy Stuffed Eggplant Recipe
Oh my goodness! You are going to love this Cheesy Stuffed Eggplant Recipe. It's so easy to make and it has so much flavor. It reminded me of a pizza, crust not required.
If you're looking for a different side dish that it doesn't require much work and that is perfect for entertaining, then print out this recipe. I couldn't get enough!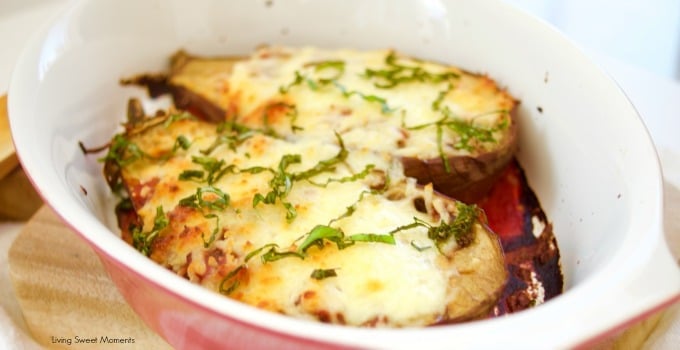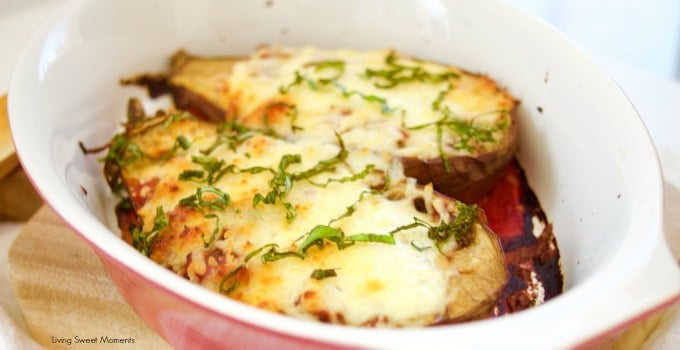 Every spoonful you'll take it's going to be cheesy, savory and addicting. The filling is made out of tomatoes, eggplant cubes, and cheese. Can't go wrong with that!
I made this amazing Cheesy Stuffed Eggplant Recipe this week and my husband couldn't get enough of it. I presented them as pictured and he only took half of slice. After he tried it, he took the whole eggplant. I was able to grab a few pieces before he swooped in and ate it all.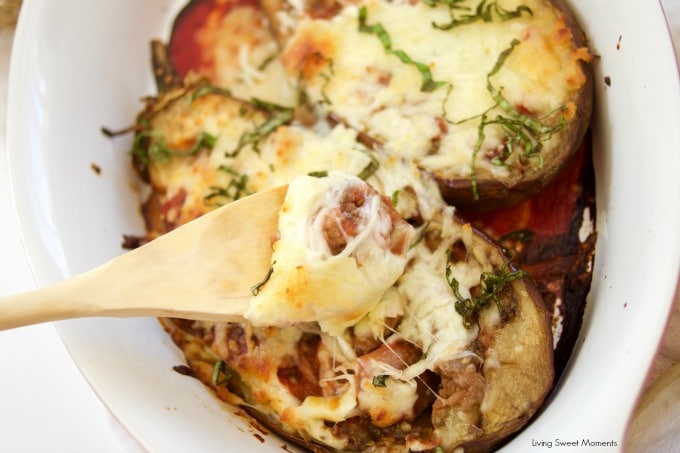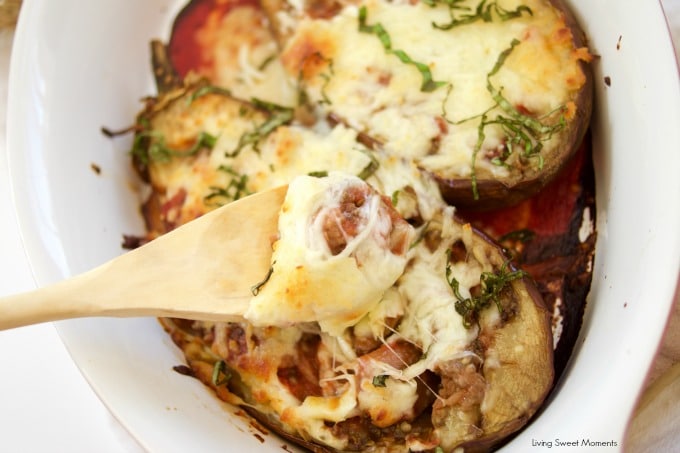 If you're cooking dinner for a vegetarian crowd, then this Cheesy Stuffed Eggplant Recipe is perfect to serve as a main dish. It's big, hearty and very filling.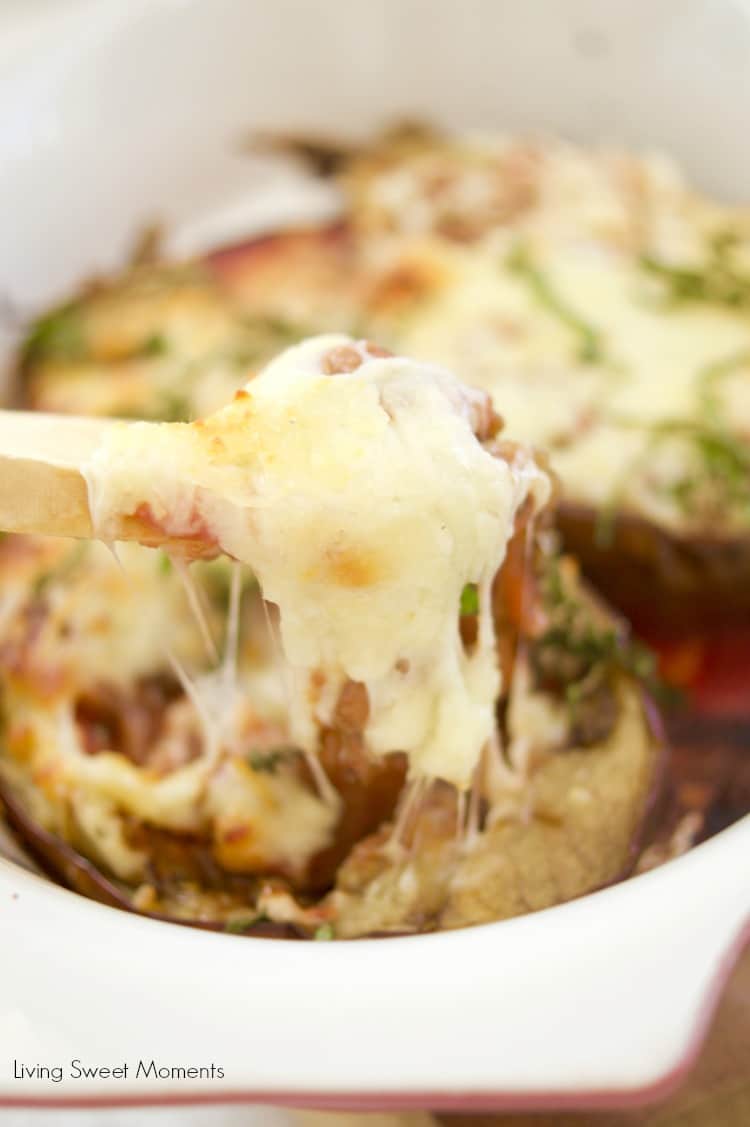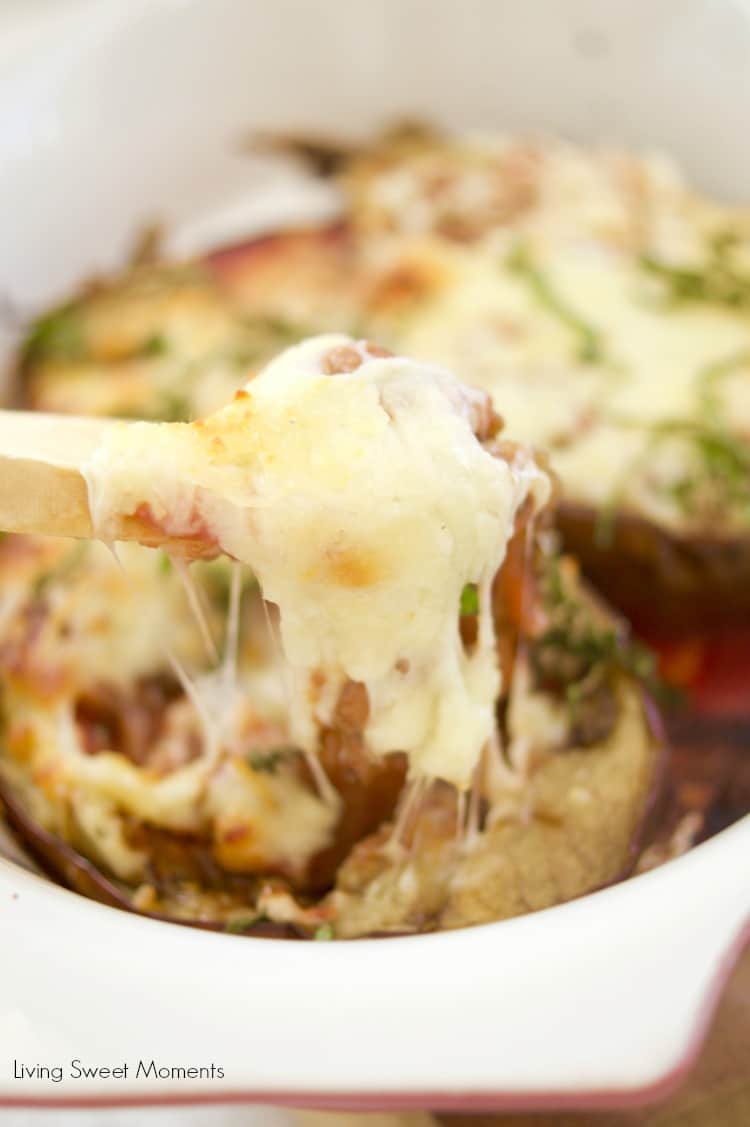 I top my eggplant with fresh cut basil. Its pepperiness enhances the tomato flavor inside the filling. If you don't have any fresh herb available in your fridge, you use dried basil or a combine it with dried oregano as well.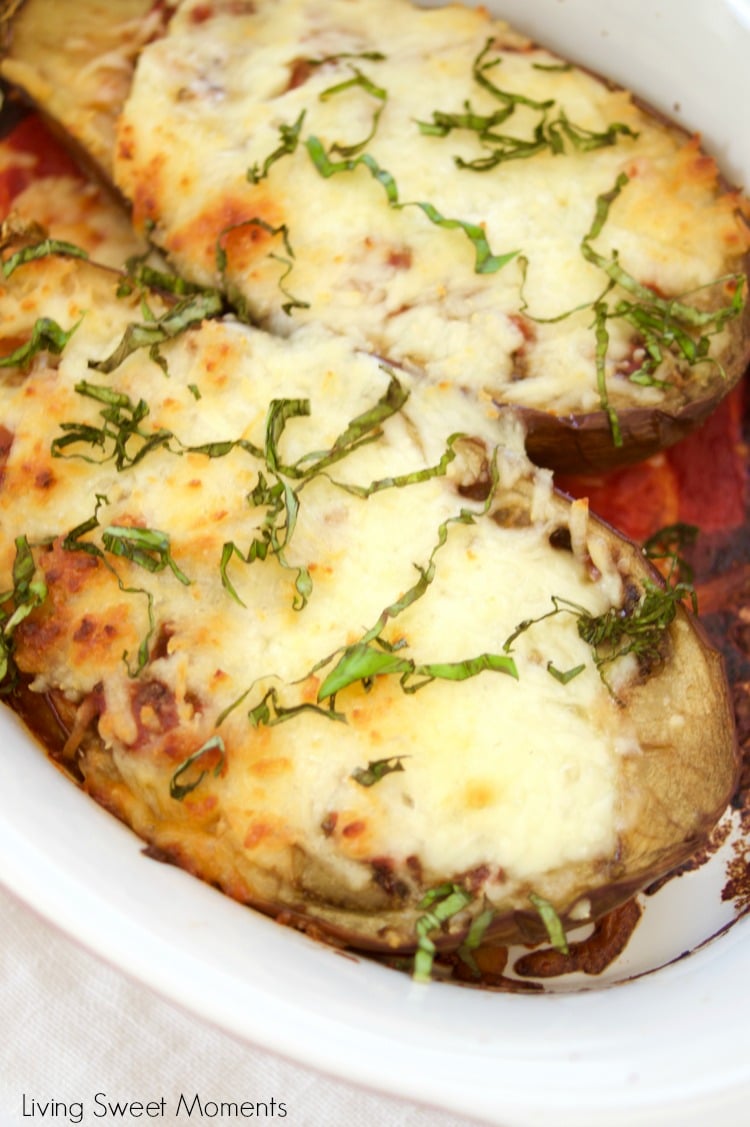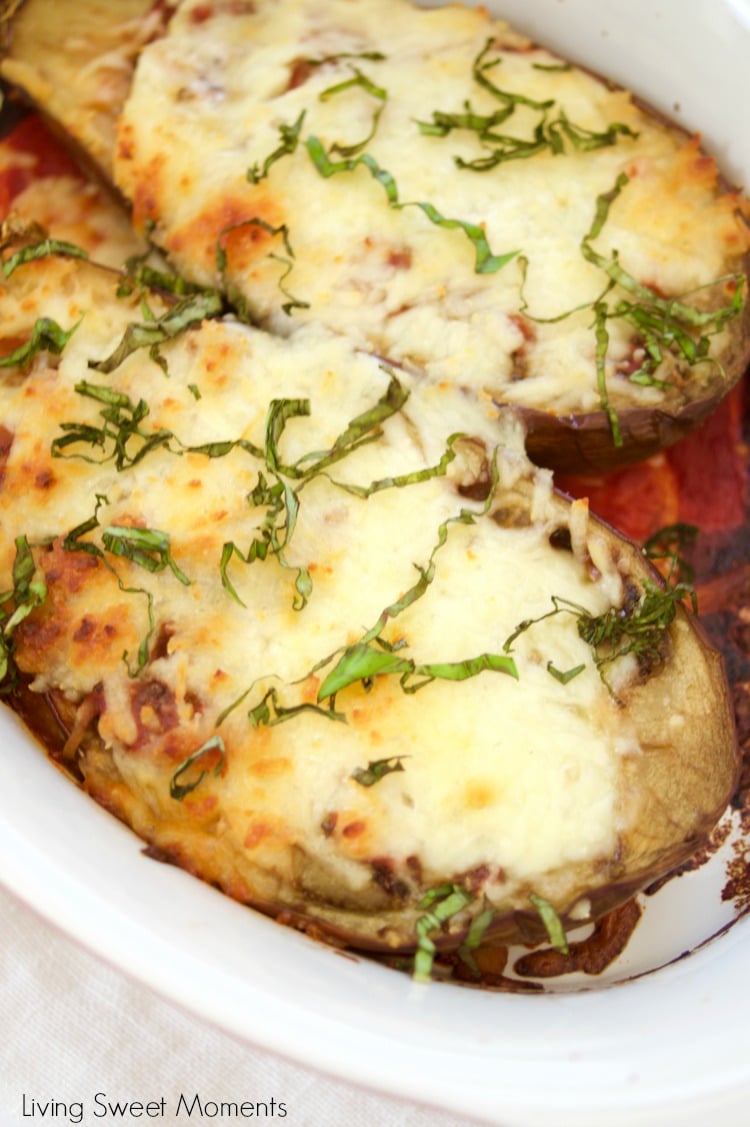 One of my favorite to cook with is eggplant. You can fill it, roll it, cube it or use it as a tasty spread. I love the fact that this vegetable is sturdy enough and versatile enough to cook with.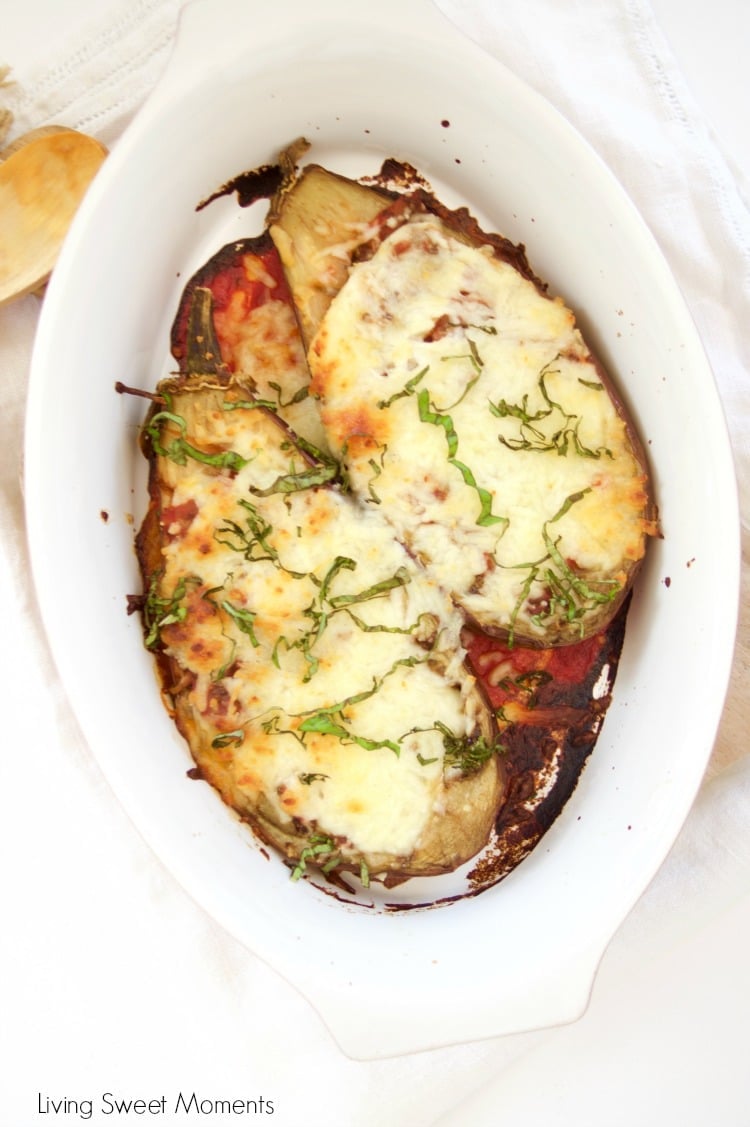 I hope you can try this delicious Cheesy Stuffed Eggplant Recipe at home. If you do, please upload a pic on Instagram and tag me @Livingsweetmoments or use the hashtag #LivingSweet. I promise to repost it.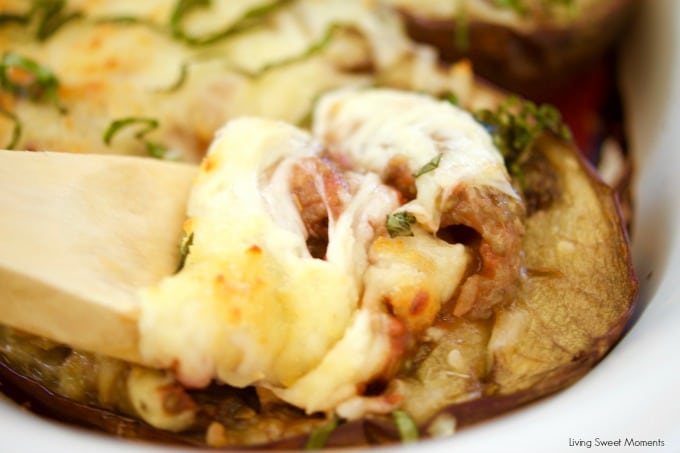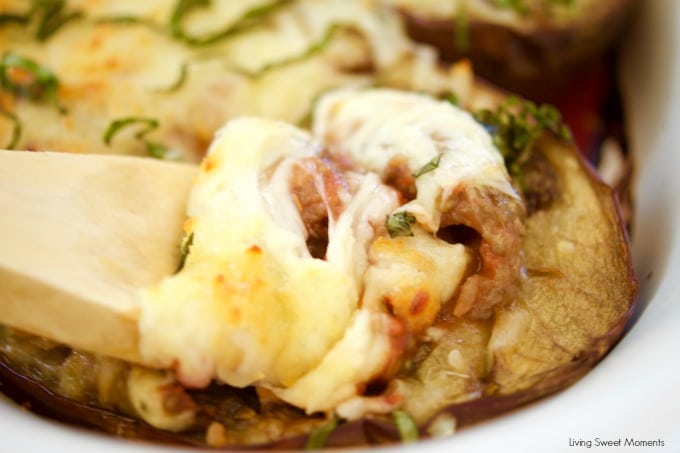 CLICK HERE FOR MORE STUFFED EGGPLANT RECIPES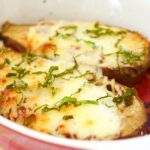 Cheesy Stuffed Eggplant Recipe
This delicious Cheesy Stuffed Eggplant Recipe is easy to make, vegetarian and very cheesy. The eggplant is roasted for extra flavor. Perfect as a side dish.
Ingredients
For Eggplants
2

Medium Eggplants

2

Teaspoons

of olive oil

Salt + Pepper
For Filling
1/2

cup

Crushed Tomatoes

from a can

1

clove

Garlic

crushed

3/4

cups

Mozzarella Cheese

Salt + Pepper
Instructions
Preheat oven to 400 degrees Fahrenheit

Line a sheet pan with aluminum foil

Cut the eggplants in half

Score the meat of the eggplant in a crisscross pattern being careful not to cut through the skin

Add olive oil, salt, and pepper

Roast the eggplant in the oven for 30 minutes

Remove from oven and let them cool

When the eggplant cools, remove the filling with a spoon leaving a bit of pulp to ensure they are strong enough to be stuffed

Cube the filling and place it in a bowl

Add the tomatoes, salt, pepper and garlic

In a baking dish, add a bit of the crushed tomatoes on the bottom

Place the eggplants on top

Stuff them with the filling

Place the cheese on top

Bake for 20-15 minutes or until the cheese has completely melted

Top with basil

Enjoy!
Nutrition Facts
Cheesy Stuffed Eggplant Recipe
Amount Per Serving
Calories 148
Calories from Fat 63
% Daily Value*
Total Fat 7g 11%
Cholesterol 16mg 5%
Sodium 176mg 7%
Potassium 629mg 18%
Total Carbohydrates 16g 5%
Protein 7g 14%
* Percent Daily Values are based on a 2000 calorie diet.
You may also like:
Low-Carb Cauliflower Crust Pizza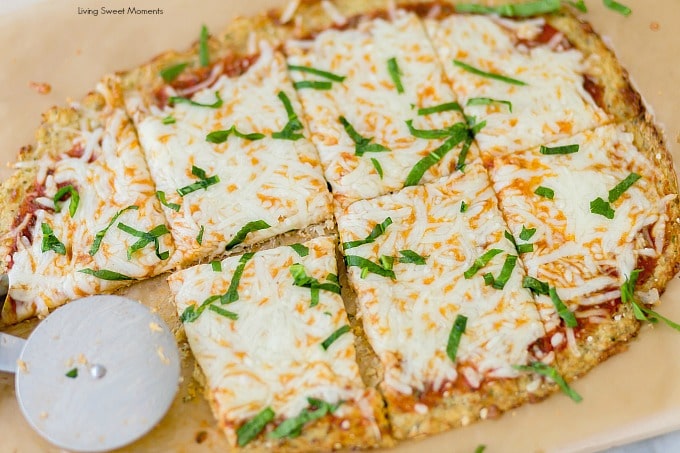 Tomato Stuffed Roasted Eggplant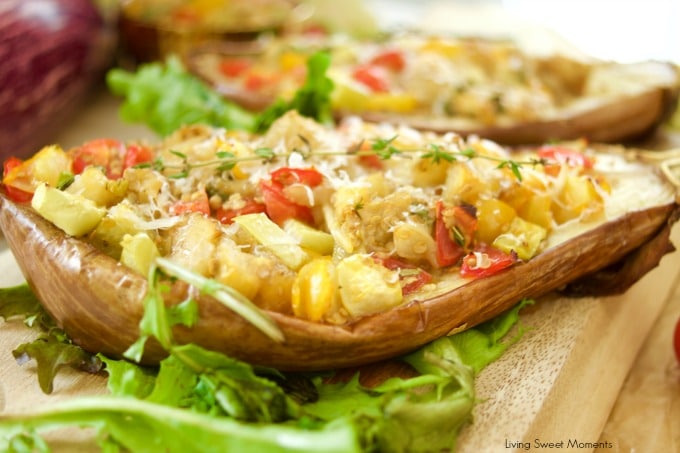 Savory Fish with Eggplant Caponata Sauce