This Chocolate Espresso Rugelach recipe is super easy to make & delicious. Enjoy buttery cookies filled with a yummy chocolate filling. Perfect for parties.
I participated in Mom Blog Tour at the Summer Fancy Food Show on behalf of Wendy's Bloggers and received Brooklyn Bean Roastery products and a @HamiltonBeach FlexBrew to facilitate my review. 
Chocolate Espresso Rugelach
If you think a mug is the only way to get a kick of caffeine in your system, then you're in for a surprise. These addicting Chocolate Espresso Rugelach cookies will become your new morning coffee.
Coffee + Chocolate = Marriage made in heaven. Now add a buttery soft cookie, and dessert is ready. I love serving these for breakfast, snack, or even with coffee (hey, you can never have too much caffeine).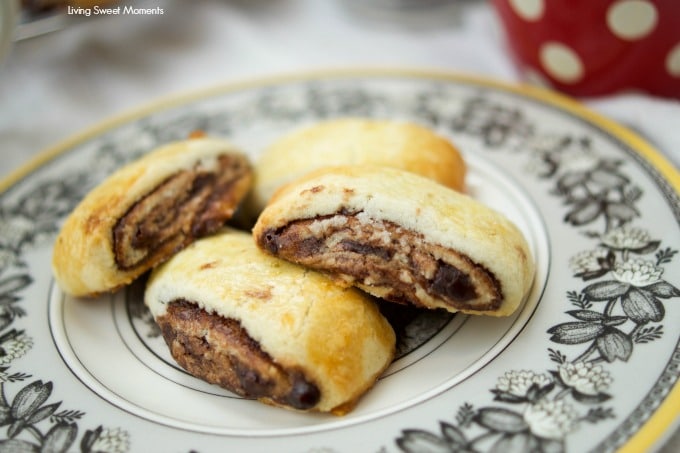 A while ago, I posted a recipe for guava and cheese rugelach cookies. Today, I use the same exact dough with a different filling. It's also the same cookie dough for my Hanukkah Stained Glass cookies and Jelly Cookies.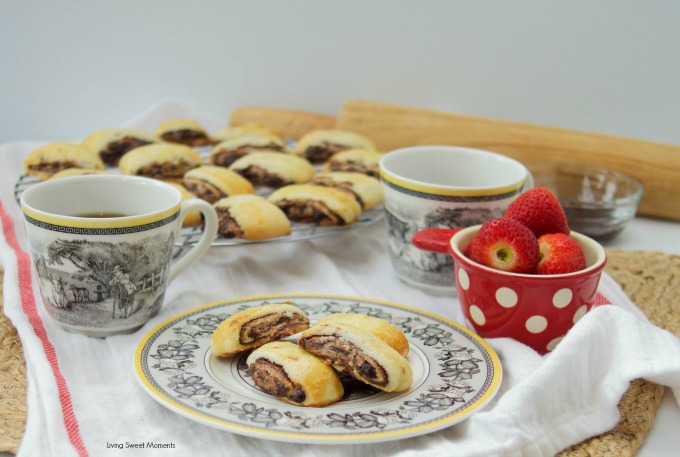 The buttery dough can be used in plenty of different cookies and is also freezable. I recommend making a double or triple batch, freezing 2/3 in a zip top bag so when Hanukkah comes around you get to make more rugelach or different Holiday cookies.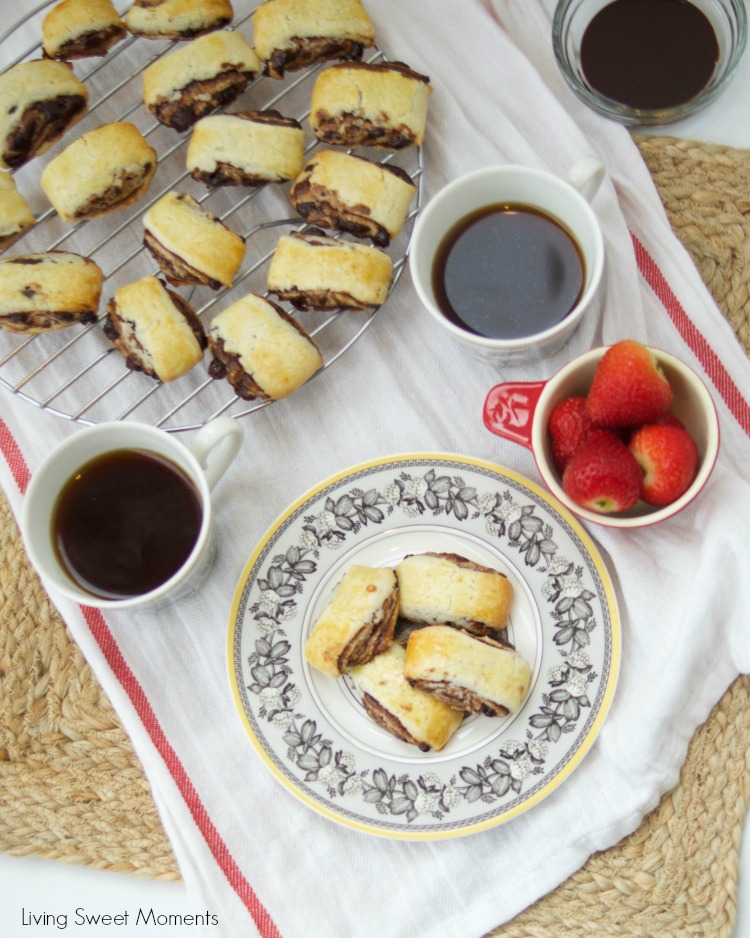 My inspiration behind this Chocolate Espresso Rugelach came from a friend who made a yummy Babka the other day. The center was soft and with a strong cocoa flavor. I asked her for the recipe and added hot coffee to the chocolate. The result was tastier than I could've ever imagined.
Here are a few pictures of the process. I basically spread the dough into a rectangle. Add the filling, roll into a log. cut out the cookies with a knife, brush the tops with egg wash, sprinkle some sugar on top and baked. They are relatively easy to make. Perfect for last minute guests stopping by or a nice Holiday dessert.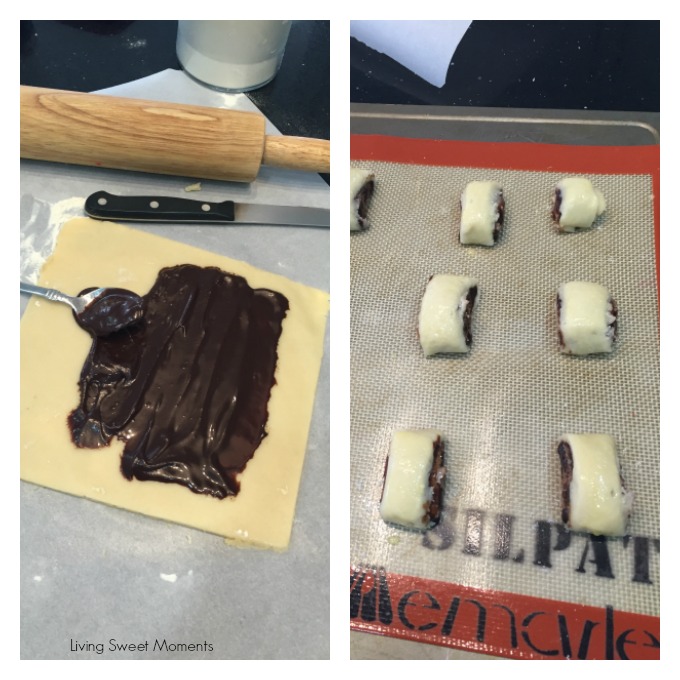 If you prefer, you make these using the original rugelach shape.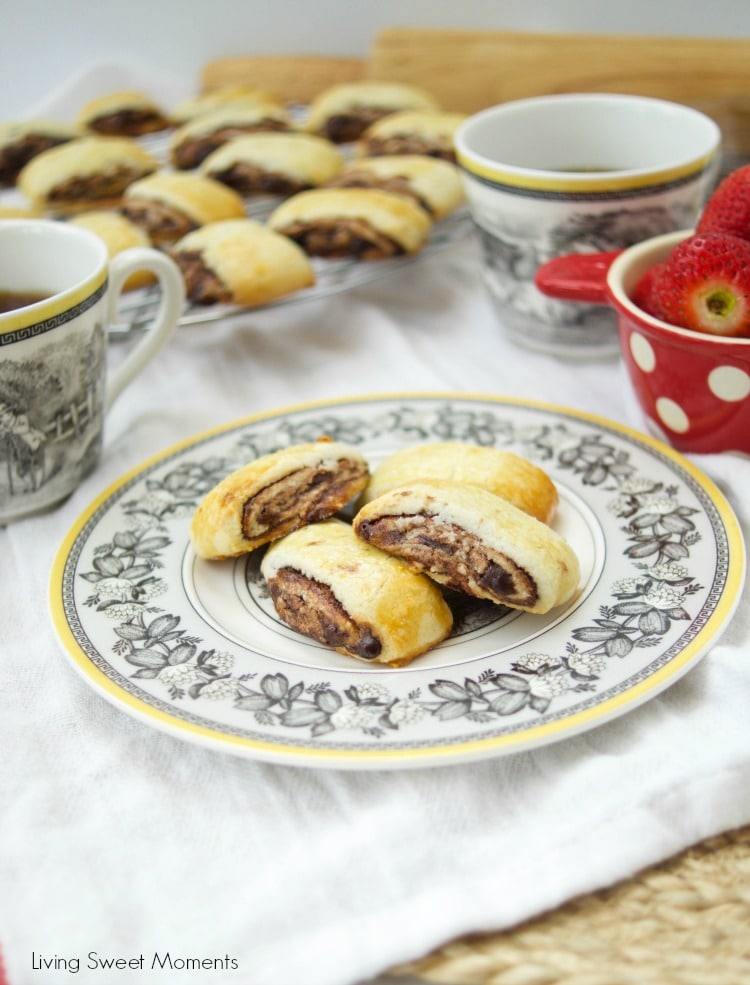 I hope you can try this delicious Chocolate Espresso Rugelach at home. If you do, please upload a pic on Instagram and tag me @Livingsweetmoments or use the hashtag #LivingSweet. I promise to repost it.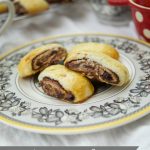 Chocolate Espresso Rugelach
This Chocolate Espresso Rugelach recipe is super easy to make & delicious. Enjoy buttery cookies filled with a yummy chocolate filling. Perfect for parties.
Ingredients
Ingredients for Cookie Dough
1

cup

Unsalted Butter (2 Sticks)

at room temperature

1 1/2

Cups

All Purpose Flour

1/2

Cup

Sugar

1

tablespoon

Sour Cream

you may use greek yogurt

1

Egg

1

Teaspoon

Vanilla or Pinch of Vanilla Powder
Ingredients for the filling:
1/4

cup

cocoa powder

3

tablespoons

vegetable oil

3

tablespoons

hot brewed coffee

1/2

cup

powdered sugar

confectionary sugar
Instructions
Dump all cookie dough ingredients into a mixer fitted with a paddle attachment. Mix on medium speed until a dough forms.

Divide the dough into 3 equal parts and shape into discs. Wrap in plastic and refrigerate for at least 1 hour

In a bowl, mix all the filling ingredients together until smooth, thick, and creamy

In another bowl make the egg wash by whisking the egg and water together until combined

Preheat Oven to 300 Degrees Fahrenheit

After time has elapsed, removed the dough out of the fridge working with one disc at a time.

On a floured surface, place the dough into the center and with the help of a rolling pin, shape the dough into a rectangle making sure the thickness is as evenly as possible.

Spoon 1/3 of the filling over the dough leaving a very small border

Roll dough tightly into a log and cut into 1-inch pieces

Place cookies on a parchment paper lined cookie sheet

Brush the surface of the cookies with the egg wash. Sprinkle with a little sugar if desired

Repeat with the process with the other 2 dough disks

Bake for 12-15 minutes or until golden brown on top

Remove from oven and place on a cookie rack to cool

Enjoy!
So why make them coffee? you ask. Well, I just wanted to show you that coffee is not only for drinking and also I wanted to showcase Brooklyn Bean Roastery coffee.
 They are a brand that produces coffee, from the crisp, flavorful, light blends to full flavor, extra bold roasts to decadent flavored coffees, and all with one-of-a-kind names and packaging that captures the Brooklyn flair.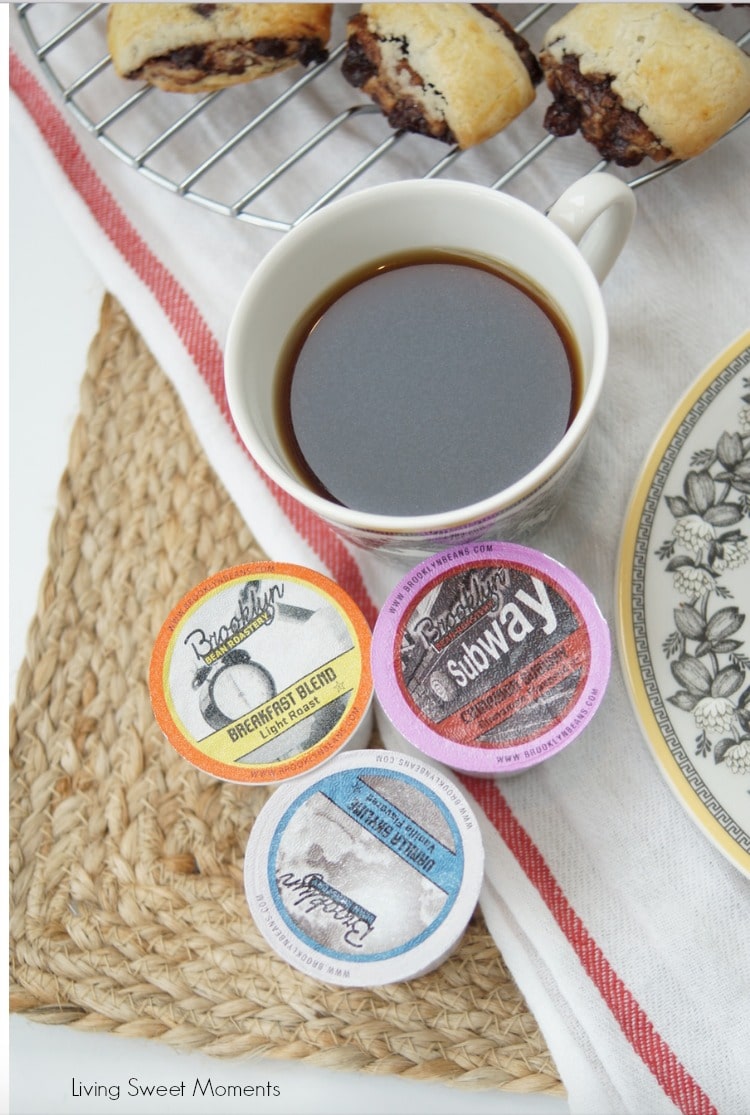 For my cookies, I used their Express-O flavor which is strong and have a nice body that won't compete with the chocolate. You can, of course, use any other Brooklyn Beans Roastery flavor you may like.
To make my coffee, I used the new Hamilton Beach® FlexBrew® Single-Serve Coffeemaker. It is really cool because you can use BOTH single-serve pack or ground coffee. It also has a bold setting for increased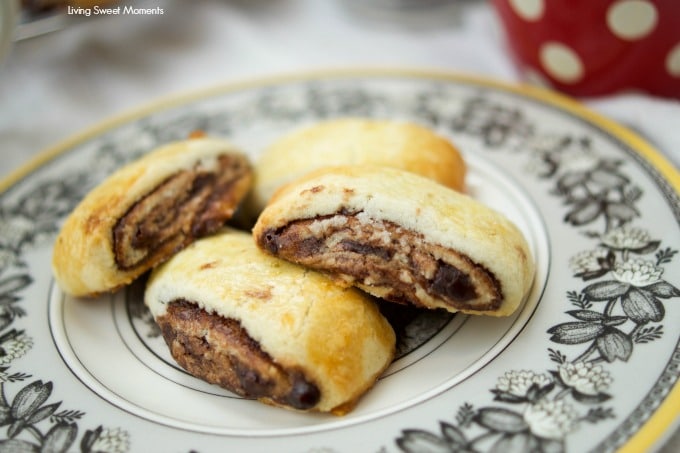 You may also like:
Guava and Cheese Rugelach Cookies