These made from scratch Pink Velvet Cupcakes are so easy, moist & delicious. Topped with rich cream cheese frosting. Perfect for dessert or valentine's day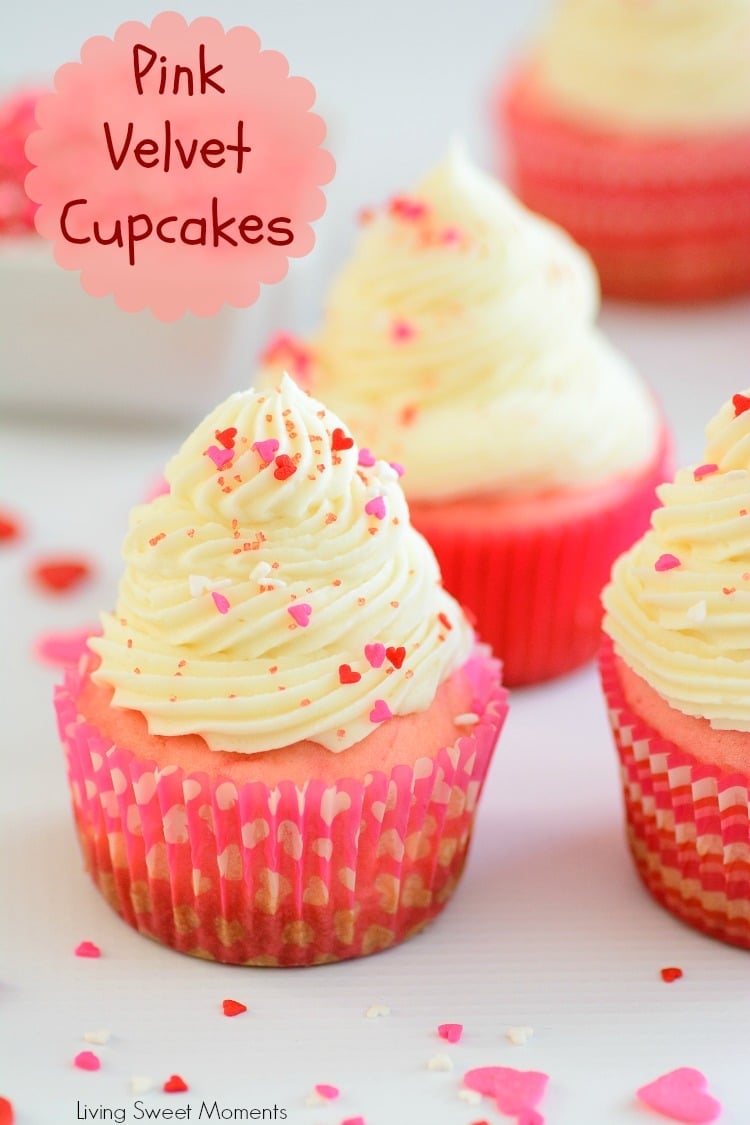 Deliciously Rich Pink Velvet Cupcakes
Who doesn't love taking a bit out of a moist pink cupcake made with buttermilk with a creamy cream cheese frosting topped with cute sprinkles? I know I do.
Raising two girls involves a lot of patience, glitter, and pink. With Valentine's Day around the corner, the need for pink get increased by 1000%.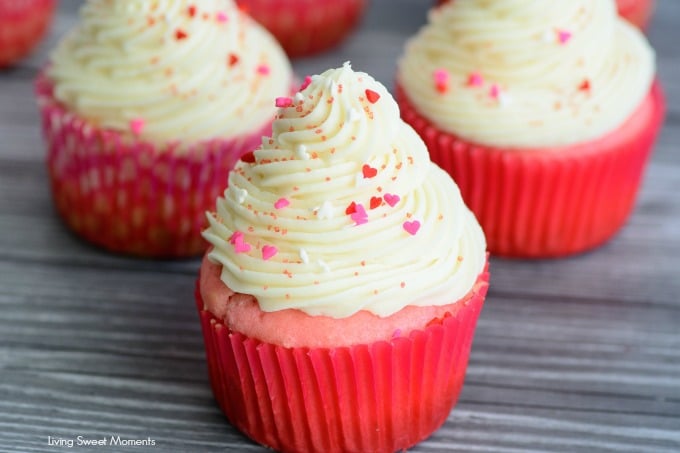 To make matters worse, I got a request to bring 20 gifts into my kids classroom. You can guess, 2×20 = 40 gifts. To avoid going into the stores and buying more of the same candy, I decided to bake these moist pink velvet cupcakes and have the girls decorate it.
It's easy, inexpensive, and fun. To personalize each one, they will write the name of their fellow classmates on the pretty paper wrappers. Every year I try to do something different.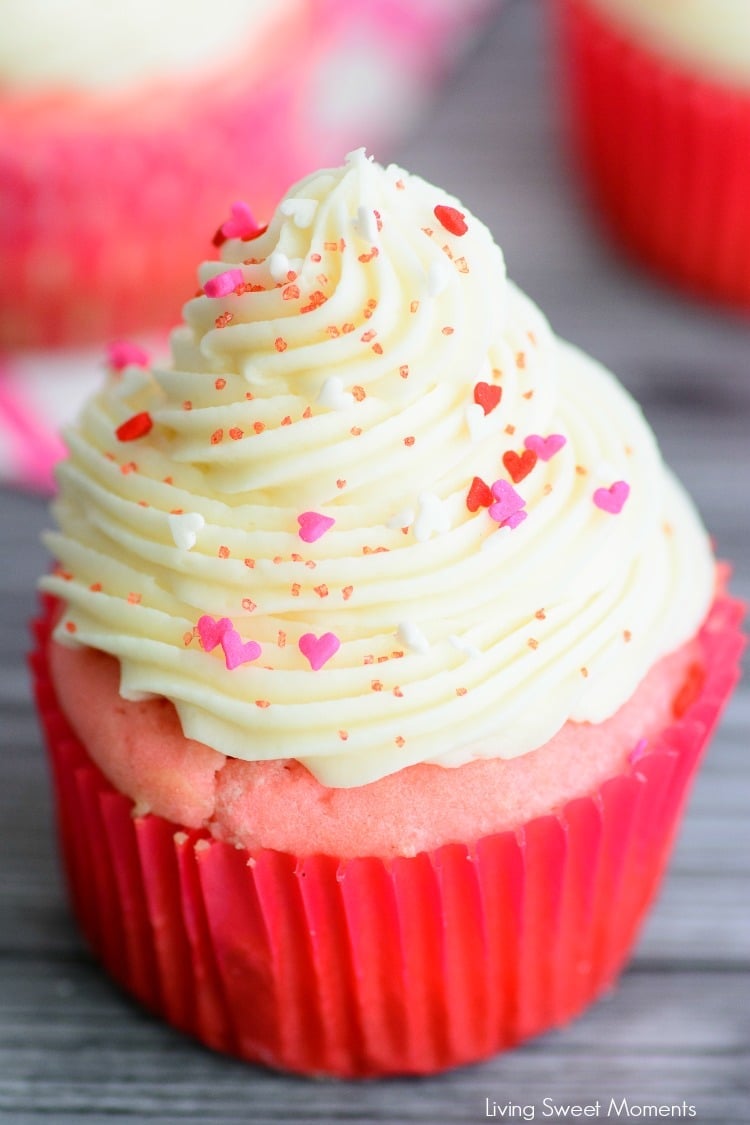 Remember last year when I made those cute mini valentine's cookies? The kids LOVED THEM.
My pink velvet cupcakes can also be used to celebrate a princess themed party. Just add some crowns on top and they will definitely be a hit with kids and adults.
My girls are huge fans the Pinkalicious Books, they asked me to host a playdate with a princess in pink theme (yes more pink, ugh) – So next week we're remaking these and serving them with tea.
I, on the other hand, don't care much about the color, but how delicious they taste. The batter is made with pure vanilla extract and buttermilk. It's sweet with a deeper taste than the store bought cakes. You can really fell the layers of flavor as you take each bite.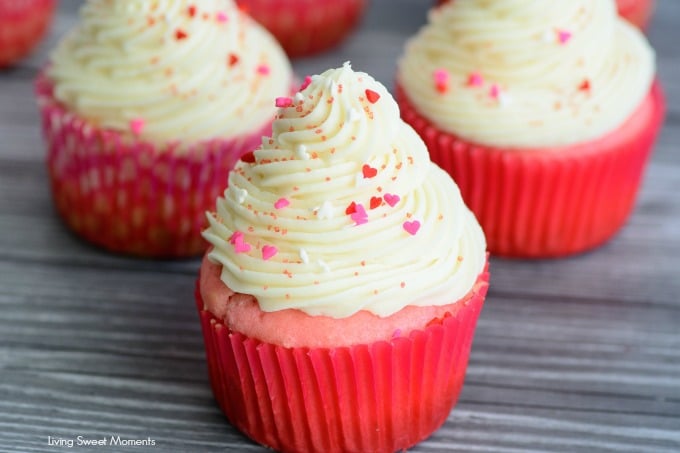 And for the topping, I choose one of my favorite frostings: cream cheese. It also has that sweet and slightly acid taste that's soft and creamy.
I hope you can try this delicious Pink Velvet Cupcakes at home. If you do, please upload a pic on Instagram and tag me @Livingsweetmoments or use the hashtag #LivingSweet. I promise to repost it.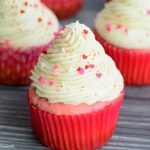 Pink Velvet Cupcakes
These made from scratch Pink Velvet Cupcakes are so easy, moist & delicious. Topped with rich cream cheese frosting. Perfect for dessert or valentine's day
Ingredients
For Cupcakes
1 1/2

cups

all purpose flour

1/8

teaspoon

baking soda

1

teaspoon

baking powder

pinch of salt

1/2

cup

granulated sugar

2

eggs

at room temperature

1/2

cup

butter (1 stick)

at room temperature

1

teaspoon

pure vanilla extract

3/4

cup

buttermilk

at room temperature

2-3

drops

pink food coloring
For Cream Cheese Frosting
4

oz

cream cheese (1/2 block)

at room temperature

1/2

cup

butter (1 stick)

at room temperature

4

cups

powdered sugar

sifted

1 1/2

teaspoons

pure vanilla extract

3

tablespoons

heavy cream

Sprinkles
Instructions
For Cupcakes
Preheat oven to 350 degrees Fahrenheit

Line cupcake pan with decorative liners and set aside


Cream the butter and sugar on medium speed until light and fluffy, about 3 minutes. Add in the food coloring and mix again until well combined


Add the eggs one at a time, mixing well before each addition. Scrape bowl as needed. Beat in the vanilla extract

Reduce the speed to low and slowly alternate the dry ingredients with the buttermilk, beginning and ending with the dry ingredients. Mix until just combined. Be careful not to overmix as the batter will be too dry


Scoop 1/8 cup batter into prepared baking liners (I like to use a large cookie scoop for this process)


Bake for 13 to 15 minutes or until a toothpick inserted into the center comes out clean. Mine took about 13 minutes


Remove from the pan and place on a cooling rack until completely cool. You can also place them in the fridge to speed up the process
For Cream Cheese Frosting
Beat butter and cream cheese on medium-high until completely smooth about 2-3 minutes.




Reduce speed to low and add sugar, one cup at a time until combined. Add vanilla extract and heavy cream


Increase speed to medium and beat frosting until smooth and fluffy.


Frosting should be ready. If it's a bit runny, simply place in the fridge for 15 minutes or until firmer
Assembly
Pipe frosting on top of each cooled cupcake. Decorate with sprinkles. Refrigerate until ready to serve.
You may also like:
Vanilla Cupcakes with Strawberry Mascarpone Frosting
Scrumptious Mini Valentine Cookies