Since you only get to choose 3, here's a list of rides at Disney that are not worth the Fast Pass in each park so you can save them for the right ones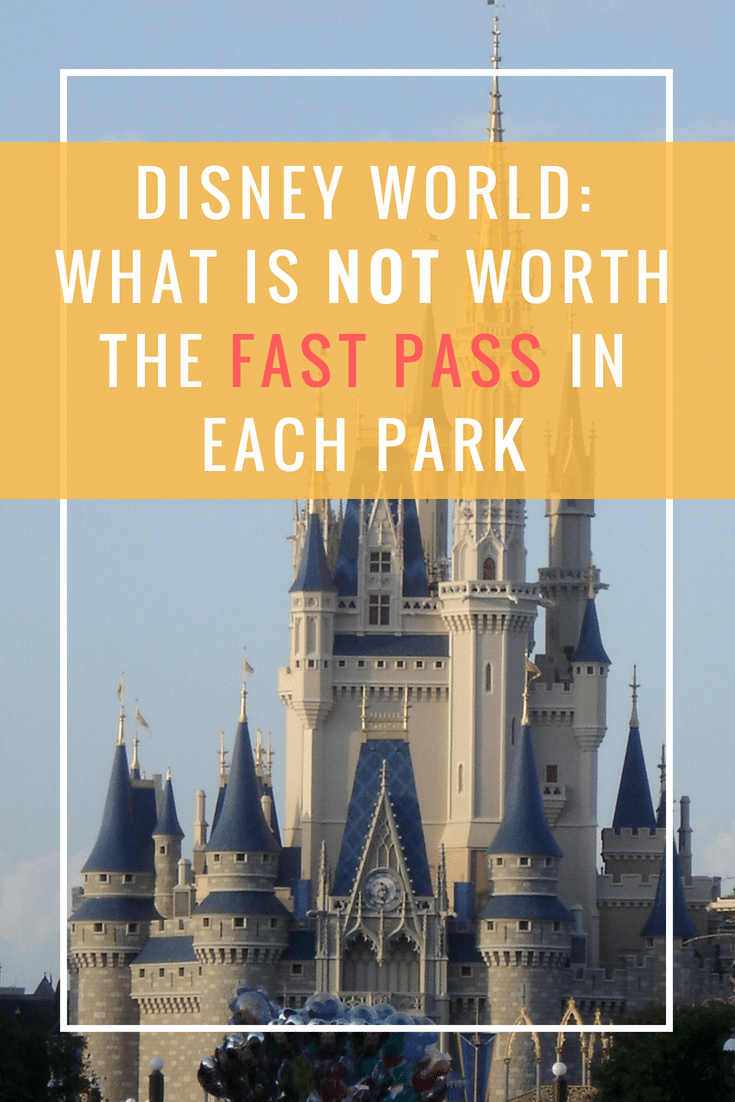 Disney: What is Not Worth the Fast Pass in Each Park
If you have ever been to a Disney park, then you know just how precious those FastPasses can be. With only three to choose from in each park, deciding to get a FastPass is anything but easy.
How do you know which rides to choose? How do you know if you've made the right choice? This is why I've put together a list of what is not worth the FastPass in each park to make sure you only get FastPasses for the rides you need it for.

Magic Kingdom

It's a Small World
This ride is perhaps one of the classics in the whole theme park. Known for being one of the first rides ever to hit the Disney theme parks, if you don't know any better, you might be thinking of grabbing a FastPass for this ride. In most cases you can walk straight onto the ride, or wait a mere 10 minutes, making this a waste of a FastPass.

The Many Adventures of Winnie the Pooh
Don't let the line deceive you! Of all the rides to skip a FastPass for, this is on the top of the list for a reason! There are a ton of activities and ways to keep your kids entertained while you are waiting in line, and all things considered, the line is going to be pretty short. The longest I've ever waited was 40 minutes.


Animal Kingdom

It's Tough to be a Bug!
While it may be tempting to snag a FastPass for this show, you don't need one. If you do have to wait in line at all, which is extremely rare, the line is not worth wasting a FastPass over! Instead save your FastPasses for rides like Dinosaur!, Flight of Passage, or Expedition Everest.


Epcot

The Seas with Nemo and Friends
Despite Finding Nemo being so popular, this line moves extremely fast. Save your FastPasses for rides such as Soarin', Frozen Ever After, or Test Track, and wait out the line here instead. There is rarely more than a 30-minute wait, and it goes by quick.

Mission Space
You will likely never need a FastPass for this ride for a variety of reasons. First, the wait time is almost always 10 minutes or less, so even during busy times, you can expect a short wait time. Second, because there are two different options when riding the ride, it can also mean a short wait time since you won't have to stand in the same line as everyone else.



Hollywood Studios

Muppet 3D Vision
One of the only shows to offer a 3D experience for park guests, this ride is one you won't need a FastPass for. Even if you come in during the beginning of the show, you will only need to wait a maximum of about 10 minutes. Save your FastPasses for one of the Roller Coasters or to use inside Toy Story Land.

Choosing a FastPass shouldn't be harder than deciding which park to go to! Keep this list handy the next time you want to make a FastPass selection, and you can't go wrong!
Now you have a clear idea on what rides are Not Worth the Fast Pass in each park at Disney.
You may also like: