Universal Studios Vs. Disney World: Which should you choose? – Many factors should be taken in account when comparing the top 2 theme parks in Orlando, Florida. Wait times, costs and rides.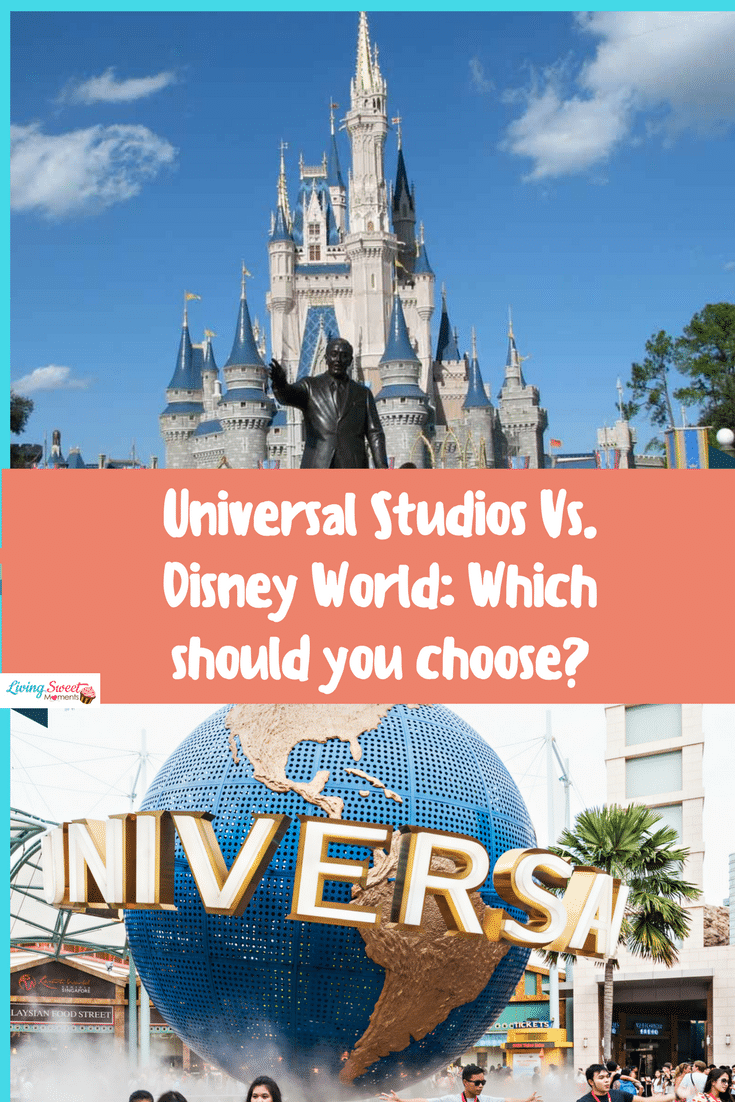 Universal Studios Vs. Disney World: Which should you choose?
If you are planning a vacation to Orlando, Florida, you may be excited and overwhelmed to find all of the attractions and theme parks available.
The top two places to visit are hands down Disney World and Universal Studios, and these are typically the primary reasons people visit Orlando. If you don't have time to visit both, here is a guide to help you decide which you should choose.
The Parks
Disney World has four major theme parks and two water parks. Universal Studios, on the other hand, has two major theme parks, and one water park. Both theme parks give you the option to hop from park to park, and this can be a great way to pack in your theme park experience in one day.
Due to the pure size of Disney World, it would be impossible to do even two whole parks in one day. However, you would be able to see most of Universal Studios in a single day.
The Rides and Wait Times
Disney World tends to be a themed park geared mostly toward small children and families. All theme park guests are allowed to use their Fastpass+ system which will let you to skip the long lines for up to three rides per day.
Universal Studios is geared more toward teens and adults. However, kids can still enjoy this theme park. Universal Studios guests can purchase an Express Pass to skip the line for nearly all of the rides.
However, this is not included in the ticket cost. Universal's Express Pass can only be used one time per ride. However, the Unlimited option allows you unlimited entry to rides.
Harry Potter and Minion Mayhem are not included in this offer. Disney's FastPass+ system while free still has some flaws, popular rides and times fill up fast and not every ride has a FastPass+ option.
Price
Ticket prices are shockingly comparable between both parks. Universal Studios' park-to-park one day ticket starts at $170 and Disney's magic your way one day ticket is $185.31.
If you are going at ticket price alone, you might not find it that much different. Hotels, on the other hand, are a different story, even the most basic Disney World Resort will start at around $120 depending on the time of year you are purchasing.
Disney has 25 different resorts ranging in different price ranges to help meet guests with different budgets. Universal has six different options for hotels, with basic hotels starting at $116.
The Bottom Line
If you are looking for value and price alone, you will find equal results with either park. If however, you are looking variety and are traveling with younger children, you are going to want to go with Disney World.
They have a variety of options that can meet all of your needs and more choices then you will know what to do with. Universal Studios, on the other hand, has options, but they are not as extensive.
If you are traveling with older kids, you may find that this park is a better fit. No matter which park you chose, you will still have a fun and memorable experience with your family.
You may also like: