From festivals, to concerts, to movies, check out the top Free Things to do in New York this Summer – Can't say you couldn't afford to get cultured 😉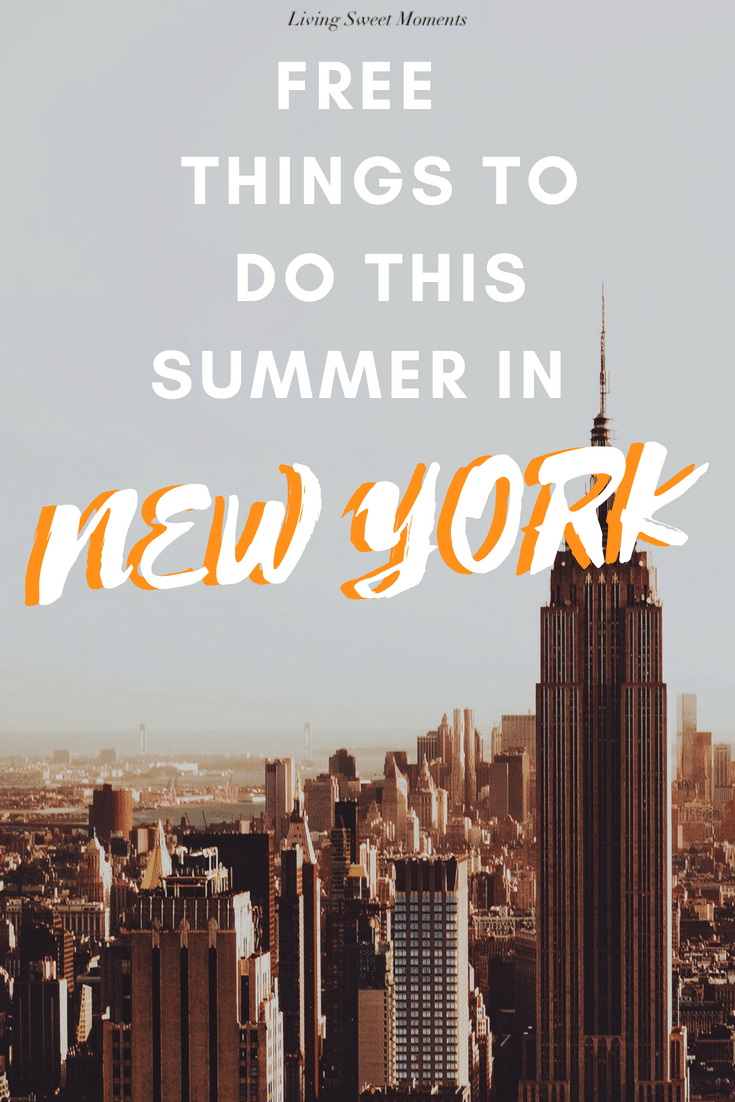 Free Things to do in New York this Summer
A summer in New York City is an exciting affair. With winter in the past and the sun shimmering through bright blue skies, there is no shortage of activities and things to do in New York.
Music festivals loom in every corner, food trucks with scrumptious food from around the world pop up in every street, and outdoor activities and performances exhilarate both residents and visitors alike.
And what makes it even better? Some of the best things to do in New York City during the summer are absolutely free!
Movies With a View at Brooklyn Bridge Park
Every Thursday from July through August, Brooklyn Bridge Park becomes the host to New York City's favorite summer activity: Enjoying an open-air film screening with Manhattan's skyline as a backdrop.
Dates: Every Thursday night starting July 12th through August 30th
More information: https://www.brooklynbridgepark.org/event-series/movies-with-a-view
Coney Island Mermaid Parade
If you're into the weird and the wonderful, this festival won't disappoint.
During this annual parade, over 3000 glitter-covered mermaids and mermen occupy the streets of Coney Island and turn it into a sparkly ode to ancient mythology.
Amanda Palmer will be leading the commotion this year starring as Queen Mermaid (in case a bunch of half-naked characters covered in glitter scales wasn't enough).
Date: June 16, 2018 at 1:00 P.M.
More information: https://www.coneyisland.com/programs/mermaid-parade?SUBPUID=PT_ep_passe
HD Festival
Hosting ten performances from the Met's cinema transmissions in high definition outside the Metropolitan Opera House, this festival is the ideal evening activity for classic movie fans.
Opening the festival will be the ever-classic film version of Mozart's The Magic Flute by Ingmar Bergman, followed by Rigoletto, L'Amour de Loin, Manon Lescaut, and six other classics from around the world.
Dates: August 26 – September 4
More information: https://www.metopera.org/user-information/summer-hd-festival/
Shakespeare in the Park
Every summer at Central Park's, the open-air Delacorte Theatre presents large-scale theatrical productions of works by Shakespeare with the glorious Belvedere Castle as a backdrop. This year, Othello and Twelfth Night are the stars.
While tickets are free, it can be hard to snatch them up before they are gone, so plan ahead!
Dates: Othello: May 29 – June 4 / Twelfth Night: July 17 – August 19
More information: https://publictheater.org/Programs–Events/Shakespeare-in-the-Park/SITP-Tickets/
Central Park Film Festival
Another one for cinema fans! Taking place in August, Central Park Conservancy organizes a glorious week of free outdoor film screenings.
Dates: August (exact dates to be announced)
More information: https://www.centralpark.com/things-to-do/activities/central-park-film-festival/
Broadway in Bryant Park
Every Thursday at lunch hour, Bryant Park presents a series of performances from the best Broadway musicals. Bring a blanket, some food, and you're all set to enjoy the ultimate picnic at one of New York's most emblematic parks.
Dates: Every Thursday between July 6 to August ​10 from 12:30 – 1:30 pm
More information: http://bryantpark.org/programs/broadway-in-bryant-park
Gotta love to have Free Things to do in New York this Summer
Battery Dance Festival
Every year since 1982, Lower Manhattan's Battery Park becomes the outdoor stage for dancers and choreographers, free for everyone who is keen to come and enjoy the show.
Dates: August 12 to 17 from 7:00 to 9:00 PM
More information: https://batterydance.org/battery-dance-festival/
Summer Stage
With a concert lineup that includes classics, hip-hop, indie rock, and jazz, as well as live poetry, ballet performances, theatre plays, and dance parties, this festival is a summer classic set outdoors in Central Park.
Dates: June 2 to September 27
More information and lineup: https://www.centralpark.com/things-to-do/concerts/summerstage-festival/
Figment NYC
Set just a short ferry ride away from Manhattan, Figment NYC is an annual program that celebrates creativity in Governors Island. With fun activities involving art in every medium as well as live performances and theatre plays, Figment NYC is the ultimate place to be this summer if you love art.
Dates: June 23 to 24, 2018
More information: http://newyork.figmentproject.org/event_details
As you can see, there's still Free Things to do in New York this Summer so make an effort  to check them out and get let me know which one is your favorite.
You may also like: