Kid Friendly Turkey Sandwich – loaded with meat, veggies, jelly and mayo for an delicious and healthy lunchbox item. Plus a great idea to send notes to kids
This is a sponsored post on behalf for KitchenPlay on behalf of Hellmann's. All opinions are 100% mine and were not influenced in any way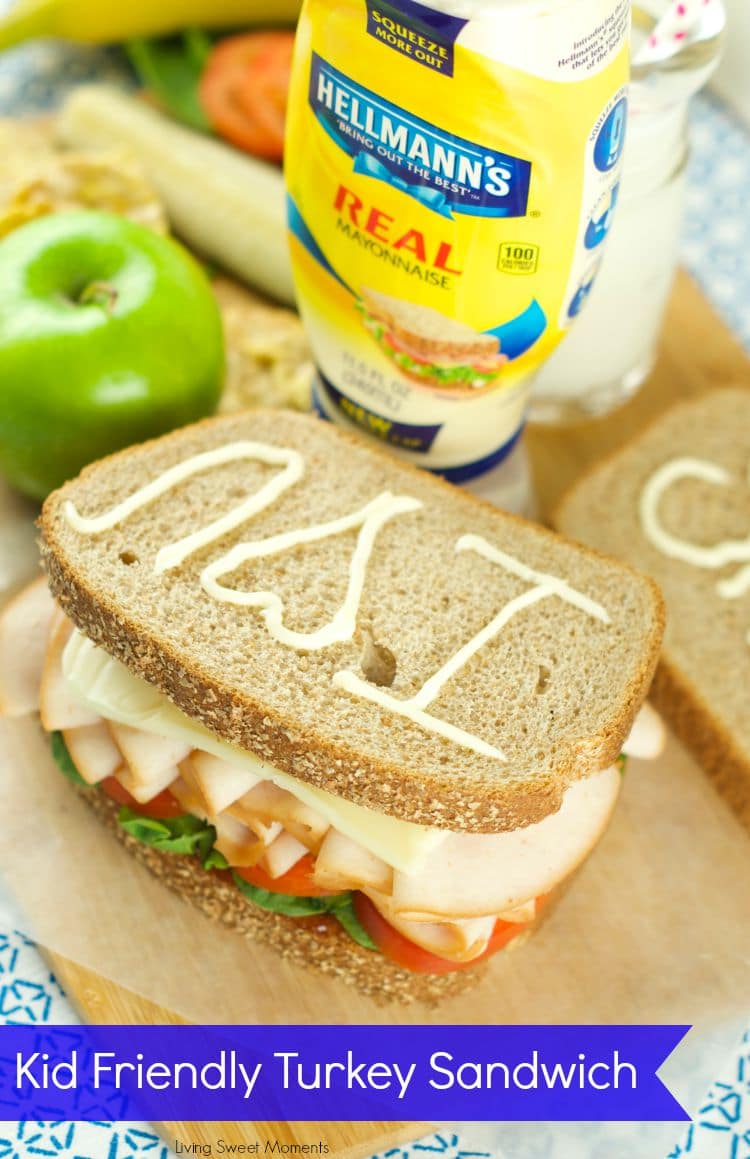 Kid Friendly Turkey Sandwich
The day has come and my baby is officially in Kindergarten! It's her first time wearing a uniform, riding the bus, and attending a big new school where she doesn't know anybody. To be honest, I was more scared for her than she was. I admire her bravery during this transition.
To ease the process, I am sending her favorite items in her lunchbox every day so she knows that I love her and that I am thinking of her. Words of encouragement like "smile" and "I Love You" can go a long way. At first, I tried sending them on little pieces of paper, but she didn't notice them so I decided to be bold and write it in a place where I know she'll read it: on her turkey sandwich! (Brilliant, isn't it?)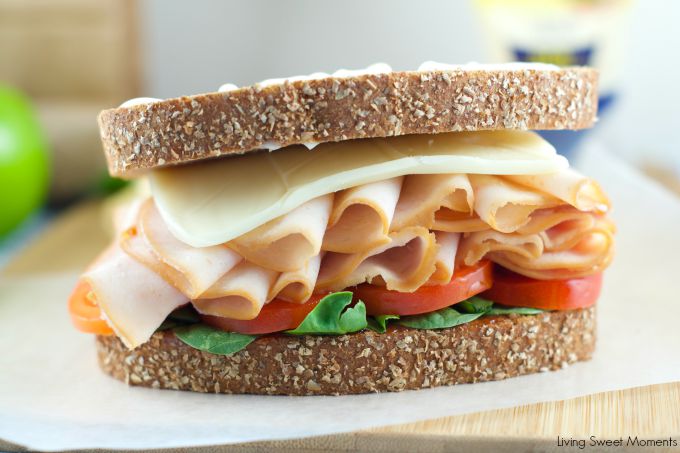 I place it in a plastic container in her lunchbox and voila! Edible message sent. I add a dab of mayo on the bottom of the plastic container so the sandwich doesn't move around and smear my message. I wish I could peek in the school cafeteria to see her face when she opens up her lunchbox and reads the note.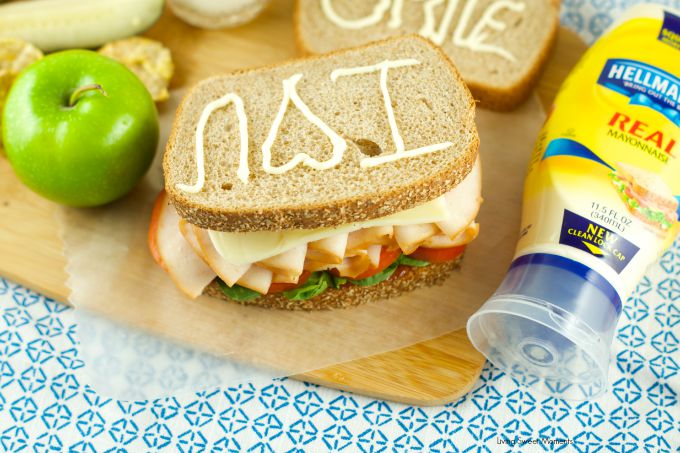 Don't worry, writing with mayo is not as hard as you may think! I had a little help with the new Hellmann's Squeeze bottle precision tip with clean lock cap. Not only does it make it easier to pour and spread, it also works like a magic pen. It makes my lunch packing routine in the morning really fun and clearly less mess in my kitchen. Click here to print out a $0.50 Coupon and try out writing messages on your sandwiches too! If you do, use the #SqueezeMoreOut hashtag in social media.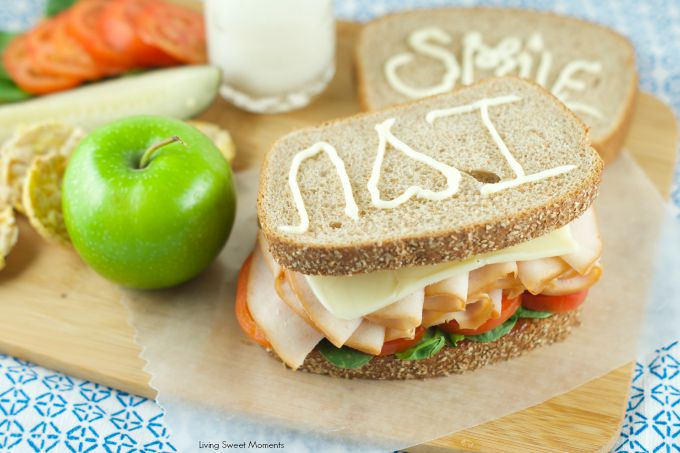 This kid friendly turkey sandwich has delicious flavors in every bite. I added a little strawberry jam on the bottom and mayo on top. I added my daughter's favorite veggies in the middle: tomatoes and arugula and finally delicious smoked turkey and swiss cheese. No child can say no after they try the first bite.
I hope you can try this delicious kid friendly turkey sandwich at home. If you do, please upload a pic on Instagram and tag me @Livingsweetmoments or use the hashtag #LivingSweet. I promise to repost it.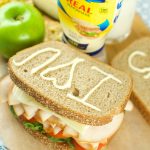 Kid Friendly Turkey Sandwich
Kid Friendly Turkey Sandwich - loaded with meat, veggies, jelly and mayo for an delicious and healthy lunchbox item. Plus a great idea to send notes to kids
Ingredients
2

slices

whole wheat bread

1

teaspoon

of strawberry jam

or your child's favorite flavor

2

Teaspoons

of Hellmann's Squeeze Bottle Mayo plus more for writing on top

4

Slices

of deli turkey

1

Slice

of swiss cheese

1

plum tomato

sliced

1

handful of arugula

washed and dried

Instructions

slice

Spread jam on one of bread.
Instructions
Spread one teaspoon of Hellmann's Squeeze Bottle Mayo on top of the jam.

Top with arugula, tomato, turkey and cheese.

Spread the other slice of bread with the remaining teaspoon of mayo. Place mayo side down on top of the sandwich.

Use your Hellmann's Precision Tip to write a cute note on top of the sandwich.

Pack and enjoy!