These Moist Buttermilk Corn Muffins are made with Kellogg's Corn Pops cereal to give it a distinct taste and sweetness. Perfect for breakfast & Snack time!
Thank you, Kellogg's for sponsoring this delicious post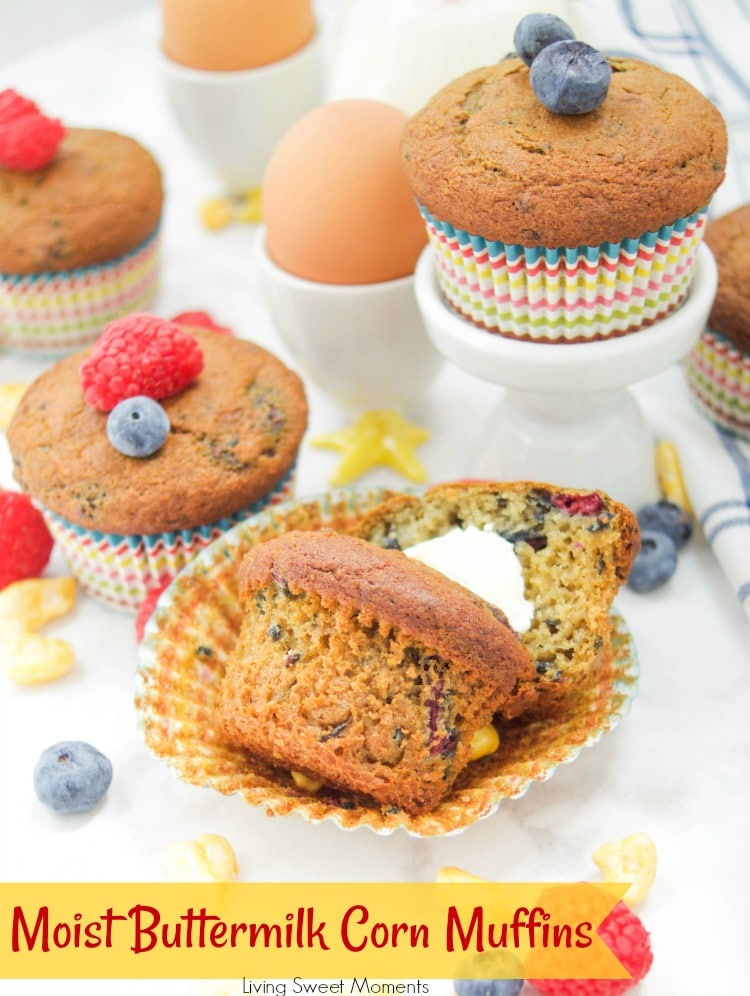 Moist Buttermilk Corn Muffins With Berries
Can you believe that Summer is over? Just when it was starting to get good, it's over. The day I scheduled my weekly alarm clock to 6:30 am, I knew that reality was just around the corner.
Now we're 2 weeks in and I'm already running to the craft store with my oldest daughter for a special class project. GRRR 🙁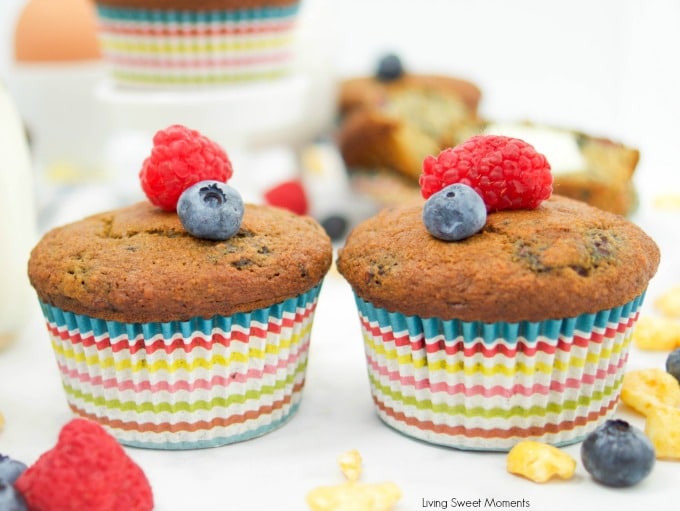 I'll quit whining. Let's talk about muffins, shall we?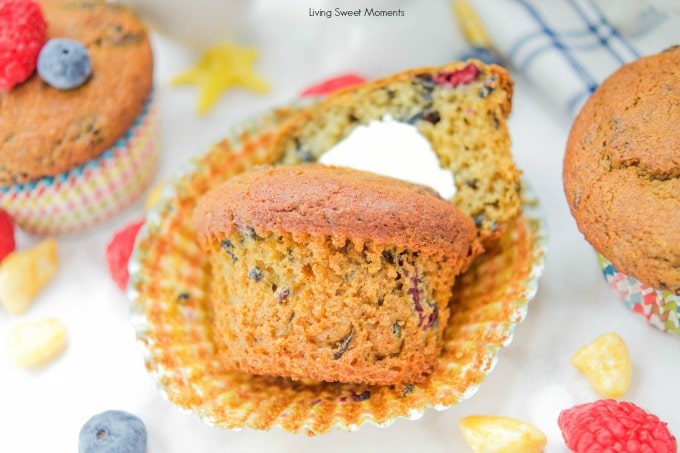 According to my daughters, these Moist Buttermilk Corn Muffins are the best ones they've ever had in their life.
Not to brag, but these guys came out really good.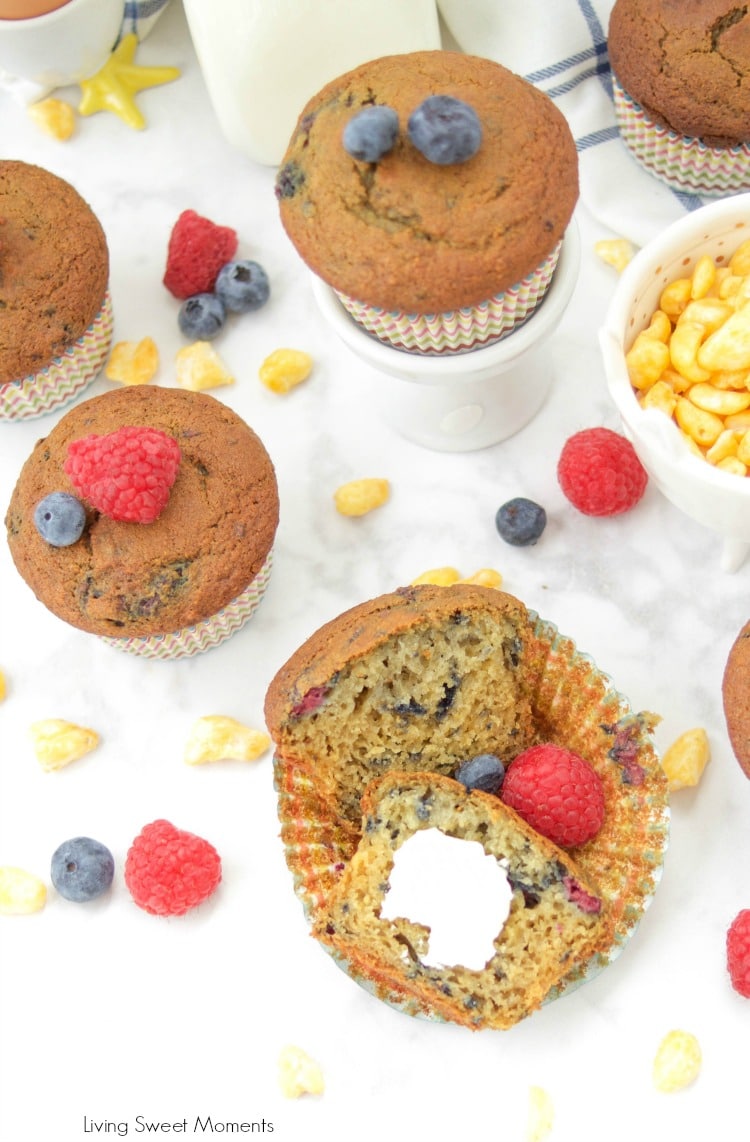 To think that the secret ingredient is Kellogg's Corn Pops.
I ground up the cereal and added it to my batter. That's the "corn" part of these muffins. Isn't it clever?
It tastes just like corn muffins but with a softer crumb and a special sweetness. The berries tie all the flavors together and brightens them up.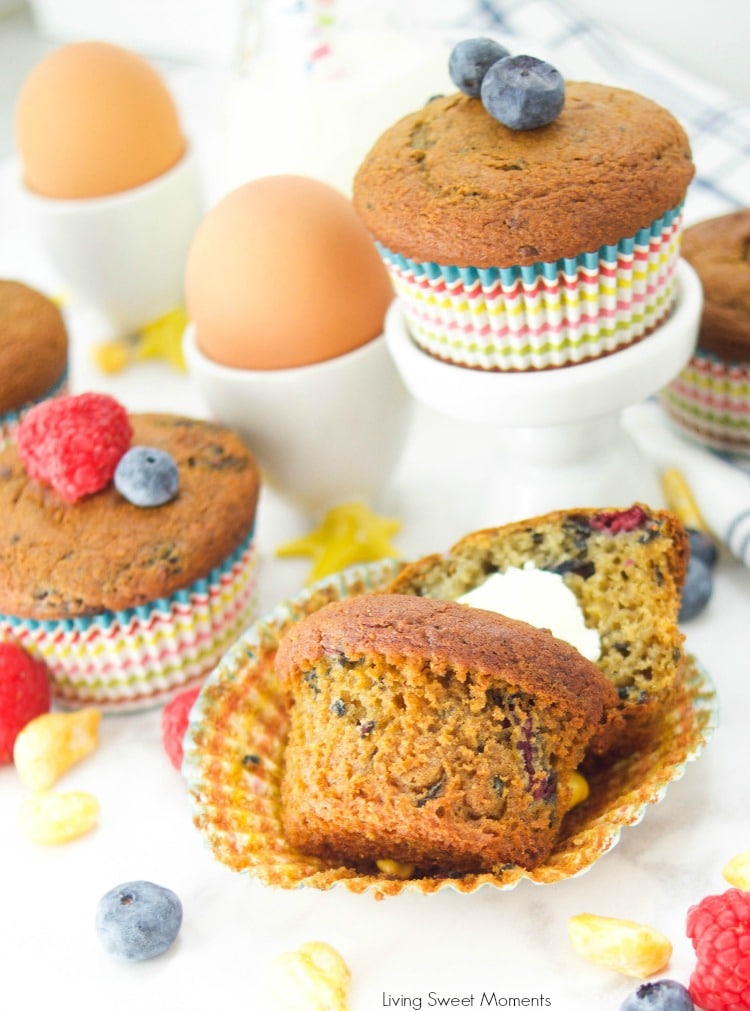 You can use whatever fruit you have at home: peaches, mangoes, nectarines, strawberries, apples, pears, bananas, etc.
This recipe came to me last Sunday when I had a corn muffin craving in the morning. You get those cravings, doncha?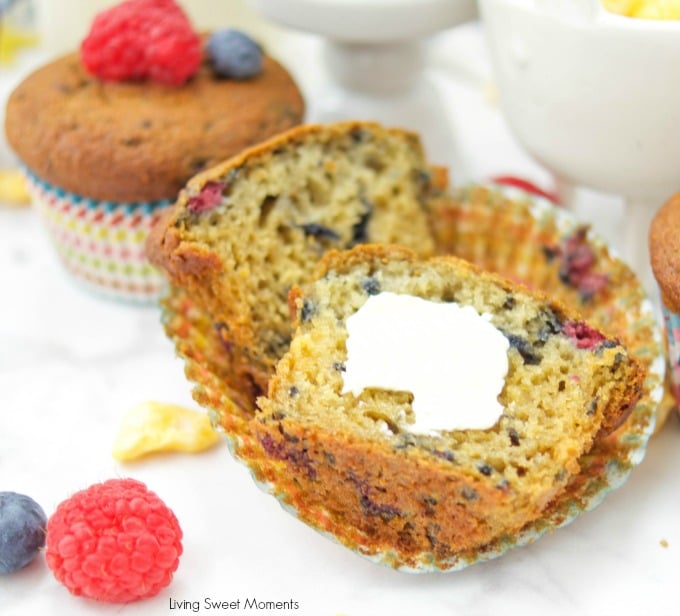 Anyways, I was looking for cornmeal in my pantry and couldn't find it.
Then I had an AHA moment when I saw the Corn Pops Cereal. I thought "Well, it's made out corn, it's tastes like corn, it's delicious, so why not?
It was a risk! I didn't know if this experiment was going to work, I was substituting a type of flour for ground cereal.
Kind of crazy, and a waste of ingredients, all for a morning craving. And no, I'm not pregnant, I just like to eat bake.
But alas, it worked!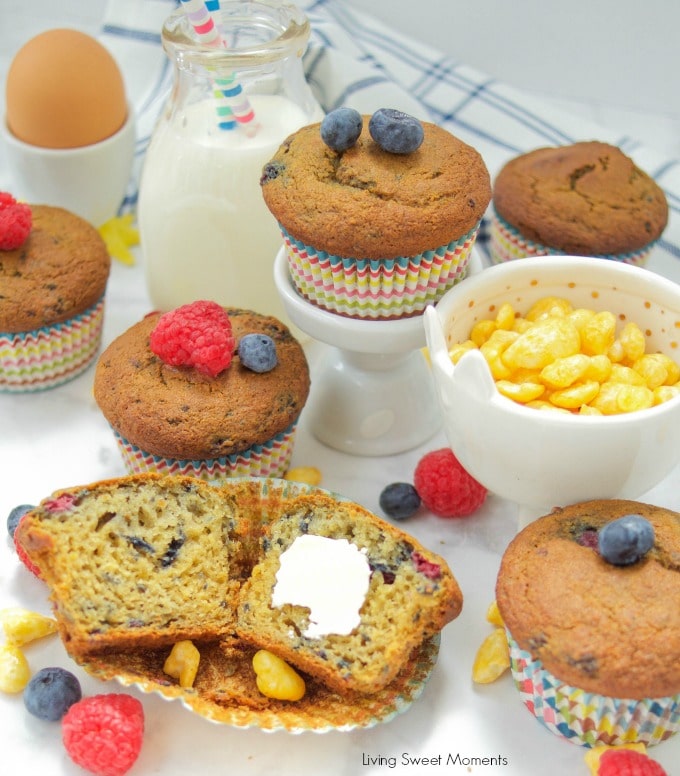 When these corn muffins came out of the oven we were astounded. They looked like muffins! Then we tried them and oh yum, amazing.
Oh, did I mention that you can SAVE MONEY on these muffins? That's right! below you will find coupons to print at home that will come in handy for back to school.
Hurry! because these expire soon.
Also, check your Valpak envelope in the mail for additional savings. Gotta love a deal!
I hope you can try this delicious Moist Buttermilk Corn Muffins at home. If you do, please upload a pic on Instagram and tag me @Livingsweetmoments or use the hashtag #LivingSweet. I promise to repost it.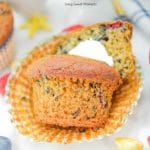 Moist Buttermilk Corn Muffins with Berries
These Moist Buttermilk Corn Muffins are made with Kellogg's Corn Pops cereal to give it a distinct taste and sweetness. Perfect for breakfast & Snack time!
Course:
Breakfast, Brunch, Snack
Ingredients
1 1/2

cups

Cake Flour*

1

cup

Kellogg's Corn Pops Cereal**

ground

1

teaspoon

Salt

1

tablespoon

Baking Powder

2

teaspoons

Baking Soda

1/2

cup

Unsalted Butter

softened

2

Large Eggs

3/4

cup

Buttermilk

1

teaspoon

Vanilla Extract

1/3

cup

Granulated Sugar

1 1/2

cups

Berries
Instructions
Preheat oven to 400 degrees Fahrenheit

Line a muffin tin with paper liners

In a bowl place the ground Corn Pops, flour, salt, baking powder, and baking soda. Mix with a fork or whisk until combined

In another bowl, whisk the butter and sugar until creamy. About 2-3 minutes. Clean the sides of the bowl with a spatula

Add the eggs, one at a time beating well after each addition. Add the vanilla

Pour the flour mixture and buttermilk. Mix just until combined. DO NOT OVERMIX

Finally, fold in the berries with a spatula

Scoop the batter into each muffin liner filling them to the top

Bake for 20-25 minutes or until the tops have browned

Remove from oven and cool on a rack
Recipe Notes
*You can substitute cake flour with all purpose flour
**Place cereal in a large zip top bag and roll will a rolling pin until ground. You can also use the food processor. 
You may also like: