This delicious Summer Pasta is made with linguini, shrimp, and veggies and tossed in a butter garlic sauce. The perfect 15-minute dinner idea for the summer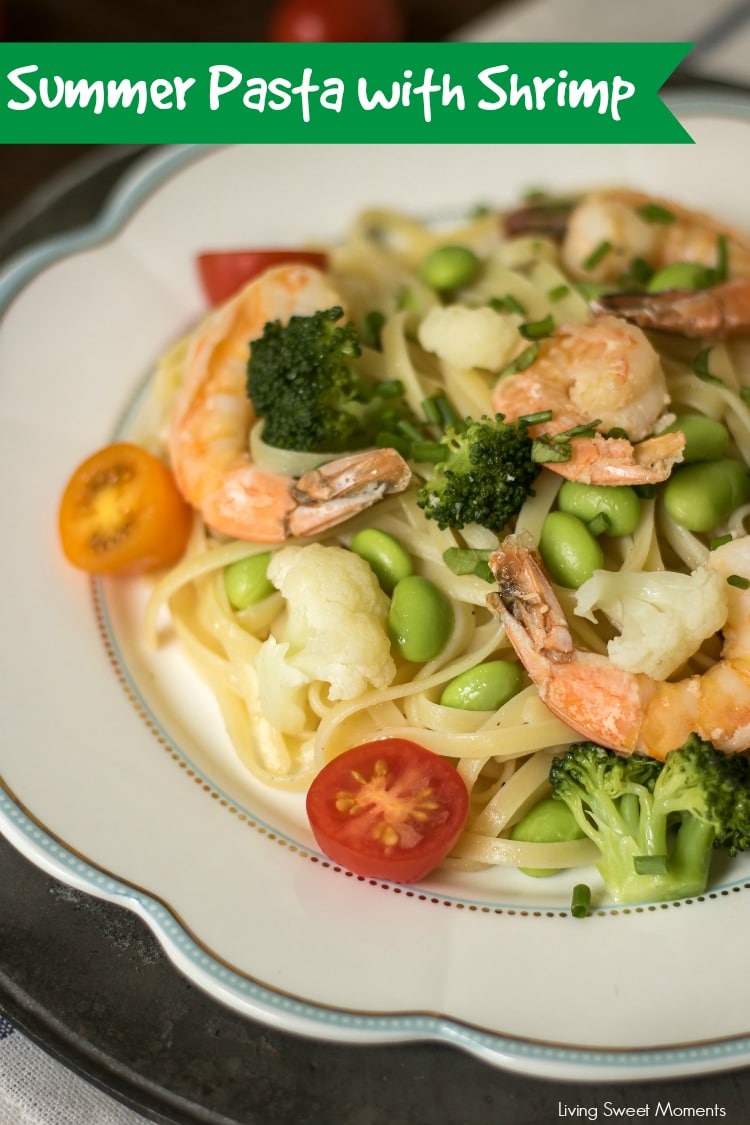 Summer Pasta With Shrimp
I don't know what it is about this season but I don't feel like cooking. It's too hot outside and I honestly do not want to turn the oven on. This delicious Summer Pasta whips up in minutes and it's perfect for a quick weeknight dinner idea and elegant enough for entertaining guests.
You can use any veggie combination you may like, I chose my family favorites: tomatoes, edamame (soy beans), cauliflower and broccoli. If you don't like any of these things, you can use green peppers, peas, carrots, red onions, etc.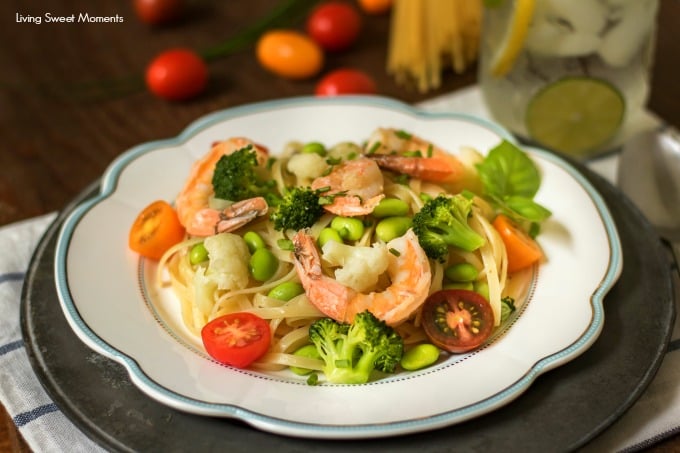 Also, you can substitute the shrimp with any other quick cooking protein: small chicken breast pieces, scallops, tuna chunks, and so on. Basically, this Summer Pasta is customizable to suit your needs and taste buds.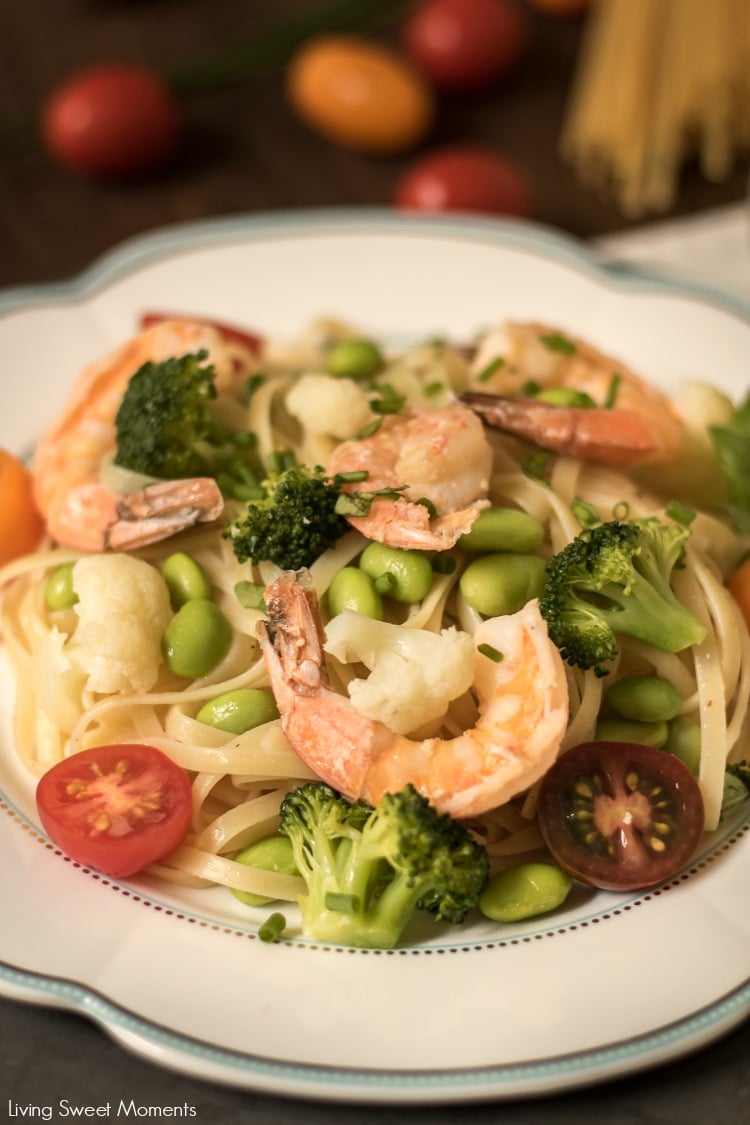 My little girl is IN LOVE with those yellow cherry tomatoes you can find during the summer. My food budget has gone up the last few weeks because I've been buying pints of those tomatoes left and right. She snacks them during the afternoon and is always a side dish on her dinner plate.
The beauty of summer is that you can find so many fresh colored veggies that taste delicious and are ready so quickly. No need to spend hours baking and boiling them. I love cooking them just enough so they are soft but not mushy.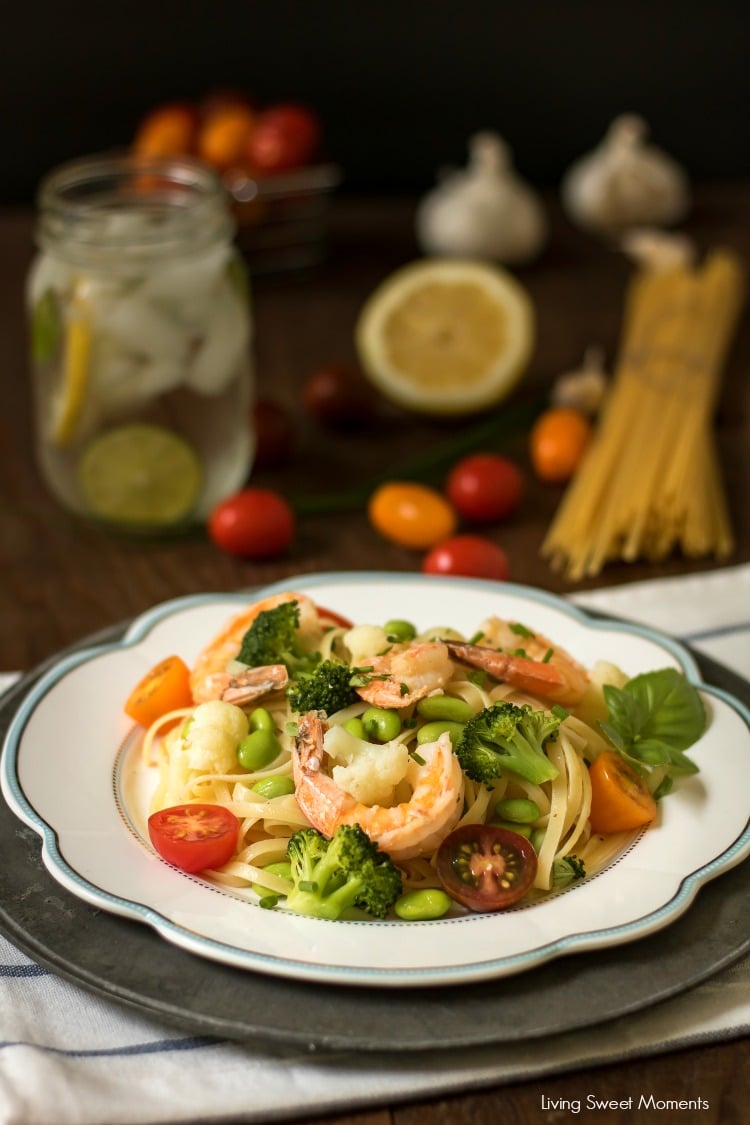 This past weekend I attended the Fancy Food Show in New York City. My husband stayed in Miami with the girls so I could work. While I was away he made them some pasta dish that they loved. As soon as I came home they were talking about daddy's awesome pasta.
When I asked him what kind of pasta did he make, he said that he combined spaghetti, penne and noodles and cooked them without a sauce. I really don't get it? Why would they like his better than mine? So that's how I created this Summer Pasta recipe highlighting my girls favorited veggies.

I hope you can try this delicious Summer Pasta With Shrimp at home. If you do, please upload a pic on Instagram and tag me @Livingsweetmoments or use the hashtag #LivingSweet. I promise to repost it.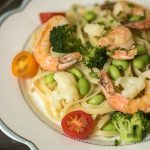 Summer Pasta With Shrimp
This delicious Summer Pasta is made with linguini, shrimp, and veggies and tossed in a butter garlic sauce. The perfect 15-minute dinner idea for the summer
Ingredients
3

cloves

garlic

minced

5

Tablespoons

of butter

1

cup

of shrimp

uncooked

1/2

box of linguine

1/2

cup

broccoli

cooked

1/2

cup

cauliflower

cooked

1/2

cup

soy beans - AKA edamame

cooked

in

A handful of cherry tomatoes

cut half

salt/pepper

Olive Oil
Instructions
While the pasta is cooking and almost al dente, saute the shrimp garlic with the butter.

With a pair of tongs, transfer the pasta to the saute pan with the butter garlic and toss to coat.

Don't drain the pasta. By using the tongs you also add a bit of the boiling, which will help keep the pasta loose

Season with salt and pepper

Drizzle just a bit of some good olive oil

Turn off the heat and toss in the prepared vegetables.
LOVE QUICK PASTAS? Then try: