Surimi Salad served with sesame dressing for an easy and low fat dinner idea. Avocados, cucumbers and other veggies come together in a crunchy filling salad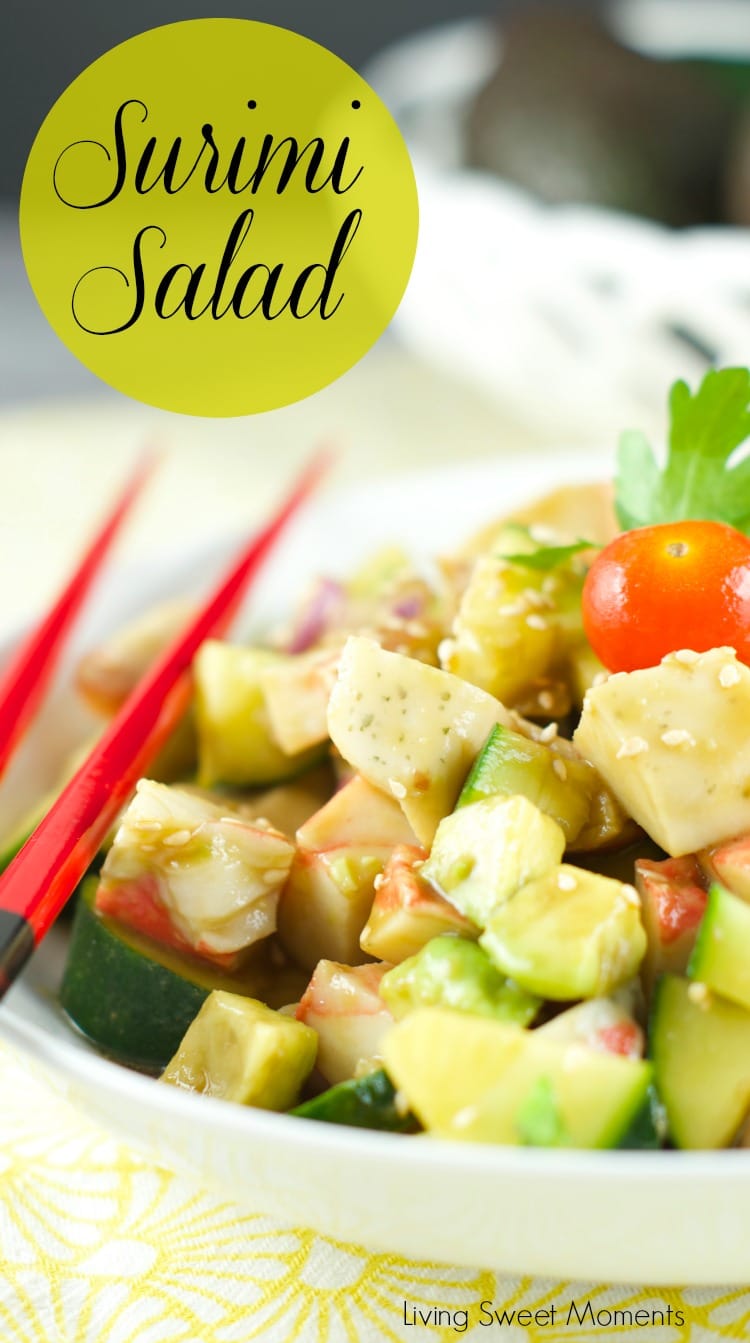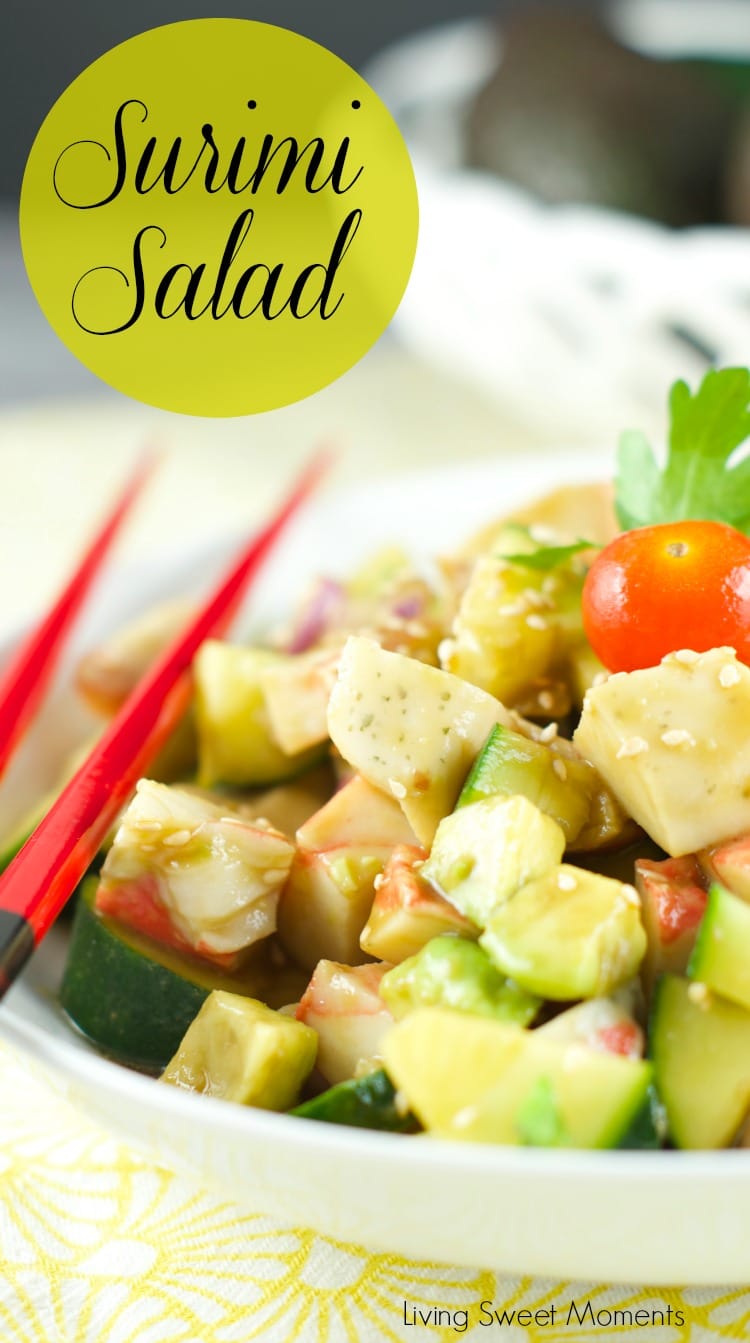 Surimi Salad With Sesame Dressing
Saying that it's hot in Miami would be an understatement. It's hot, humid and sticky. We hold on to our air conditioners for dear life. Right now I am avoiding hot heavy foods, instead, I am making entree salads that are both delicious and filling. This Surimi Salad With Sesame Dressing  is low-fat, easy to make and refreshing.
If you're not familiar with Surimi, it is simply a fish used to "imitate" crab. People usually call it imitation crab. You can find it at the seafood section of your supermarket.
Surimi is meaty with a sweet and delicate flavor. I like it because it's inexpensive and it comes ready to use. I simply open the package, chop it and throw it in a recipe. Another great use for this fish is to use it in sushi.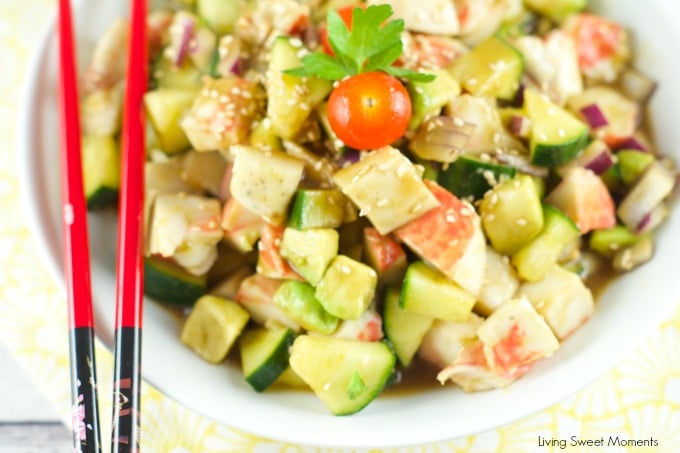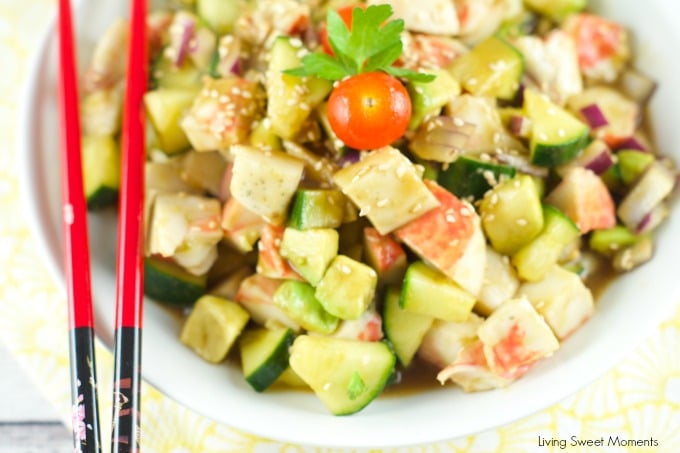 Tons of textures together in one bowl. You get the crunchiness from the cucumber, the creaminess from the avocado and the softness from the Surimi. Everything comes together with a delicious homemade sesame dressing. It takes less than 10 minutes to make this Surimi salad from start to finish and there's no cooking involved. Yay!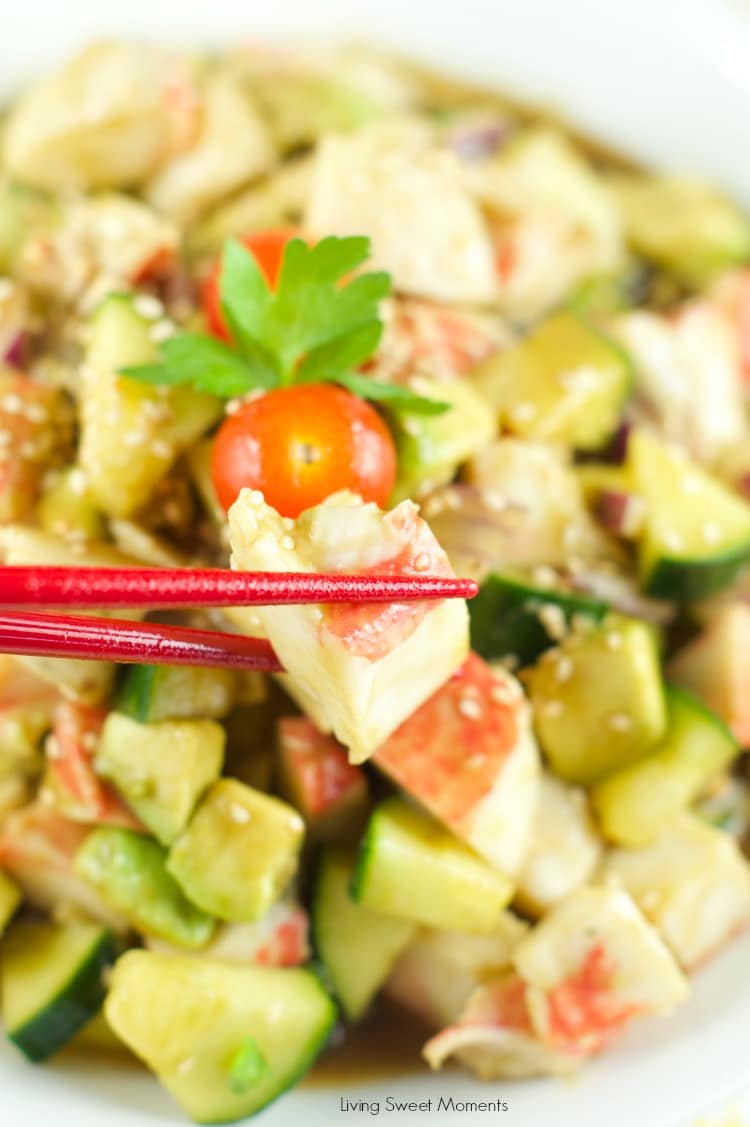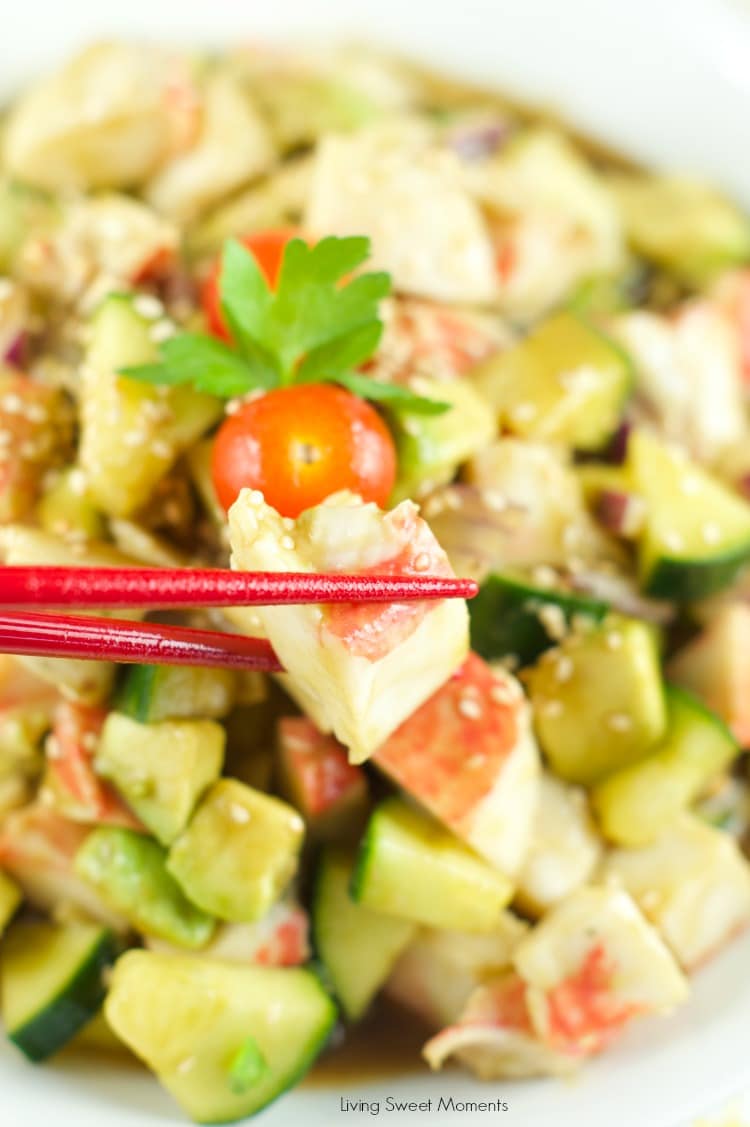 I made this yesterday for lunch. The bowl was big enough for 2 people to eat it as an entree. I served it to my husband and went to get something to drink. When I went to sit on the table, the salad was completely gone! Thankfully I was able to try it before serving it. That goes to show you how good it is. Now I have to run over to the supermarket and get some more Surimi, and this time it's all for me.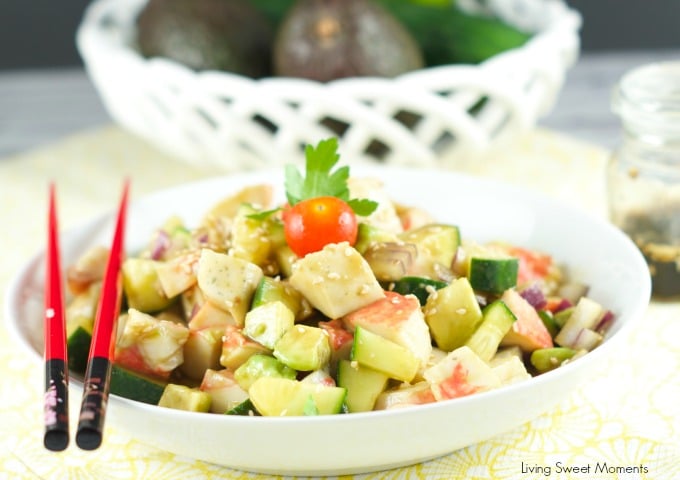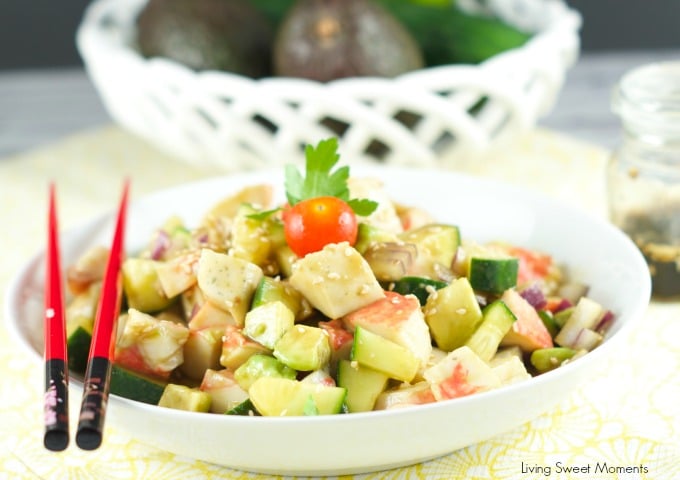 I hope you can make this delicious Surimi Salad at home. If you do, please upload a pic on Instagram and tag me @Livingsweetmoments or use the hashtag #LivingSweet. I promise to repost it.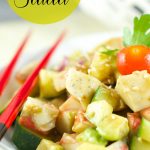 Surimi Salad With Sesame Dressing
Surimi Salad served with sesame dressing for an easy and low fat dinner idea. Avocados, cucumbers and other veggies come together in a crunchy filling salad
Ingredients
For Salad

1

oz

Package of Surimi

8 , diced

1/2

Cucumber

diced

1/4

of Purple Onion

chopped

1

Avocado

diced

For Sesame Dressing

2

tablespoons

of rice vinegar

2

tablespoons

of soy sauce

1

tablespoon

of sesame seed oil

1

tablespoon

toasted sesame seeds

1

teaspoon

Packet of Truvia

or 1 of sugar

Garnish

optional

Cherry Tomatoes

Sesame Seeds
Instructions
For Salad

Toss the diced veggies and surimi together in one bowl

For Dressing

Whisk all the sesame dressing ingredients together in one bowl

Assembly

Pour dressing over salad and toss

Garnish with tomato and more sesame seeds (optional)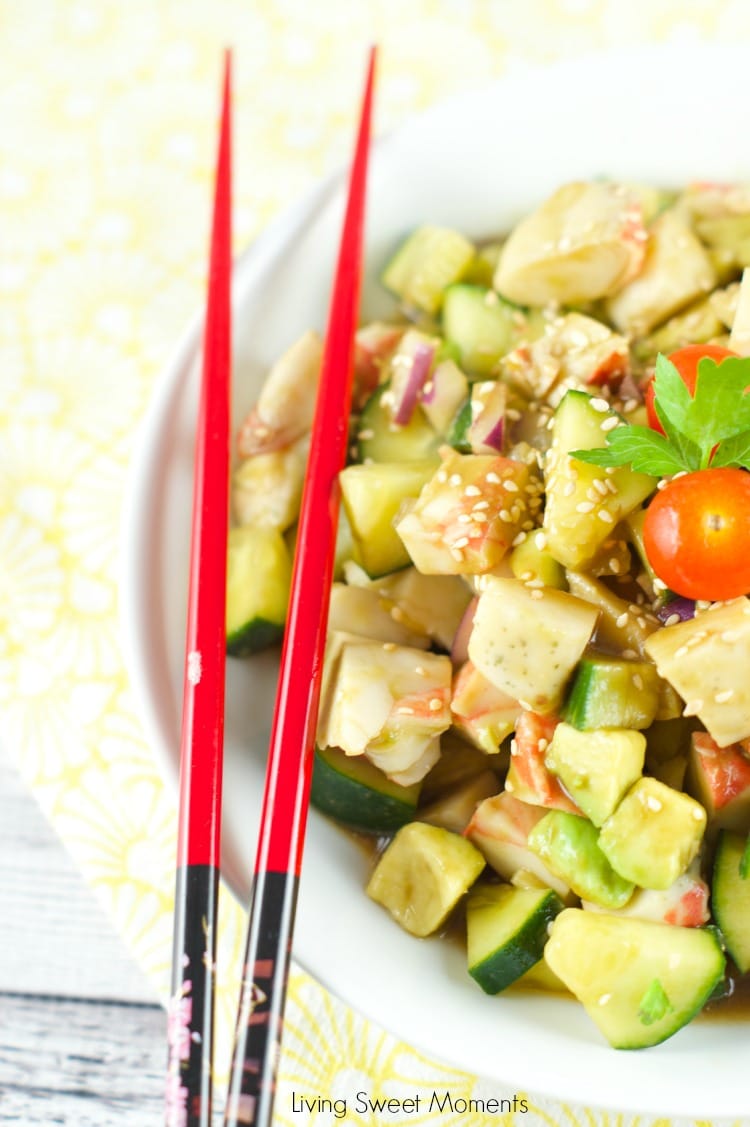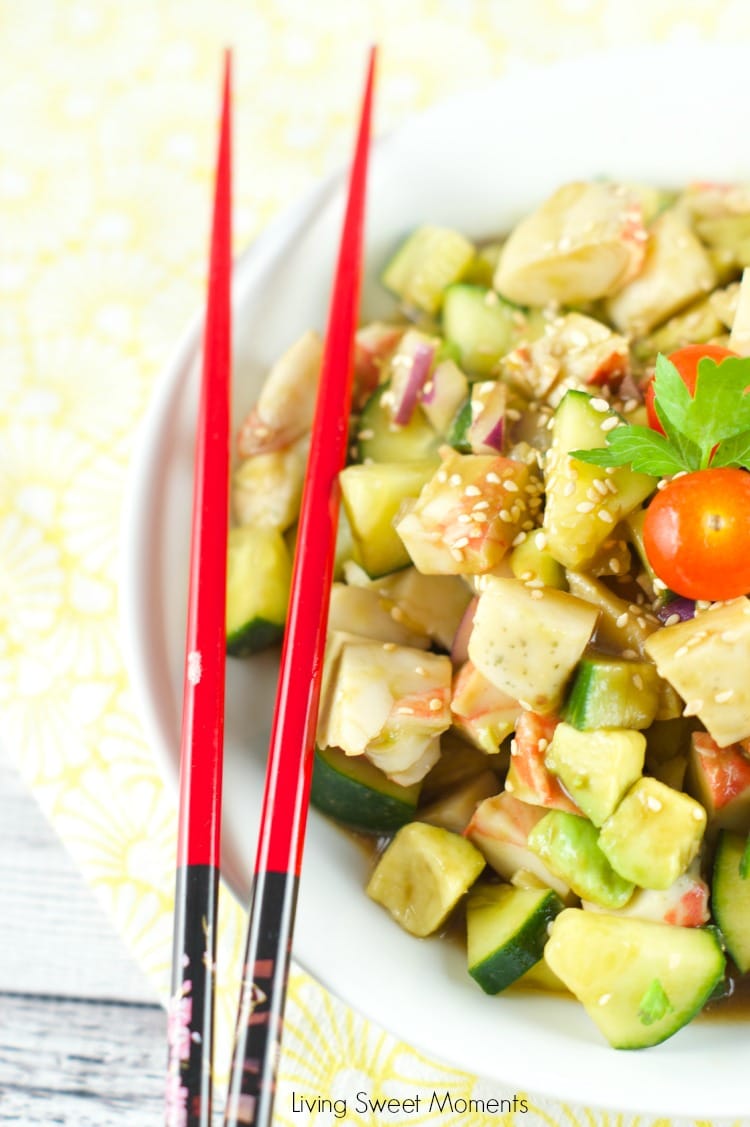 You may also like:
Roasted Beet Salad with Mint Yogurt