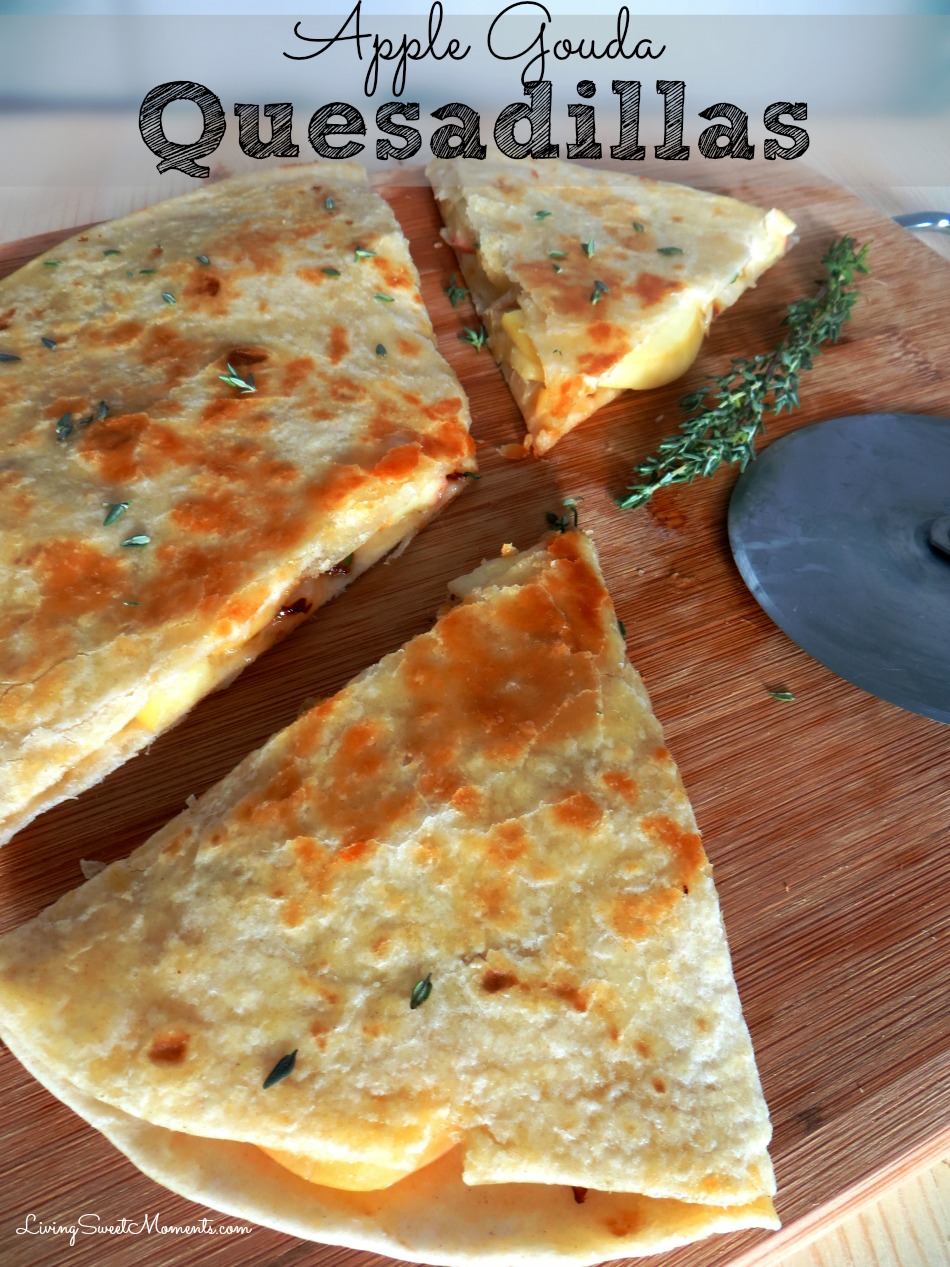 Apple Gouda Quesadilla Recipe
This Apple Gouda Quesadilla Recipe is my ultimate Sunday Night meal. It's cheesy, filling and oh so comforting. I know a lot of people make big meals on Sunday night, but honestly I am too tired to cook. So I make something fast, easy and delicious. No need for defrosting.
A Quesadilla is a genius invention! Toss inside whatever leftovers you have on your fridge, add some cheese and cook for a few minutes. Serve them as an app for a party or as an entree for a quick dinner. Although this Apple Gouda Quesadilla Recipe is easy to make, the flavor is sophisticated enough for entertaining.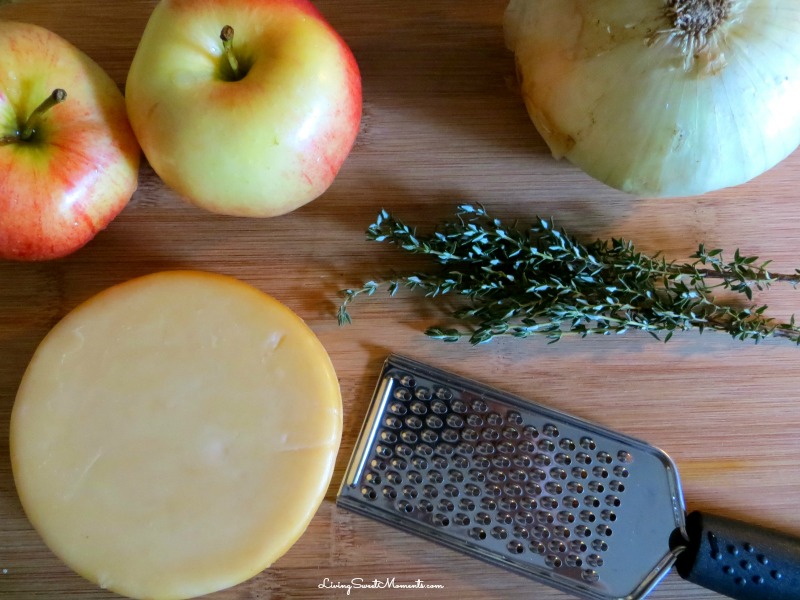 The apple is tangy, the cheese is creamy and it all comes tied together with the use of thyme. The caramelized onions give it that sweetness to round up all the flavors.
You can use any combination you may like. Have some leftover chicken, beef or fish? Throw them in! Is there a few vegetables going bad in the fridge? Saute them in a little butter or olive oil and toss them in.
I like making my quesadillas ultra cheesy. The Gouda is one of those yellow cheese that melts beautifully and has such a buttery flavor. I also fill my arepas with Gouda.
The basic layout goes like this: tortilla, sliced apples, cheese, thyme and caramelized onions.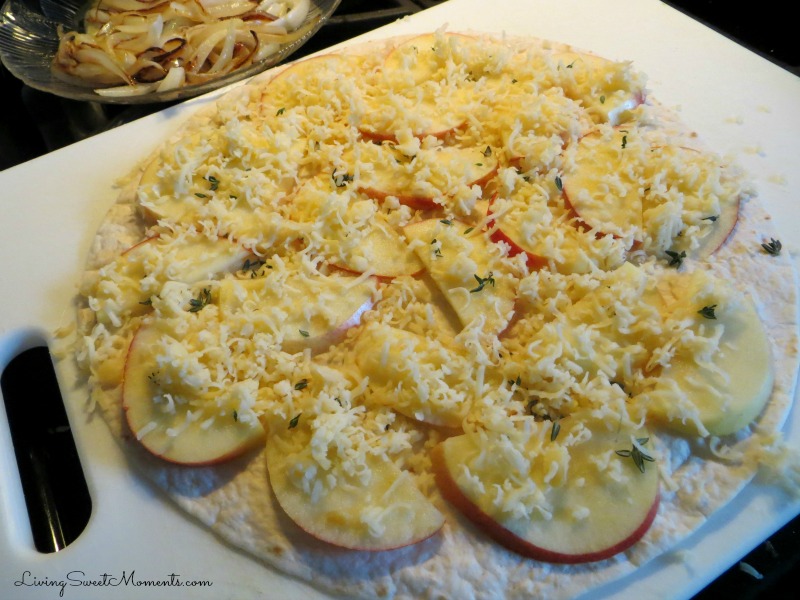 All the fillings together look like this: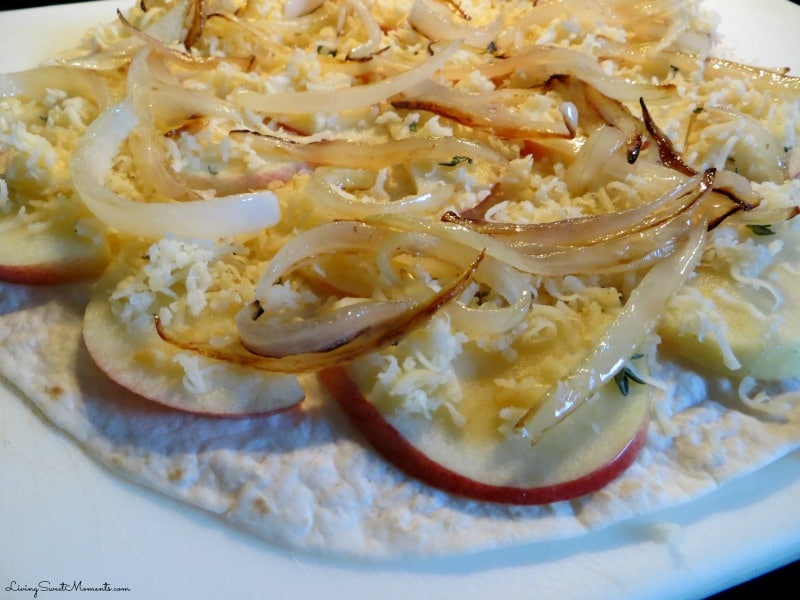 Doesn't it look amazing? Top with another tortilla and cook on both sides. I am definitely going back for seconds. Even my picky daughters eat this up. I tell them it's surprise quesadillas  (since I change fillings depending on what's left in my fridge)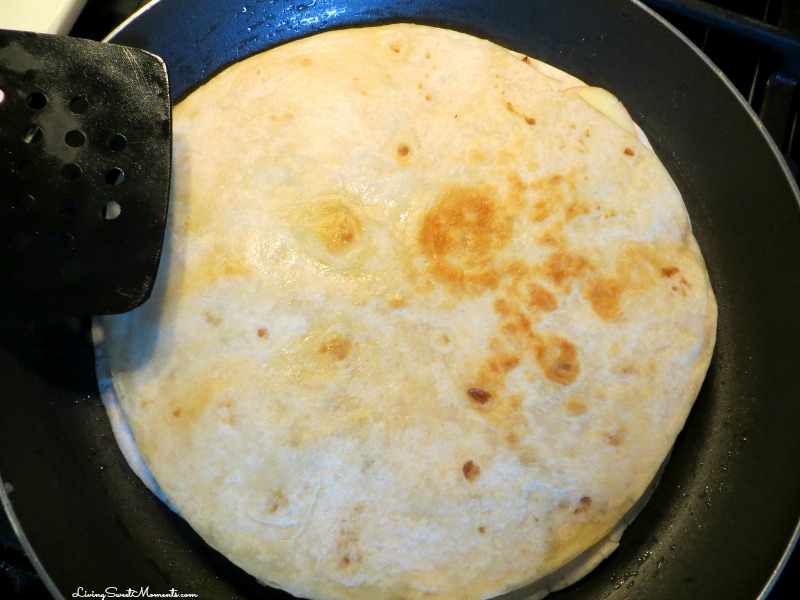 Use a pan to toast the tortilla up on both sides. Then cut them into wedges and dinner is served.
Hope you can this delicious and filling Apple Gouda Quesadilla Recipe at home.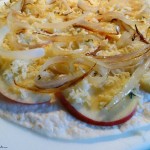 Apple Gouda Quesadilla Recipe
Perfect for a quick weeknight meal, this Apple Gouda Quesadilla Recipe is easy to make, filling and delicious. The flavors are sophisticated enough for entertaining.
Ingredients
2

apples

cored and sliced thinly

1

cup

⁄2 freshly shredded Gouda cheese

2

sprigs thyme

stems removed

2

tortillas or wraps

1

⁄2 medium onion

peeled and sliced thinly and separated

2

tablespoons

butter
Instructions
Heat butter in a pan over medium high heat.

When hot, add the onion slices in (the onions should sizzle), and reduce heat to medium to avoid burning.

Allow the onions to caramelize for 15 minutes, stirring once every 5 minutes. If pan starts to dry out, add an additional tablespoon of butter to continue cooking.

On tortillas or wraps, place the apple slices, followed by the thyme and shredded Gouda cheese. Add the caramelized onions and place the second tortilla or wrap on top.

In a pan over medium high heat, or on a mini grill, place the quesadilla. Heat through on one side for 3 minutes, then flip and heat through the other side for an additional 3 minutes.

When both sides are crisp and cheese is melted, slice using a pizza cutter.