Bon Appetit Pizza Review: made with 100% mozzarella cheese and artisanal thin crust, Bon Appetit is much more than a frozen pizza. It's sophisticated and tasty.
This post is made in partnership with Bon Appétit Pizza. However, all opinions are 100% mine and were not influenced in any way.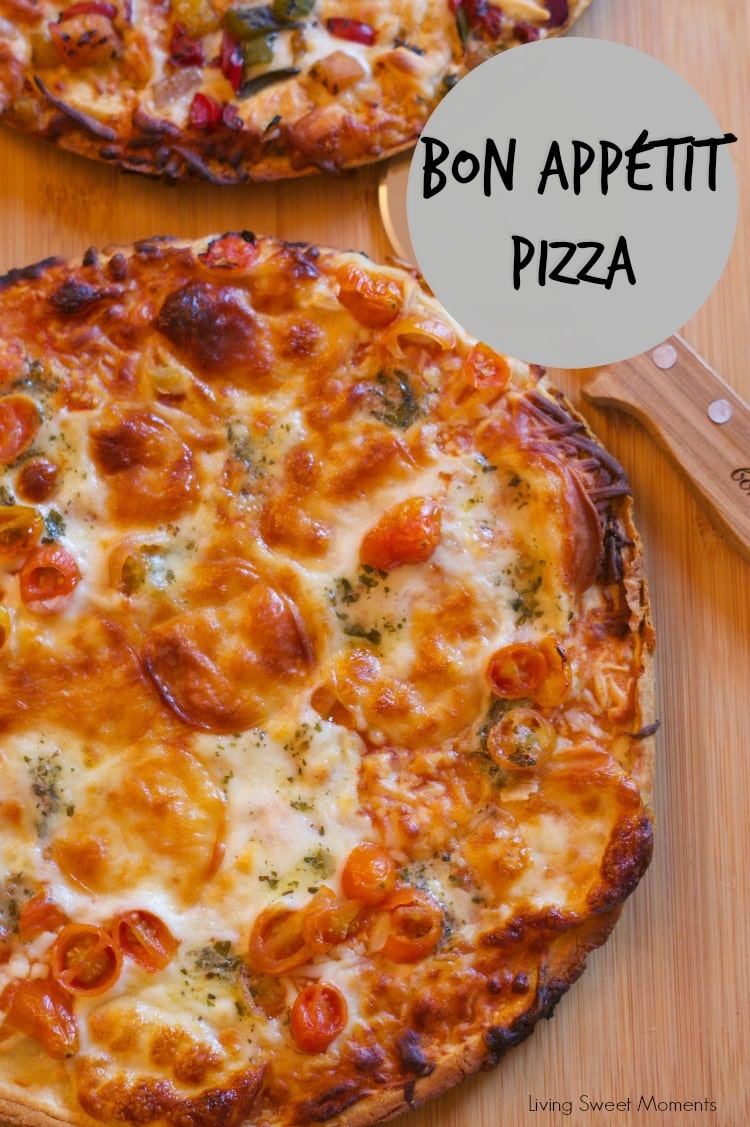 Bon Appetit Pizza Review
This year I am looking forward to long summer days without worrying about school and my girls schedules. My husband and I have a long list of things to watch on our DVR and our picks for Netflix are growing. We recently starting watching a really cool show cool SENSE8 and I am really hooked.
During those evenings where there's no planning involved, forget about cooking or ordering in. In 12 minutes I have an artisanal crafted meal: Bon Appétit Pizza made with high quality ingredients, real cheese and some really interesting flavors for foodies like me.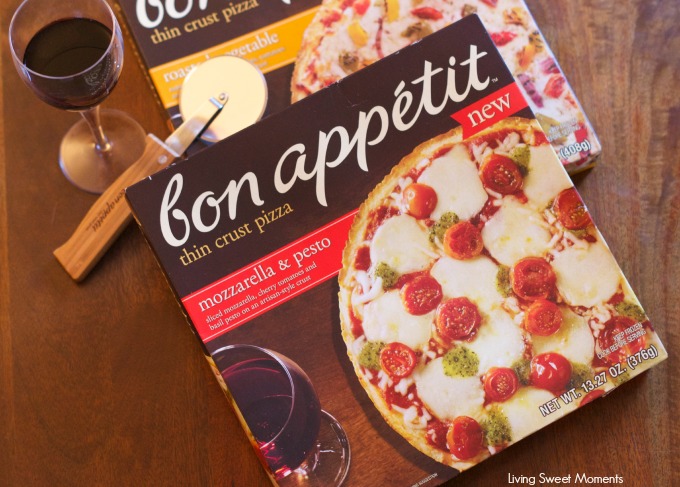 There are 5 delicious flavors available:
Mozzarella & Pesto features tangy basil pesto, sliced mozzarella and cherry tomatoes.
Spinaci is a mouthwatering combination of mozzarella, Asiago and Parmesan cheese, spinach and a flavorful garlic sauce.
Pepperoni & Pesto is a bold combination of pepperoni, flavorful basil pesto and a zesty herb blend, along with mozzarella, Provolone and Parmesan cheeses.
Roasted Vegetable offers fire-roasted tomatoes, red onion and red, green and yellow bell peppers paired with a delicious blend of mozzarella, Romano and Parmesan cheeses.
Trio Bacon is a decadent combination of Canadian bacon, traditional bacon and Pancetta, caramelized sweet onions and mozzarella cheese.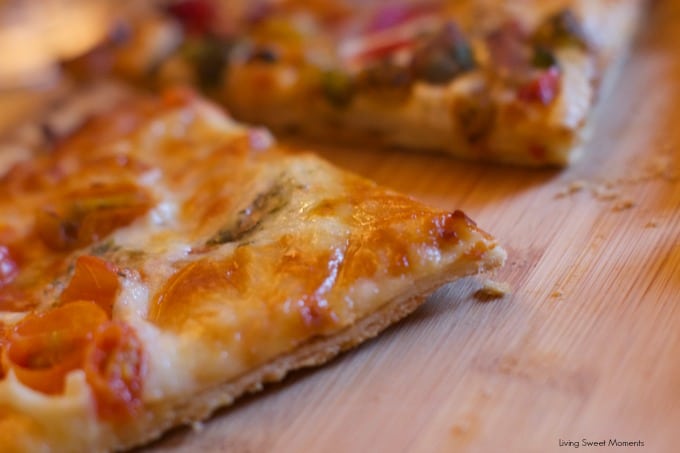 So far I've tasted 2 flavors and cannot wait to taste other 3. I love the crunch of the thin crust and that the flavors are spot on. The tomato sauce has a very nice robust flavor without overpowering the whole pizza and the cheese to tomato ratio is right where it should be. The cheese not only melts, but it toasts up on top leaving a delicious flavor with lot's of crunch.
Here's the mozzarella Pesto: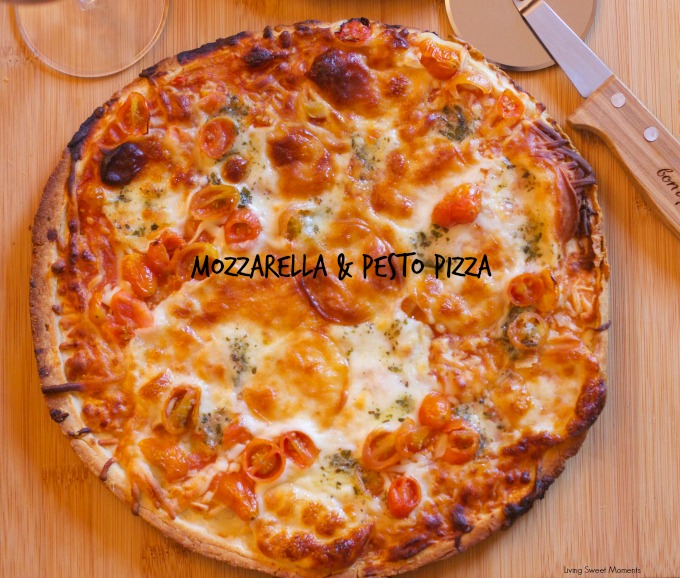 The pesto is scattered throughout the pizza as well as the cherry tomatoes. Leaving you with delicious pockets of flavor throughout every bite. You can clearly see and taste the round mozzarella slices. It all comes together in a thin and delicious crust.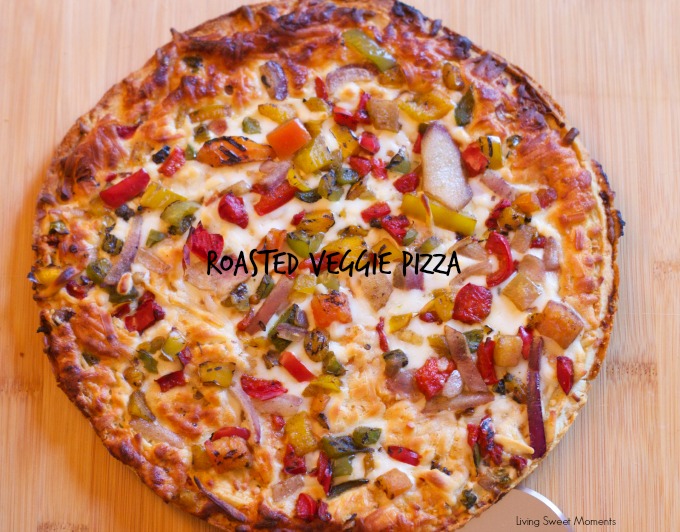 The roasted vegetable pizza has many interesting flavors going on. The sweeteness of the roasting, the smokiness of the fire roasted tomatoes with tons of texture. The red onion has this delicious bite and the combo of red and green peppers are amazing. Check out how the cheese toasts right on the edge of the pizza making it even crunchier.
This 10 inch pizza has 3 servings which is perfect for my husband and me. If my daughters are eating too I would probably get an additional box. And if you're serving these at a party, get a few boxes and pair them with a good bottle of wine.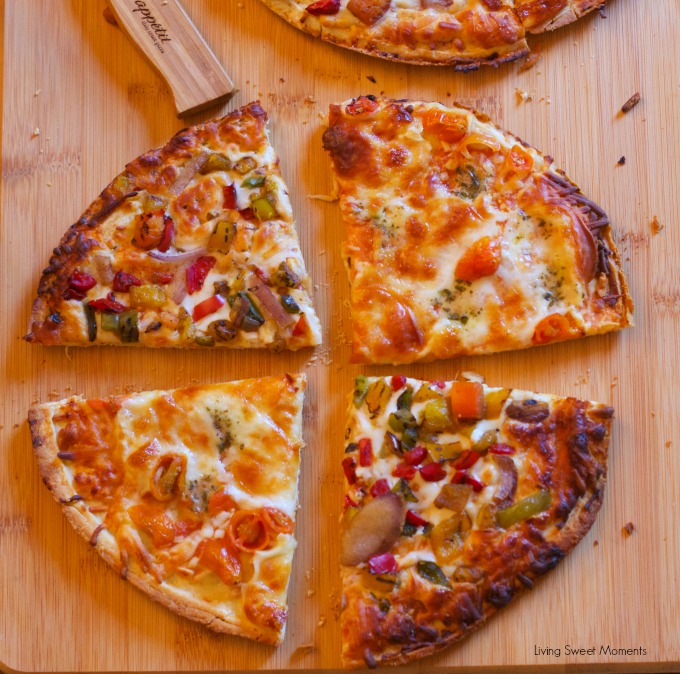 As you can probably tell, I absolutely loveBon Appétit pizza. It is made with high quality ingredients and combined with sophisticated flavors for foodies like me. So next time you're heading to the grocery store, grab a few boxes and give these a try. I promise that you will love them.
And finally here's a great tip: if you don't want to turn the oven on, place your frozen Bon Appétit right on the grill and close the lid. In a few minutes you will be having a delicious dinner!