Creamy Corn Lasagna Recipe
You may look puzzled right now by reading the recipe name. YES, it's corn lasagna a spinoff of a corn casserole. Imagine layers of pasta, creamy bechamel, cheese, and corn all rolled into a nice package. This Corn Lasagna Recipe is the ultimate comfort food.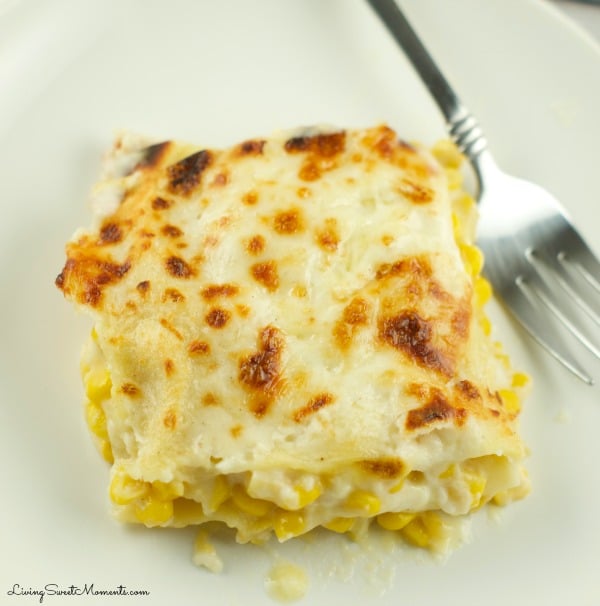 Now that the Holidays are here and you are attending tons of pot luck dinners, take these with you because it will please a crowd. To me, it's the perfect side dish to a party or it will serve as a Vegetarian entree.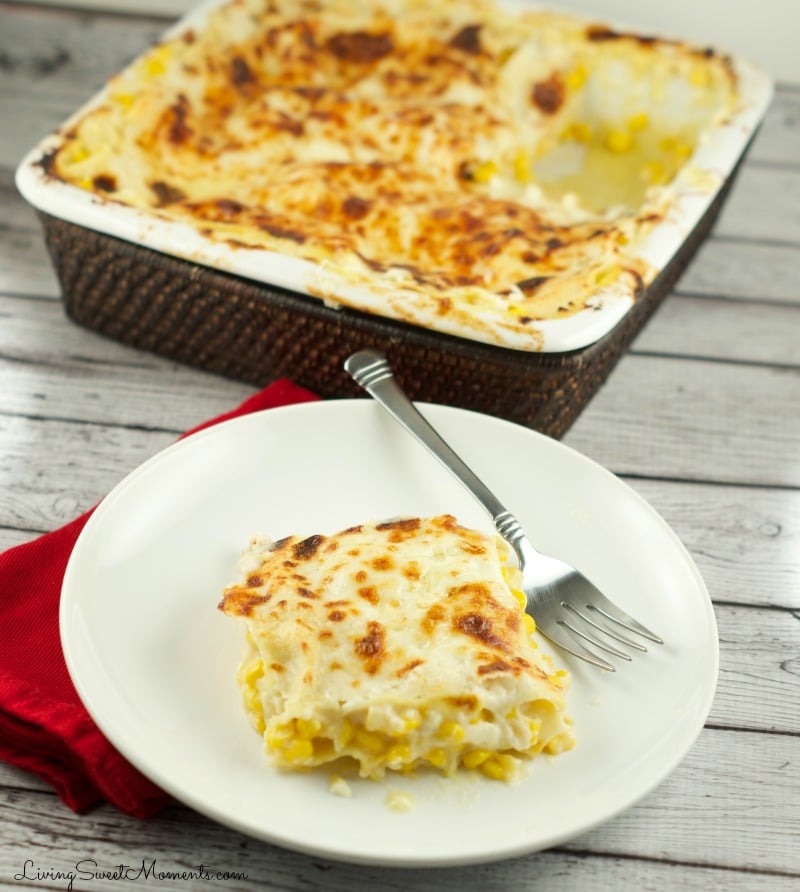 This Creamy Corn Lasagna Recipe is easy to prepare and can be made in advance. Just assemble the dish and bake-off at the last minute. My favorite part is the toasty topping. It's crunchy, savory and when combined with the cheesiness inside, it creates a flavor explosion.
 In Venezuela, this is how we make the lasagnas. Same technique but we generally substitute the corn with cooked ground beef. I'll share that recipe in the following weeks. I almost look forward to leftovers, they just taste better the next day.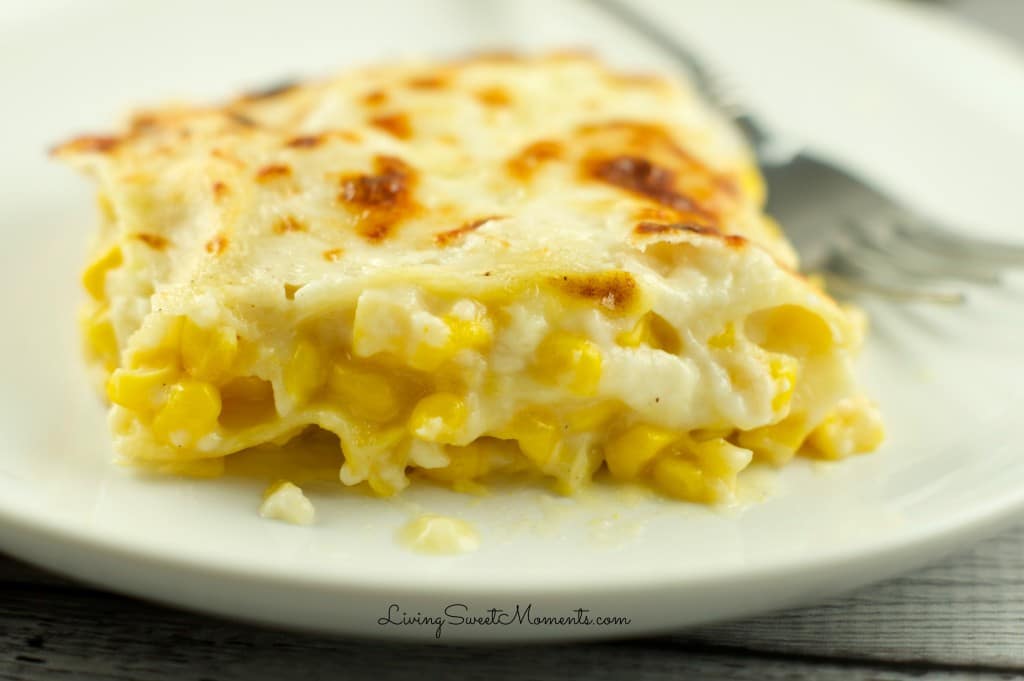 I am serving this dish for everyone in my family but if I were serving just adults I would've added some pickled jalapeños to give it a little kick. You can also fill the lasagna with other vegetables, zucchinis, carrots, onions, eggplant, etc. I love corn, it's sweet, crunchy and something that everybody loves.
Here's the easy process:
I love that the noodles don't need to be pre-cooked. They cook in the oven. The only thing that requires a little cooking is the Bechamel sauce, which is very straightforward.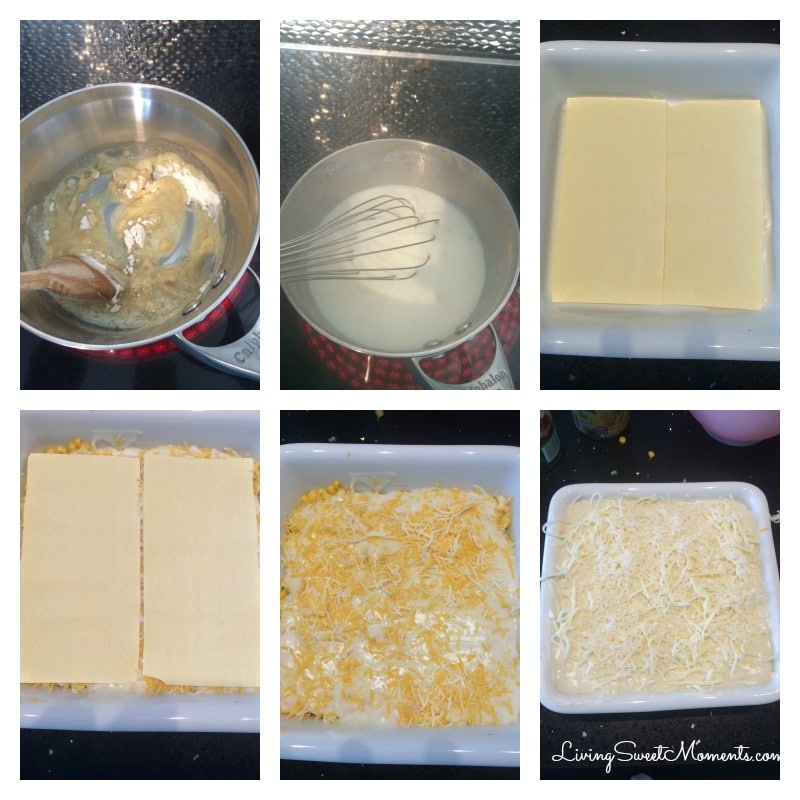 Bechamel is one of my favorite sauces.. it's creamy, bubble and it's the most common base for mac and cheese, casseroles and pasta dishes. Learn how to make this sauce and the rest will come easy.
I hope you enjoy this Creamy Corn Lasagna Recipe.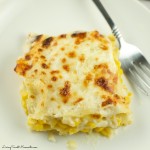 Creamy Corn Lasagna Recipe
Ingredients
1

can

Corn

drained

1

14.5 oz

Can Creamed Corn

1 1/2

Cups

Shredded cheese

yellow or white

1/4

Cup

Parmesan cheese

or Gruyere

2

Cups

Milk

warmed in the microwave

4

Tablespoons

Butter

1/2

Teaspoon

White pepper

1/2

Teaspoons

Nutmeg

6

Lasagna Noodle Sheets

raw

Salt to taste

2

Tablespoons

flour
Instructions
Preheat Oven to 350 Degrees F.

In a bowl, mix the drained corn with the creamed corn and season with salt
To make Bechamel Sauce:
In a heavy saucepan melt the butter. When butter is melted add the flour and stir with a wooden spoon until flour cooks, About 1-2 minutes

Whisk in the scalded milk slowly. Keep whisking to make sure no lumps are formed. Add the salt, pepper and nutmeg.

Stir with a wooden spoon until sauce thickens a bit. Check for seasoning and remove from heat
To Assemble
In a bowl mix the corn and the creamed corn. Set aside

LAYER ONE: Using a square baking pan 8"x8" start by putting a little bechamel sauce on the bottom. Add 2 lasagna noodles. Pour half of the corn mixture on top of the noodles. Top with 1/3 of bechamel sauce and 1/3 of the shredded cheese.

LAYER TWO: Repeat the same procedure as layer one

LAYER THREE (no corn layer): Pour the remaining bechamel sauce, cheese and sprinkle in the parmesan cheese.

Bake covered for about 30 minutes or until bubbly. Uncover and broil until brown

Remove from oven and let it rest about 15 minutes before cutting
Nutrition Facts
Creamy Corn Lasagna Recipe
Amount Per Serving
Calories 334
Calories from Fat 135
% Daily Value*
Fat 15g23%
Cholesterol 40mg13%
Sodium 431mg19%
Potassium 336mg10%
Carbohydrates 41g14%
Protein 13g26%
Vitamin A 619IU12%
Vitamin C 6mg7%
Calcium 221mg22%
Iron 1mg6%
* Percent Daily Values are based on a 2000 calorie diet.