My favorite French dessert. This scrumptious classic Opera Cake recipe is composed of 7 layers of cake, chocolate, and coffee flavored french buttercream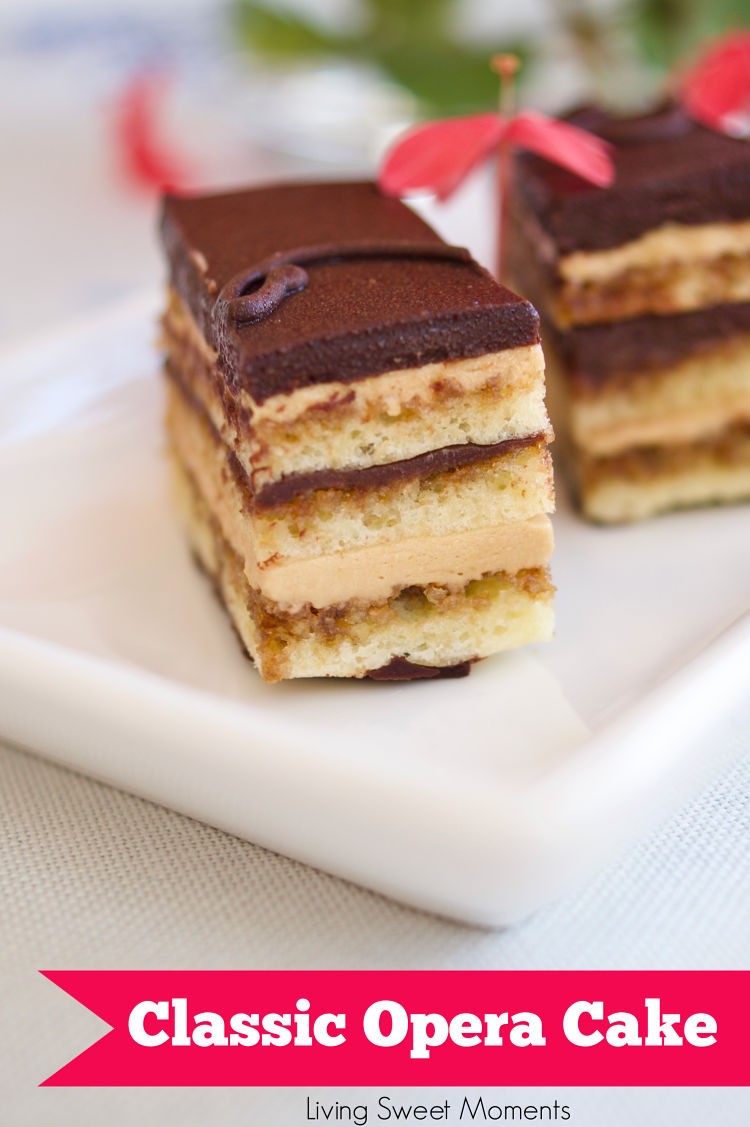 Irresistible Classic Opera Cake
This post is very special and dear to me since I am showcasing my favorite cake of all: The French Classic Opera Cake.
Usually, I wouldn't post recipes that required a little more elbow grease, but since I couldn't find a decent slice of Opera in Miami, I decided to take matters into my hands and make it.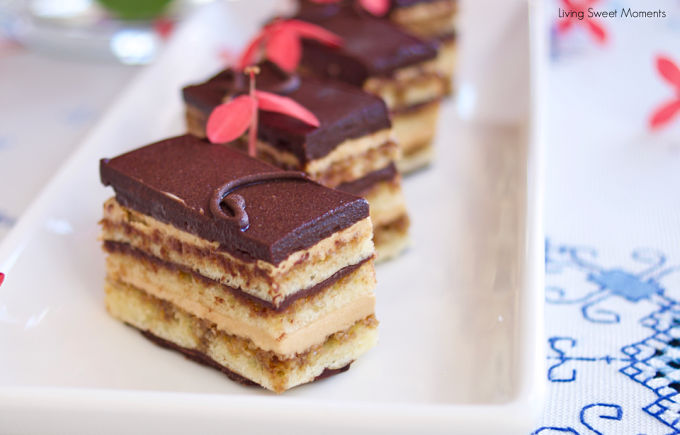 It's been years since I made these kinds of desserts, but I've been so inspired lately that you'll see more of these soon.
Making a classic Opera Cake it's not that complicated even though it requires a few more steps that your usual cake recipe. And believe me, it's so worth it, especially if you're thinking of serving it for a special occasion.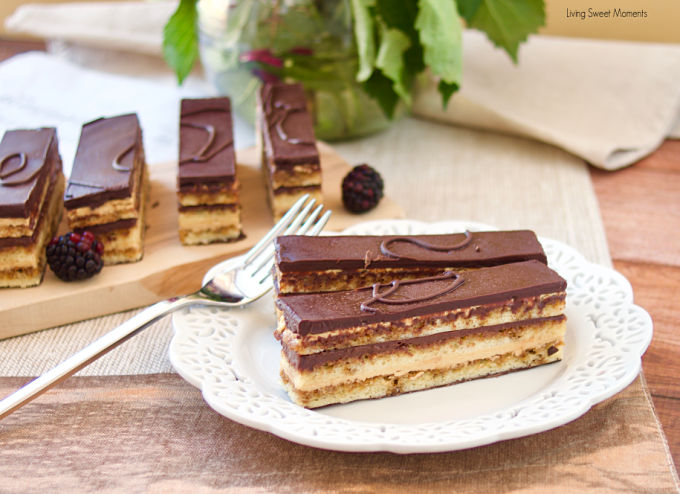 Your guests will ask where did you get this cake from.
Why? Because it looks and tastes like it came out of a window of a French Patisserie.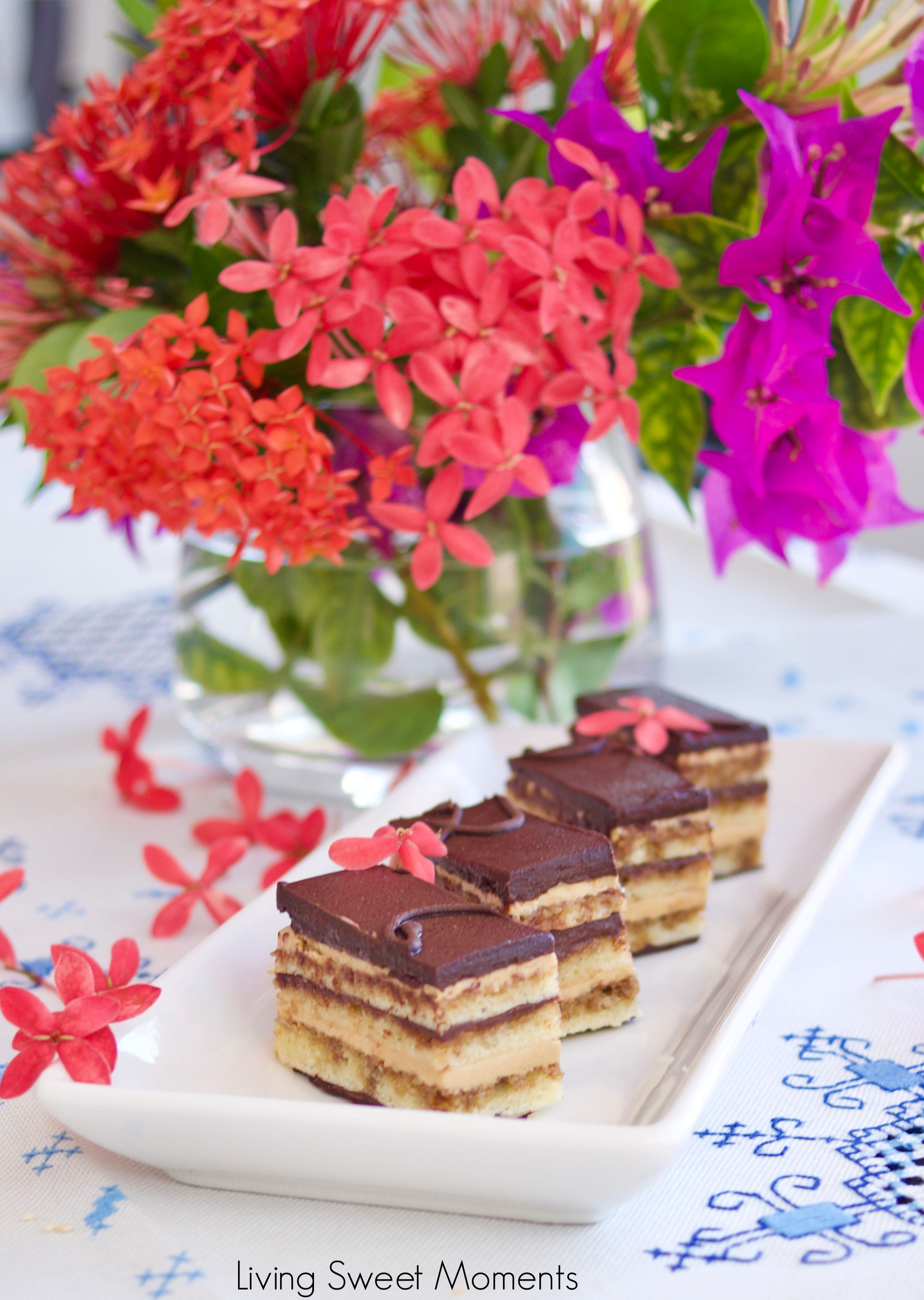 Plus, it's so pretty! Seeing all the beautiful layers, textures, and contrasting colors together.
Last week we made vanilla pastry cream and elegant mini berry tarts. This week we are caking it.
For this Opera, the idea to make all the elements one day and then assemble the next.
Or if you have a slow day at work you can cook and assemble the same day. It's completely up to you and your schedule.
The elements are Joconde sponge, coffee flavored french buttercream, coffee syrup, ganache, and opera glaze. Usually, I make the first 3 and leave the other 2 for assembly day.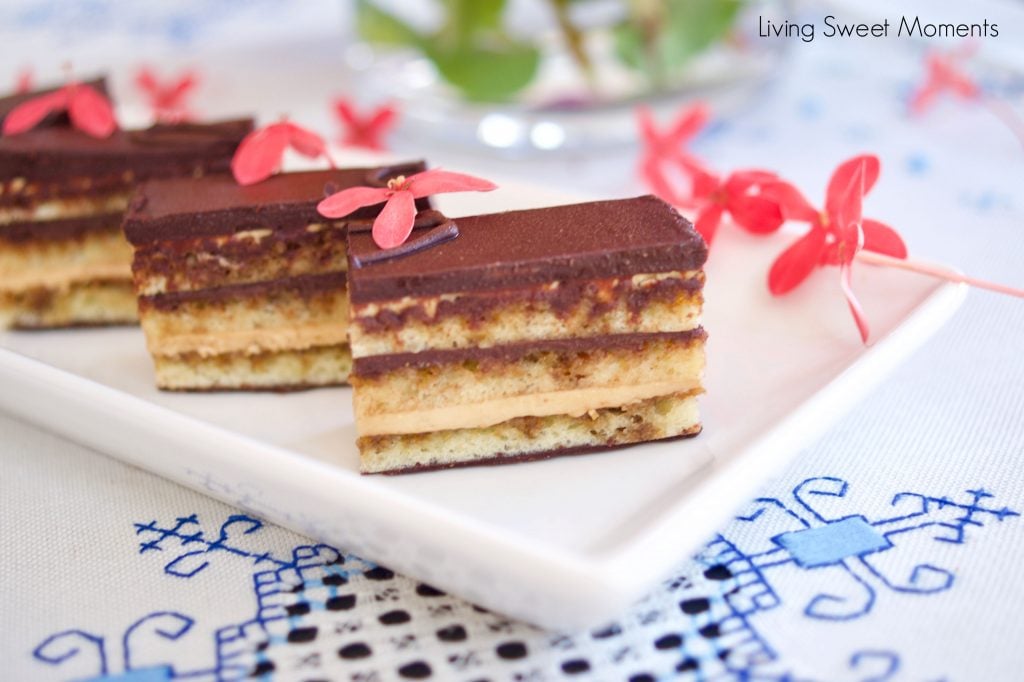 The Joconde sponge bakes and then gets divided into 3 pieces, which become 3 layers.
Assembly's just like building. Putting one thing on top of the other.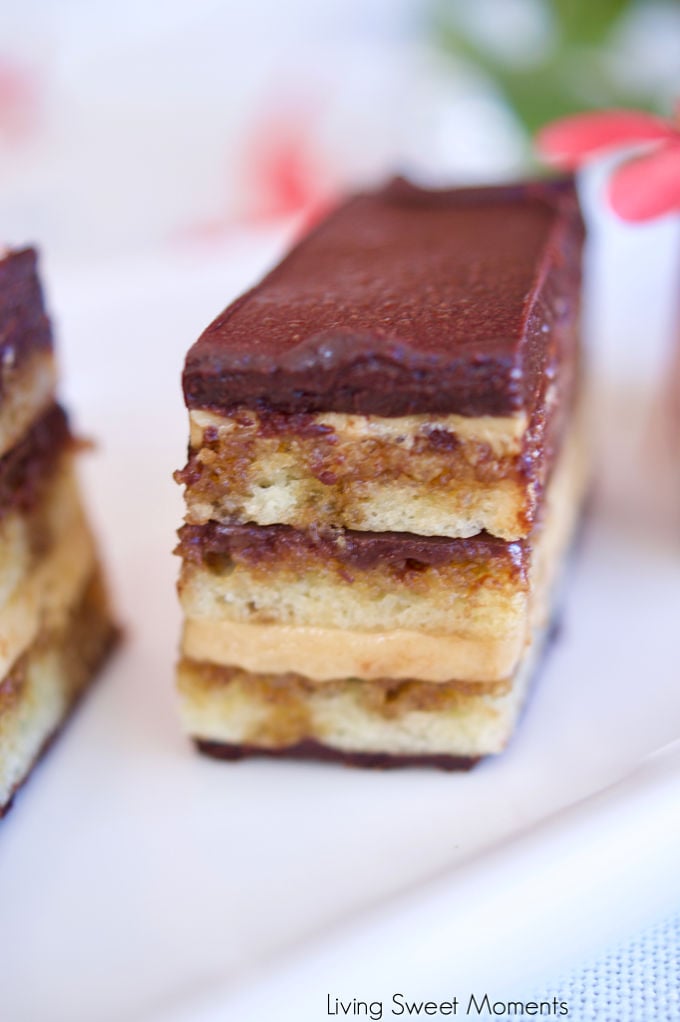 If you're a visual learner like me, here's a diagram I made to help you assemble your cake easily. Hope this helps: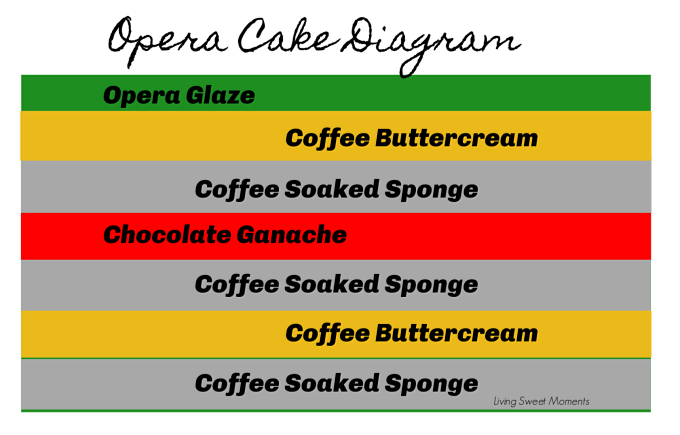 Believe it or not, French Pastry books have graphics similar to this one so you can have an idea what goes where.
My grandma gave me 2 huge books in French for the 60's and the diagrams helped a lot when it came to assembling.
So let's pretend you cooked all the elements (recipe at the bottom). Here's how we build our classic Opera Cake.
Step by step assembly instructions:
We cut our Joconde Sponge in 3 equal pieces.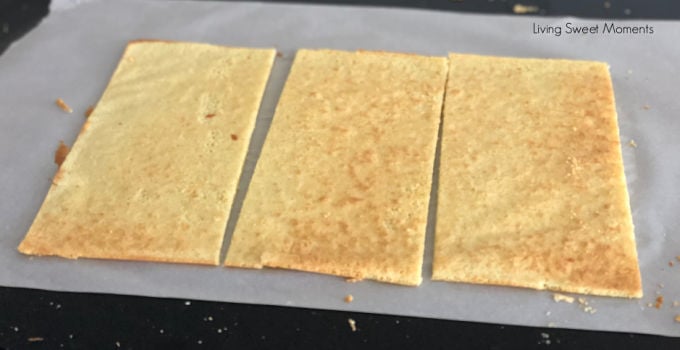 We choose one layer to work with…
To that layer, we spread some plain melted chocolate all over the surface and freeze for 3-4 minutes until set.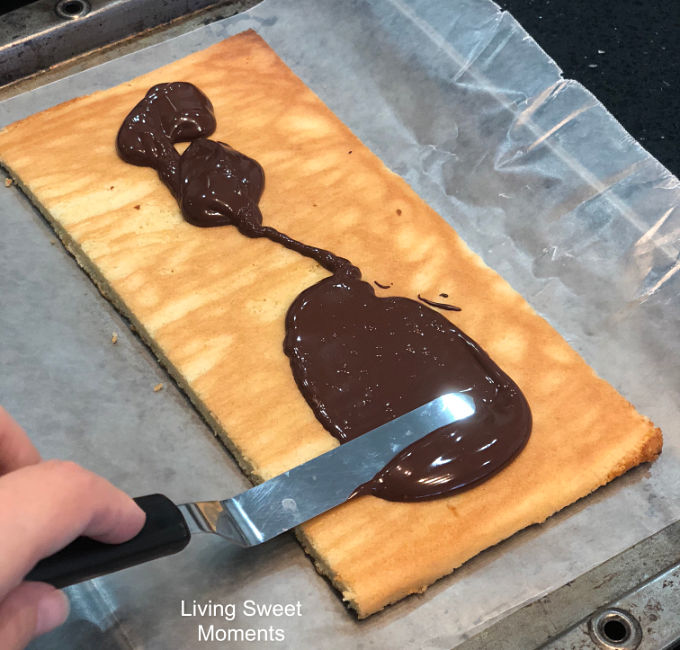 When that chocolate sets we remove from the freezer and flip the cake upside down so that the solid layer of chocolate is at the bottom. The chocolate will prevent liquids from coming out of the cake.
To the other side of that cake, we brush some yummy coffee syrup. Don't be stingy…..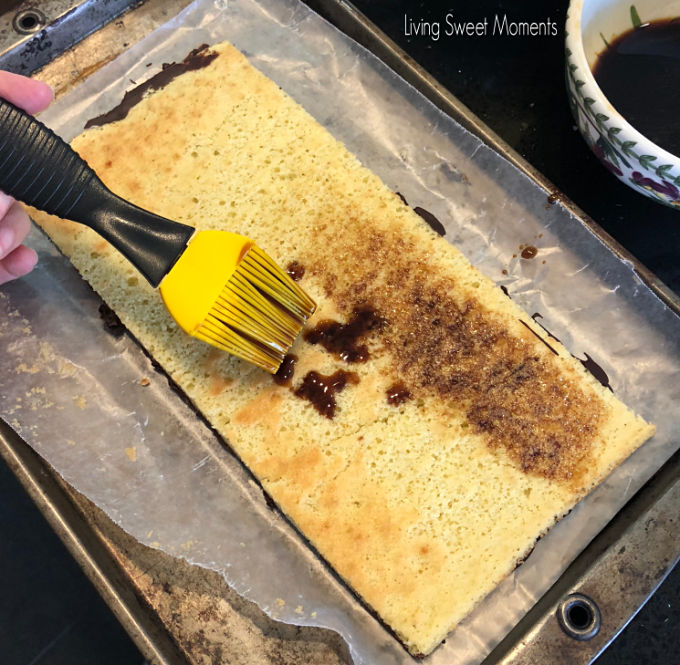 Now we spread the yummy coffee buttercream on top of the cake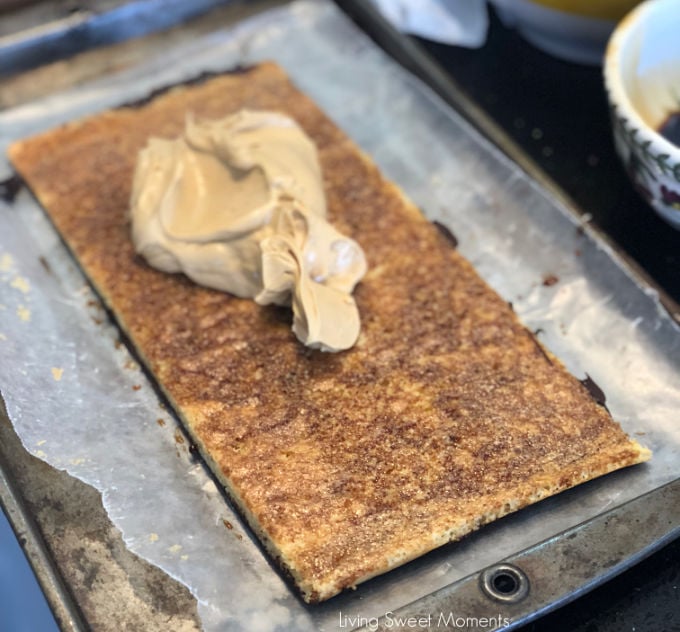 We have 2 layers now… 5 to go
Next is another sponge that we brush some syrup on top.
On top of that is the luscious chocolate ganache. Doesn't that look dreamy?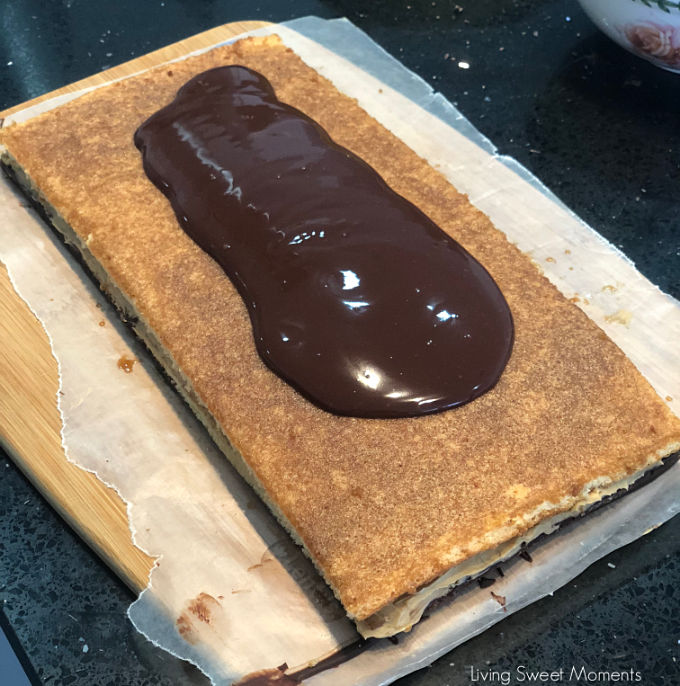 We put the cake in the freezer for 5 minutes so the chocolate has a chance to set up before we continue building.
4 layers down and 3 to go
Next is the last cake layer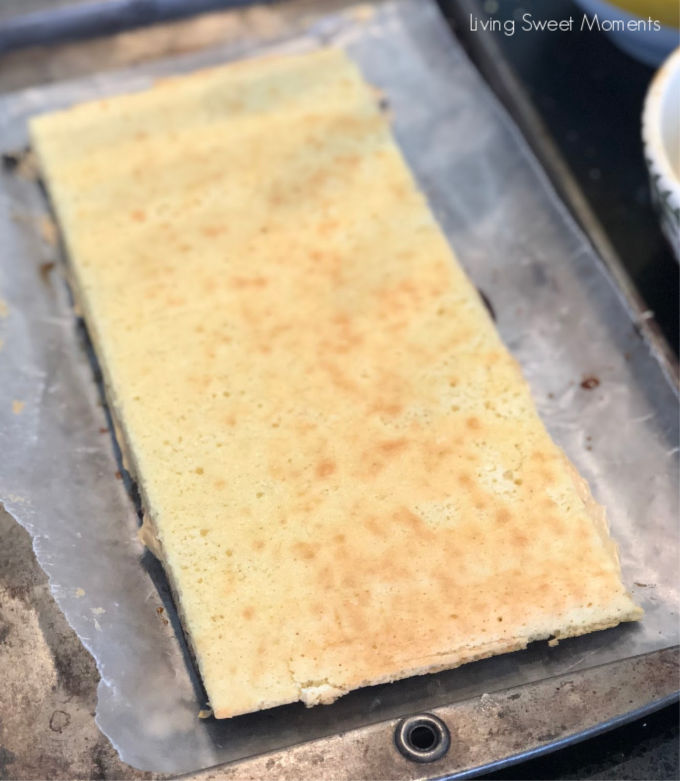 We brush with the remaining coffee syrup on top.
Look at the cake from another angle…Can you see the 5 layers?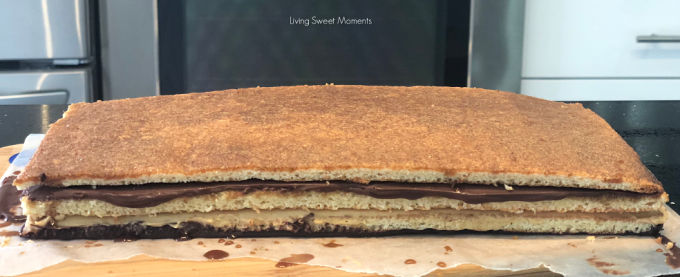 Next, we spread some coffee buttercream on top. Smooth it out with an offset spatula.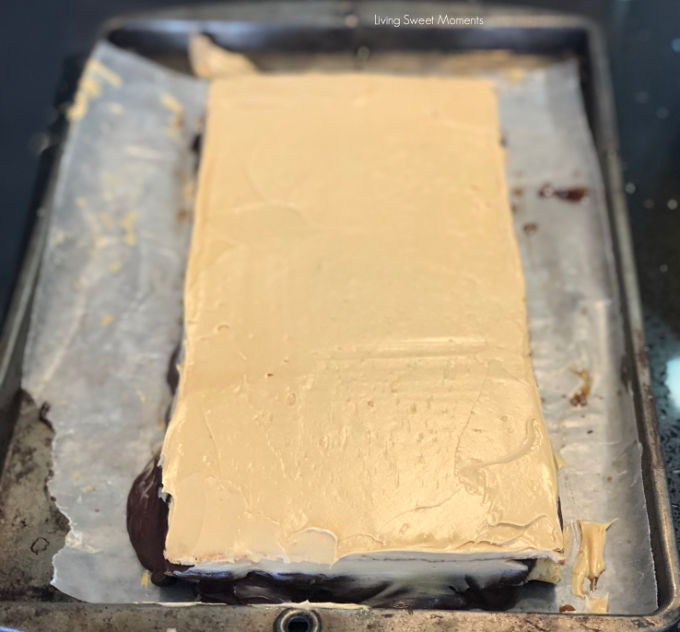 We put it in the freezer for 10 minutes.
Only one layer to go….
Lastly, we pour the Opera Glaze on top.
And we freeze for 5 minutes until the top sets…
Now you've got to decide. If you would like a classic Opera Cake it needs to say Opera on top with melted chocolate.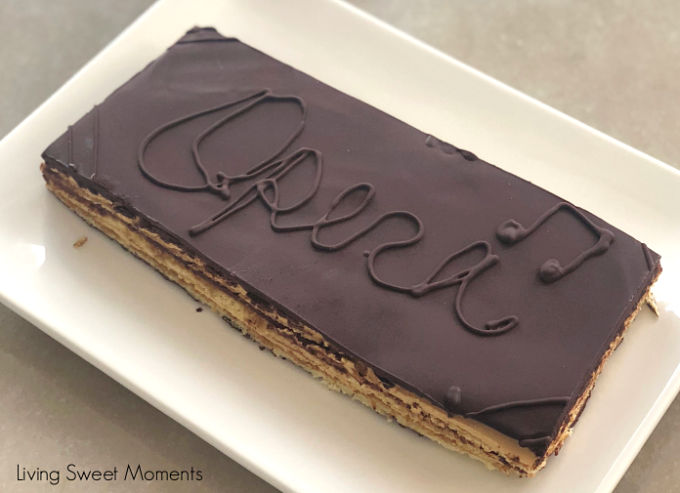 But who's judging you? Is not like Paul Hollywood will be knocking at your door and criticizing your wonderful creation.
So you might as well do any design you want.
Or if you're tired of all that building, spreading, and freezing, leave it as is.
Here's another design idea.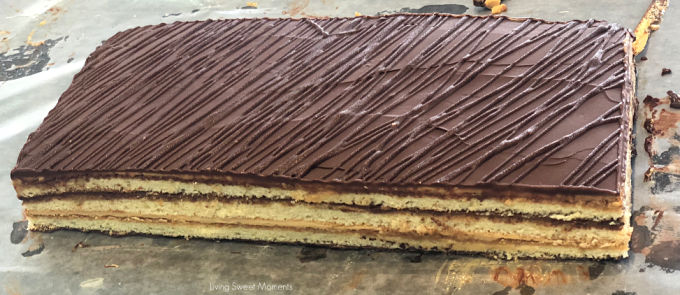 After the cake is set with trim down the top and sides to eliminate imperfections.
Please keep in mind to make the layers fairly uniform. Otherwise, it will affect the taste and look of the cake. 
Finally, with a HOT knife, we cut into equal pieces.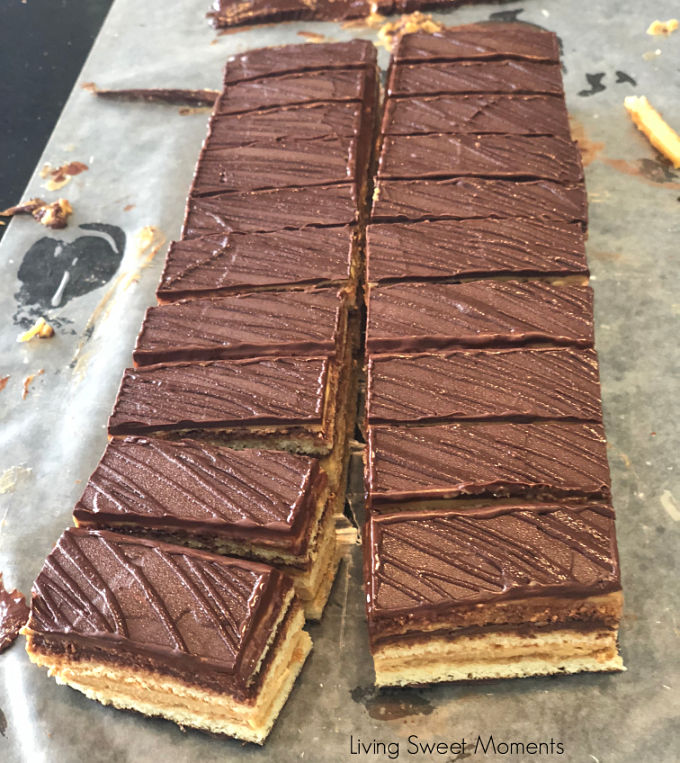 Now you're ready to eat.
Tell me the truth, that wasn't so bad was it?
You got this… Now go on and make it! Be the baking superstar and impress your peers.
Make them think you spent a week on this.
I won't tell if you won't tell… 😉
I hope you can try this delicious Classic Opera Cake at home. If you do, please upload a pic on Instagram and tag me @Livingsweetmoments or use the hashtag #LivingSweet.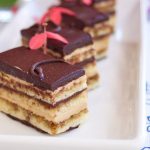 Classic Opera Cake
My favorite French dessert. This scrumptious classic Opera Cake recipe is composed of 7 layers of cake, chocolate, and coffee flavored french buttercream
Keyword:
chocolate cake, classic french cakes, french gateau, gateau opera, opera cake
Ingredients
For Joconde Sponge
3/4

cup

Confectioners Sugar

1

cup

Almond Flour

1/4

cup

Cake Flour

3

Eggs

3

Egg Whites

3

teaspoons

Granulated Sugar

3

tablespoons

Unsalted Butter

melted
For Coffee Syrup
1/4

cup

Water

1/4

cup

Sugar

1

tablespoon

Instant Coffee Powder
For Coffee Flavored French Buttercream
1 1/2

cups

Unsalted Butter

cubed and at room temperature

1

cup

Water

1 1/4

cups

Granulated Sugar

3

Egg Yolks

2

tablespoons

Strong Black Coffee

cooled
For Chocolate Ganache
1/3

cup

Semi-Sweet Chocolate

chopped

1/3

cup

Heavy Cream
For Opera Glaze
1/2

cup

Semi-Sweet Chocolate

chopped

1

tablespoon

Vegetable Oil
Assembly
1/4

cup

Semi-Sweet Chocolate

melted
Instructions
For Joconde Sponge
Line a large sheet pan with parchment paper. Spray with nonstick stick spray all oven the bottom and sides

Sift together the confectioner's sugar, almond flour, and cake flour

Slowly whisk in the eggs, one a time mixing well after each addition

Whip the egg whites with the granulated sugar until medium peaks form

Slowly fold in the egg whites into the flour mixture being careful not to deflate the whites

Finally, fold in the melted butter

Place the mixture on the prepared sheet pan and smooth it out evenly with a spatula

Bake for 12-15 minutes or until golden

Remove from the oven and let it cool for 2-3 on the sheet pan. After that, carefully remove from pan and peel off the parchment paper. Cool on a rack completely
For Coffee Syrup
Boil the water and sugar in a pan, stirring well until the sugar completely dissolves. Remove from heat and add the coffee granules

Let the mixture sit for 5 minutes and then strain into a clean bowl. Cool in the Fridge
For Coffee Flavored French Buttercream
Pour sugar and water in a saucepan. Place a candy thermometer on the side of the pan and cook on medium-high heat without stirring until the mixture reaches 240 F.

While the sugar cooks, whip egg yolks the bowl of a stand mixer fitted with the whisk attachment. Whisk on high speed until pale and thick

With the mixer on low speed, slowly add the syrup to the yolks until the mixture is completely incorporated


Keep beating until the bottom of the bowl feels completely cool. About 5-7 minutes

When the mixture and the bowl no longer feel warm, switch to the paddle attachment and slowly add the butter until incorporated


Finally, add the coffee and mix

If not using the buttercream right away, cover and place it in the fridge
For Chocolate Ganache
Heat the cream in the microwave until boiling hot

Place the chocolate pieces in a bowl

Pour the hot cream into the chocolate. Let it sit for 3 minutes

Carefully whisk the mixture until completely incorporated
For Opera Glaze
Melt chocolate in the microwave. Heat it up for 30 seconds, mix, and repeat heating at shorter intervals, 15 to 20 seconds, stirring in between until the chocolate is completely melted and smooth

Add oil and finish mixing
Assembly
Cut Joconde Sponge in 3 equal pieces

Melt the 1/4 cup of semi-sweet chocolate and spread it all over the surface of one of the sponge layers. Freeze that layer for 3-4 minutes or until chocolate sets

Remove from freezer and flip cake over so that the frozen chocolate is on the bottom

Brush the cake with the coffee syrup

Spread a layer of coffee buttercream on top and smooth it out using a spatula

Place the second layer of cake on top and brush with coffee syrup

Add the soft chocolate ganache and smooth it out with a spatula. Freeze for 5-6 minutes or until set

Remove from freezer and add the final layer of cake on top. Brush with the remaining coffee syrup

Spread the coffee buttercream all over the top of the cake. Freeze until solid, about 5-6 minutes

Remove from freezer and pour the Opera Glaze on top. Refrigerate or freeze until set

Save some melted chocolate and write the word Opera on top (optional)

Dip a knife in boiling water for 20 seconds. Dry, and cut into the desired size

Cake can be kept refrigerated up to a week or frozen up to 3 months
Recipe Notes
The coffee buttercream makes enough for 2 cakes. You may freeze the leftover cream up to 90 days
Make the layers fairly uniform in order to achieve the same taste in every bite
I recommend making the cakes, coffee syrup, and buttercream the day before and the ganache and glaze the same day you're assembling the cake. 
Nutrition Facts
Classic Opera Cake
Amount Per Serving (1 slice)
Calories 348
Calories from Fat 225
% Daily Value*
Fat 25g38%
Cholesterol 100mg33%
Sodium 23mg1%
Potassium 89mg3%
Carbohydrates 27g9%
Protein 3g6%
Vitamin A 610IU12%
Calcium 32mg3%
Iron 1mg6%
* Percent Daily Values are based on a 2000 calorie diet.
You may also like: