Delicious lean turkey mixed with veggies and tomato sauce serve inside roasted eggplants and topped with cheese. Yummy lean recipe to eat for dinner tonight!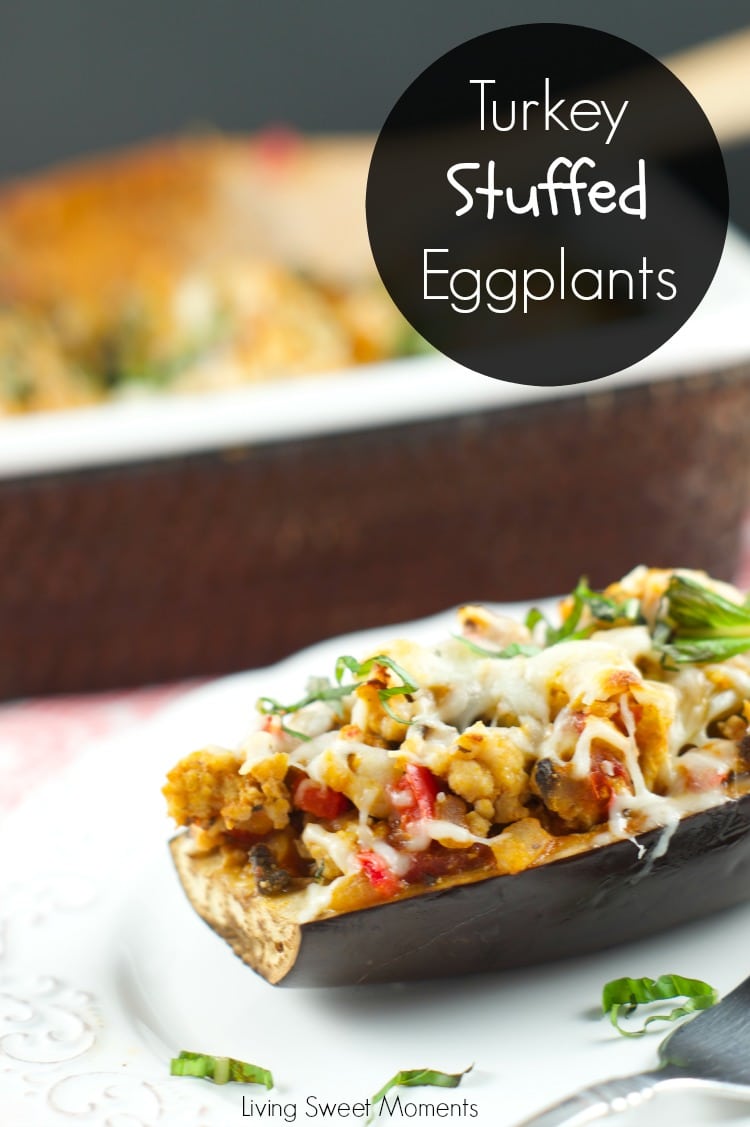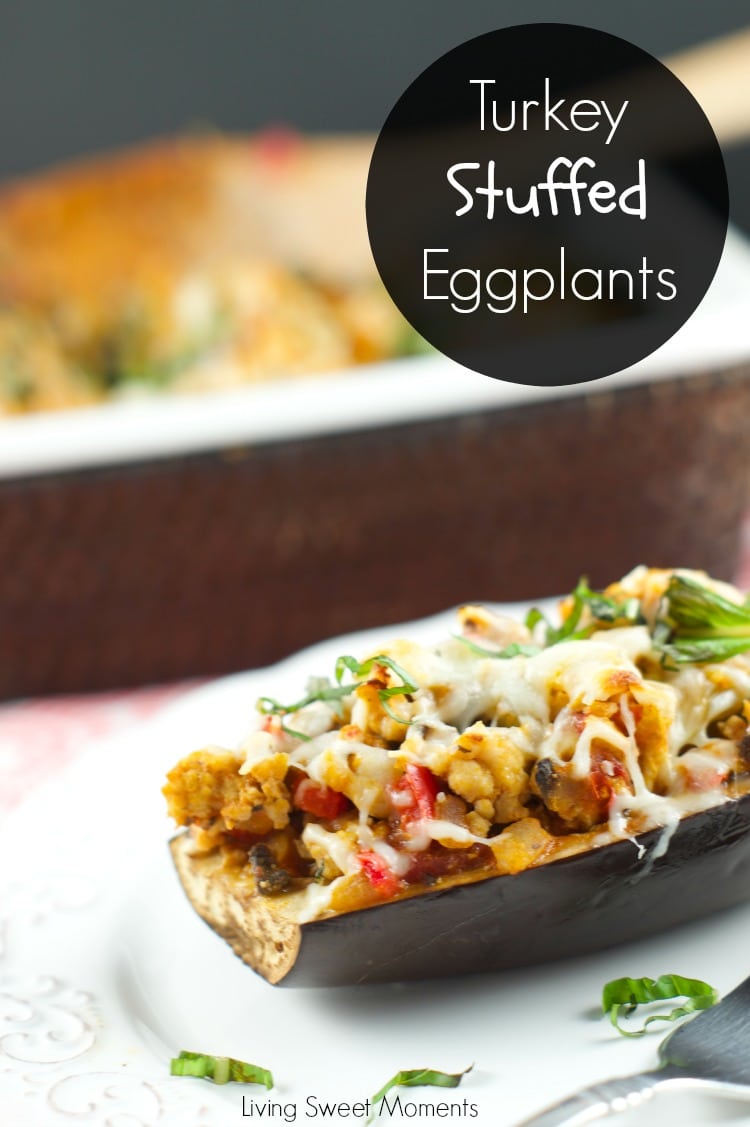 Delicious Turkey Stuffed Eggplant
 After indulging a bit during the weekend, I decided to behave on Monday and make a delicious meal without the guilt. This cute and savory Stuffed Eggplant will fill you up with surprising flavor, texture and also it's a great way to get rid of extra veggies in your fridge. You can even customize it and use the veggies that you would like.
Since my husband is the calorie counter in my family, I had to feed him something that will fill up his big appetite without hearing him complain that I made something fattening. When I gave this Stuffed Eggplant dish to him, he chowed it down happily! The same reaction I got when he tried my delicious Turkey & Quinoa Stuffed Pepper.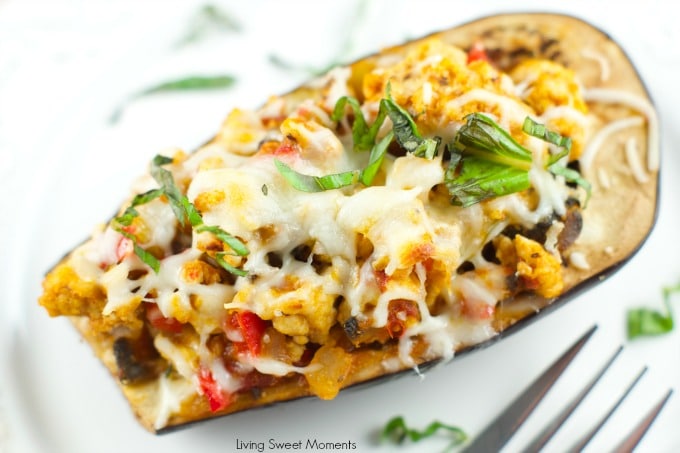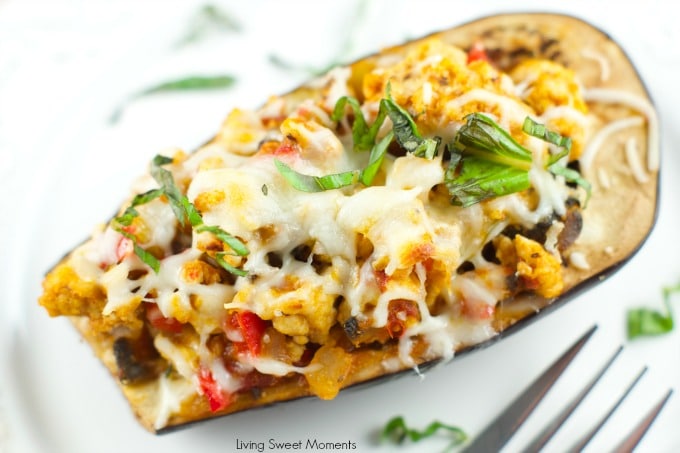 You get the cheese on top, melty, or toasty (that's up to you), the savory filling and a delicious melt in your mouth eggplant that absorbed all the veggie and flavors while baking. Oh did I mention they're easy to make? You can even assemble them in advance and just bake off at the last minute. This is perfect if you're entertaining.
 If you're not a huge fan of eggplant you can use a Zucchini as a substitution. Also, you can substitute the ground turkey breast with sausage, ground beef, pork or chicken. You can also leave the meat out and make it vegetarian. That's why this dish is so versatile! No need to shop for special ingredients. I personally used the smaller eggplants so each one makes an individual presentation. But that's just my preference.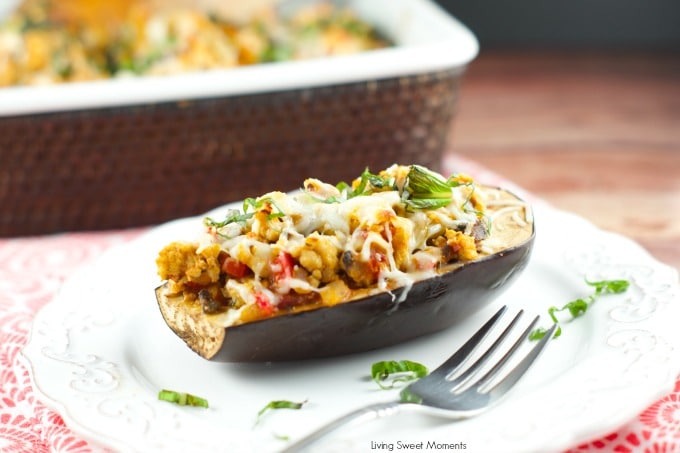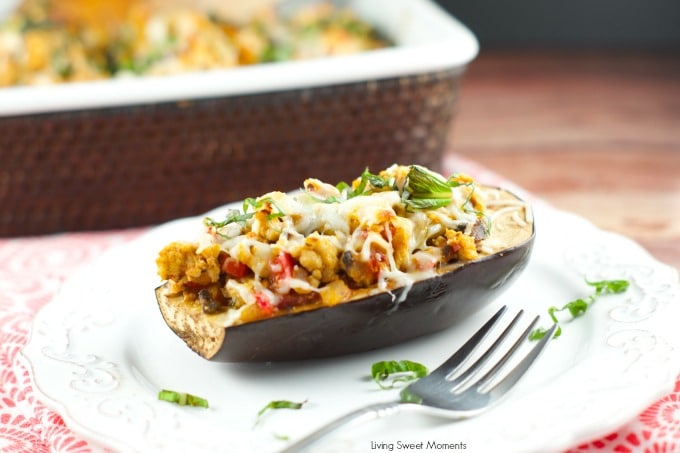 Now that my girls are finishing school soon, I am trying to find easy and quick recipes to make for dinner and still have the rest of the day to spend time with them. That's what Summer is for and I am definitely looking forward to taking a break from carpools, homework and after school activities. And finally, SLEEPING IN!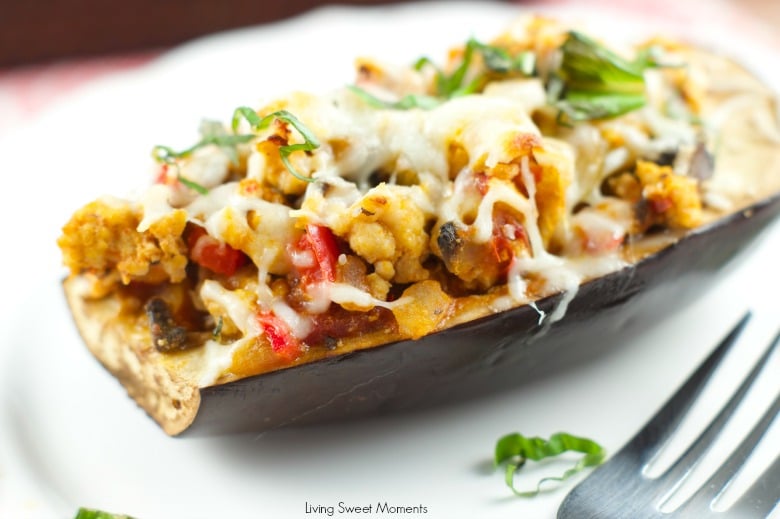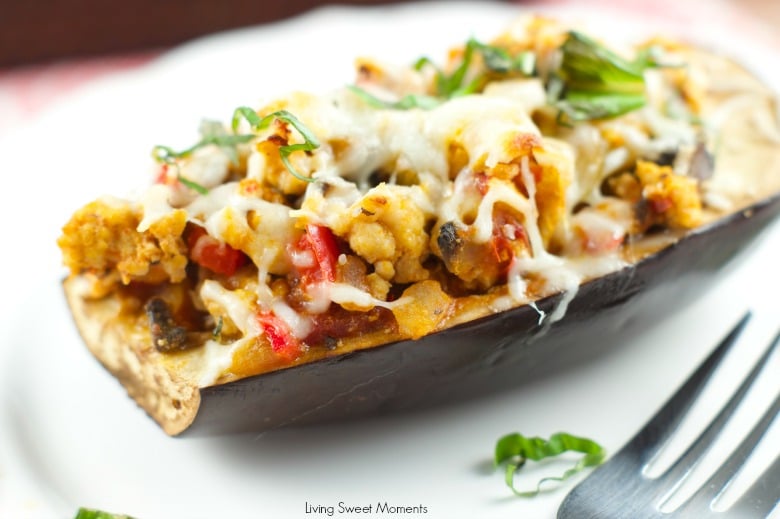 I hope you can make this delicious Turkey stuffed Eggplant at home. If you do, please upload a pic on Instagram and tag me @Livingsweetmoments or use the hashtag #LivingSweet. I promise to repost it.
Turkey Stuffed Eggplant
Delicious lean turkey mixed with veggies and tomato sauce serve inside roasted eggplants and topped with cheese. Yummy lean recipe to eat for dinner tonight
Ingredients
2

eggplants

1

lb.

Lean ground turkey

2

cloves

garlic

minced

1

large

onion

chopped

1

Red bell pepper

chopped

1

cup

crushed tomatoes

1

teaspoon

dried oregano

1

teaspoon

dried basil

2

teaspoons

Olive Oil

1/2

cup

mozzarella cheese

shredded

1/2

cup

parmesan cheese

shredded
Instructions
Preheat oven to 400 degrees Fahrenheit

Line a sheet pan with aluminum foil. Cut the eggplants in half

Score the meat of the eggplant in a crisscross pattern being careful not to cut through the skin


Add olive oil, salt, and pepper


Roast the eggplant in the oven for 30 minutes


Remove from oven and let them cool


When the eggplant cools, remove the filling with a spoon leaving a bit of pulp to ensure they are strong enough to be stuffed. Place hollow eggplants in a baking dish


Cube the filling and place it in a bowl


Reduce oven temperature to 350 degrees Fahrenheit

While the eggplant roasts. Heat olive oil to medium heat on a saucepan

Cook the onion, oregano, basil and the peppers for 2-3 minutes until softened. Add the garlic and cook for one more minute

Add the turkey in chunks and let it cook with all the vegetables. With a spoon break down the turkey in little pieces. Cook for about 5 minutes

Add the eggplant filling and season with salt and pepper

Spoon filling on hollow eggplants. Top with cheeses

Bake for 20-15 minutes or until the cheese has completely melted