This delicious Vanilla Pastry Cream or Creme Patisserie recipe is creamy, easy to prepare, and is the perfect filling for donuts, cakes, pastries, and more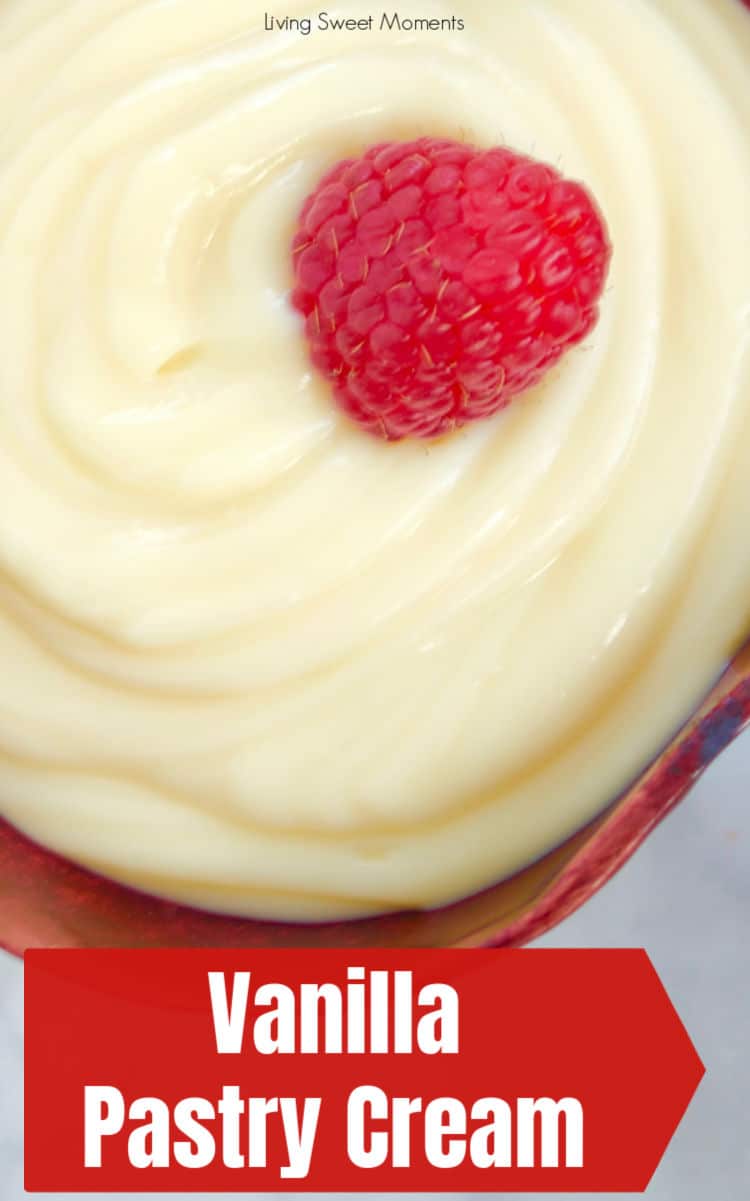 Best Ever Vanilla Pastry Cream
Travel to France without ever leaving your kitchen!
If you've ever wanted to learn all about French Patisserie, we first have to start with the basics and then build up on there.
Vanilla Pastry Cream, Creme Patisserie, or Creme Pat, as they like to call it in the British Bake Off, is delicious, easy to make, and essential in the world of desserts.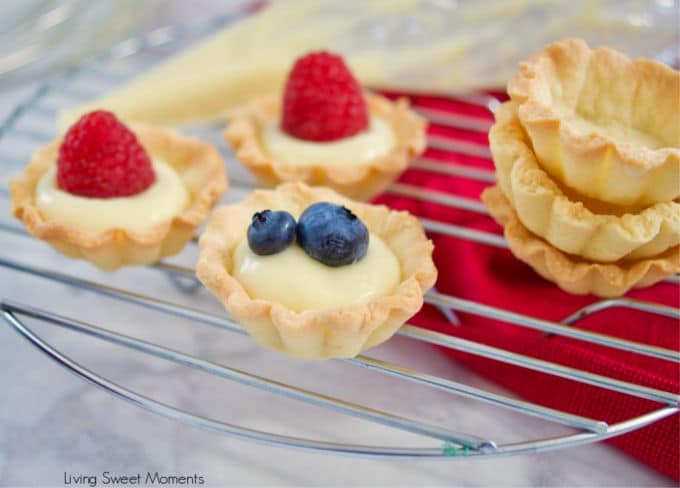 You can use it to fill tarts, donuts, cakes, eclairs, cream puffs, napoleons, etc.
I love eating it by itself or with some fresh fruit on the side.
It is thick, sweet, and flavorful. Robust enough to go inside your favorite pastry, but delicate enough to melt in your mouth with each bite.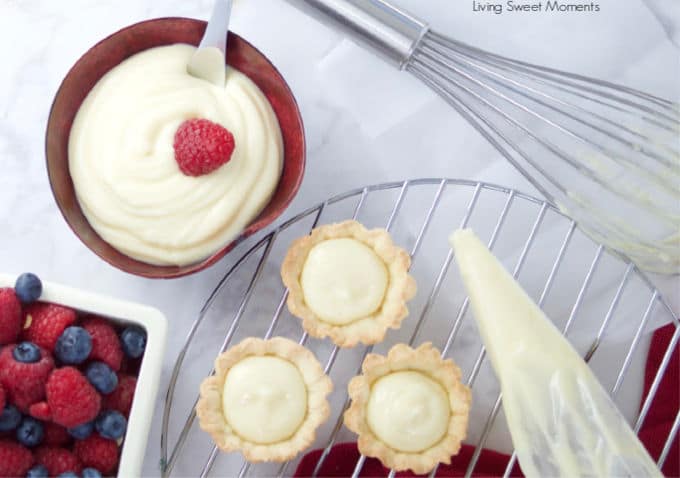 Basically, I love Pastry Cream.
My grandma used to make when I was growing up and she would serve in a big bowl with some strawberries on the side. I remember using a ladle to pour myself a bowl of yummy cream with my fruit.
As I was growing up, I've been perfecting the recipe from culinary school. I cross some stuff out, re-write and modify the quantities until I've achieved what I believe to be the best ever version.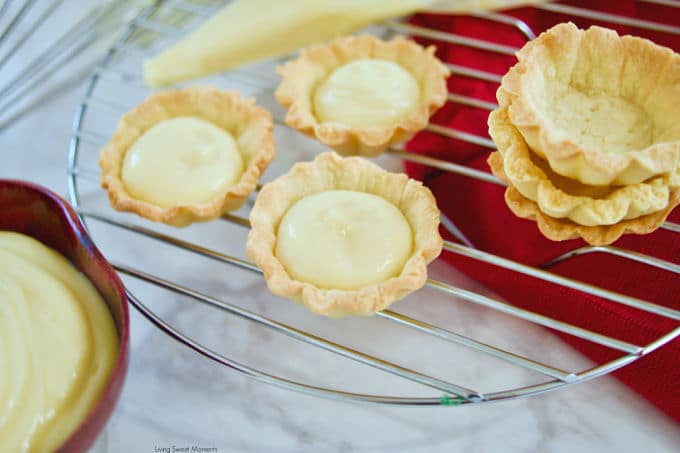 Wanna see my dirty recipe card? – Forgive my Spanglish… (now you know how my confused head works). And that is not my final recipe version because I modified the eggs at the end and settled for only egg yolks.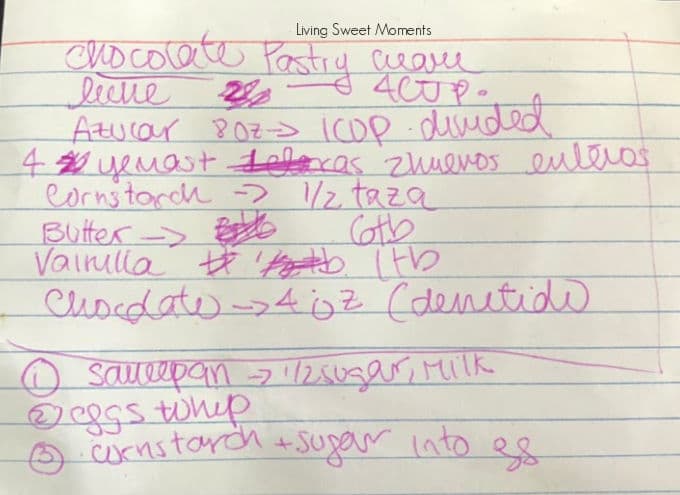 Add some lemon, orange or lime zest to give it a nice tang. If you're a chocoholic, I'll show you in the recipe section, how to flavor it.
Aside from vanilla, I'm a sucker for Praline Creme Pat! Try it inside an eclair and you'll see exactly what I mean.
Love coffee? Infuse the milk with some instant coffee and voila! Java creme pat.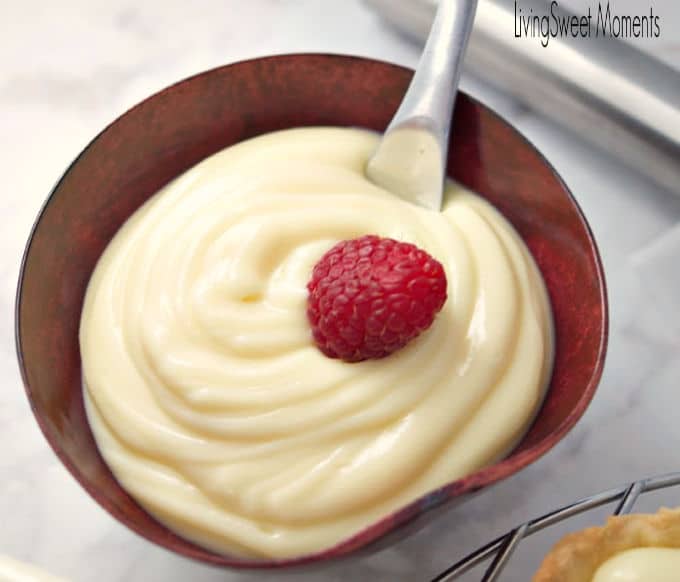 When you look at the recipe don't be scared on the amount of yolks. I always freeze the leftover whites in little baggies and use them for meringue cookies, macarons, and healthy morning omelettes…. Ok no, I was lying about the last one.. 😉
You can always HALVE the recipe.
The flavor possibilities are endless!
Here a few other ideas:
Replace the vanilla with other extracts, like almond, hazelnut, anise, rose, ginger, lavender, etc
Infuse milk with your favorite teas
Before chilling, add a few drops of your favorite liquor: Frangelico, Brandy, Bourbon, Rum, Kahlua, Amaretto, Crème de Violette, Grand Marnier, Limoncello, etc
Add some spices to the milk: cinnamon, cardamom, ginger, nutmeg, etc.
Before chilling, add a bit of minced fresh herbs to give it an earthy flavor
Before chilling the creme pat, add a bar of melted chocolate, white, chocolate, or dark works great!
Like a malty flavor? Infuse malted milk powder to your milk at the beginning of the process
Add a bit of fruit purees before the creme pat chills. Just keep in mind the sweetness of the fruit and decrease the amount of sugar in the recipe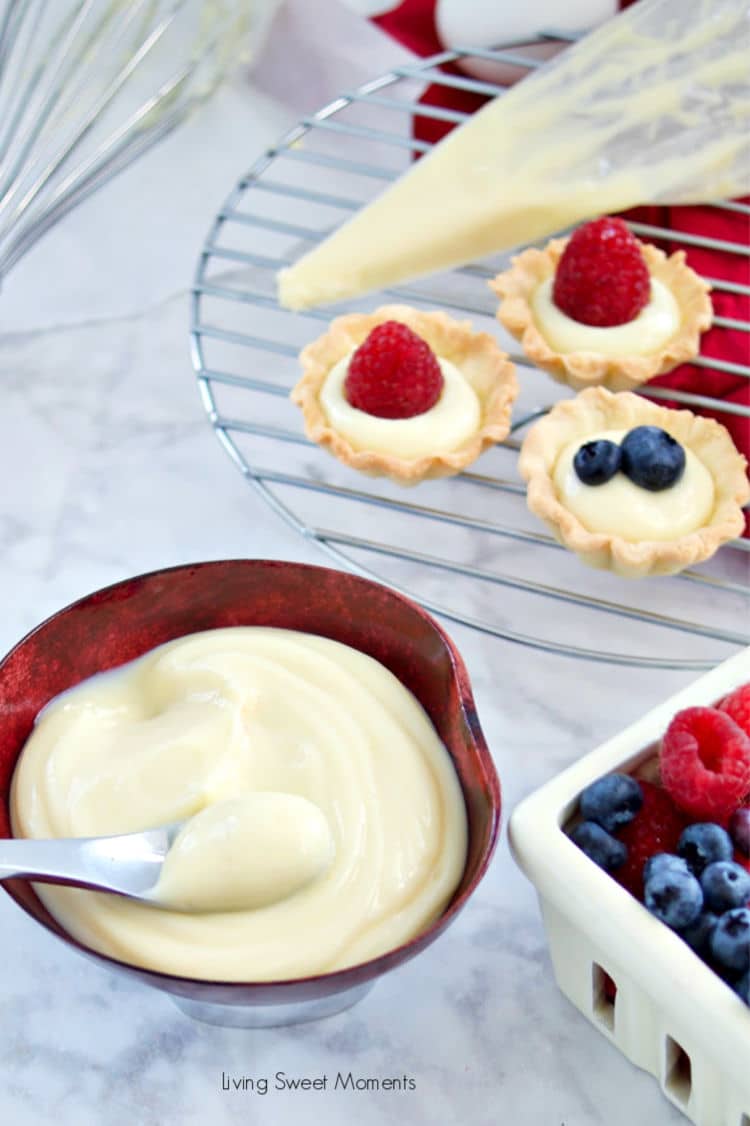 I hope you can try this delicious Ever Vanilla Pastry Cream at home. If you do, please upload a pic on Instagram and tag me @Livingsweetmoments or use the hashtag #LivingSweet.
Vanilla Pastry Cream
This delicious Vanilla Pastry Cream or Creme Patisserie recipe is creamy, easy to prepare, and is the perfect filling for donuts, cakes, pastries, and more
Keyword:
creme patisserie, custard, vanilla cream
Ingredients
4

cups

Milk

1

cup

Sugar

divided

8

Egg Yolks

1/2

cup

Cornstarch

6

tablespoons

Butter

1

tablespoon

Pure Vanilla Extract
Instructions
In a large bowl, whisk the egg yolks until combined. Add in the cornstarch and half of the sugar. Whisk again until creamy

In a large saucepan, bring the milk and the other half of the sugar to a boil. Remove from heat

Carefully, temper the eggs, that means to bring up the temperature of the yolks without cooking. To do that, add a bit of the hot milk mixture into the yolks while whisking vigorously. Then slowly add the rest of the milk mixture. Do not stop whisking

Pour the whole mixture back into the pot and cook over medium heat until the mixture thickens

Strain the pastry cream into a clean bowl and add the vanilla and butter. Stir until butter melts

Cover the bowl with plastic wrap. Make sure the plastic wrap touches the pastry cream directly (to avoid creating a film)

Refrigerate for 2 hours or until completely chilled.
Recipe Notes
-To make chocolate pastry cream, add a melted 4 oz bar of chocolate before chilling.
-Replace vanilla with other extracts or liquors, some are stronger that others so start with 1/2 teaspoon and keep adding until desired flavor is achieved
-Add 1 tablespoon of instant coffee or expresso powder when heating the milk for a coffee taste. You can also infuse the milk with your favorite tea or spice 
- Add 1/3 cup of your favorite strained fruit puree before chilling to give it a fruity flavor
Nutrition Facts
Vanilla Pastry Cream
Amount Per Serving
Calories 226
Calories from Fat 99
% Daily Value*
Fat 11g17%
Cholesterol 153mg51%
Sodium 91mg4%
Potassium 120mg3%
Carbohydrates 26g9%
Protein 4g8%
Vitamin A 480IU10%
Calcium 109mg11%
Iron 0.4mg2%
* Percent Daily Values are based on a 2000 calorie diet.
You may also like: