"Disclosure: I received complimentary samples to facilitate my review. However all opinions are 100% mine and were not influenced in any way".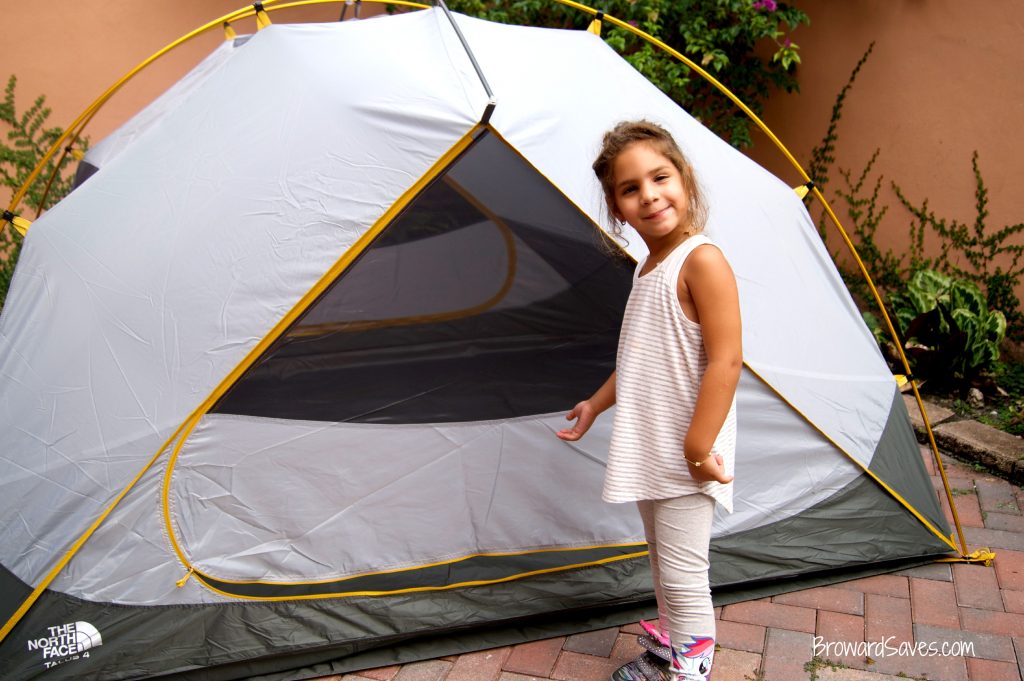 The North Face Camping Gear Review 
I am sure many of you are familiar with The North Face Brand. They offer all kinds of outdoor products from clothing to gear. Available for kids and adults and all kinds of weather.  I've used The North Face clothing for skiing and loved it but this time I tried their camping gear and I am so impressed with the performance and design. You will see why. 
For our review we received The North Face Talus 4 Tent, a Cozy Sleeping bag and clothing for the family. You must be thinking to yourself, How big are all those items?. Check it out: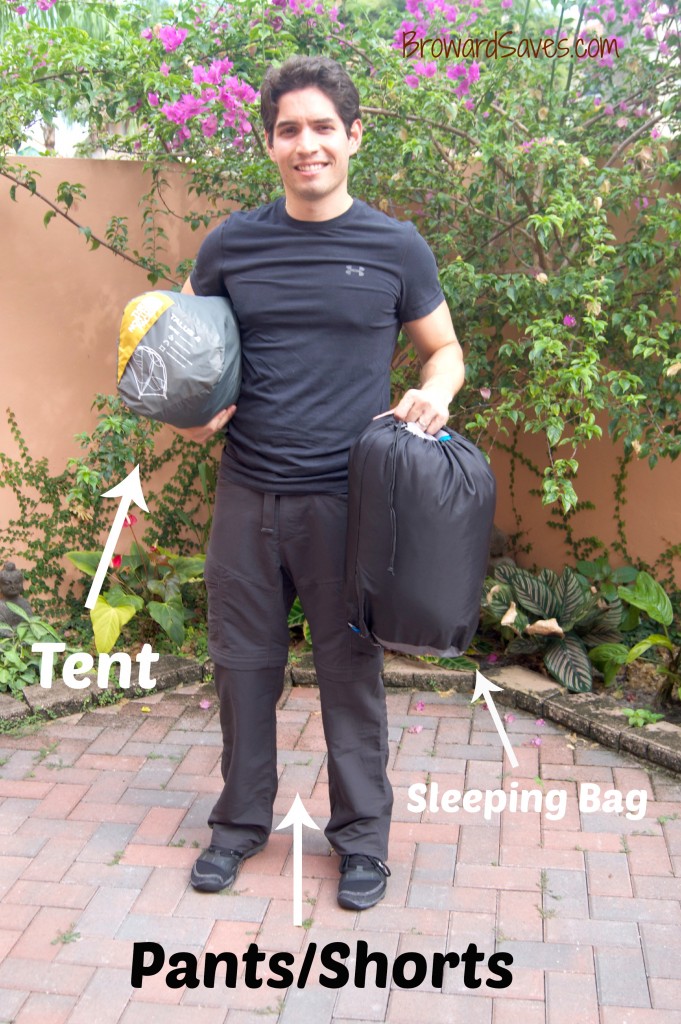 The huge tent you saw in the first picture is so lightweight that it rolls up in a small sack the size of a sleeping bag. In fact, it is so lightweight that my daughters carried them with ease, and they are only 4 and 6. My husband is wearing some really cool pants that have zippers right on the knees so they convert into shorts in seconds.
Setting up the tent took less than 10 minutes. My husband who is not very savvy at assembling things (shh.. thankfully he doesn't read my blog) erected the tent easily and without even looking at the directions. The way the parts are created it makes it almost intuitive to assemble. The Poles had little points that go inside the fabric holes. That's it!.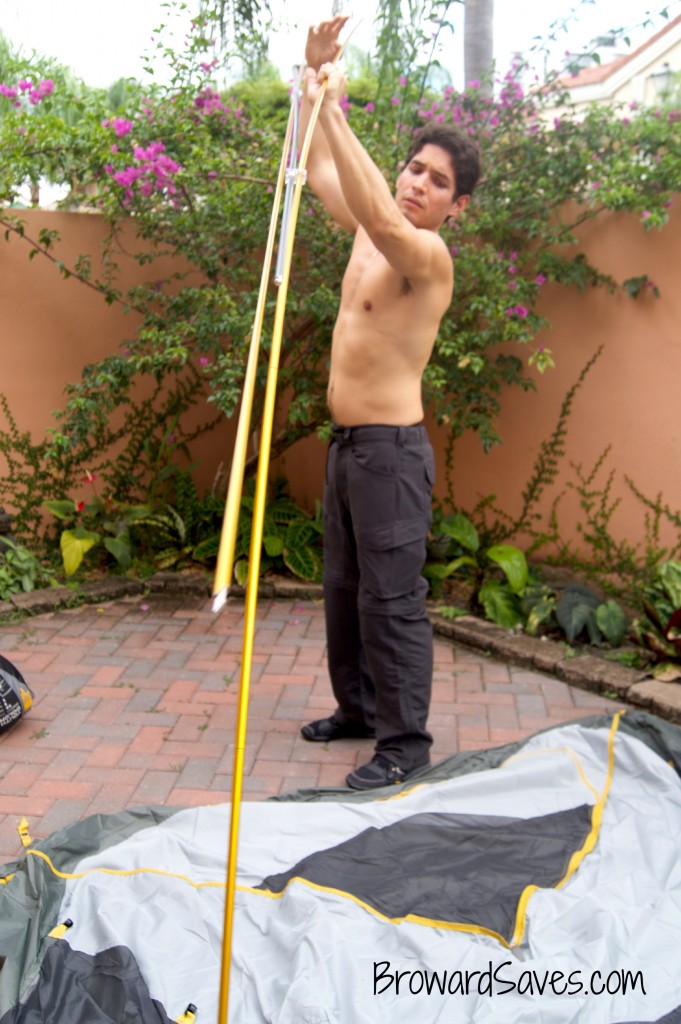 I must confess, I've never set up a tent in my life, every time I went camping I would convince some friends to do it for me. The Talus 4 is a one person job. You don't need the assistance of a second person to set it up even though is huge – a 4 person tent!.
The design of the tent is genius. You can access it from both sides and all 4 sides are ventilated with a mesh material that keep the bugs out while allowing the breeze in. Something very needed in Florida. If inclement weather surfaces, The North Face Tent also has a waterproof cover that you can wrap all over the tent and will prevent water or snow to come in. Yes, this tent can be used in the winter. Who would be crazy to camp in the winter?. I have no idea but I am sure there are a few aficionados out there.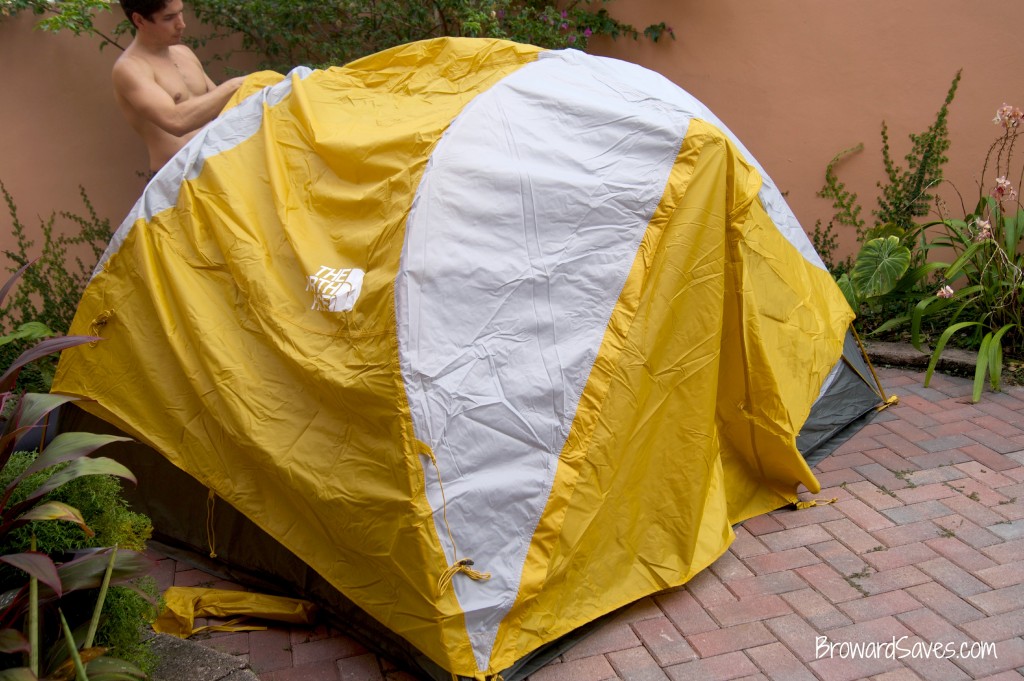 Here's our tent with the cover on. We are now ready for the rain!. Even with the cover on, the material is lightweight that you can breathe easily inside it. My daughters had a blast when we decided to camp in our small patio and as you can see, the tent took up the whole patio!. It's what we call a Staycation. They went inside and put al their toys in there.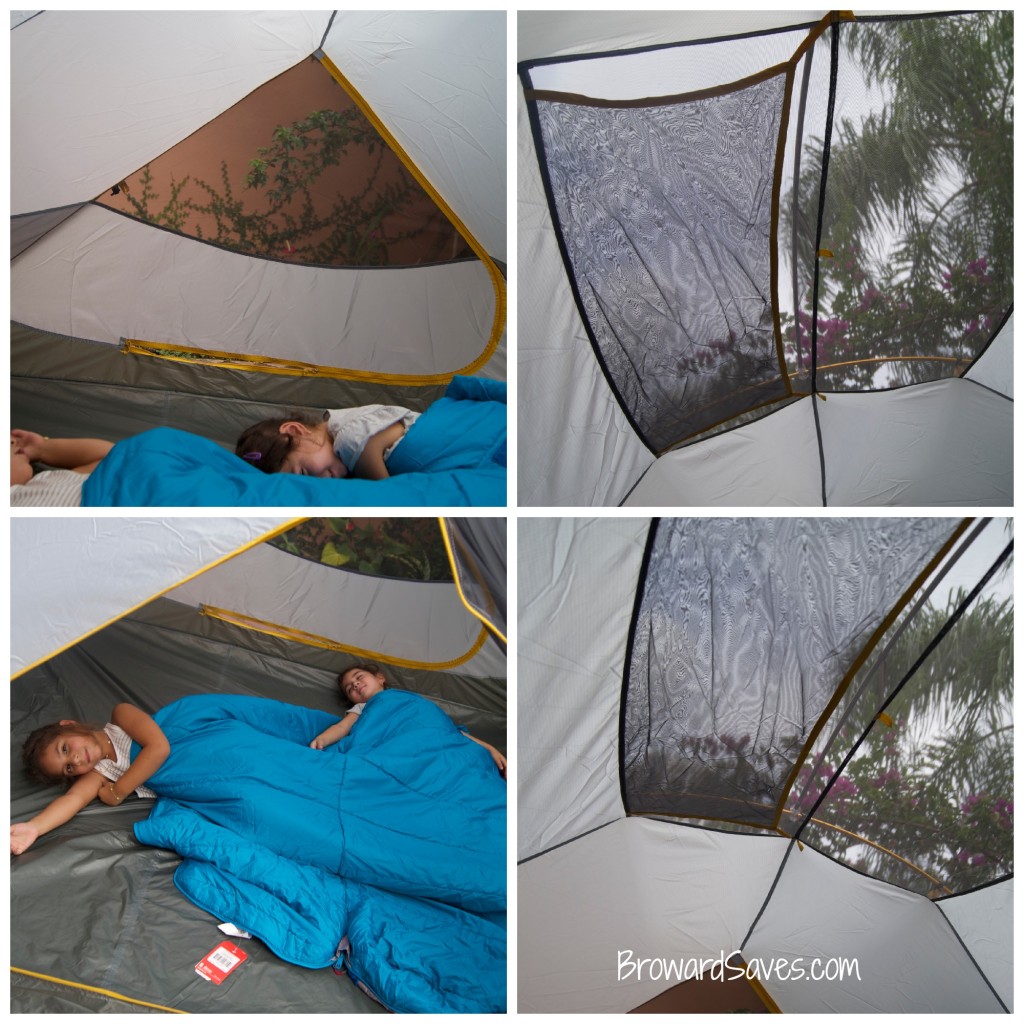 See how comfy is in there? and you can even see the stars from inside your tent. The Sleeping Bag we received has a zipper that goes all the way to the bottom doubling as a blanket. It also has a unique shape: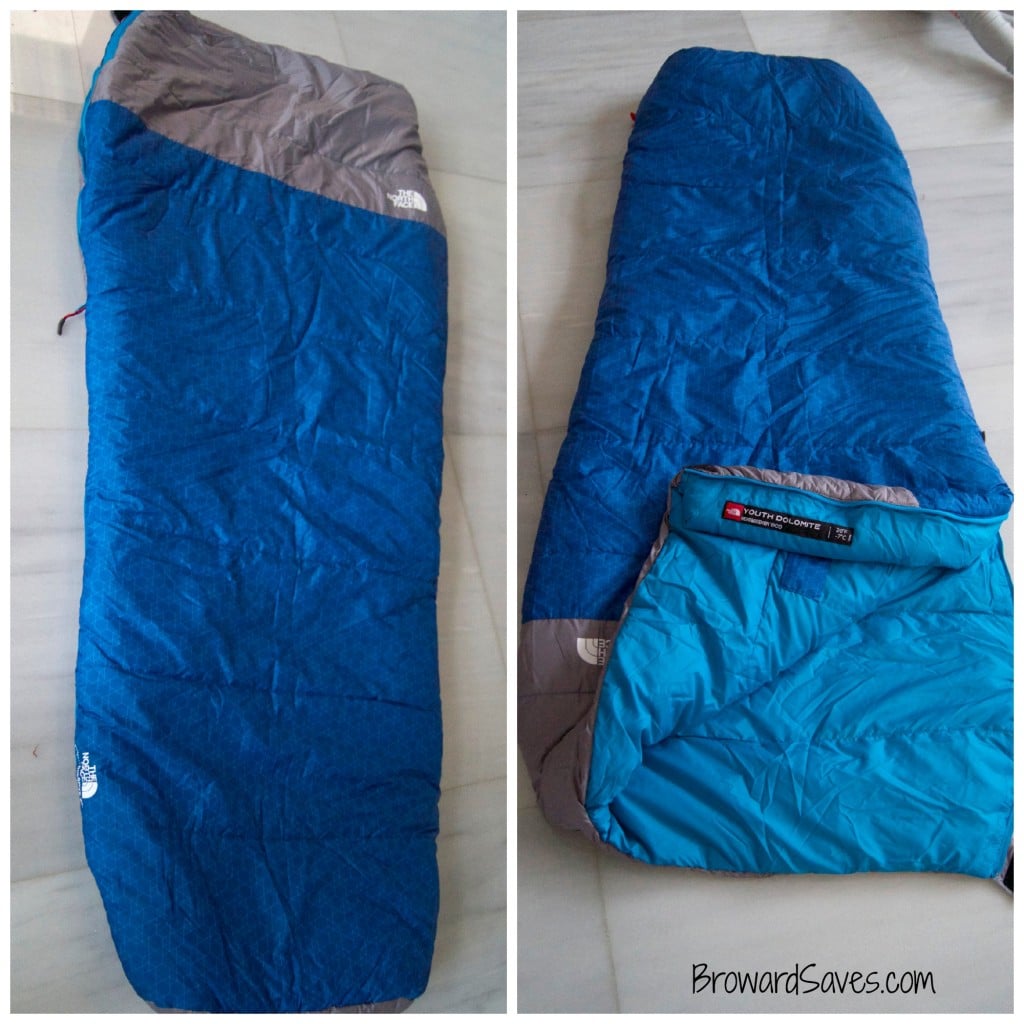 I've never seen this shape before. The interior has Heatseeker Insulation technology and it can withstand temperatures under 20 degrees to keep all your body warm from head to toe. The North Face's Sleeping Bag also has a small pocket for your cell phone. They definitely have thought of everything.
In conclusion, The North Face Camping Gear is made of excellent quality and durable material. These are the kinds of things you only need to buy once and it will last you a lifetime. All the gear you see above is made to withstand the harshest of weathers conditions and I highly recommend it. It's so great to see how they designed everything down to the very last detail. If you're serious about camping only get the best because bad weather can happen and you have to be prepared, specially if you have kids. I can trust that my tent will keep me protected and dry during a storm or well ventilated during those hot and humid summer nights.