This amazing strawberry Charlotte Royale cake is easy, delicious and beautiful. Jelly roll sponge cake slices are filled with Berry Bavarian Cream in a cute dome shape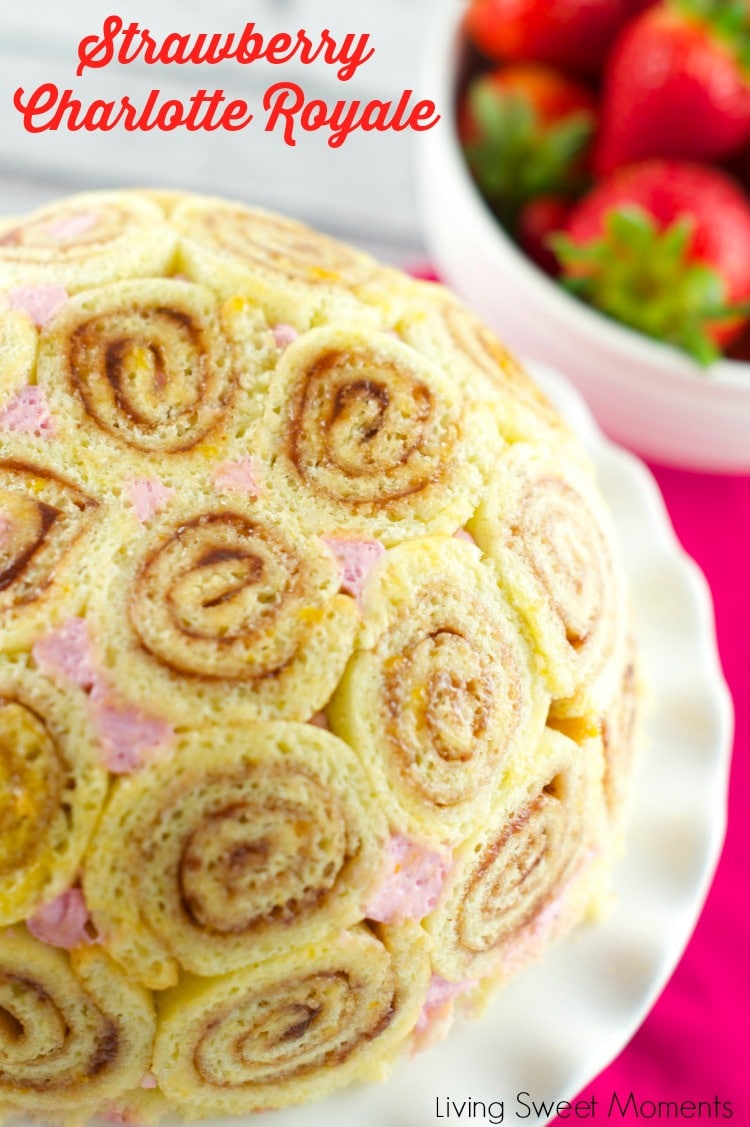 Strawberry Charlotte Royale Cake
Oh baby, I hope you're hungry because this Strawberry Charlotte Royale Cake cake is out of this world. Imagine a jelly roll with strawberry preserves, sliced and then filled with creamy Strawberry Bavarian cream.
Doesn't that sound like the perfect summer dessert?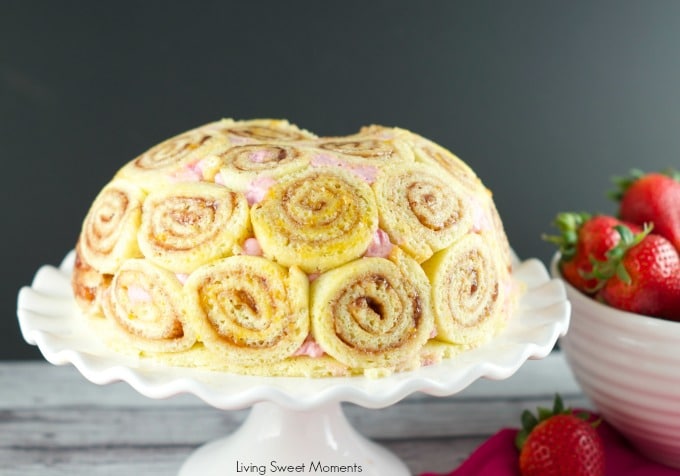 This dessert is not heavy or super sweet. It's absolutely perfect and well balanced. The inside is made with real strawberries with a creamy, yet airy texture that compliments the sponge cake with the tangy jam inside.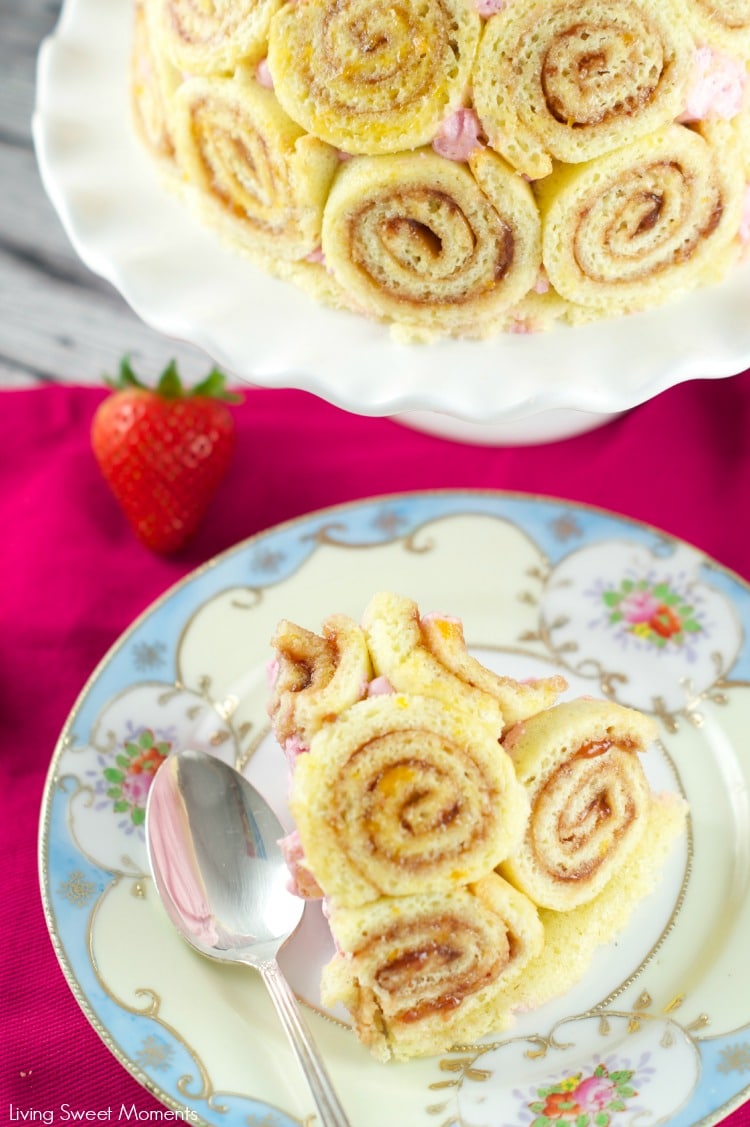 You gotta hand it to the french, they are geniuses when it comes to baking. Their classic cakes are the perfect balance of flavor and texture.
Granted, some of them take days and to make, and many need a visual diagram on their cookbooks on how to assemble them. BUT, I chose to show you this Strawberry Charlotte Royale Cake because it's stunning and not so hard to make.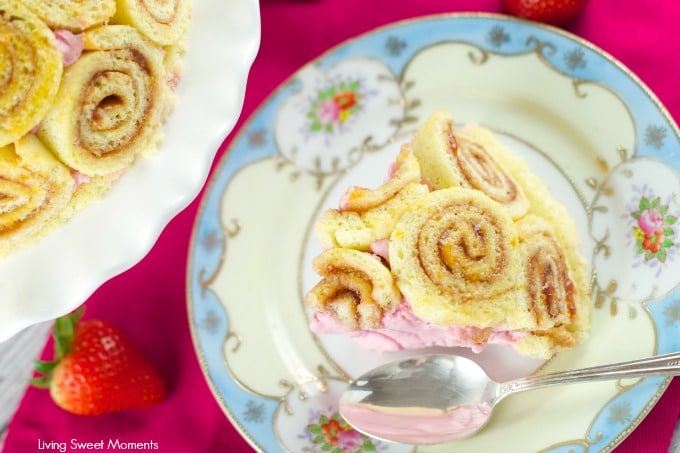 Imagine making this cake for a dinner or get together? Friends and family will be wowed. Here's step by step photos on how to make it: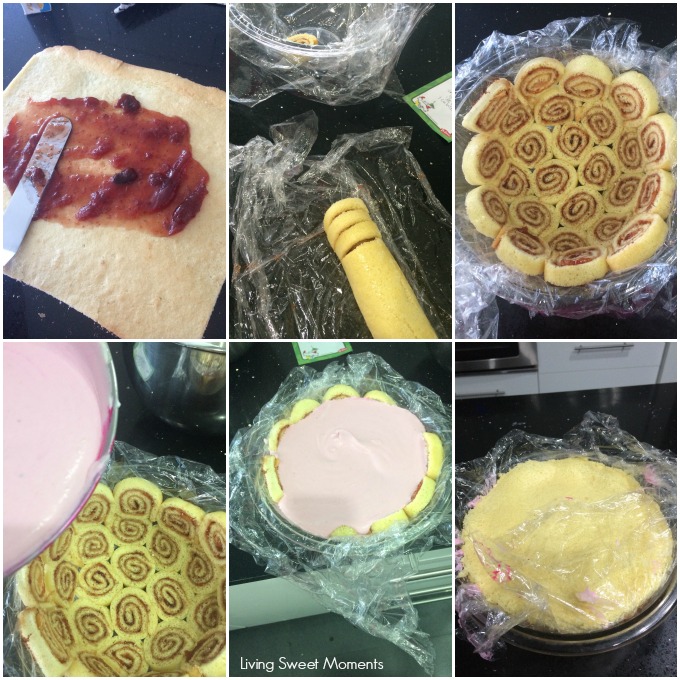 I didn't use a special mold to get the dome shape. I just used a medium mixing bowl I had lying around in my kitchen.
For the process: First I made a regular jelly roll sponge cake. You can see the step by step process in this Dulce de Leche Roll  last year.  I filled it up with strawberry jam and rolled up in a log shape.
Then I cut into thin slices and arranged them tightly inside a regular mixing bowl (for the dome shape). Then I poured in the strawberry Bavarian cream and covered it with a sponge bake top. Then I refrigerated the cake for a few hours until set.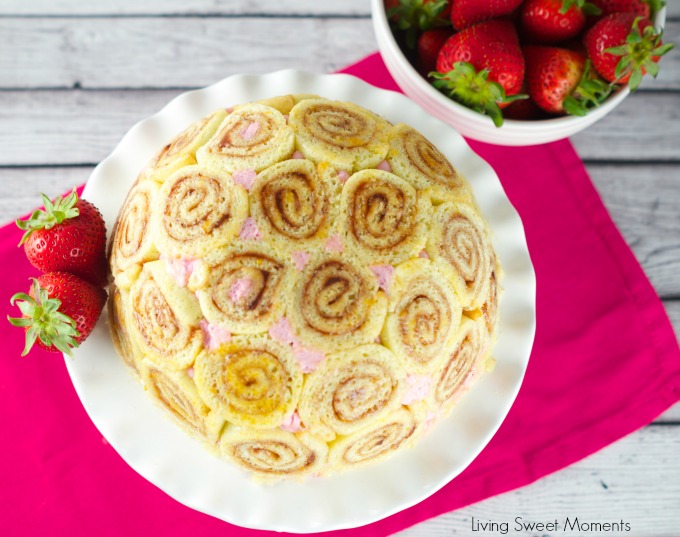 I hope you can try this delicious Strawberry Charlotte Royale Cake at home. If you do, please upload a pic on Instagram and tag me @Livingsweetmoments or use the hashtag #LivingSweet. I promise to repost it.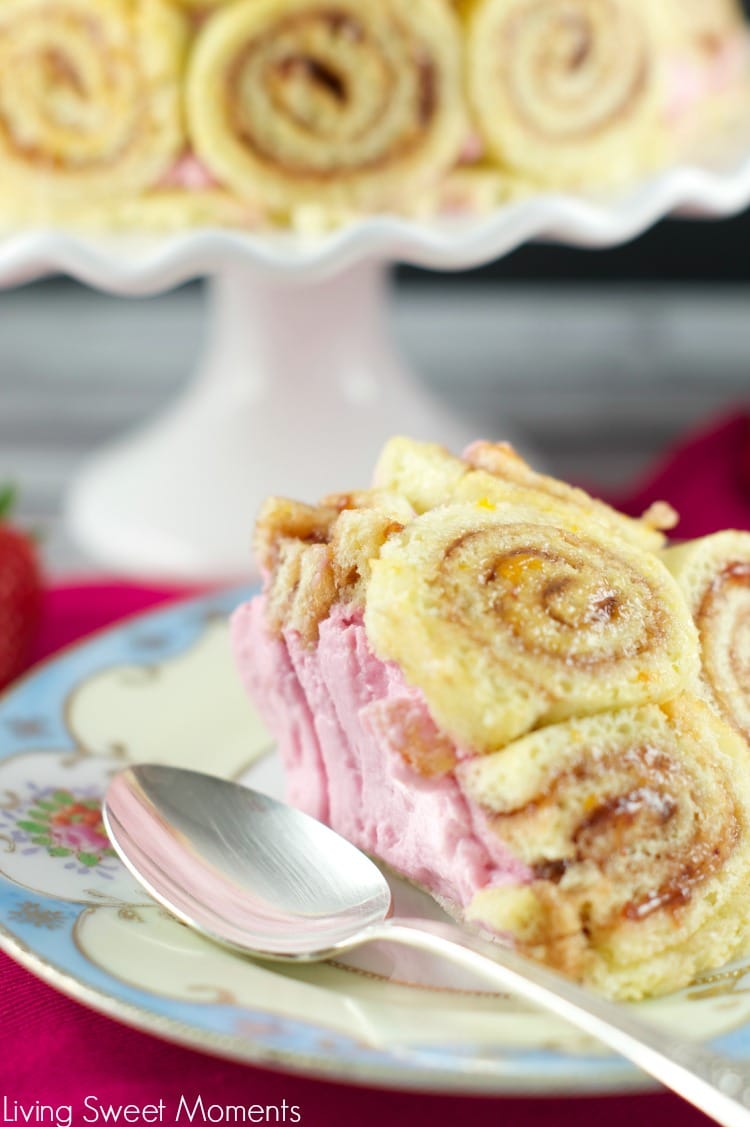 Strawberry Charlotte Royale Cake
This amazing strawberry Charlotte Royale cake is easy, delicious and beautiful. Jelly roll sponge cake slices are filled with Berry Bavarian Cream in a cute dome shape
Keyword:
french cakes, french recipes
Ingredients
For Jelly Roll Cake
6

Eggs

separated

6

Tablespoons

Flour

3

Tablespoons

Sugar

3/4

Cup

Strawberry Preserves

1

drop

red food coloring

optional
For Strawberry Bavarian Cream
1/2

oz

Gelatin

1/2 Envelope

1/3

cup

Water

3

Egg Yolks

1/4

Cup

Sugar

1/2

Cup

Milk

4

oz

Strawberries

1

Cup

Heavy Cream
Instructions
For Jelly Roll Cake
Preheat oven to 325 Degrees Fahrenheit

Line 2 sheet pans with parchment paper or silicone mats

In a mixer, mix the egg yolks and sugar until pale in color and mixture becomes thicker. About 3-4 minutes

Meanwhile, whip the egg whites until stiff peaks form

Using a spatula, fold in the whipped egg whites into the egg yolk mixture in 3 installments. Make sure you do not deflate the egg whites

Fold in the flour, one tablespoon at a time until combined

Place 3/4 of the mixture into one sheet pan. Spread it out into an even thin layer

Place the other 1/4 of the mixture into the second sheet pan (this will be the bottom of the cake). Spread this mixture until it covers about the size of the bottom of the cake

Bake for 8-10 minutes or until cooked. Do not overcook

Remove from oven and place a clean kitchen towel on top until the cake cools. This will allow the cake to sweat making it easy to roll

When cake is completely cool. Spread the strawberry jam on the first sheet pan (not on the second one). Carefully roll it tightly into a log

Wrap the roll with plastic paper and refrigerate for a couple of hours (for easy cutting)
For Strawberry Bavarian Cream
In a small bowl, place the gelatin and water. Mix and set aside

In another bowl, mix in the egg yolks and sugar until the mixture turns pale and become thicker. About 3-4 minutes

Warm the milk in the microwave (milk should not be boiling hot)

Slowly mix the in the milk into the yolks

Place this mixture on top of a double boiler with simmering water underneath. Use a wooden spoon to stir until the yolk and milk mixture becomes thicker. About 4-5 minutes

Meanwhile puree the strawberries using a blender or a food processor. Strain if desired

Remove the milk mixture from the heat. Add the bloomed gelatin and strawberries. Mix well with a whisk

Place this mixture into the freezer for 10-15 minutes to cool but not set

In a mixer, whip the heavy cream until stiff peaks form

Fold the heavy cream into the strawberry cream in 2-3 installments being careful not to deflate the cream. Add the red food coloring if desired
Assembly
Use a medium mixing bowl and line it with plastic paper leaving an overlapping border of paper

Measure the exact bottom size using the 2nd sponge cake and cut to size

Cut the jelly roll into thin slices and place them neatly inside the bowl making sure there are virtually no gaps between them

Pour in the bavarian cream

Place the top of the cake

Cover with plastic paper

Refrigerate for a minimum of 4 hours or until the cake is set

Turn the set cake into a plate to unmold

If desired, brush the surface with melted apricot jam to give it a little shine

Enjoy!
Nutrition Facts
Strawberry Charlotte Royale Cake
Amount Per Serving (1 slice)
Calories 228
Calories from Fat 99
% Daily Value*
Fat 11g17%
Cholesterol 158mg53%
Sodium 55mg2%
Potassium 98mg3%
Carbohydrates 26g9%
Protein 5g10%
Vitamin A 490IU10%
Vitamin C 7.5mg9%
Calcium 48mg5%
Iron 0.8mg4%
* Percent Daily Values are based on a 2000 calorie diet.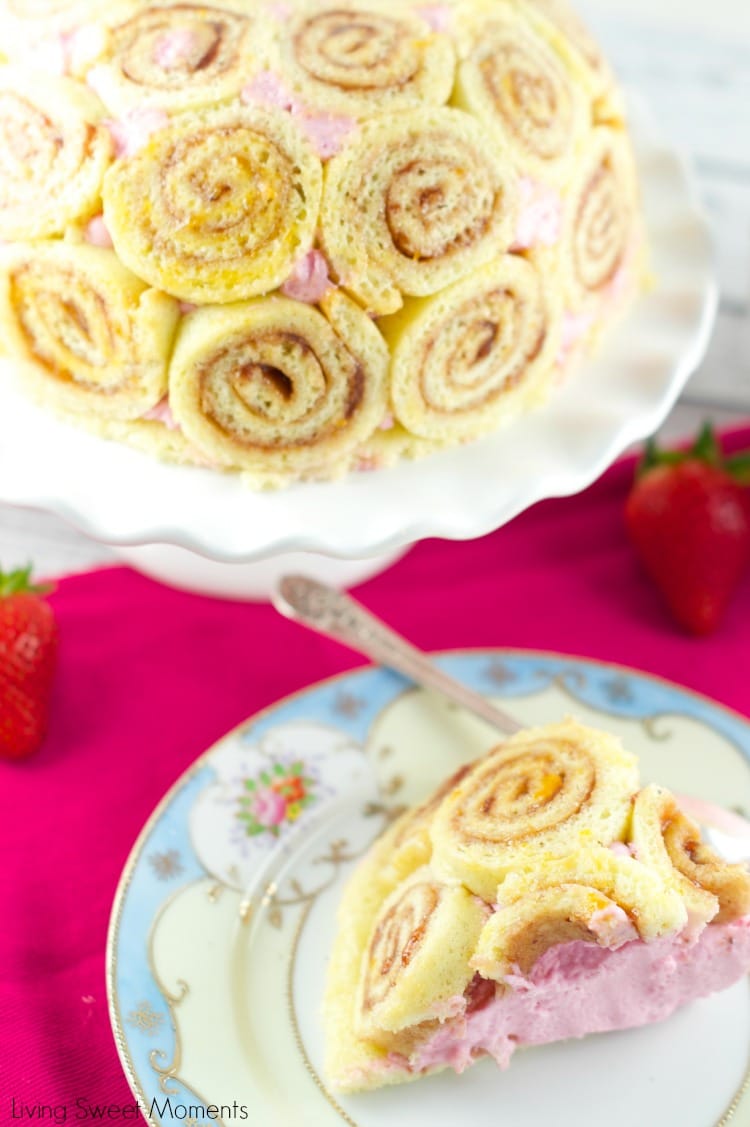 You may also like: