This decadent Strawberry Flan Jello Cake Recipe is a 3 in 1, a cake and flan encased in a refreshing jello shell. A showstopper dessert for any occasion. 
Thank you, Capital One for sponsoring this dreamy post. To learn more about Capital One, visit www.capitalone.com/cafes OR  www.capitalone.com/bankingreimagined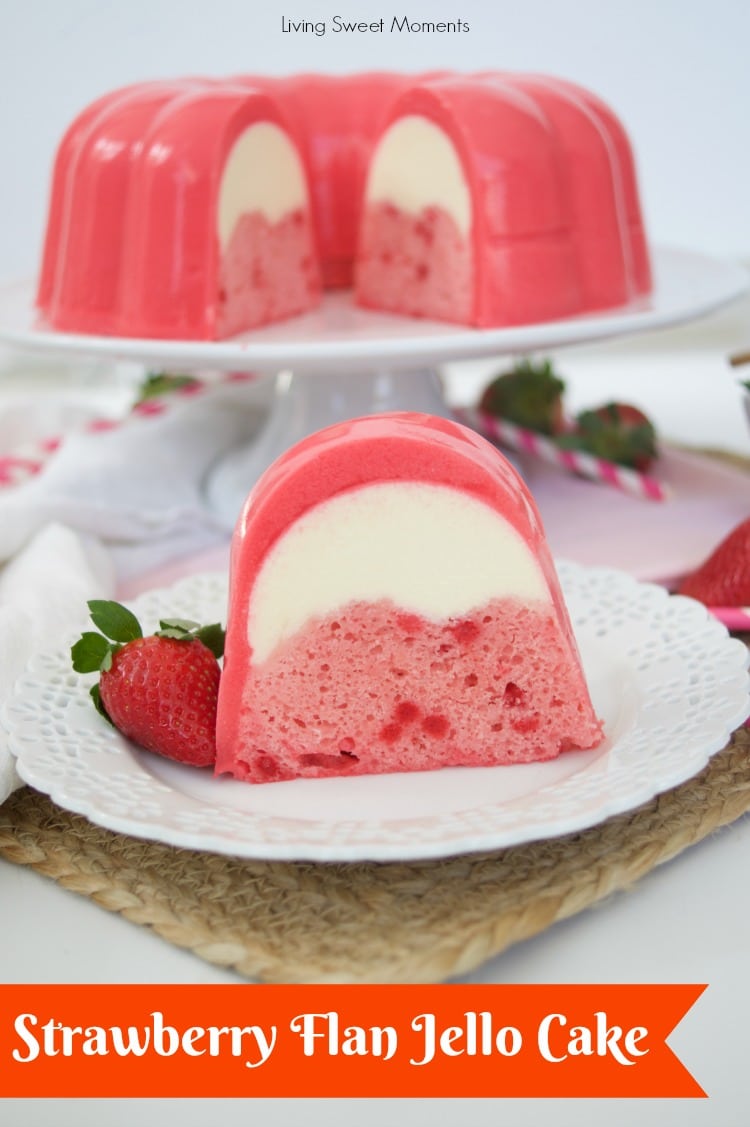 Strawberry Flan Jello Cake Recipe + Let's Talk Money
How cool is this cake? In one bite you will get 3 different cakes, 3 different textures, and 3 different flavors!
Just because this 3-1 dessert looks amazing, it doesn't mean that is super difficult to make or that it requires expertise skills as a baker. On the contrary, this cake is SOOO easy.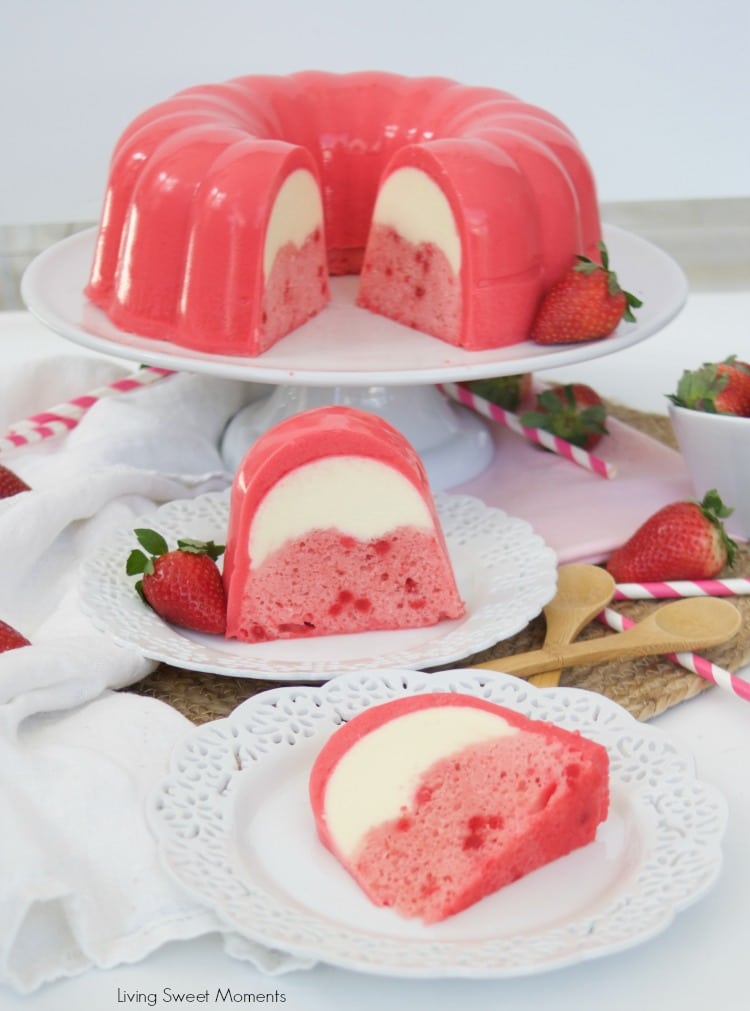 By the way, learn this technique and you can make it in any flavor you may like: carrot, chocolate, vanilla, lemon, cherry, etc.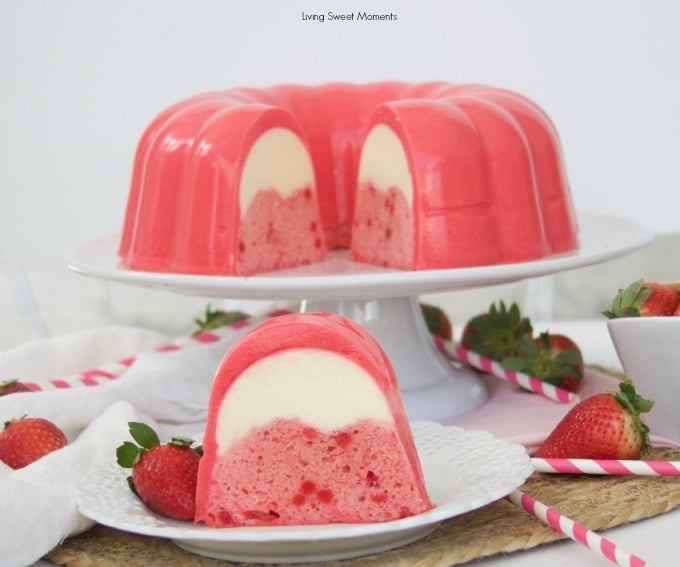 Let me give you a little hint: this is basically a cross between my Chocoflan and my Magic Strawberry Jello Cake. During the baking, the flan and the strawberry layers interchange leaving the strawberry cake on the bottom.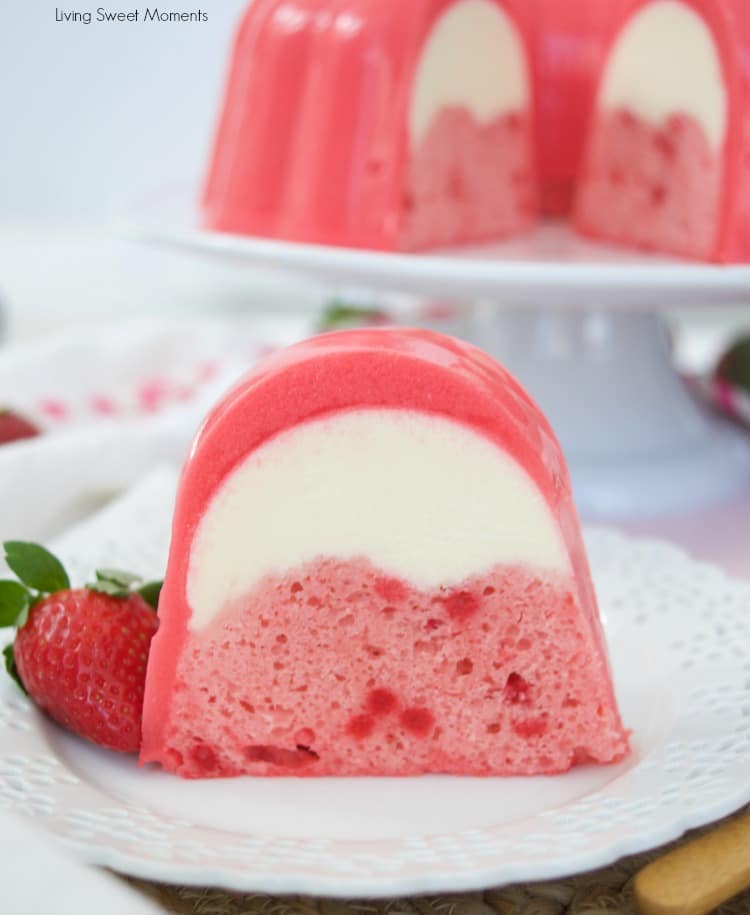 Just like there's more that meets the eye with this strawberry cake, the same goes to say with the new way of banking from Capital One.
Everybody has goals, and in 100% of those times, these goals involve money. Whether it's taking a trip at the end of the year, buying a new home, changing jobs, getting married, etc.
A lot of us, myself included, have a hard time studying our income/expenses and finding a way to achieve those goals without giving up life's pleasures.
Going into a stuffy bank and discussing my financial situation sounds daunting, and honestly, the times I've been there, the experience has been very impersonal.
Last weekend I attended the Capital One Baking Reimagined Tour in Miami and learned all about Capital One Cafés and why Capital One is completely redesigning banking experience to get people confident with their finances.
Just like this Strawberry Flan Jello Cake Recipe, the Capital One Cafés are a 3 in 1 place. Meaning, it's a cafe, a place to work on your essay with free wi-fi and finally, a bank.
I love the fact that Capital One is empowering people to feel confident about their relationship with their money.
Sounds like a dream doesn't it?
Get this, Capital One Cafés also offer free money coaching so we can manage our wealth based on our core values.
During the Capital One Baking Reimagined Tour in Miami, I used interactive screens to answer basic questions about my values in order to determine the best way to tackle my finances. Not only is this approach more personalized, it is also more humanized.
Finally, I hope you can try this delicious Strawberry Flan Jello Cake Recipe at home. If you do, please upload a pic on Instagram and tag me @Livingsweetmoments or use the hashtag #LivingSweet. I promise to repost it.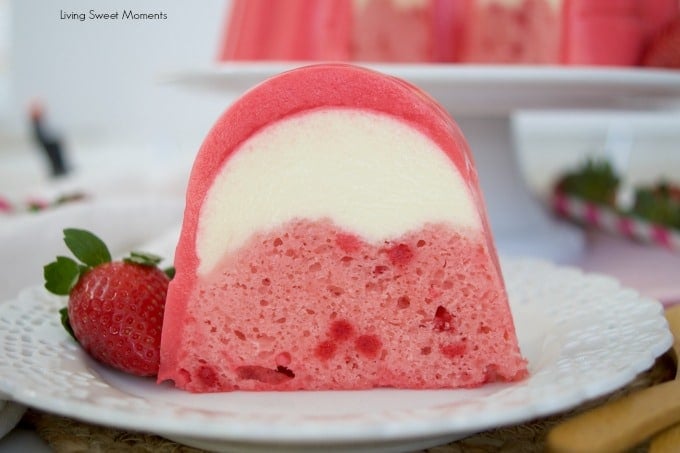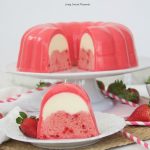 Strawberry Flan Jello Cake Recipe
This decadent strawberry Flan Jello Cake Recipe is a 3 in 1. A Cake and flan encased in a refreshing jello shell. A showstopper dessert for any occasion.
Ingredients
Strawberry Cake Layer
1

Strawberry Cake Mix*

1

cup

Water

1/3

cup

Vegetable Oil

3

eggs
For Flan Layer
4

Eggs

8

oz

Cream Cheese

softened

1

can

Condensed Milk

1 1/4

cups

Milk

1

teaspoon

Pure Vanilla Extract
For Jello Layer
6 oz

box

Strawberry Jello (the big box)

4

cups

Milk
Instructions
Preheat oven to 350 degrees Fahrenheit

Follow the instructions on the box to prepare the Strawberry Cake. Pour batter into the bundt pan. Shake it to distribute the batter evenly

For flan: place the milk, eggs, condensed milk, vanilla, and cream cheese in a blender. Blend until creamy

Pour the flan mixture on top of the strawberry mixture. Use a circular motion to distribute the flan batter evenly. During the baking process, the layers interchange so the flan goes to the bottom and the strawberry cake rises to the top

Cover the bundt pan with aluminum foil

Place bundt pan inside a larger pan filled with 2 inches of boiling water. Bake for 50-60 minutes or until a toothpick inserted in the middle of the cake comes out clean


Remove from the oven and let it cool for 30 minutes on the counter before placing in the fridge to cool overnight

Unmold the cake onto a plate and place in the fridge while making the jello layer

Clean the bundt pan and lightly spray it with nonstick spray

For Jello layer, cook 2 cups of milk with the jello on medium heat while whisking. When the milk boils, keep whisking for 2-3 minutes or until the jello has completely dissolved

Strain into a bowl and add the remaining 2 cups and milk and stir. Let it cool slightly

Flip back the cake back in the bundt pan. Carefully add a piping bag between the mold and the cake. Add the jello mixture in the piping bag until the cake starts floating in the jello. Leave some liquid jello for the top

Place cake back in the fridge and top with remaining jello

Refrigerate for 2 hours or until jello has set

To unmold, use a hair dryer for a few seconds on the sides to loosen the jello
Recipe Notes
*I followed the ingredients and instructions on the box
Nutrition Facts
Strawberry Flan Jello Cake Recipe
Amount Per Serving (1 slice)
Calories 357
Calories from Fat 162
% Daily Value*
Fat 18g28%
Cholesterol 103mg34%
Sodium 321mg14%
Potassium 243mg7%
Carbohydrates 40g13%
Protein 8g16%
Vitamin A 490IU10%
Vitamin C 0.7mg1%
Calcium 236mg24%
Iron 0.9mg5%
* Percent Daily Values are based on a 2000 calorie diet.
You may also like: