Chocoflan Cake Recipe – this easy latin cake is moist and delicious. A combination of flan and chocolate cake with a drizzle of caramel sauce. Perfect dessert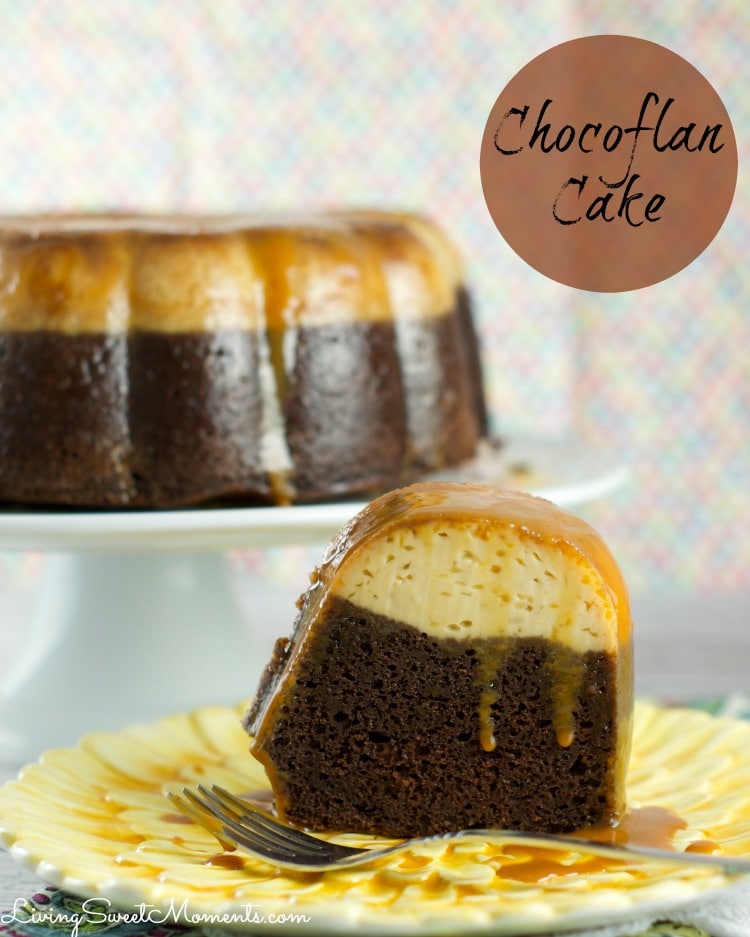 Chocoflan Cake
 This easy  latin Chocoflan cake is moist and delicious. A combination of flan and chocolate cake with a drizzle of caramel sauce. The perfect dessert to serve for any occasion. I really love this hybrid idea and believe it or not is so easy to make and will definitely wow your guests.
I grew up eating flan. My mom used to make it when guests came over. It's creamy, sweet and very soft. I don't know anybody who wouldn't even steal a spoonful. Flan is so versatile and it's easy to customize it.
For instance, around the Holidays I make it with Eggnog. Other times I've made it with Dulce de Leche.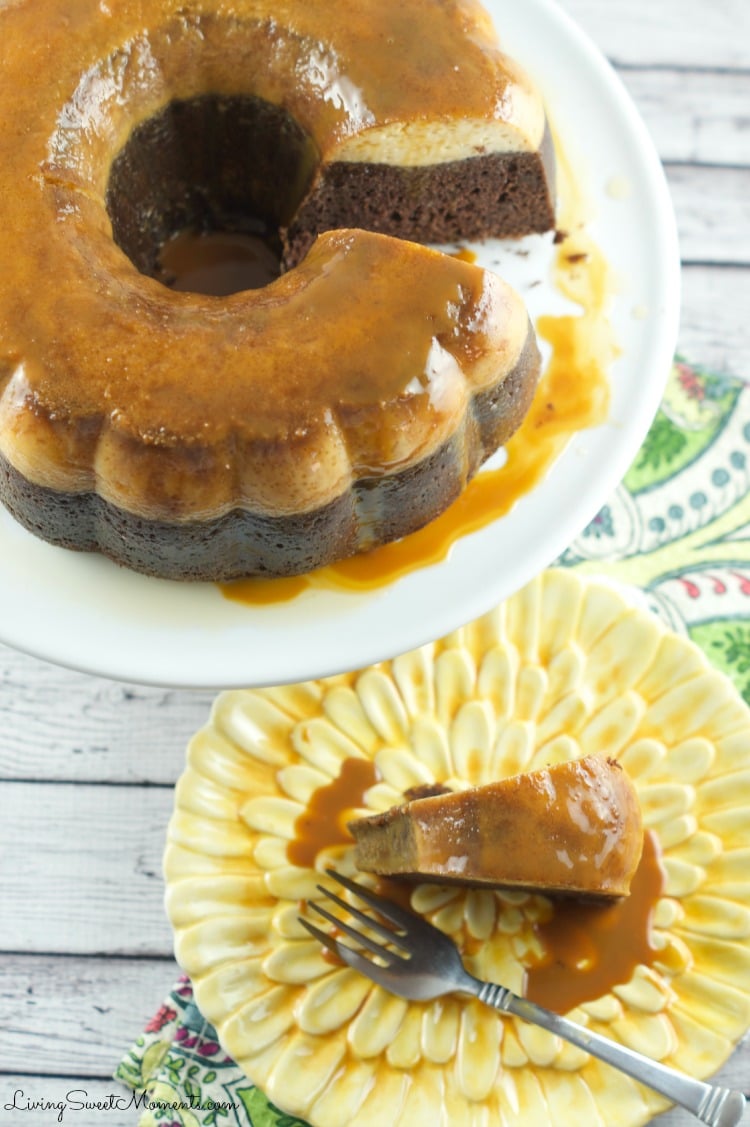 Now chocolate cake does not need any type of introduction. In Spanish we say "It's a shot to the floor" meaning it's a sure hit. Who doesn't love a good piece of chocolate cake? If you don't, substitute with Vanilla, Spice, Carrot or whatever your heart desires.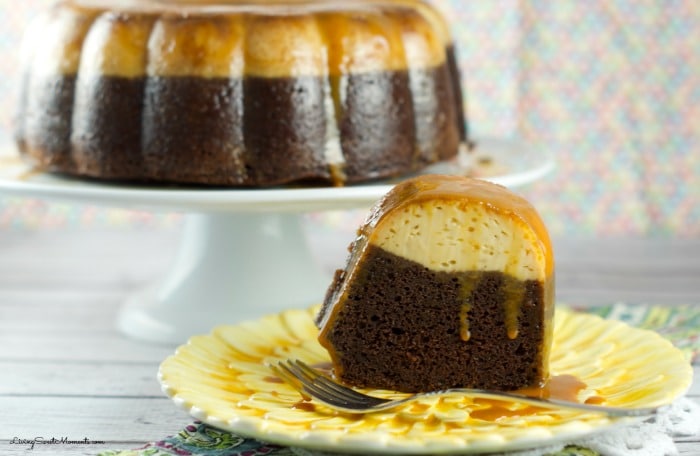 The Chocoflan Cake works because both flavors and textures compliment each other beautifully. The flan gives the moisture and softness to the cake while the Chocolate gives it structure and lot's of flavor. The Dulce de Leche on top just takes it to the next level. To me, it's a showstopper and something different and exotic.
Some people call this Chocoflan Cake the Impossible Cake since something strange happens to the cooking process: the layers switch over during baking.
We start out first with the caramel, we add the chocolate cake and finally we finish off with the flan. When the cake is in the oven, the chocolate cake rises over the flan and ends up at the bottom. Kinda cool right?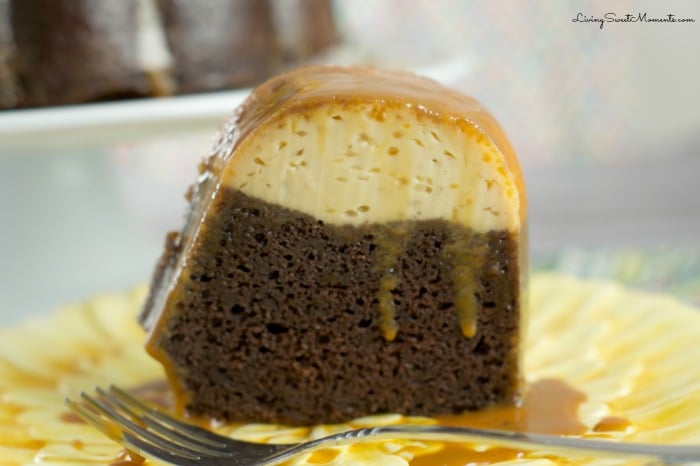 Making Chocoflan Cake is SUPER EASY and doesn't require a huge list of ingredients. I made a video tutorial for you below in case you like to see the process. It's my first cooking video so be easy on me 🙂 . I promise to get better and produce more cooking videos in the future.
I hope you can make this delicious ChocoFlan Cake at home. If you do, please tag me on Instagram @livingsweetmoments and/or use the hashtag #LivingSweet – I promise to Repost it.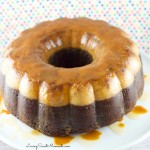 ChocoFlan Recipe (Video Tutorial)
Chocoflan Cake - this easy latin cake is moist and delicious. A combination of flan and chocolate cake with a drizzle of caramel sauce. Perfect dessert.
Ingredients
8

Eggs

12

oz

Can of Evaporated Milk

14

oz

Can of Condensed Milk

1

Box of Chocolate Cake Mix

1

Stick of butter

melted

1 1/4

Cups

Milk

1

Cup

Sugar

1

Teaspoon

Water

Nonstick Spray

1/4

Cup

Dulce De Leche
Instructions
Preheat Oven to 350 Degrees Fahrenheit
To make Caramel
Spray the inside of a bundt pan with nonstick spray

In a saucepan, add the sugar and water. Cook on medium heat until the sugar dissolves and develops an amber caramel color. Stir throughout the process

Pour the caramel on the inside of the bundt pan. Swirl the pan all around so the caramel distributes evenly
To Make chocolate cake
Place 3 eggs, melted butter, milk and cake mix in a bowl. Mix with a whisk until all the ingredients come together and create a cake batter

Pour the cake in the bundt pan over the caramel in a circular motion so the ingredients distribute evenly
For Flan
Crack 5 eggs and place them on the blender, add the condensed milk and evaporated milk inside the blender. Turn the machine on and let all the ingredients combine

Pour the flan on top of the cake mixture in a circular motion all over the bundt pan

Cover the top of the bundt pan with foil

Place bundt pan inside a larger pan filled with 2 inches of boiling water

Bake in the oven for approximately 1 hour. After an hour insert a toothpick in the middle of the cake. Cake is done when toothpick comes out clean

Remove from the oven and let it cool in a baking rack for 1 hour

Place in the fridge for a minimum of 4 hours

Invert bundt pan on a cake plate and jiggle it. Cake should come off easily

Place Dulce de Leche in the microwave and heat it up for about 30 seconds to loosen it

Drizzle it all over the cake

Enjoy!
Nutrition Facts
ChocoFlan Recipe (Video Tutorial)
Amount Per Serving
Calories 421
Calories from Fat 126
% Daily Value*
Fat 14g22%
Cholesterol 131mg44%
Sodium 422mg18%
Potassium 401mg11%
Carbohydrates 65g22%
Protein 11g22%
Vitamin A 355IU7%
Vitamin C 1.4mg2%
Calcium 267mg27%
Iron 2.3mg13%
* Percent Daily Values are based on a 2000 calorie diet.
LOVE CAKE??? Me too! Head on over HERE for the Best Cake Recipes