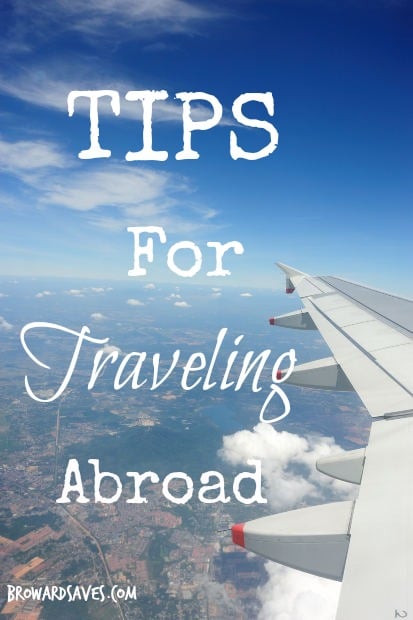 So, finally you made the decision to get on an airplane and explore a new country. Going to new places can be exciting. You are going to learn a new culture, history, food, shopping and much more. Here's a few tips for Traveling Abroad.
– Do a Little Research: before you leave for your trip, go online and research the most fascinating places to visit, museums, restaurants and their central locations.
– Make an Itinerary: It doesn't have to be super strict. Simply check out a map of the town or city and group interesting places by location. That way, when you get there it will be easier to organize your activities for the day.
– Learn the tipping etiquette of the city/country you are visiting. Did you know that in Europe you don't tip after a meal?. In other places like Asia and South America it is customary to tip around 10-12% instead of 15%-20% like the US.
– Get an Electricity Converter/Adapter to charge your electronics. If you are planning to take your phone, tablet or laptop to Europe or Asia don't forget to take a Converter. 
– Use Public Transportation. Forget about taxis. A lot of cities offer subways, buses and other kinds of public transportation. It is a great way to save money and also get to know the city. Plus you will have a better chance to interact with the locals.
– Avoid American Chain Restaurants: Come on!. You are abroad in another country. Get to know their food and the culture. What's the point of traveling abroad and eating the same food you eat at home?. I am sure you can live without burgers, hot dogs and mocha lattes for a few days. 
– Shop Off The Beaten Path: Tourist sites are money traps. You will pay triple the amount for souvenirs, water and food. If you use your map and shop where the locals shop you will be surprised with the variety and the prices you will pay for the same goods.
-Walk Until Your Feet Give Out: Want to get to know a new city?. Walk it. Only by walking you will discover new and exciting things. Cross their bridges, get in their little alleys (if it's a safe country). When my husband and I were in Paris, we were walking and started hearing music coming from a block away. We ran to see what the noise was all about and saw that right on the Place La Republique was a music festival. There were stages with different kinds of music including salsa, samba and rock. We stayed there, danced and had a blast. If we weren't walking around we would've never discovered this festival.
-Wear Comfortable Shoes. This tip is related to the previous one. Walking in Europe or Asia you will encounter stone paved streets, lot's of stairs and uphills. No flip flops or sandals will last long. So invest in some good walking shoes. This little tip will make a BIG difference. I tried about every pair of shoes known to man and finally settled on tennis shoes. My feet swell up but at least I get less blisters on my toes. 
– Do Not Miss The Local Markets. Locals buy their food in the local stores. A great way to get to know a new culture is through food. You will be amazed with new tastes, spices and aromas.
-Enjoy Every Second Of Your Trip Time goes by so fast and before you know it, you will be flying back home. Don't forget to take lot's of pictures and videos. 
– Extend you trip.. Back Home. A few weeks after you get home, try to recreate a memorable meal you had on your trip. It doesn't have to be the exact recipe!. It will make a great conversation starter and a great opportunity to reminisce about your trip.