This amazing Korean Cauliflower Bibimbap recipe is delicious, low-carb, keto friendly, and easy to make. The perfect quick vegetarian weeknight dinner idea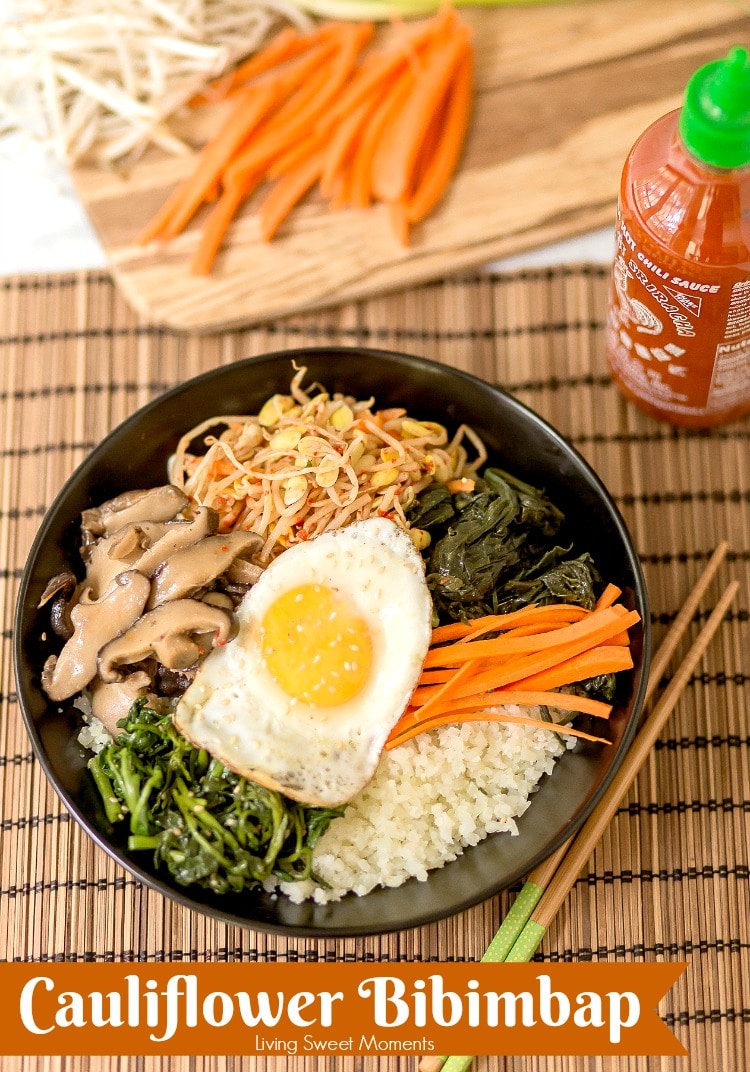 Low-Carb Cauliflower Bibimbap
Have you ever tried Korean Bibimbap before? It's a delicious rice bowl served with lots of blanched veggies and a fried egg on top. It's delicious, filling, and so comforting.
The downside? It's made with rice, and rice is a no-no when it comes to low-carb, keto, or Paleo diets.
Luckily, there is a great solution that will satisfy your starchy craving without breaking your diet or wasting your cheat meal day.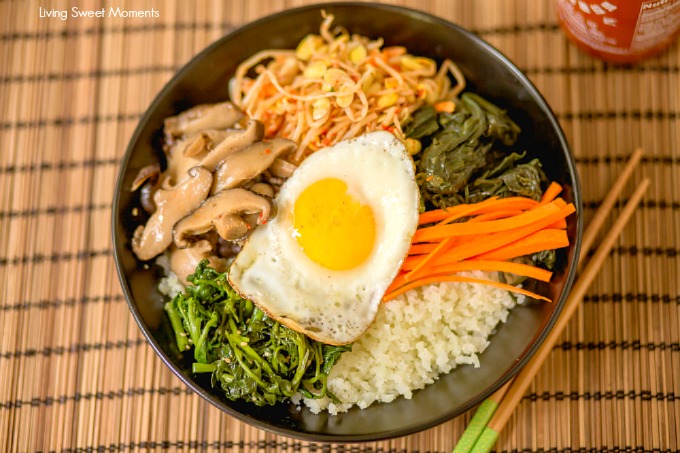 This yummy Cauliflower Bibimbap has everything you need to make your belly happy: carrots, spinach, mushrooms, kale, bean sprouts, etc. And the egg to give it some protein. Omit it for a true vegan dish.
You can also add some cooked chicken, beef, or shrimp on top. As you can see, this bowl is pretty customizable.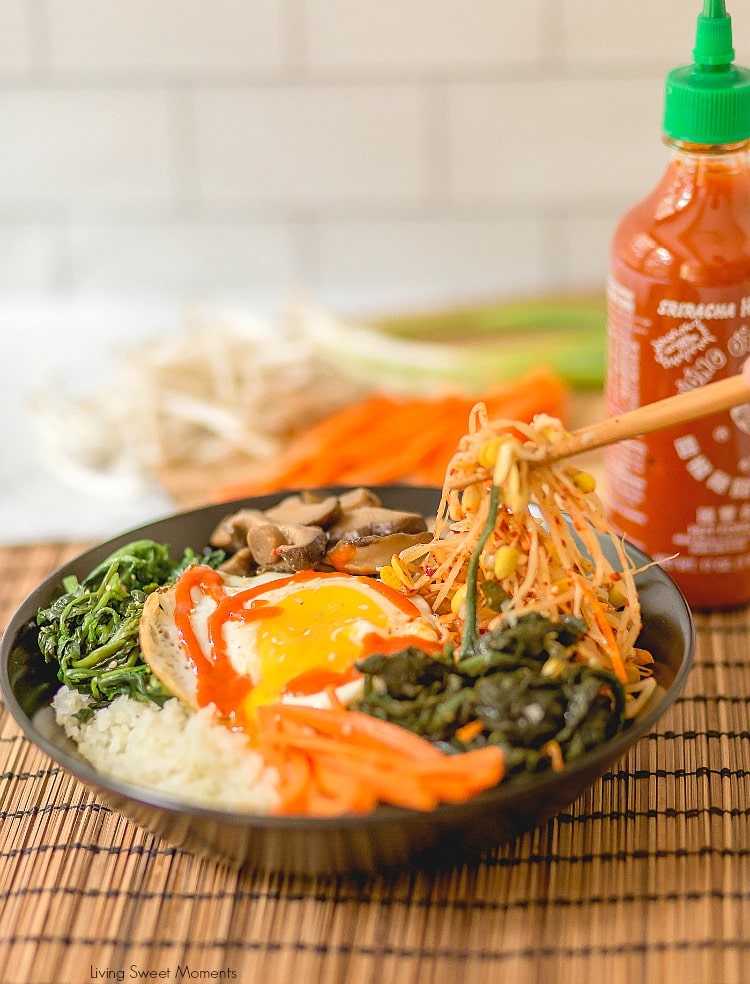 The secret to achieving a wonderful flavor is to season each component separately before adding them together in the bowl. And at the end, pour a few drops of sriracha or chili garlic sauce and it'll be perfect.
Ever since I tried bibimbap, I've been hooked on it. Korean cuisine is delicious! Their sauces, BBQs and flavor combinations are out of this world.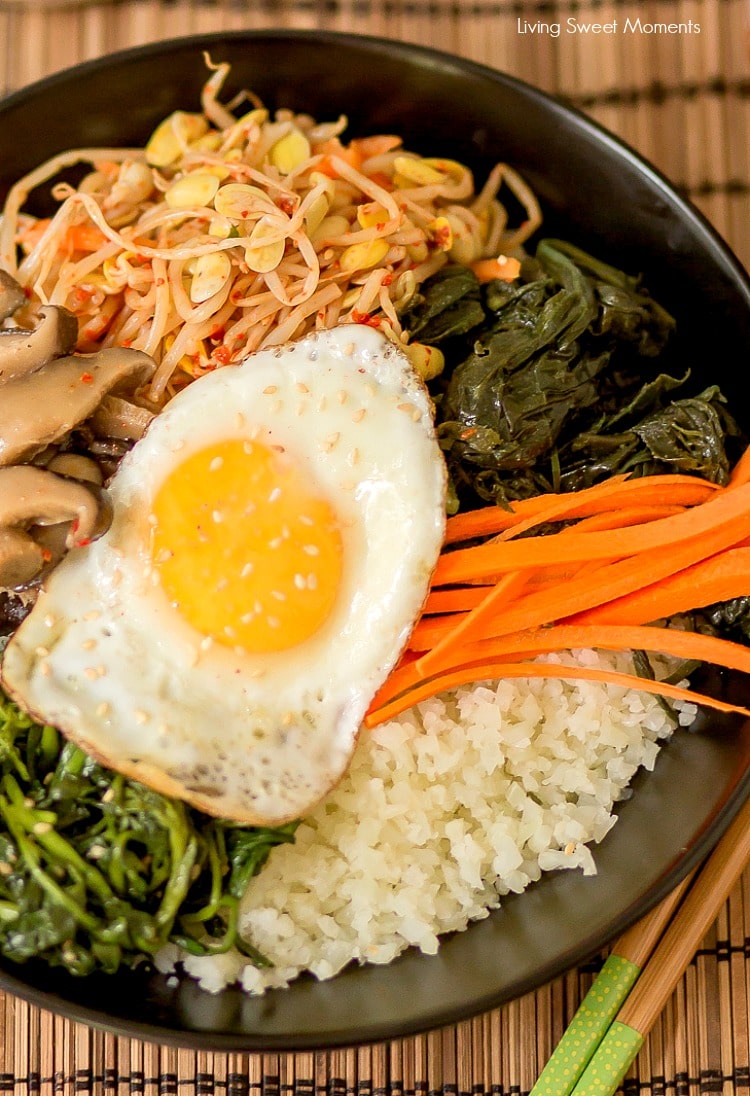 If you can recommend a good Korean restaurant here in Miami, please leave me a comment in the section below. In the meantime, I'll enjoy cooking some homemade bibimbap.
This dish is so easy to make, that the hard part is slicing the veggies! If you are pressed for time, simply buy them pre-sliced and you're good to go.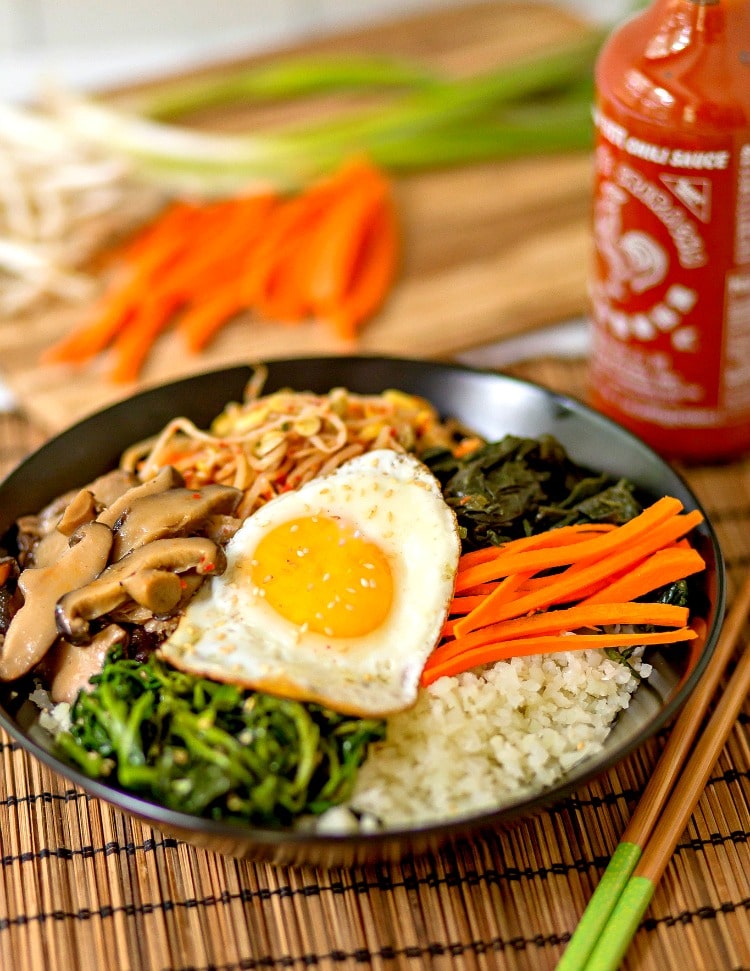 I hope you can try this delicious Cauliflower Bibimbap at home. If you do, please upload a pic on Instagram and tag me @Livingsweetmoments or use the hashtag #LivingSweet. I promise to repost it.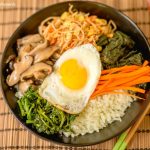 Cauliflower Bibimbap
This amazing Korean Cauliflower Bibimbap recipe is delicious, low-carb, keto friendly, and easy to make. The perfect quick vegetarian weeknight dinner idea
Ingredients
1

Cauliflower Head

medium sized

2

cups

Kale

1

Carrot

peeled and cut into matchsticks

6

oz

Shiitake Mushrooms

Sliced

1

cup

Bean Sprouts

2

cups

Fresh Baby Spinach

2

Eggs

2

tablespoons

Low Sodium Soy Sauce

or more, to taste

2

tablespoons

Sesame Oil

or more, to taste

2

tablespoons

Sriracha Sauce

to taste

Salt + Pepper

Sesame Seeds (optional)
Instructions
For Cauliflower rice: Cut into small pieces and put in food processor until it resembles grains of rice. Pour into a large bowl, cover with paper towel and microwave for 4 minutes.

Boil a saucepan with water. Add the bean sprouts and blanch them until they are a bit soft. Don't overcook.

Drain and place them in a bowl. Add 1 tbsp of sriracha sauce, 1 tsp sesame oil and a teaspoon of sesame seeds and toss with bean sprouts. Set aside.


Blanch the carrots the same way, making sure you do not overcook them.


In a medium, pan sautee the mushrooms with 1 tbsp of the sesame oil until it is soft. Add 1 tbsp of the soy sauce over the mushrooms and set aside in a dish.

Next, cook the spinach in the same pan until it is soft, making sure you add a bit of soy sauce for flavor. Set spinach aside

Repeat the same process with the Kale

In a bowl assemble with cauliflower on the bottom, followed by the veggies and top with fried egg


I would suggest adding sriracha sauce or any Korean hot pepper paste on top and maybe an extra drizzle of soy sauce.

Stir all the ingredients together and enjoy!

Recipe Notes
For paleo, substitute soy sauce for liquid aminos
For even lower in carbs omit the Kale 
Nutrition Facts
Cauliflower Bibimbap
Amount Per Serving
Calories 306
Calories from Fat 171
% Daily Value*
Fat 19g29%
Cholesterol 163mg54%
Sodium 1036mg45%
Potassium 1198mg34%
Carbohydrates 23g8%
Protein 14g28%
Vitamin A 14840IU297%
Vitamin C 133mg161%
Calcium 183mg18%
Iron 4mg22%
* Percent Daily Values are based on a 2000 calorie diet.
You may also like: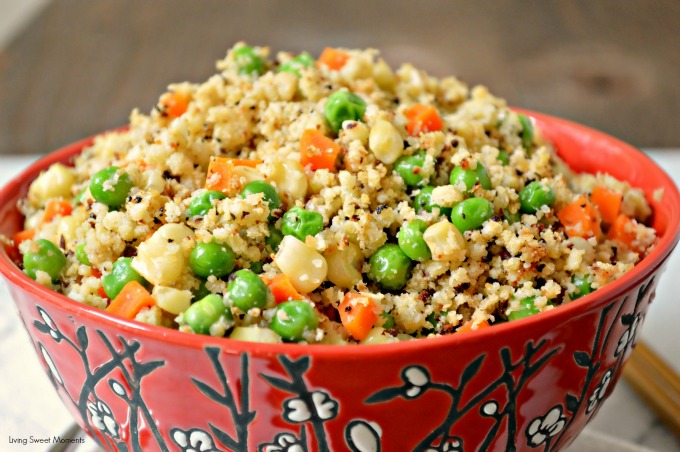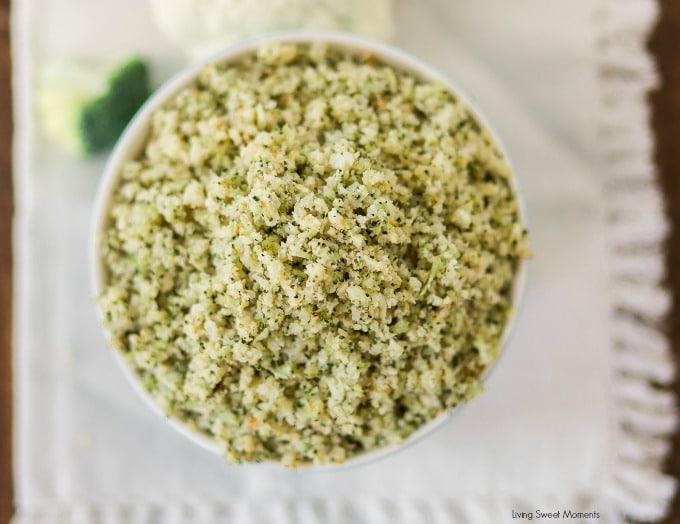 Low Carb Cauliflower Pizza Crust