Chocolate Chip Cookies in a mug – Just 45 seconds is all it takes in the microwave to make this fudgy cookie that will just melt in your mouth. The best mug recipe ever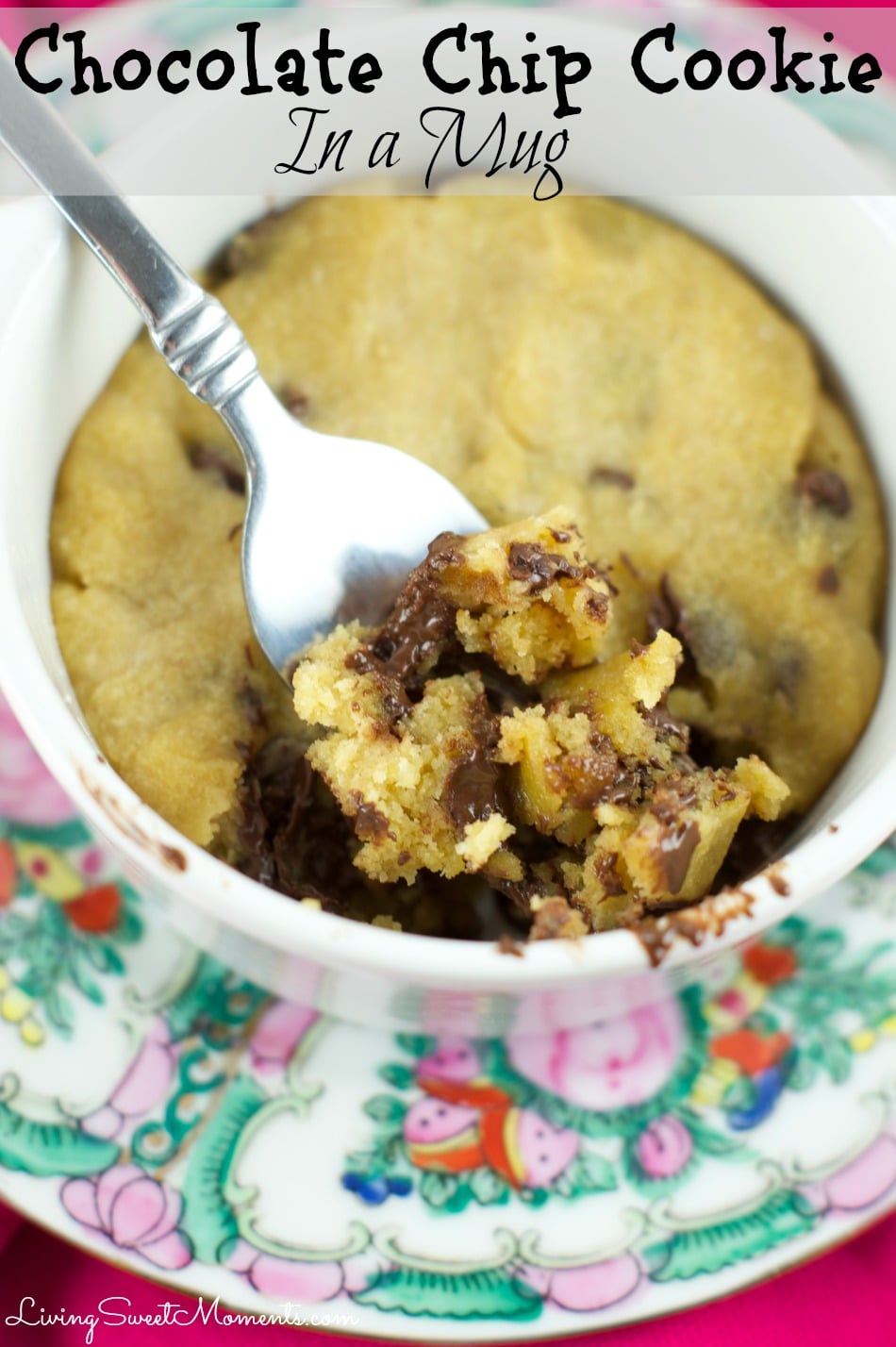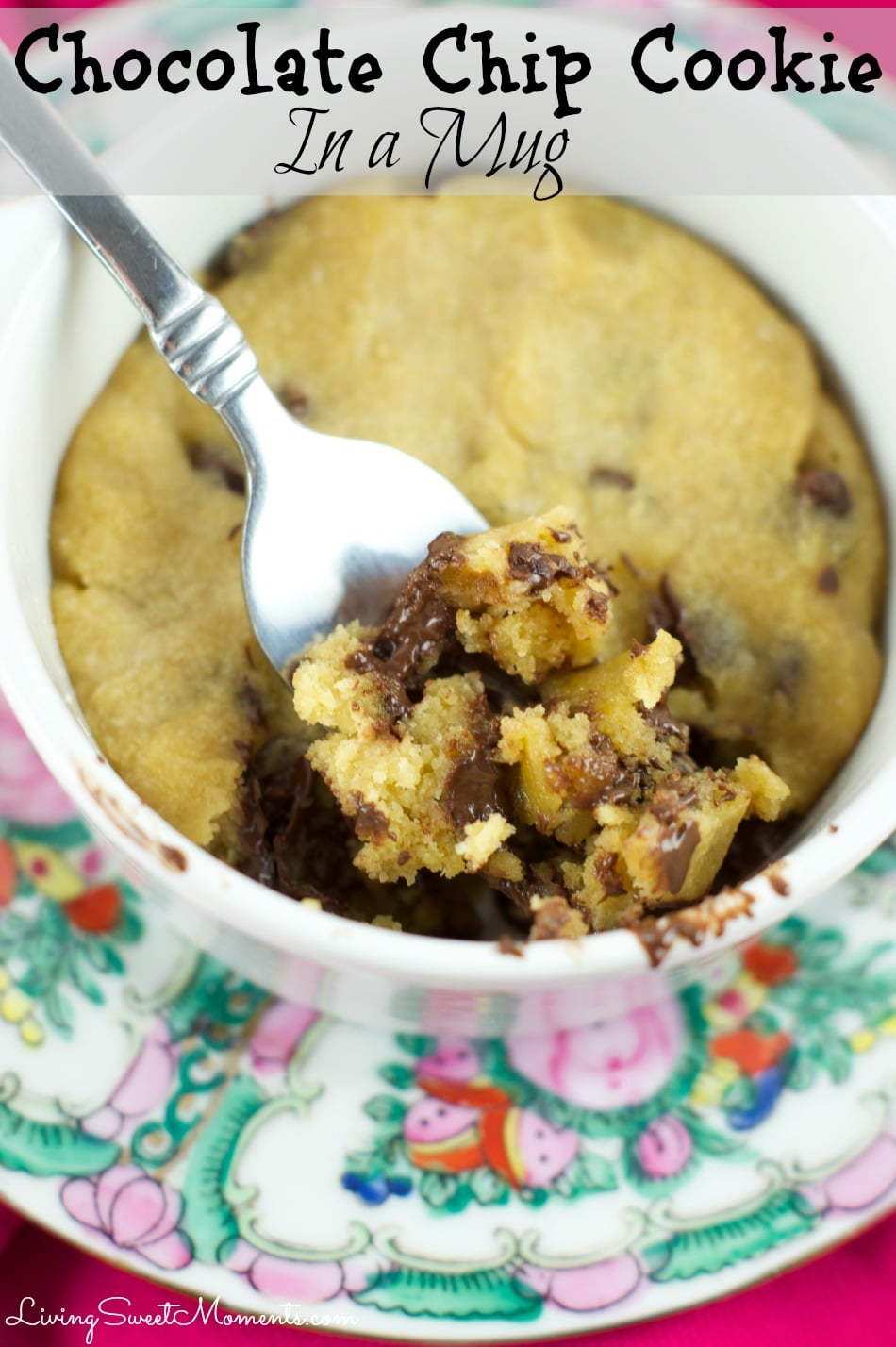 Chocolate Chip Cookies In A Mug
Oh my goodness of all the mug recipes I've tried, this has to be my favorite one of all. The texture is spot on and the flavors are amazing.
It's just like eating a simple chocolate chip cookie with the difference is, that this one cooks in less than a minute. I promise you that you will love this Chocolate Chip Cookies In A Mug.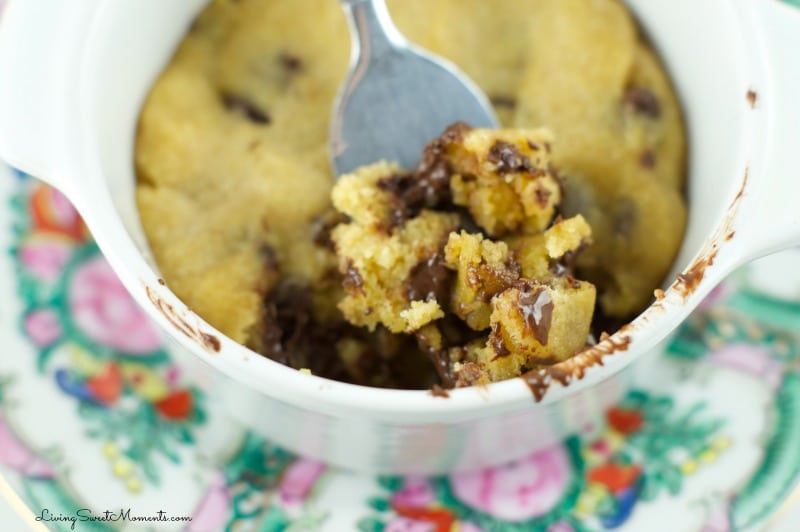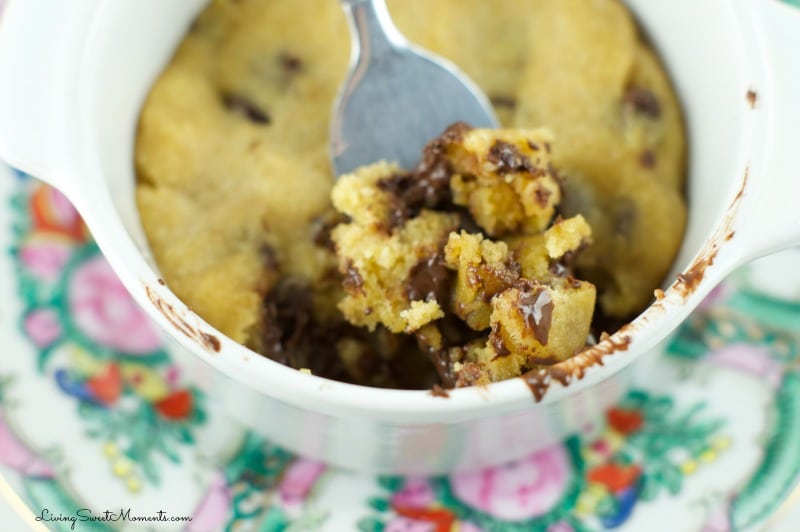 Mug cakes resolve the ultimate dilemma when it comes to baking: I am craving just one cookie – Should I make the whole batch?
With this recipe, you are able to satisfy your craving without making tons of cookies that you will later eat and regret. Or maybe you want to reward your child for a good grade. Cookies in less than 5 minutes (or even 3)
I won't lie, I have a strong sweet tooth and this is the perfect little dessert for me. No fuss, no muss just a quick cookie without messing up your kitchen. When you see how delicious the chocolate chip melts inside, you'll be in heaven.
The difference between this recipe and the Nutella Cake, low-fat brownie and Banana bread is the quantity of liquid and lack of leavening inside the dough.
You will notice how quickly this becomes cookie dough. Thick just like Play-Doh so it cooks faster and crispier. Plus it doesn't have the "chewy" texture (which I love) of the other ones. I mixed this Chocolate Chip Cookies in a bowl instead of the mug itself.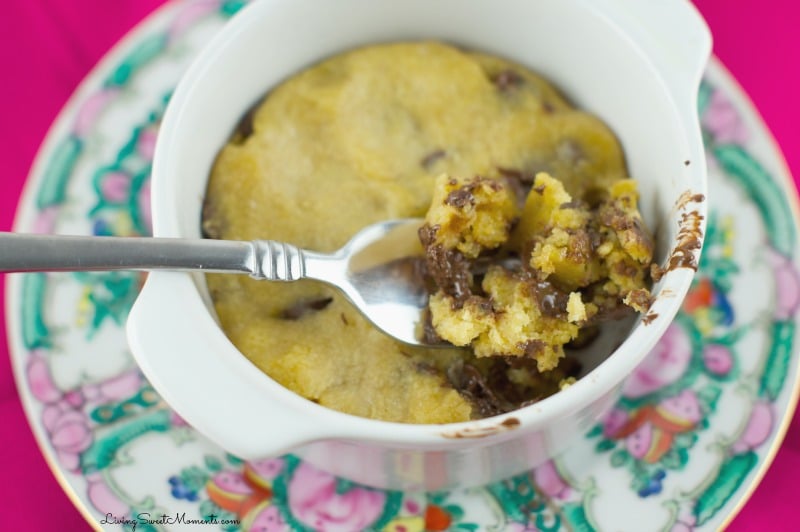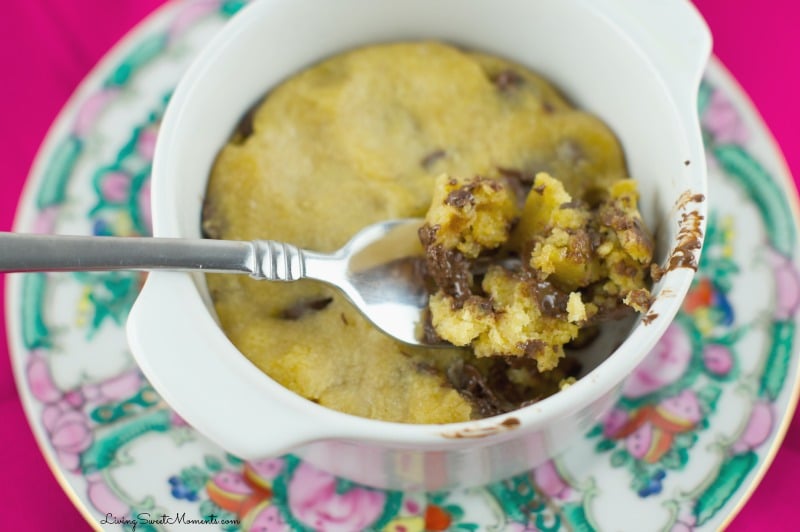 As always, you can make them in advance and just microwave at the last minute. Still, prep is easy and takes 1 or 2 minutes! so if you come home from work exhausted, you won't be opposed to making yourself this yummy cookie. My daughters fought over them and I had to make an extra batch.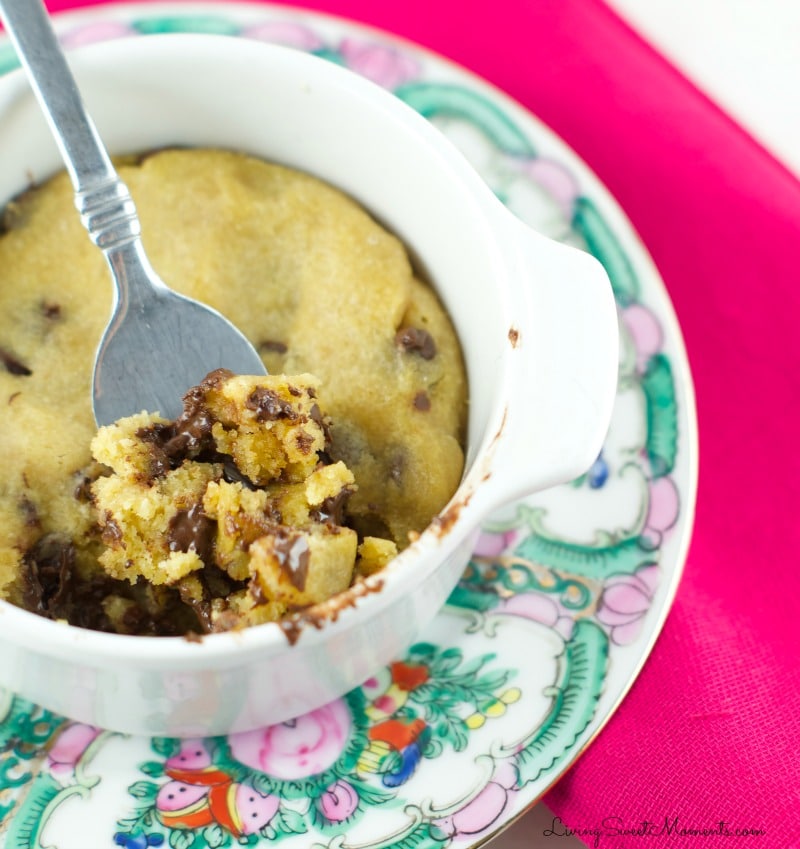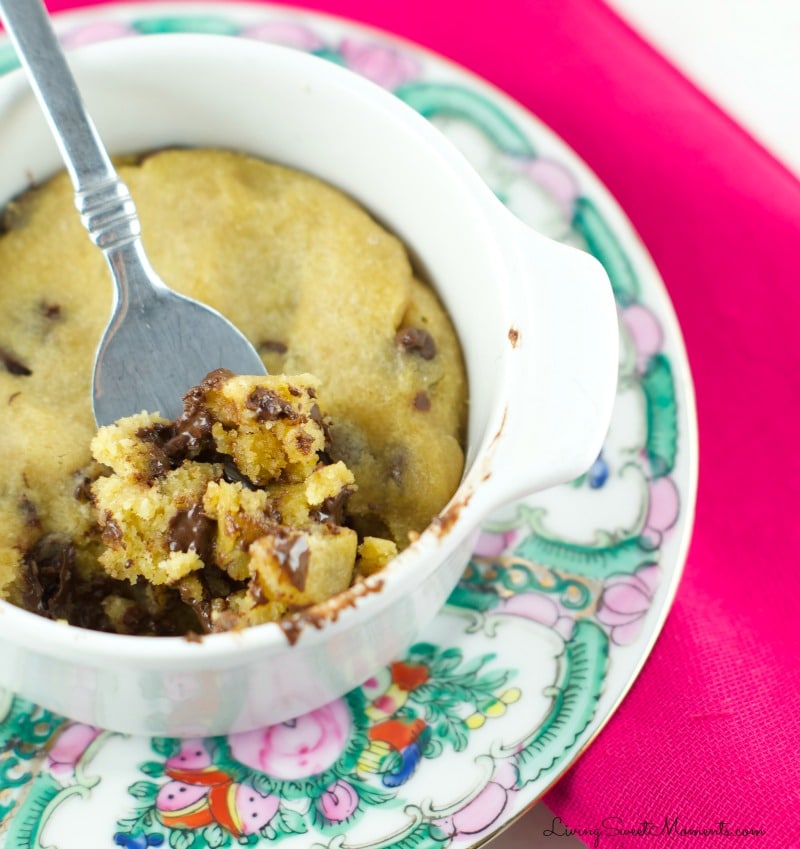 Hope you can make these Chocolate Chip Mug Cookies at home and let me know how they come out.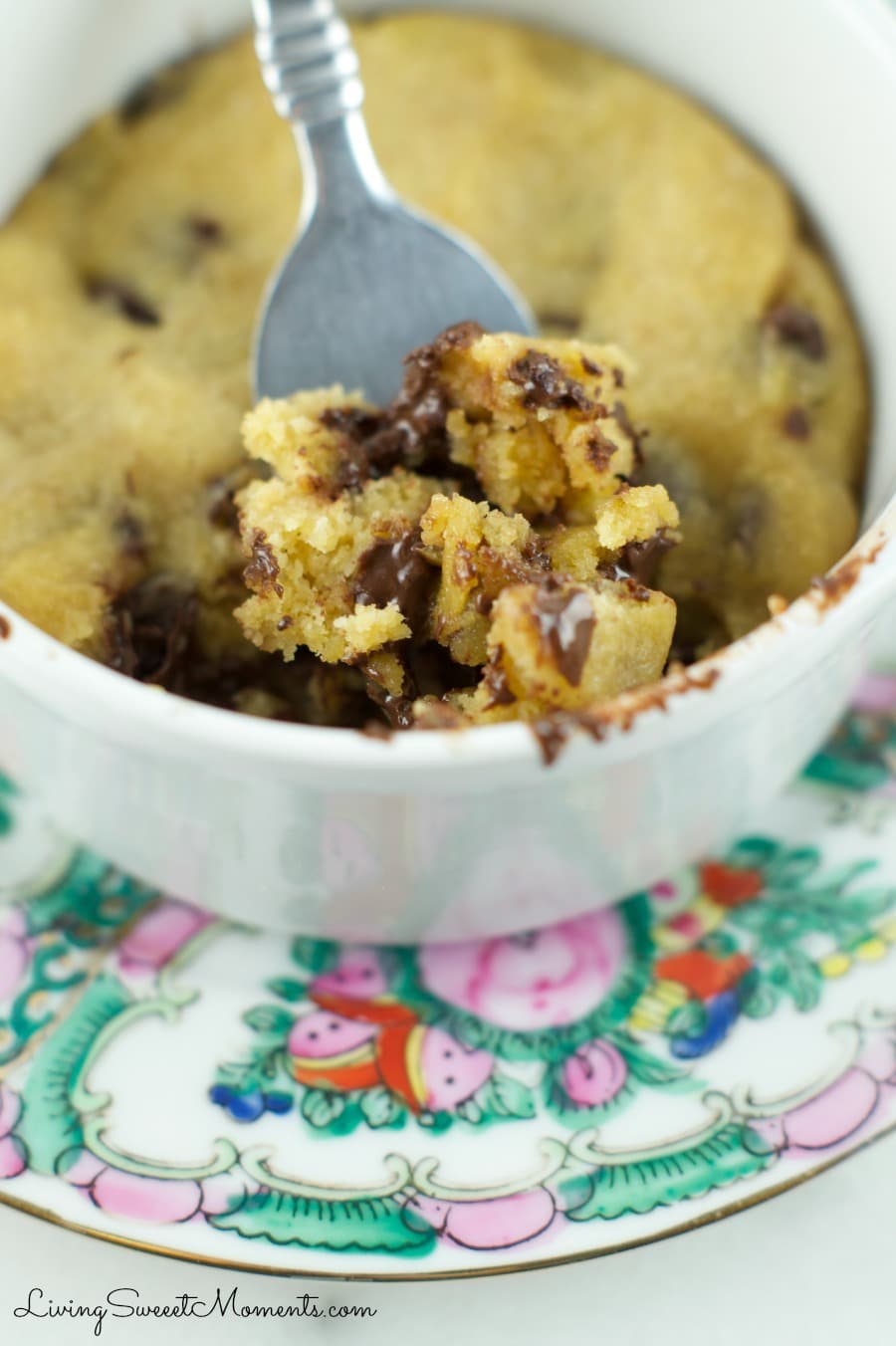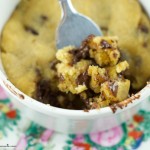 Chocolate Chip Cookies In A Mug
Chocolate Chip Cookies in a mug - Just 45 seconds is all it takes in the microwave to make this fudgy cookie that will just melt in your mouth. The best mug recipe ever
Ingredients
1

tablespoon

butter melted and cooled

1/4

teaspoon

vanilla

1

tablespoon

brown sugar

1

tablespoon

of white sugar

1

pinch salt

1

egg yolk

3

tablespoons

flour

Cooking Spray

2

tablespoons

of chocolate chips
Instructions
Spray the inside of a microwave safe mug with non stick spray

In a bowl, mix the sugars, salt, flour and chips together

Pour in the egg yolk, vanilla and cooled butter. Mix by hand until dough comes together

Place the cookie dough inside the mug and microwave for 30 seconds to 1 minutes. Mine took 45 seconds
You may also like:
Decadent Microwave Nutella Mug Cake