Easy to make and delicious! This Healthy Donut Recipe has only 60 calories and 1.1 grams of fat each. The perfect dessert on a diet! 
Healthy Donut

 Recipe
The smell of these donuts is as good as the thick and fluffy sweetness of the treat itself. It's unbelievably easy to create your own cake-like treats in your own kitchen.
A few ingredient swaps will reduce the calories and fat so you can sink your teeth into the typically naughty breakfast staple without feeling so guilty. As a bonus, you can also customize your donuts with toppings and flavors to create an indulgence that is only limited by your imagination.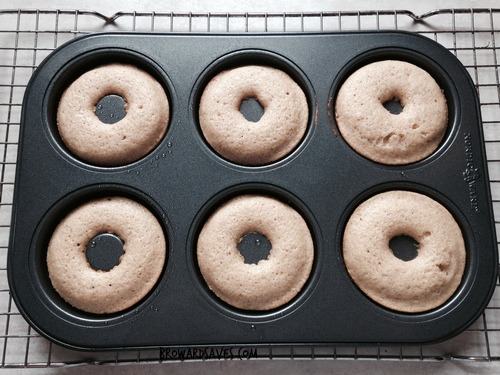 Each donut alone is just 60 calories and just over a gram of fat! They are delicious without toppings or any additions, but the batter will welcome just about anything.
Toss in some chocolate chips, your favorite nuts, vanilla beans or get creative and sprinkle in some poppy seeds for a delicious donut to go with your morning coffee. This will definitely be your favorite Healthy Donut Recipe.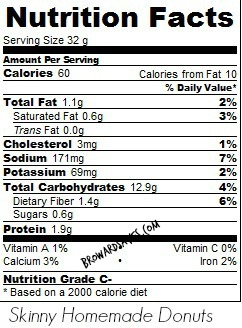 For these low-fat donuts you Will Need:
Donut Pan (You can find these at retailers like Amazon, Walmart, and Target or online at Amazon. You can also get crafty with some foil.) 
1 cup sifted unbleached whole wheat flour

1/4 cup Truvia Baking Blend Natural Sweetener 

1 teaspoon cinnamon

1/2 teaspoon salt

1 tsp baking powder

1/2 tsp baking soda

1/2 teaspoon pure vanilla extract

 2 egg whites

1 tablespoon melted butter

1/2 cup plus 2 tablespoons fat-free milk 

Your favorite toppings – cinnamon and sugar, powdered sugar, vanilla bean glaze (recipe below), melted chocolate, strawberries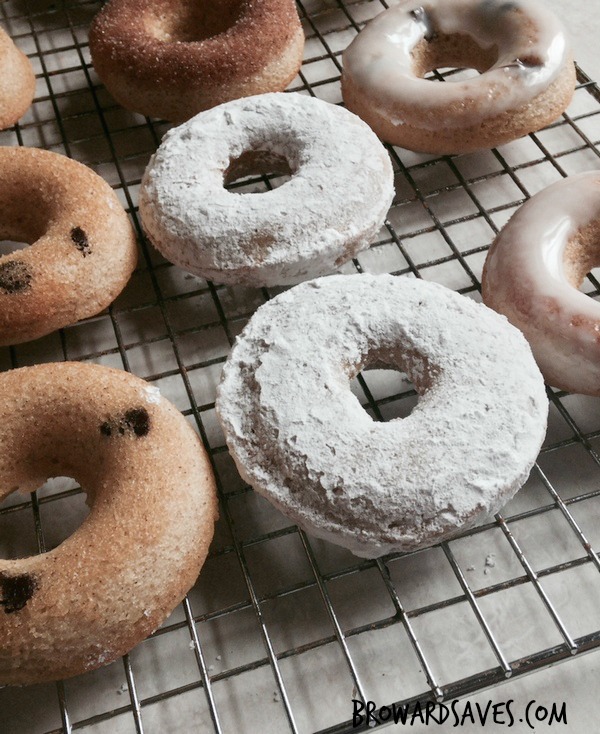 Preheat oven to 350 degrees Fahrenheit.
Grease your donut pan with a baking spray that has flour in it.
Mix – flour, sugar, cinnamon, salt, baking powder and baking soda in a large mixing bowl. 
In a smaller bowl, gently whisk together egg whites, melted butter, skim milk, and vanilla.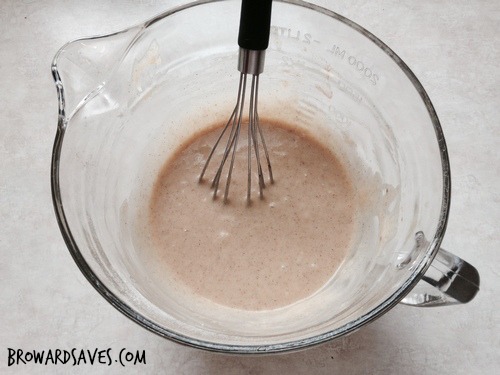 Stir wet mixture into the dry ingredients.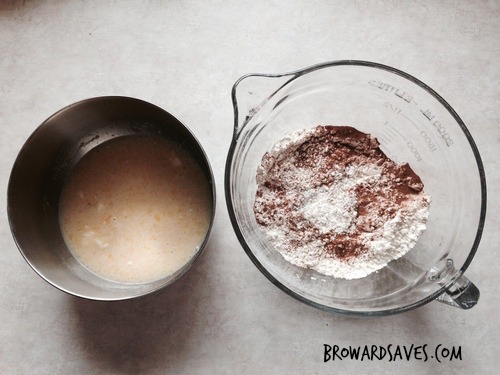 Fill donut pan until each is about 3 quarters full making sure you don't overfill.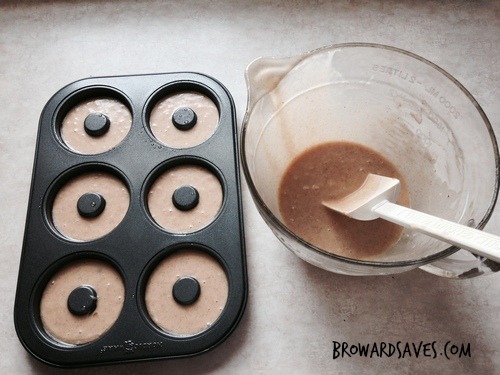 Bake for 14-17 minutes. Donuts should be golden brown and an inserted toothpick should come out clean.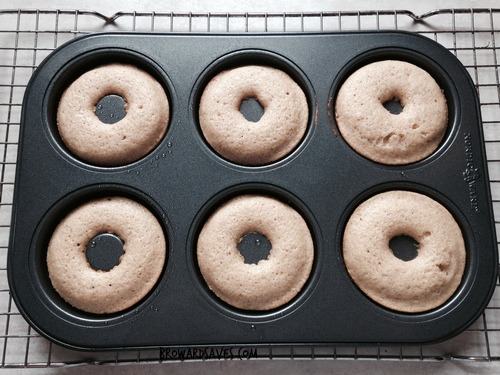 Allow to cool for 5-10 minutes. 
Tip donuts out onto a wire rack. Tap on the back of the pan if you have a few sticky ones.
Top with anything you like. For a vanilla glaze, mix 1/2 cup of powdered sugar, 1 teaspoon milk and a splash of vanilla extract.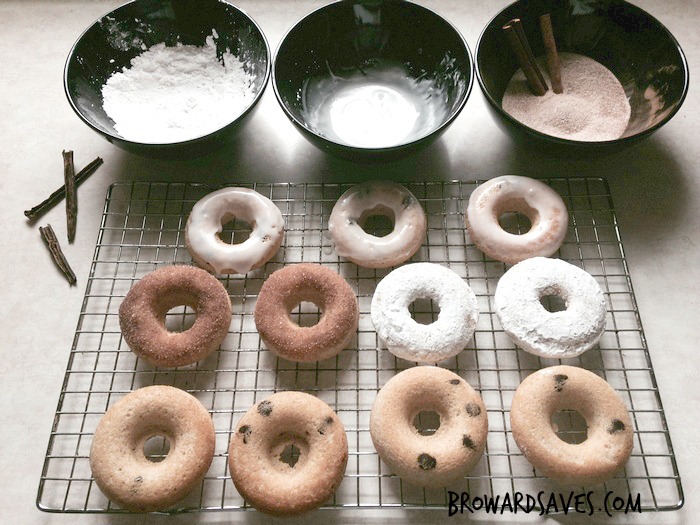 I hope you can try this delicious healthy donut recipe at home. If you do, please upload a pic on Instagram and tag me @Livingsweetmoments or use the hashtag #LivingSweet. I promise to repost it.  
Yum! Don't they look amazing?. I can't even believe they are just 60 calories each!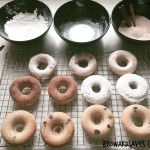 Healthy Donut Recipe
Easy to make and delicious! This Healthy Donut Recipe has only 60 calories and 1.1 grams of fat each. The perfect dessert on a diet!

Ingredients
1

cup

unbleached whole wheat flour

sifted

1/4

cup

Truvia Baking Blend Natural Sweetener

or any other sweetener

1

teaspoon

cinnamon

1/2

teaspoon

salt

1

teaspoon

baking powder

1/2

teaspoon

baking soda

1/2

teaspoon

pure vanilla extract

2

egg whites

1

tablespoon

butter

melted

1/2

cup + 2 tablespoons

skim milk

Your favorite toppings: cinnamon and sugar, powdered sugar, vanilla bean glaze (recipe below), melted chocolate, strawberries
Instructions
Preheat oven to 350 degrees Fahrenheit

Grease your donut pan with a baking spray that has flour in it

Mix – flour, sugar, cinnamon, salt, baking powder and baking soda in a large mixing bowl.

In a smaller bowl, gently whisk together egg whites, melted butter, skim milk, and vanilla.

Stir wet mixture into the dry ingredients.

Fill donut pan until each is about 3 quarters full making sure you don't overfill.

Bake for 14-17 minutes. Donuts should be golden brown and an inserted toothpick should come out clean.

Allow to cool for 5-10 minutes.

Tip donuts out onto a wire rack. Tap on the back of the pan if you have a few sticky ones.

Top with anything you like. For a vanilla glaze, mix 1/2 cup of powdered sugar, 1 teaspoon milk and a splash of vanilla extract. To top, simply wet your fingers with a little water and run it through the tops of the donut, then dip it in your favorite topping


You may also like: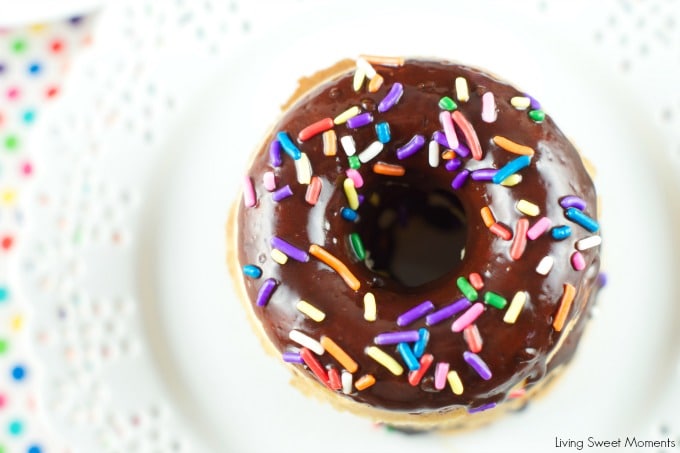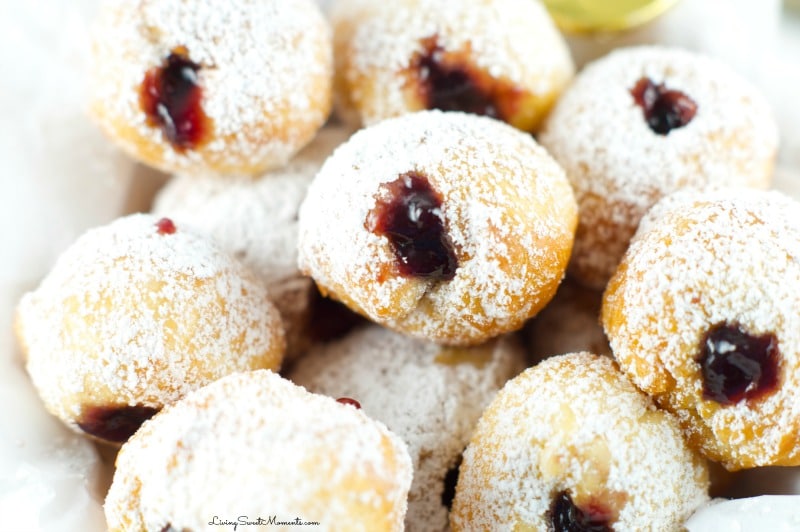 Summary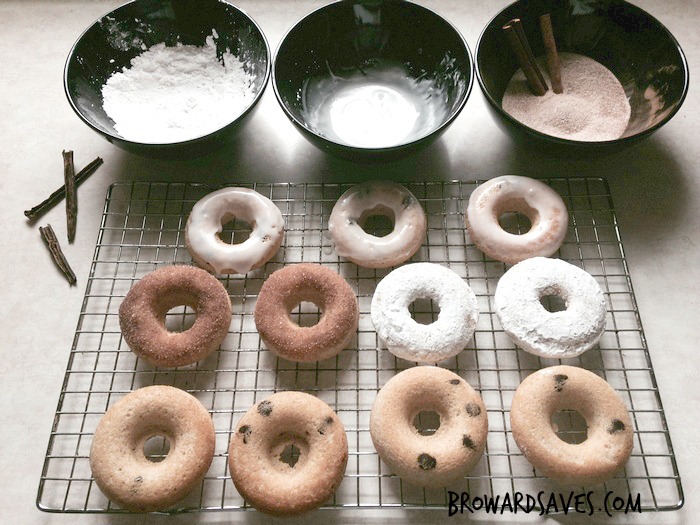 Recipe Name
Published On
Preparation Time
Cook Time
Total Time
Average Rating
Based on 1 Review(s)