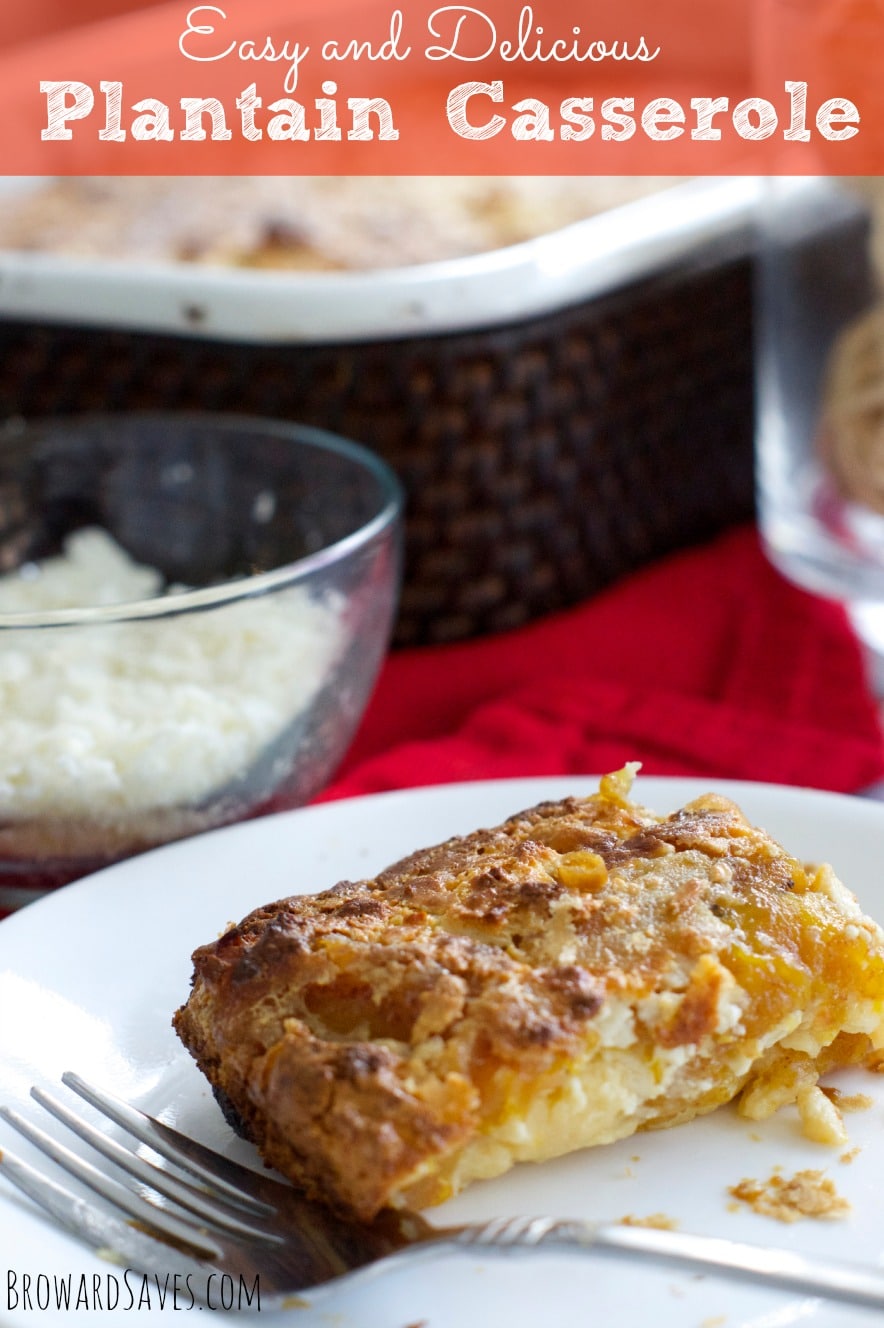 This has got to be one of my favorite Venezuelan Recipes. It's comfort food at its best and it's also my #1 requested item by my family (aside from the Dulce de Leche Cheesecake) . In Spanish it's called "Torta De Platano" or Plantain Cake.. But don't be fooled by the name, it's not  a cake, it's a cheesy, sweet and salty side dish with a crusty top.
This Venezuelan Recipe is made just like a regular casserole, alternate layers and then bake. Easy! In reality this dish was a little more complicated but I found a way to simplify the whole process and now that it's so easy I can make it every week.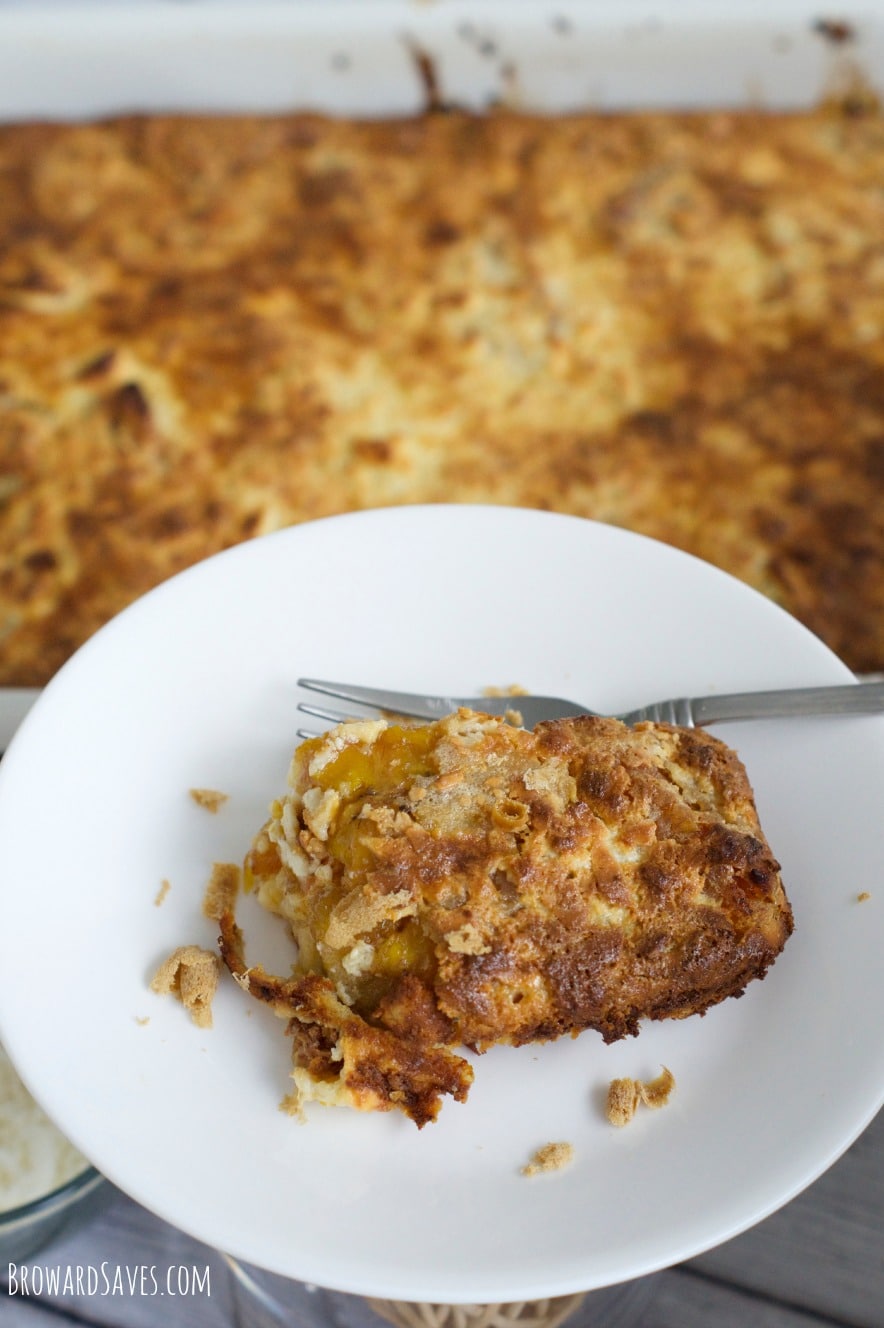 Plantain Casserole is usually served as a side dish for BBQ's, fancy dinners and even as a weeknight meal. It's so delicious because it has a very complex flavor that plays between sweet and salty. It uses a White Latin Cheese (or cheese for frying), found now in most Supermarkets so you'll have not trouble finding it. DO NOT substitute with Mozzarella cheese because the great thing about frying cheese is that it does NOT melt at all.. In fact, when baked it gets crunchy. In Miami there are tons of different brands to choose from.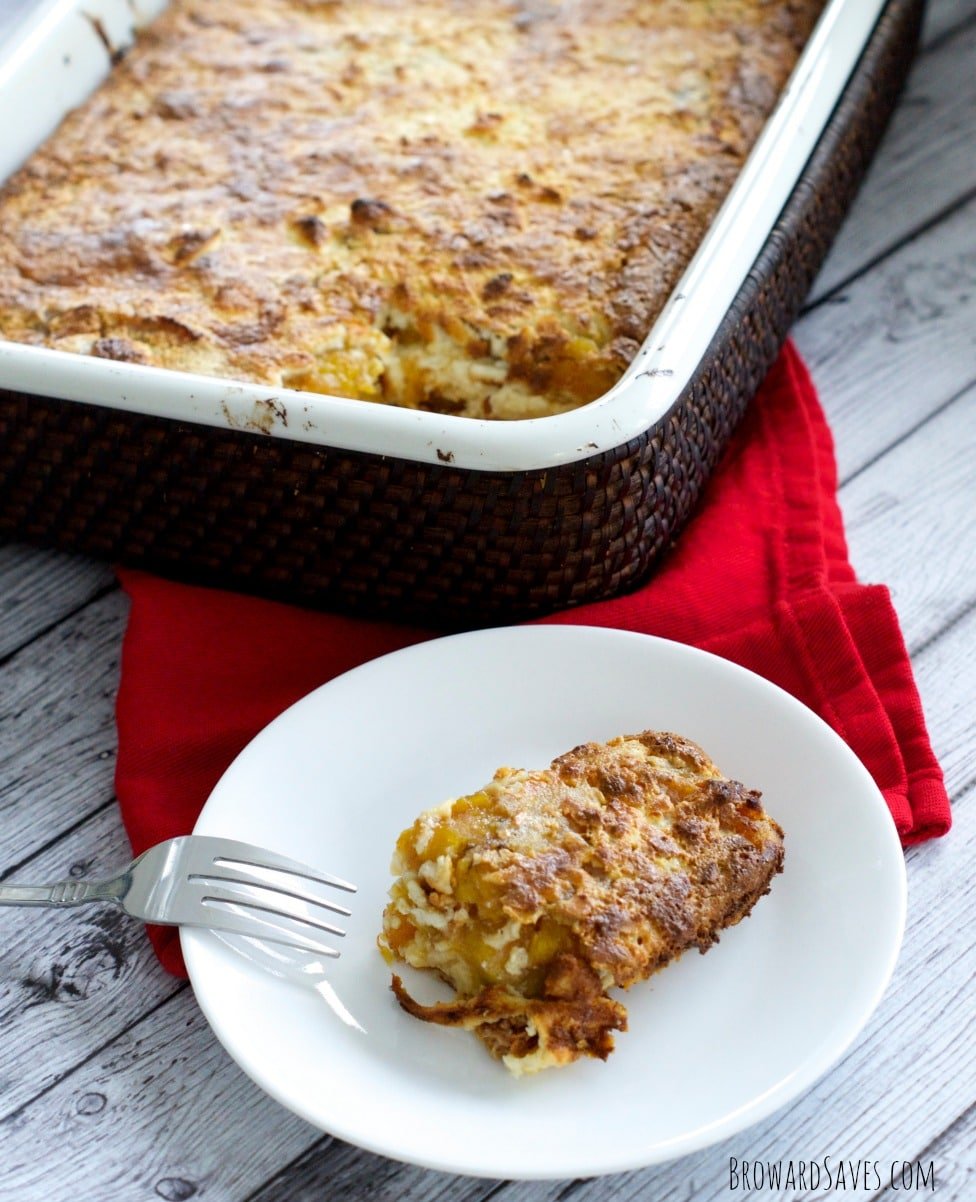 Let's start with the basics. The ingredients are: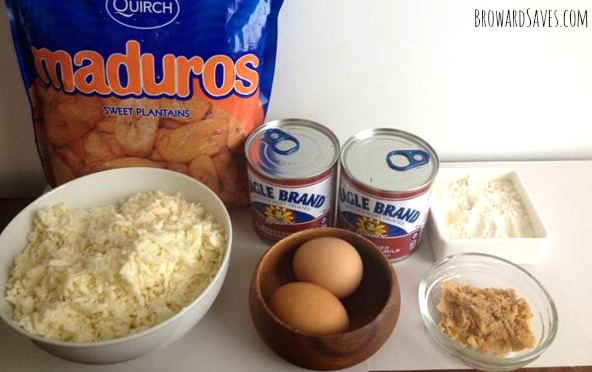 – Bag of fried Sweet Plantains, 3 lbs (found in the frozen section of your supermarket)  if you can't find it use 8 ripe plantains, sliced on a bias and then fried.
– 10 oz of shredded Semisoft Latin Cheese
– 2 eggs
– 2 tablespoons of flour
– 2 Cans of condensed milk
– 1-2 tablespoons of Panela or Brown Sugar (optional)
And that's it! If you're new to latin cooking I know these ingredients can be a bit daunting, but you can certainly substitute them with any similar ingredients at your local supermarket. No need to go to specialty stores.
Preparation
– Preheat oven to 350 Degrees
– Defrost the bag of plantains and slice them lengthwise. I like to do this since these plantains are cut so thick. I like them way thinner than that. A single slice can be sliced by halves or even in 3.
– In a blender combine the flour, eggs and condensed milk. Mix until all ingredients are together.
Set up your Plantain Casserole: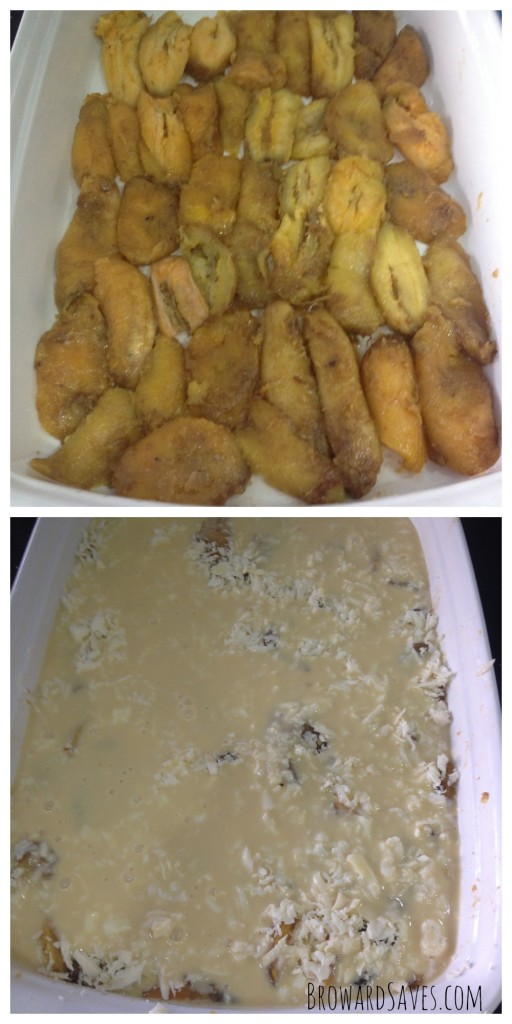 In a Rectangular Baking Pan arrange a layer of plantains. Sprinkle panela (or brown  sugar) over the plantains. Add half of the shredded cheese and top of with half of the condensed milk mixture. Repeat with the second and final layer.
That's it!
In the over goes for about 20-30 minutes until the top browns and puffs up. This recipe feeds about 12 people but you can certainly cut it in half and bake in a smaller pan. Makes excellent leftovers as well.
Venezuelan Recipe : Plantain Casserole
Author:
Prep time:
Cook time:
Total time:
Ingredients
3 lb bag of frozen fried plantains
10 oz of shredded white latin cheese
2 eggs
2 cans of condensed milk, 14 oz
2 Tablespoons of flour
1 Tablespoon of Panela or Brown Sugar (optional)
Instructions
Preheat Oven to 350 Degrees
Cut plantains in half (so pieces can become thinner)
Blend the condensed milk, eggs and flour until combined
In a rectangular baking dish arrange a layer of plantains, sprinkle the panela or brown sugar, half of the cheese and half of the milk mixture. Repeat with the second layer
Bake for 20-30 minutes until top is brown
Enjot
Do not miss one of my favorite Venezuelan Recipes on your next gathering.