This shop has been compensated by Collective Bias, Inc. and its advertiser. All opinions are mine alone.  #GameDaySnackHacks #CollectiveBias
These easy DIY Football Placemats can be easily made by kids and is perfect for parties. It takes few materials to put it together and cost just pennies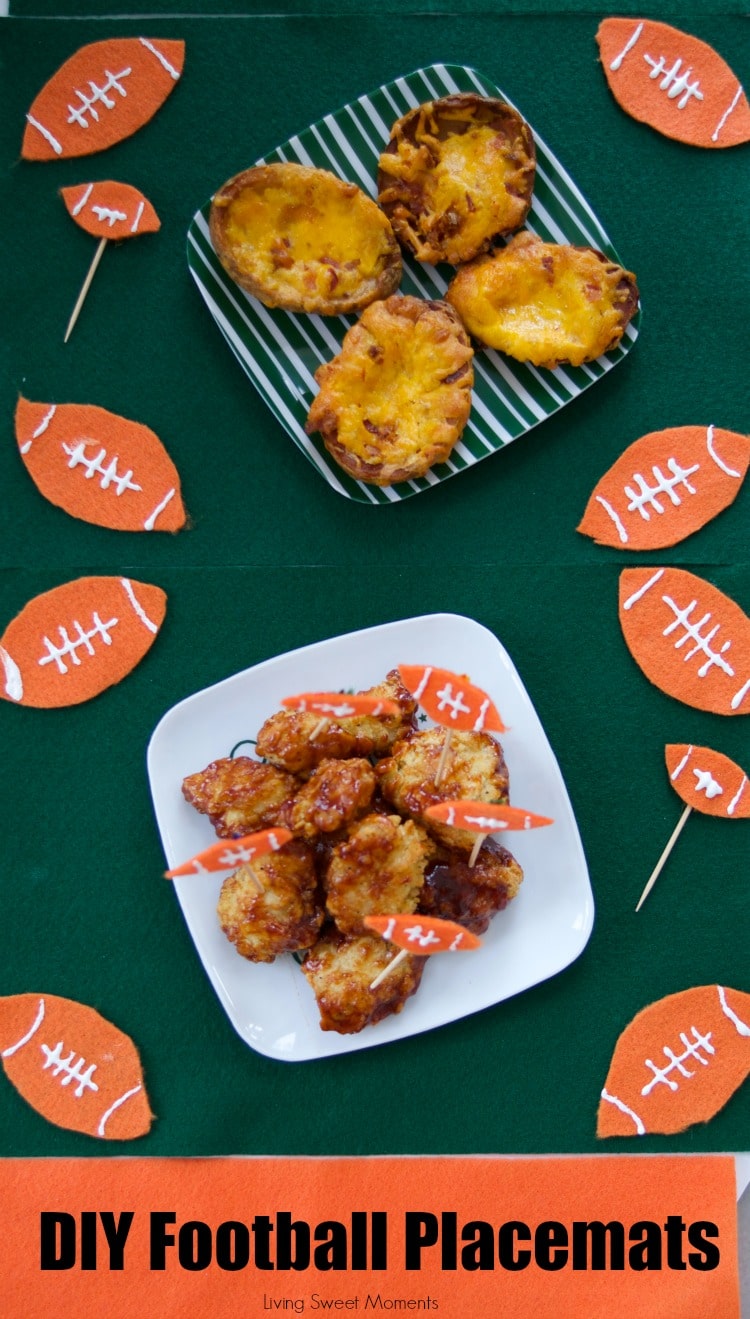 DIY Football Placemats – A Tutorial
The big game is coming up and my husband is already talking about it. My girls are really not interested in the subject so I came up with these DIY football placemats for them to make and in a way, encourage them to learn all about the game and how it is played.
Believe it or not, these placemats are SUPER EASY to make. Perfect for kids 5 and older who can use scissors. And best of all? They cost pennies on the dollar. Use it to display your delicious food and apps in front of the TV, because I am sure that nobody will want to sit on the living room table while the game is on.
To start making your DIY Football Placemats you will need:
Felt Fabric in green and orange
Football Shaped cardboard cutouts (I used an eye sticker and just cut out the shape)
Toothpicks
Fabric Glue stick
White fabric paint
Marker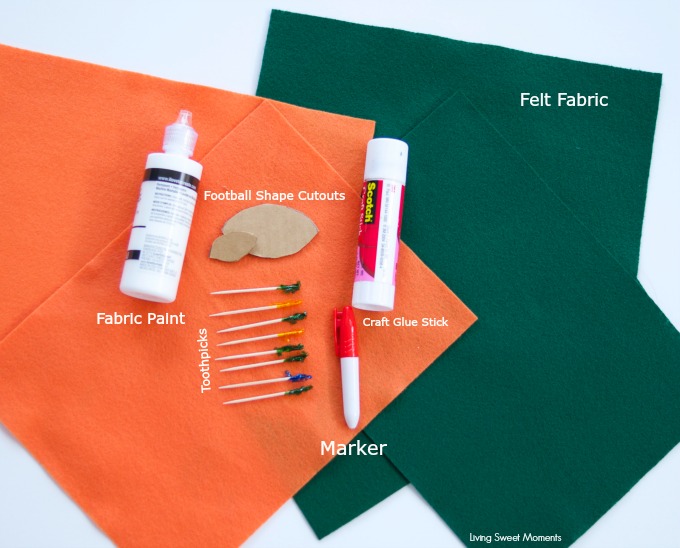 The cutouts are 3 inches and 1.5 inches respectively. I will use the toothpicks and the little cutouts to use it on the food. This is totally optional but it will make picking up the food super easy. See?
Ready to start crafting?
Start by tracing the cutouts on the orange felt using the marker. Cardboard makes it easier to get the right shape. I use 4 big ones on each mat but you can certainly make a few more.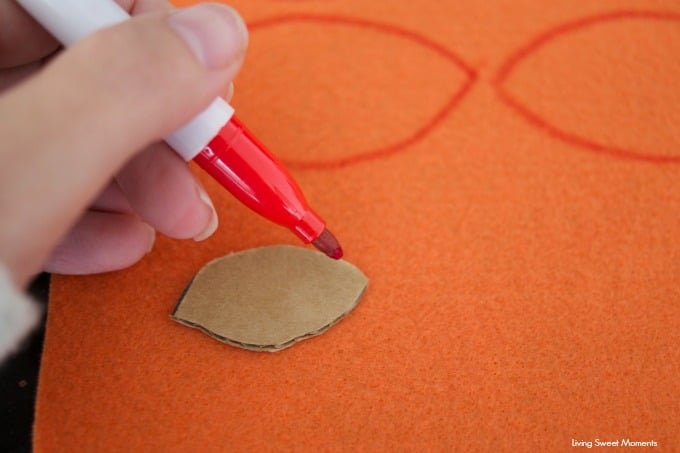 Next, use scissors to cut out the shapes: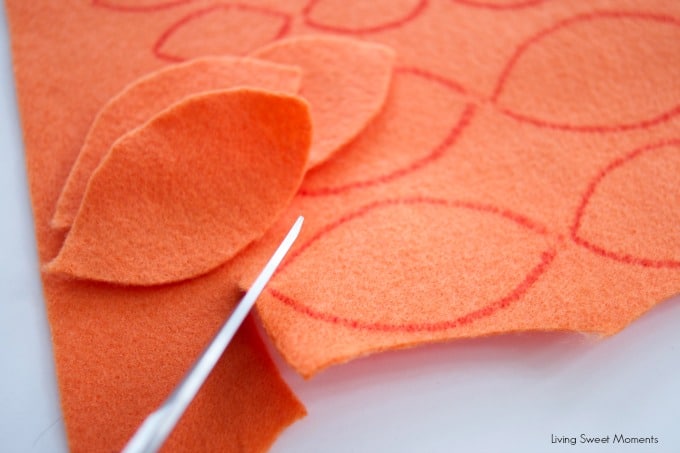 Then, we use the craft glue stick to stick the cutouts on each corner of the green felt mat. You can place them in any direction you would like.  I like to move them around before gluing them just to see how they will look.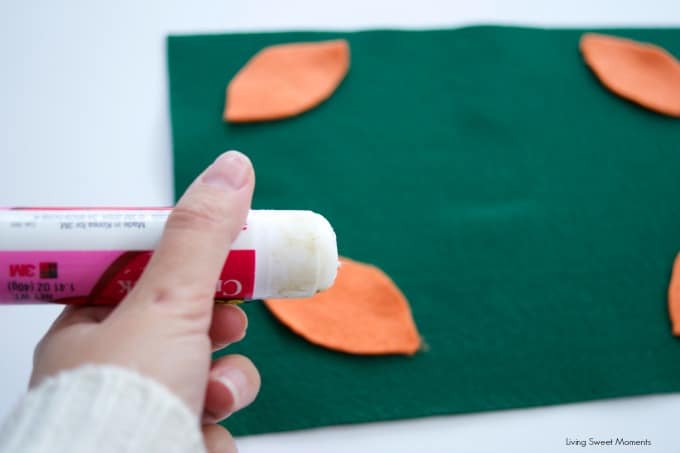 Now comes the fun part: using the fabric paint. Make the lines into the shape of a football. That was my daughter's specialty.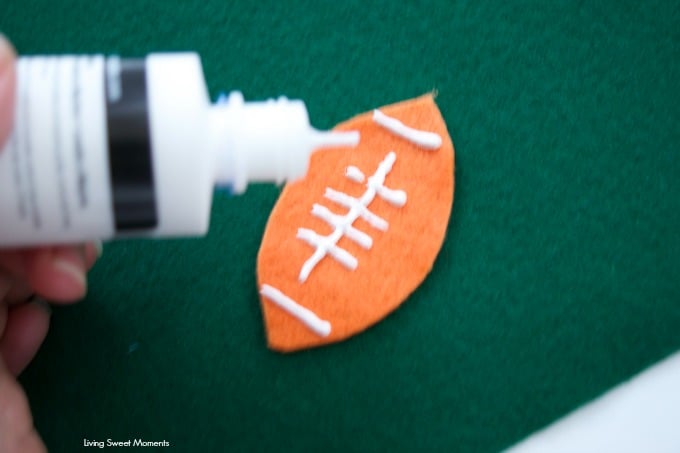 To make the toothpicks, simply add some craft glue on the top of the toothpick and then stick the small cutouts on each one and paint the football shapes.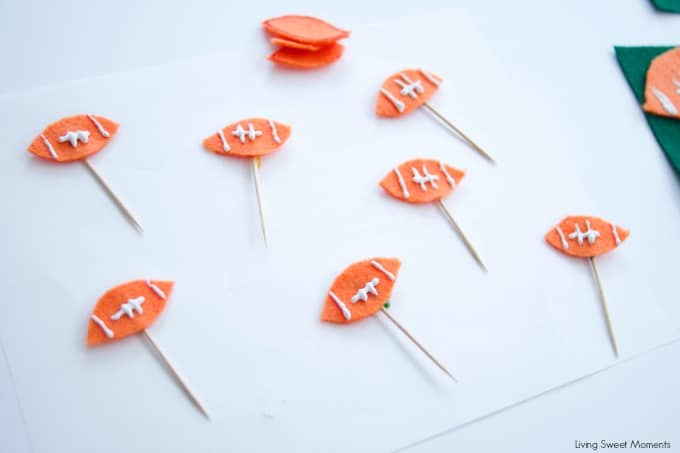 Let the paint dry for a minimum of 4 hours.
Now that the paint is dry, we have to think of the food. I, of course, have my 2 secret weapons that adults and kids will love: Farm Rich Loaded Potato Skins and Boneless BBQ Chicken Bites.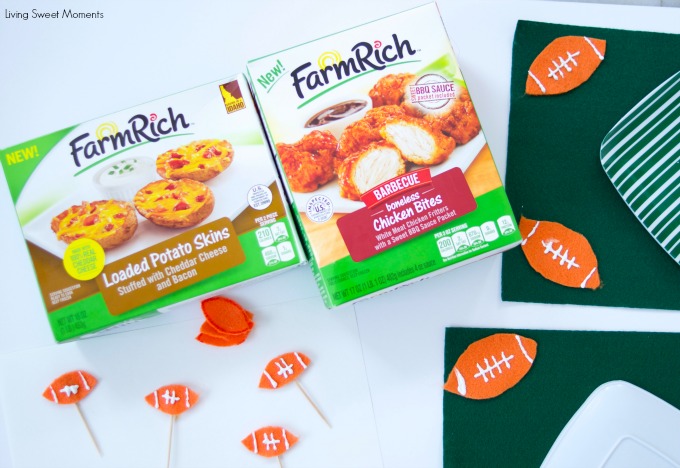 They are super easy to make. Just place them on a sheet pan and bake. I really love their authentic flavor and the fact that they are made will real ingredients. Farm Rich Snacks are Real-Life GoodTM and make game day gatherings easy so the whole family can be together watching the TV instead of worrying about cooking. For a list of complete products click here.
For coupons and serving ideas, sign up to the Farm Rich Loyalty Club HERE. And better yet, enter their Super Fans sweepstakes for a chance to win free product for a year, gift cards and more.
I can't resist Farm Rich potato skins, they are loaded with cheese, bacon and have so much flavor. The outside part stays crunchy while the inside is so cheesy.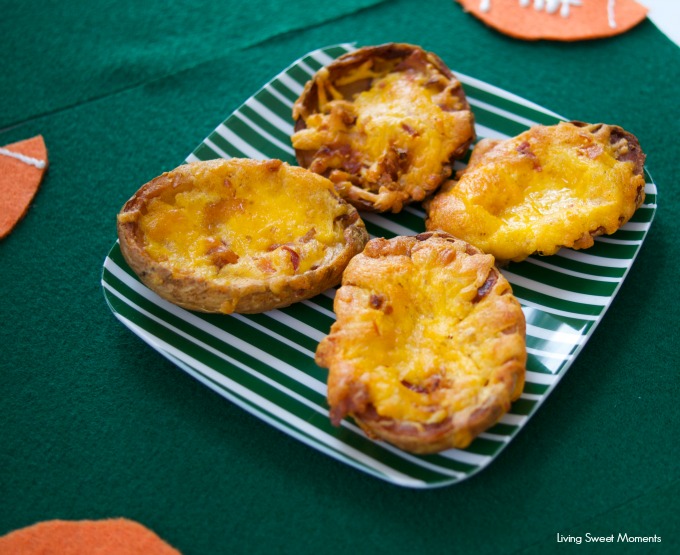 You can get the food and all the craft items needed to make these cute DIY Football Placemats at your local Walmart. The Farm Rich Game Day snacks will be located in the frozen food aisle.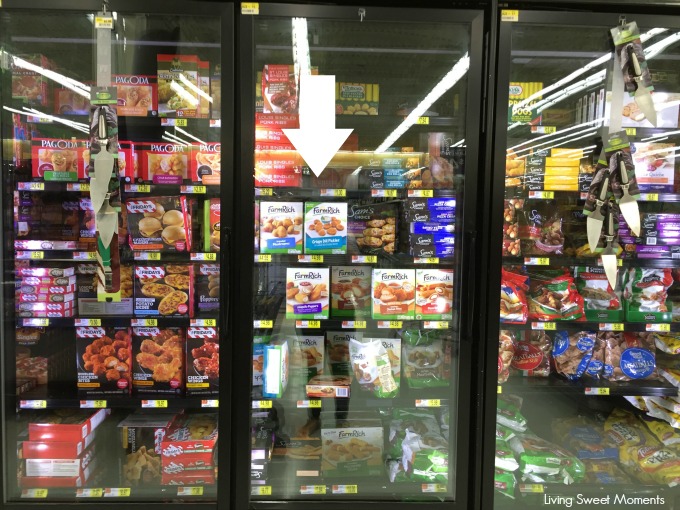 I hope this little project inspires you to make your own craft for game day. I am already hungry for some chicken and potatoes. How about you?