Pumpkin Palmiers: delicious crispy cookies filled with pumpkin and spice. Perfect treat and dessert for the fall. Only 4 ingredients needed! Easy and quick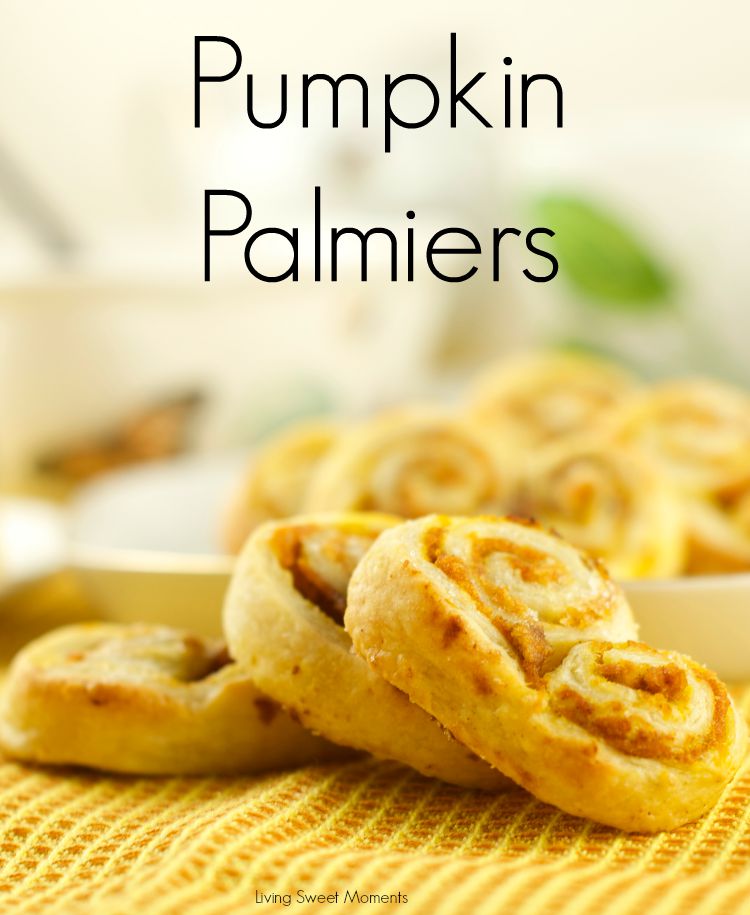 Pumpkin Palmiers
These 4 ingredient cookies are super easy to make, quick and delicious! The perfect flavor for the fall. If you've never had a palmier before, they are crispy sweet cookies made out of puff pastry. All they need is 15 minutes in the oven and voila! dessert ready in a flash.
These Pumpkin Palmiers are the type of cookies that you can make out of necessity. Imagine your mother in law calls and says: "I'll be there in 30 minutes" don't fret! just read this post and you got it in the bag. Instant cookie heaven.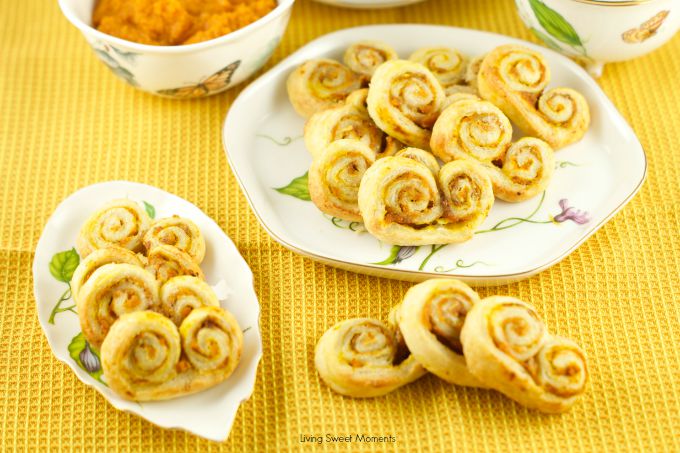 Ever since I was little, I used to love Palmiers. They were filled with sugar and would bake up nice and toasty. Tons of bakeries in Venezuela carried them and there's was no kid's birthday party without them.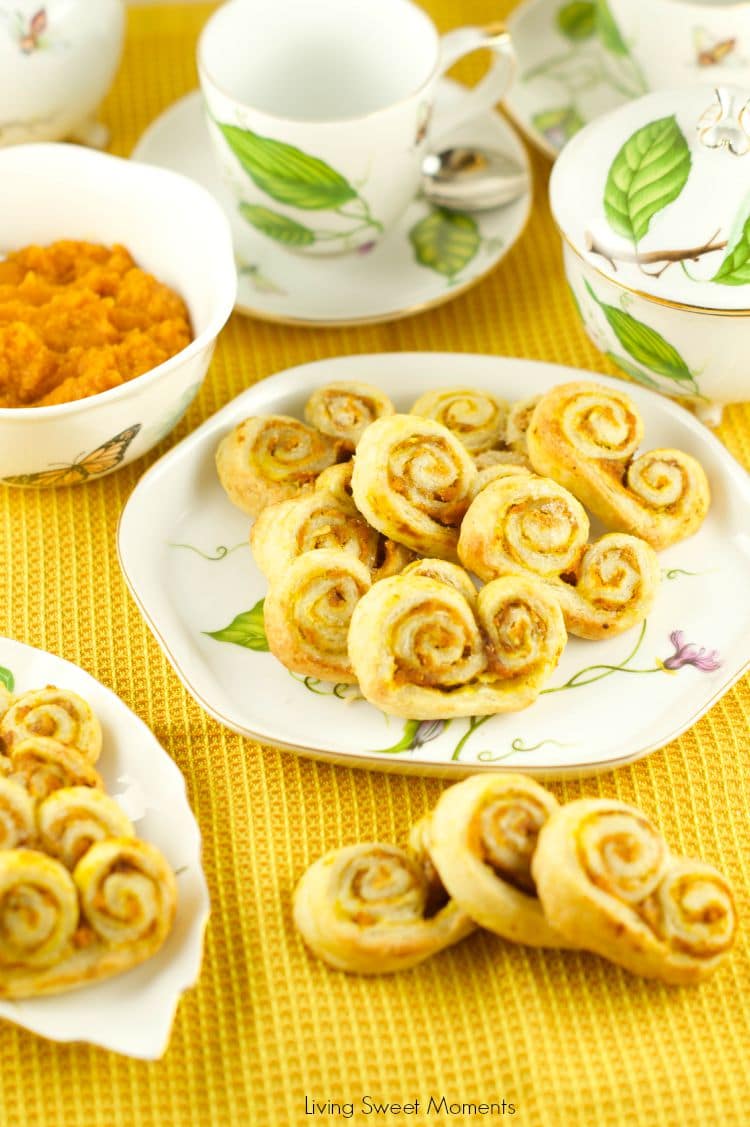 When I grew up, I found up how easy it was to make it at home, so I decided to make my yummy Nutella Palmiers and now my Pumpkin Palmiers.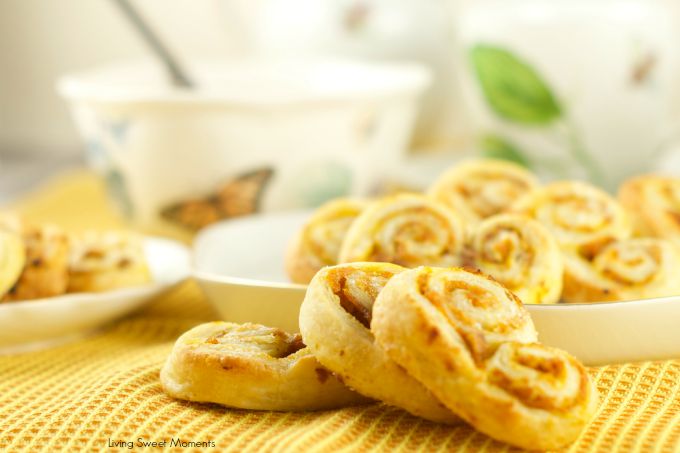 Now that fall is upon us, I am looking forward to enjoying the warm flavors of pumpkin, apples, and cinnamon. Every season brings on a new collection of aromas.
Fall is certainly an interesting one and personally, I can't get enough of pumpkins. Just use the same step by step process that I used in my Nutella Palmiers and you'll be good to go.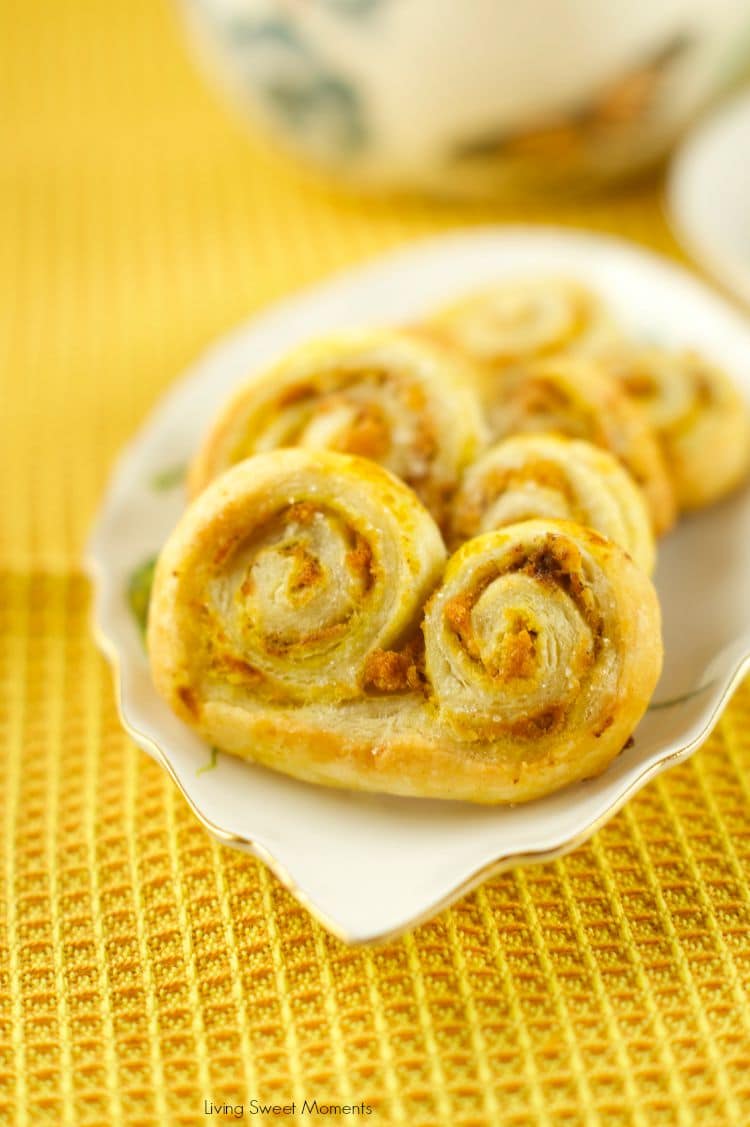 Now let your creative juices flow and think of all the things you can fill your Palmiers with. Not only does it work for sweet items, you can also use cheese, herbs, pesto, etc as appetizers for parties. Puff Pastry is truly a magical ingredient.
I hope you can try these delicious Pumpkin Palmiers at home. If you do, please upload a pic on Instagram and tag me @Livingsweetmoments or use the hashtag #LivingSweet. I promise to repost it.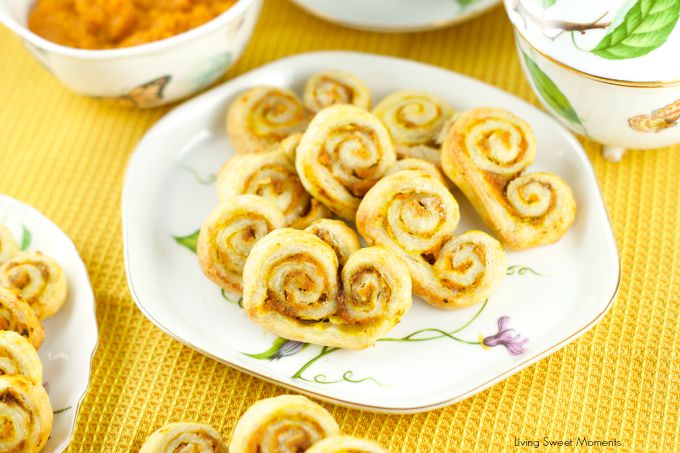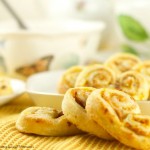 Pumpkin Palmiers
Pumpkin Palmiers: delicious crispy cookies filled with pumpkin and spice. Perfect treat and dessert for the fall. Only 4 ingredients needed! Easy and quick!
Ingredients
1

Puff Pastry Sheet

defrosted

1

Cup

of Pumpkin Puree

not pumpkin pie filling

1

Tablespoon

of Pumpkin Pie Spice

4

tablespoons

of sugar

for sprinkling
Instructions
Preheat oven to 425 Degrees F.

Line a baking sheet with parchment paper or a silicone mat

In floured surface or on top of parchment paper, roll out the puff pastry into a rectangle

Spread the Pumpkin puree all over the surface, sprinkle in the Pumpkin Pie Spice and 2 tablespoons of sugar

Roll tightly on both sides so they can meet in the middle. Dip your finger in water and wet a little bit of the sides of each roll so they can stick together

Slice them into ¼ inch and place on the cookie sheet. With your hands, flatten them and sprinkle on sugar on top

Bake for about 10-15 minutes or until browned

Enjoy
You may also like: