This crusty no knead pesto bread is easy to make and full of delicious pesto flavor. It requires no kneading and is baked in a dutch pan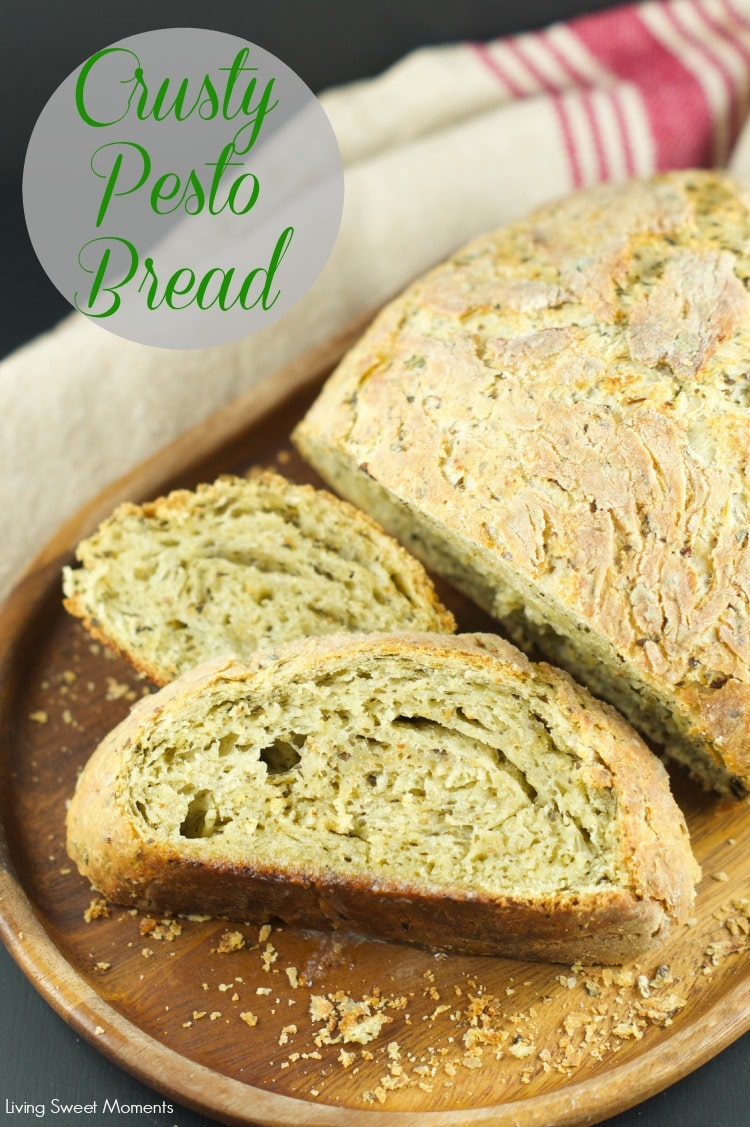 No Knead Pesto Bread
Have you ever notice when you go to an italian restaurant that they bring you bread and pesto on the side? The idea is to dip your bread inside the pesto for a delicious bite. This got me thinking.. What if I put the pesto INSIDE the bread and bake? The result is this amazing No Knead Pesto Bread. Every bite is full of flavor. You can taste the garlic, the olive oil and the basil. Oh, did I mention that it's super easy to make?
Last week I brought you the basic super crusty and delicious No Knead Bread and told you that in the subsequent weeks I was going to posts a few variations. This Pesto Bread is one of them. Perfect to eat on it's own, with some butter or use it for sandwiches. Add some turkey slices, lettuce and tomato in between and go to town.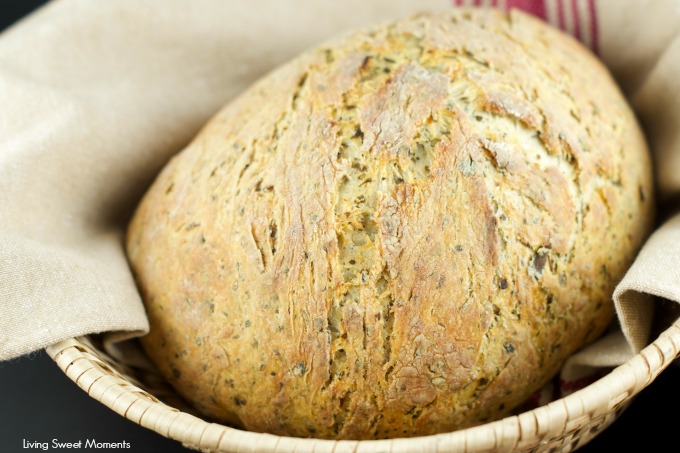 My husband came home yesterday just after I finished photo shooting the No Knead Pesto Bread. He couldn't resist fresh baked bread and had a piece. In his exact words "This is the best best bread you have ever made". That's all I needed to hear, it made my day and I hope you think the same when you try it.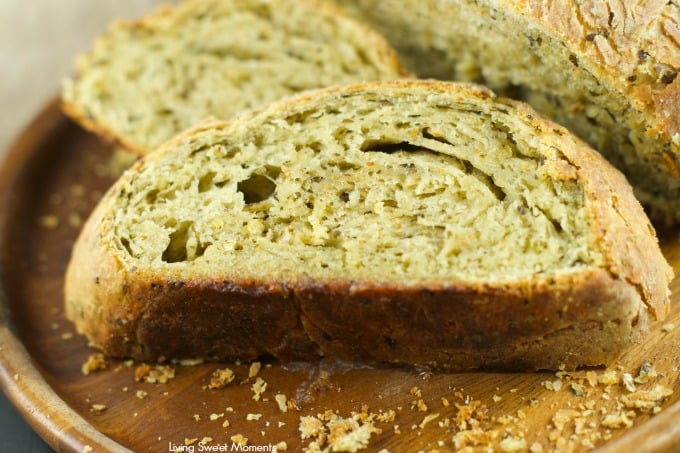 My favorite food in the whole wide world is bread. I love making it and I love eating it. Homemade crusty breads were almost impossible to make until now, by baking your loaf inside a dutch oven on a high heat oven, it gives it so much crunch on the outside, with a soft center. Absolute perfection! Here's a 2 pictures of the process: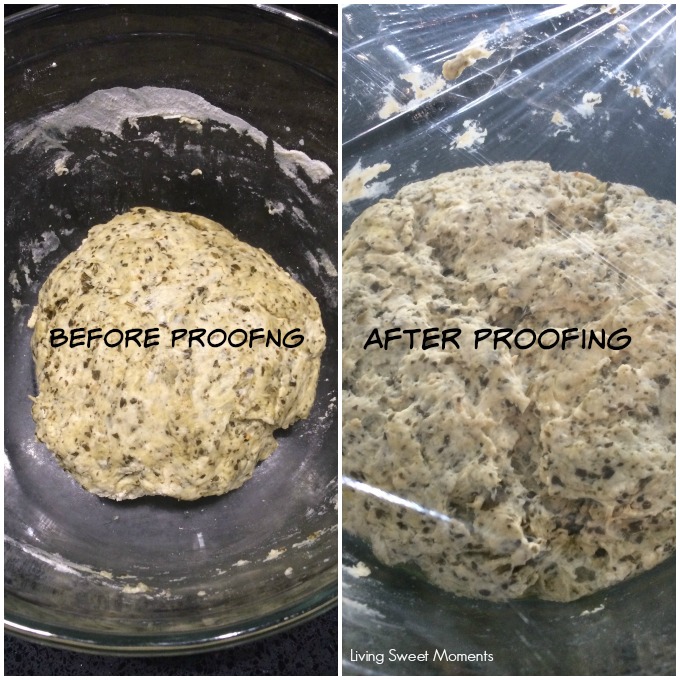 I hope you can try this delicious No Knead Pesto Bread at home. If you do, please upload a pic on Instagram and tag me @Livingsweetmoments or use the hashtag #LivingSweet. I promise to repost it.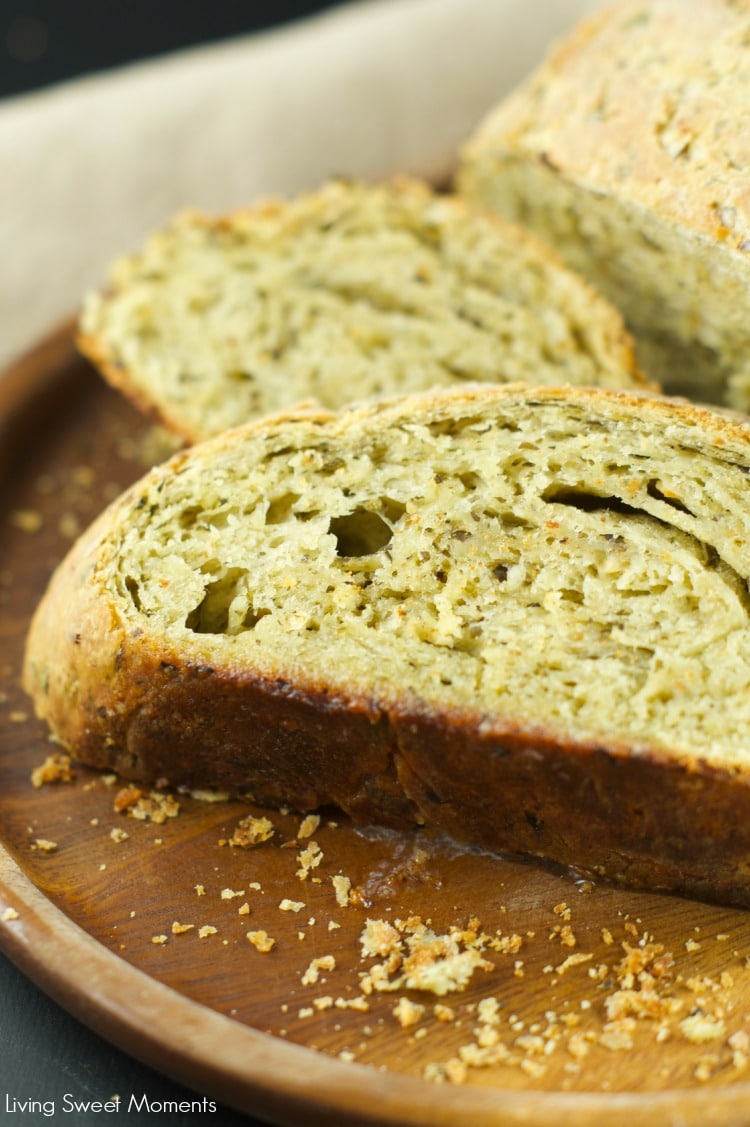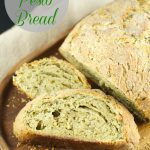 No Knead Pesto Bread
no knead pesto bread: this crusty pesto bread is easy to make and full of delicious pesto flavor. It requires no kneading and is baked in a dutch pan
Ingredients
3

Cups

of of Bread Flour*

1

Cup

of Prepared Pesto

can be store bought

1

Teaspoon

of Instant Yeast

1

Teaspoon

of Salt

1

Cup

of Water

at water temperature
Instructions
In a big bowl, add the flour, yeast and salt. Using a wooden spoon add in the pesto and water. Mix until all the ingredients are combined

Wrap plastic wrap on top of the bowl and let it proof for about 12 to 18 hours

Place a dutch oven with lid inside the oven

Preheat oven to 450 degrees Fahrenheit

On a floured surface, drop the dough and shape into a ball or your desired shape

Place the dough inside the preheated dutch oven. Cover with lid

Bake for 30 minutes

Remove the lid and bake for 12-15 minutes more or until brown on top
Recipe Notes
*You may use All Purpose Flour instead