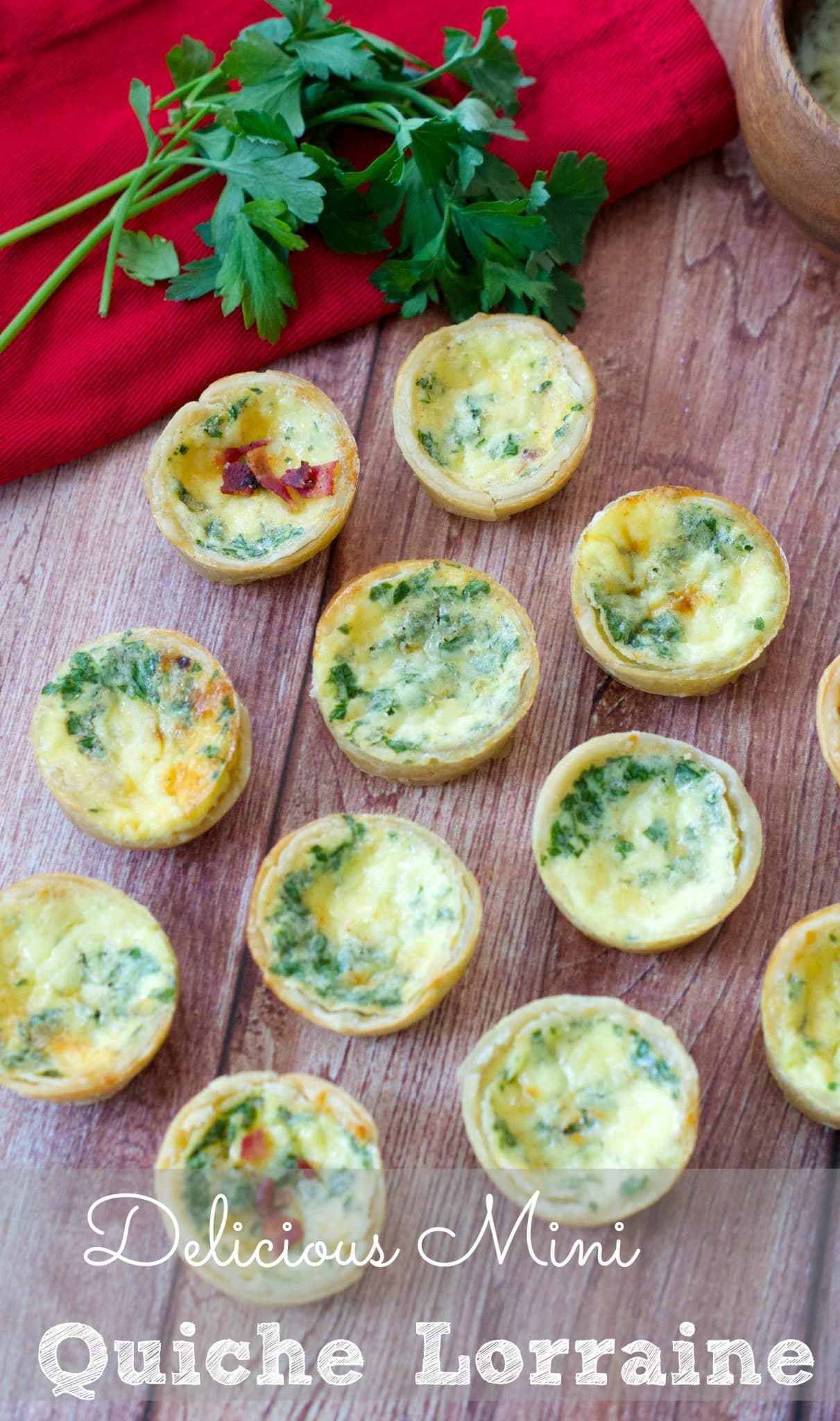 A few months ago I wrote a blog post called Tips for Traveling Abroad. One of the tips was to recreate a meal you ate on your trip as a way to remember all the great times you had while visiting a foreign country. So this how this Mini Quiche Lorraine Recipe was born. During the summer, my husband I honeymooned in Paris. I remember the first thing we did after leaving our luggage at the hotel: we went to this very famous Bistrot called Deux Magots and there I had the most wonderful slice of Quiche Lorraine. It was truly remarkable.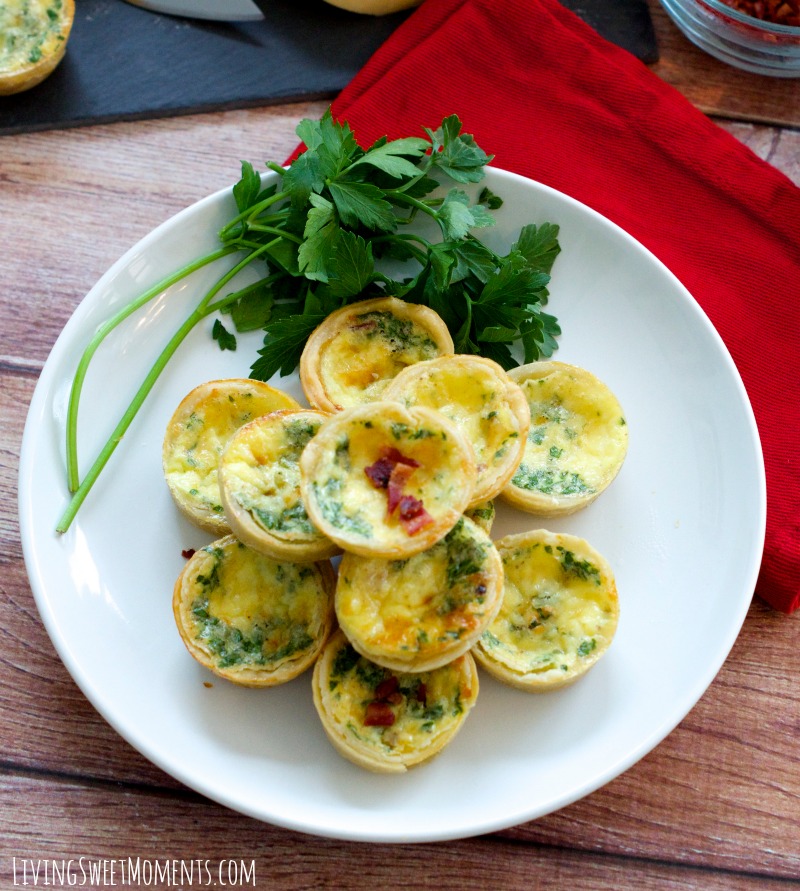 I usually don't eat pork..It's a Jewish thing not a flavor thing 😉 but for this Quiche, I made an exception. Although I used turkey bacon in mine. Who wouldn't crave a buttery crust and creamy smoky center? On and if you're wondering, the dough is not made from scratch so you can make these in a cinch. Perfect for hosting and party, brunch or just as a snack. What's better? Double or even triple the recipe because this Mini Quiche Lorraine Recipe is made to be frozen!! So you can make a lot of them, freeze and then bake at the last minute when needed.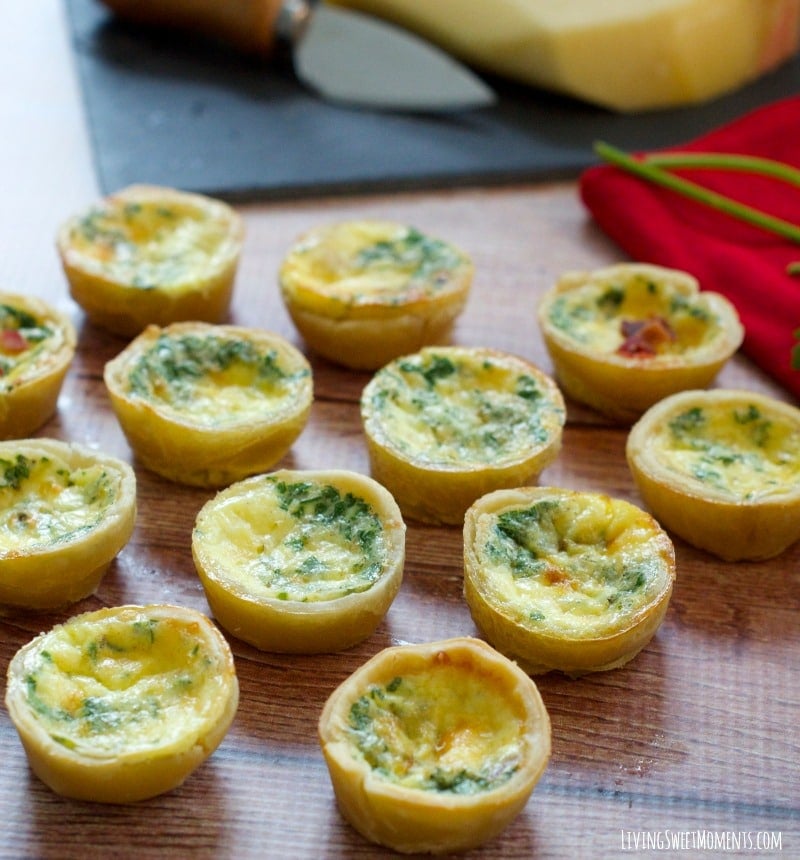 Quiches do not necessarily have to be served piping hot, I can eat them warm or just at room temperature. Kids love this recipe because they love eating their foods without utensils and these little ones are so cute! Who can resist?
The secret for making them crunchy and not soggy is to prebake the crust for a few minutes before adding in the filling and then continue baking them with the filling. Here's the basic process to make them: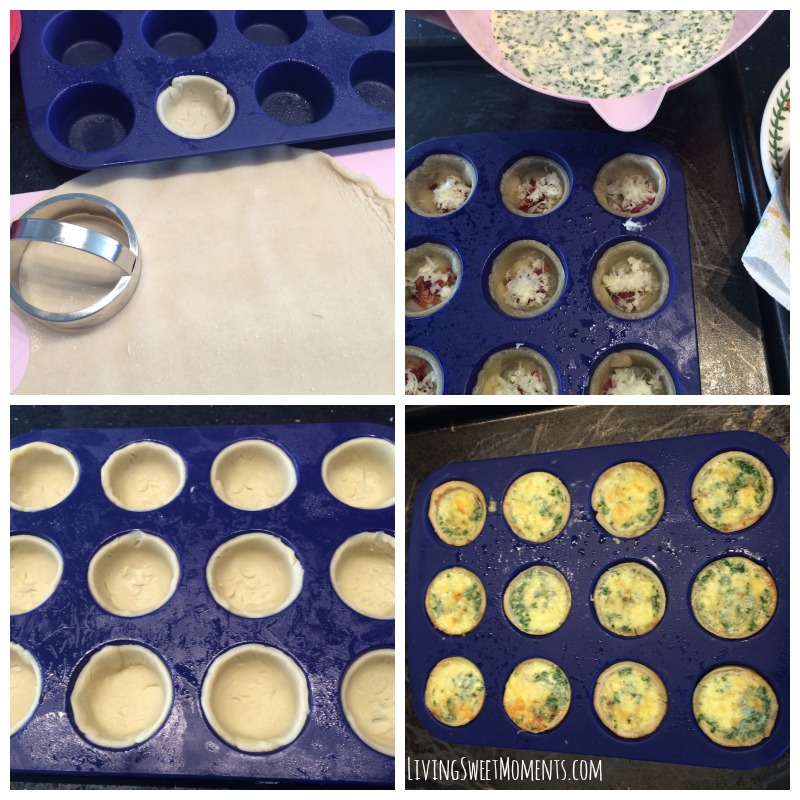 Cut little circles using a cookie cutter or the rim of a glass and insert them in the little muffin holes. Bake for 10 minutes and remove from oven. Add bacon and cheese to each mini quiche, fill with the egg mixture, top with more cheese and bake! Is that easy! The process takes about 45 minutes and they taste just like the ones in Paris.
 The original Quiche Lorraine Recipe does NOT have cheese inside but I couldn't resist a nice piece of Gruyere. It's melts so beautifully inside the Quiche and has a very buttery aroma. If you love doing Gratins, Mac & Cheeses, Lasagna or more, try adding some shredded Gruyere on top. You will surely taste the difference.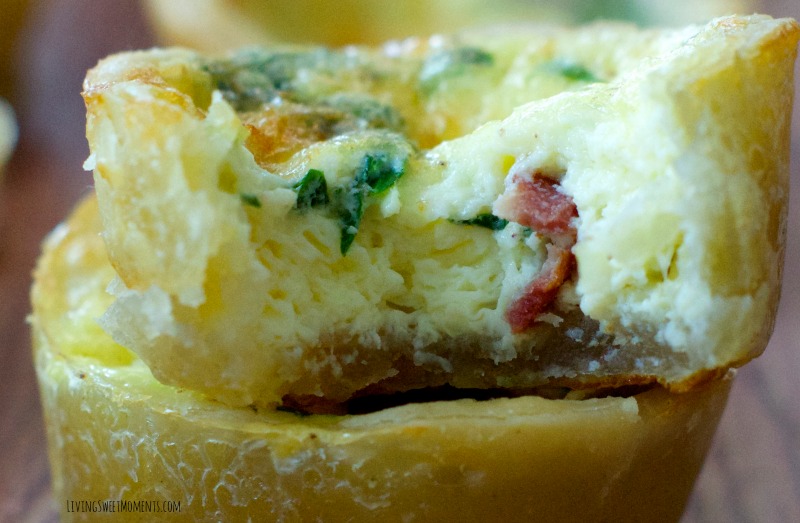 Hope you can try my Mini Quiche Lorraine Recipe at home and be transported to Paris!
PS: If there's any gluten allergies at your home, simply skip the crust part and bake the filling! They will be delicious and puffy as well.
Mini Quiche Lorraine Recipe
Author:
Prep time:
Cook time:
Total time:
Ingredients
1 Store bough refrigerated Pie Crust
2 Strips of Bacon, cooked and cut up in little pieces
2 Tablespoons of chopped Parsley
1 Cup of Gruyere or Swiss Cheese, shredded
4 Eggs
1 Cup of Half & Half
1/2 Teaspoon of Nutmeg (or more)
Salt and Pepper to taste
Vegetable spray for greasing the muffin tins
Instructions
Preheat oven to 350 Degrees F.
Spray the crevices of a muffin tin using non stick spray
On a floured surface carefully spread out the pie dough
Cut out circles using the rim of a glass or a round cookie cutter
Insert each circle in the crevices of a muffin tin. Make the muffin shape with your fingers. Prick the insides of each dough with a fork (this will prevent them from puffing up)
Bake for 10 minutes or until they start to brown
In a bowl mix the eggs, half and half, salt + pepper, parsley and nutmeg until combined
Remove muffin tin from oven and fill each quiche with bacon and cheese. Carefully pour in the egg mixture. Add some more cheese on top
Bake for 15-20 minutes until tops are browned and crust is cooked all the way through